Sebastian Green's sweet setup
January 5, 2015
Every week we post a new interview with someone about what software they use on their Mac, iPhone, or iPad. We do these interviews because not only are they fun, but a glimpse into what tools someone uses and how they use those tools can spark our imagination and give us an idea or insight into how we can do things better.
New setup interviews are posted every Monday; follow us on RSS or Twitter to stay up to date.
---
Who are you and what do you do?
My name is Sebastian Green. I currently run a small division of an IT Support company in Manchester (UK). My team mainly focus on web based-systems — design and development — but also deal with any web-based issues that the IT Support Engineers are having, such as email server configs, DNS issues, etc.
What is your current Mac setup?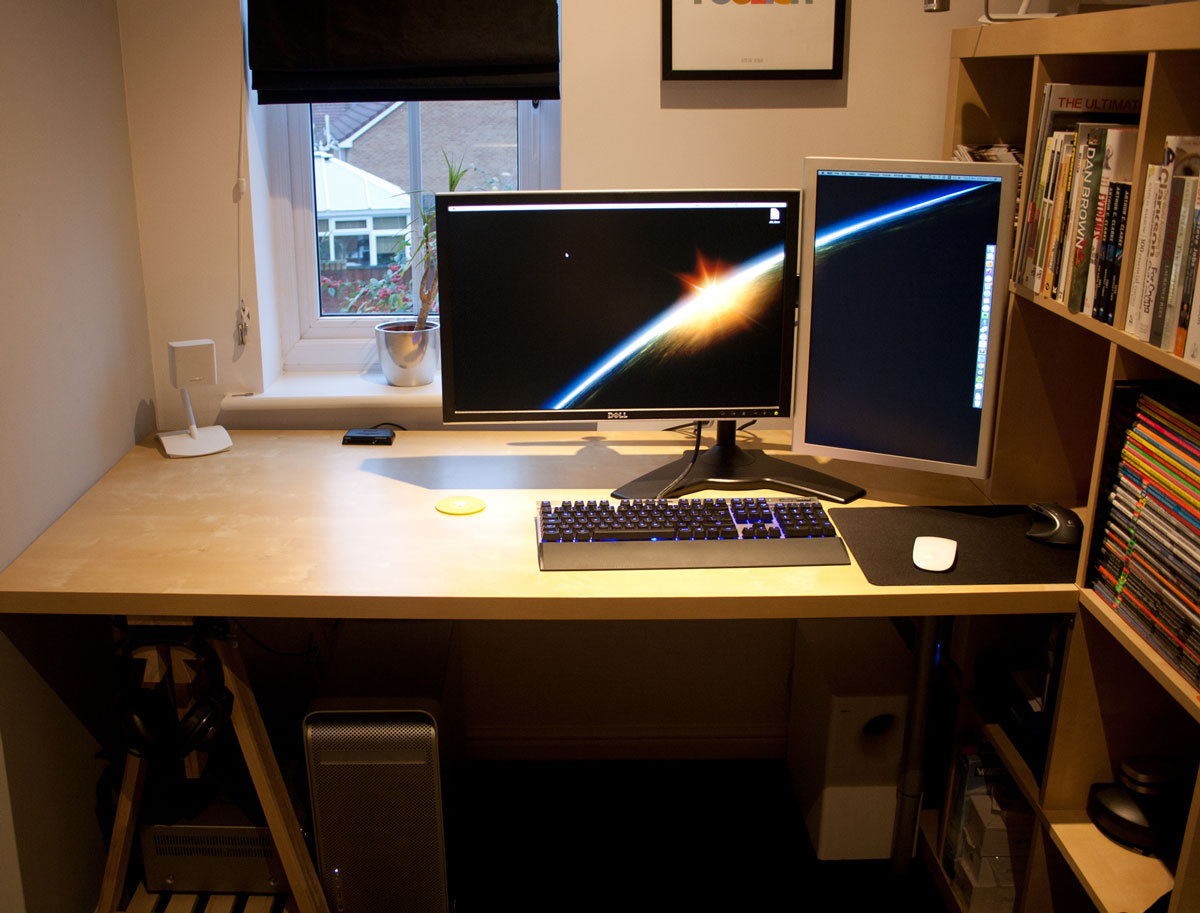 My current setup differs based on where I am working. I spend most of my time working from home, but do spend a few days a month in one of our offices around Manchester, or on-site with a client.
When in my home office, I use what I call a Hackintosh Pro (Yes, you did read that correctly). Before I got bitten by the Apple bug about 10 years ago I used to build my own PCs, and for the past 3 or so years I have been itching to build one again. I had an old PowerMac G5 that finally died, so I decided to strip the case, convert it to fit an ATX motherboard, and build my own machine inside it. Building the machine was the easy part. Getting it to run OS X was the tricky part – I owe many thanks to all the guys over on the www.tonymacx86.com forums as without them I would not have been able to do it. The spec of the machine:
Intel i7 4770 at 3.8 GHz
32 GB RAM (1866 MHz)
256 GB Samsung 840 Evo SSD
MSI NVIDIA GeForce GTX 760 (2 GB)
The machine is a bit of a beast. I built it around the time the latest Mac Pro (trash can model) was released, so wanted to build my own take on it in the older Mac Pro case, which I prefer. I think it is a timeless design. It runs silently thanks to a Corsair water cooler on the CPU and a selection of fans by Noctua which have supreme air flow at low speeds so they are almost silent whilst keeping the machine temperatures at optimum levels. Price-wise, it was around half the price of the latest Mac Pro and is a lot more upgradable.
For inputs I use the Apple Magic Mouse and a Corsair K70 Mechanical Keyboard. It is backlit so I can see they keys regardless of the light in the room, and I love mechanical keyboards as they offer more tactile feedback. The Cherry MX Brown switches were my choice as they are not as loud as other tactile clicky switches.
I run a dual monitor setup with one in portrait for taller windows — mainly code, email, and OmniFocus. The main landscape monitor is a matte Dell 2408WFP 24" which I found locally on eBay for a really good price in new condition. It may not be the best monitor, but I have tuned it to how I like. The portrait monitor is the discontinued matte 20" Apple Cinema Display. These are both mounted (VESA) on a twin monitor arm – it is not branded as I got it from a local PC store (www.scan.co.uk) but is built really well and very stable.
Audio-wise, this machine is plugged into an aging Sony amplifier that drives some Bose Acoustimass 3 speakers (2.1 config) which I love. They sound fantastic in the size of room I have. If I need to keep the noise down, I plug in some AKG K550 over-ear headphones. They are big, comfy, and offer a great sound.
When I am not working at home, I use a 2011 13" Macbook Air that (at the time of purchase) was the top model (1.7Ghz i7, 4GB Ram. 256GB SSD). When in transit, it is carried in a Thule sleeve. Audio-wise with this I use a Arcam rPac DAC and a set of in-ear Ultimate Ears Super-fi 5 headphones. These were discontinued a while ago when Logitec bought UE, but they are amazing headphones — dual drivers in each and they sound incredible. I take care of them now as I know I cannot replace them if they break.
What OS X software do you use and for what do you use it?
I try to keep my software simple and use the same apps on my home and portable machine. I use OS X most of the time, and my browser of choice is Google Chrome. I think there are some really good extensions, such as FlashBlock, and the developer tools are great. Syncing to other devices is a great feature too.
For writing code I used Macrabit's Espresso, but made the move to Sublime Text about a year ago. I keep thinking I may go back to Espresso as I do miss it. I use MAMP to run a local server for any PHP code that requires it. I write quite a lot of SCSS, so I use Codekit to compile it to browser-usable CSS. I use GIT for version control, and recently started using Tower 2 instead of the command line. I have not decided yet if I am going to keep on using it, but it is a good app. When I FTP onto servers I use Panic's Transmit — it is the best FTP app. If I have to write any text documents or work on spreadsheets, I use Google Docs or Apple's Pages and Numbers. Lots of people complain about the built-in Mail.app on OS X, but I use it daily and have not had any issues with it.
I often work on HTML email layouts. I mainly use Campaign Monitor to manage and send all the campaigns. I have used MailChimp and DotMailer, but they did not really work for me. For testing the layout across multiple email clients I use Email On Acid. I could not live without this service. It does not really help identify the cause of any layout issues, but it does make finding them so much quicker and removes the need for multiple testing environments.
I love music. I really love music. I have Spotify open all the time. The moment they announced the Premium Subscription (years ago) I signed up for it. I also use Plug, which is a desktop client for The Hype Machine — a great service for discovering new music.
1Password is a must have app. I should really be paid by them as I advertise it to so many people. I never have to remember a password — it's great.
I live my life the GTD (Getting Things Done) way. OmniFocus is open all the time to manage my day and make sure I have not missed anything. Evernote is a great note-taking and organisation app which also gets a lot of daily use. These two apps really help me empty my mind so I can concentrate on the task in hand.
How would your ideal setup look and function?
I like my current setup how it is — it took me a while to get it to this state. Eventually I will make the jump to Retina screens (5k) once they are available and affordable — my machine could drive them (maybe even without a graphics card upgrade). The components in my Hackintosh are based on the Intel Z87 chipset. I may look into upgrading to the newer X99 chipset as there are some really powerful processors available, but this will be in a few years. If Apple releases a newer Mac Pro that could drive 5k monitors, I may be tempted.
---
What iPhone do you have?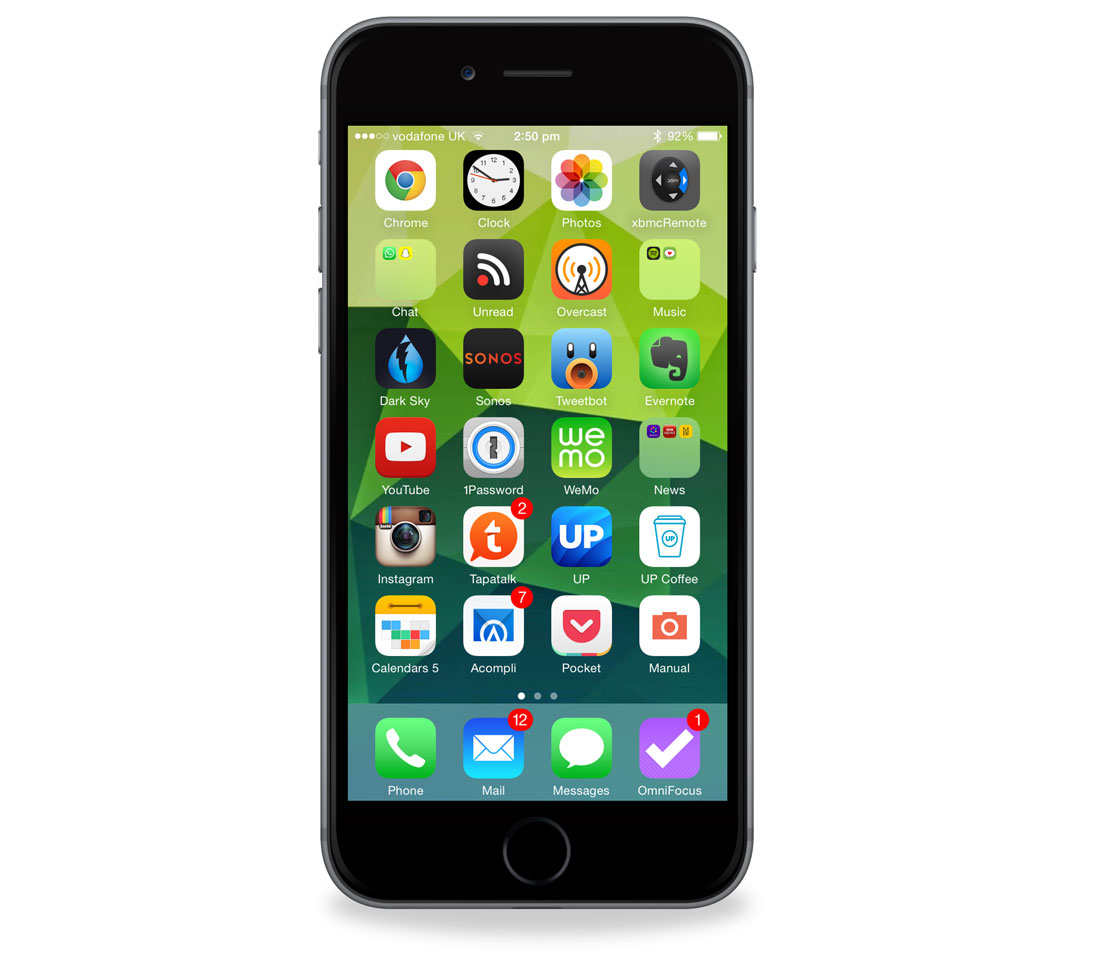 Just this week I got my third 64 GB Space Grey iPhone 6. Yes, third! The first one I received on launch day had a dust particle right in the middle of the FaceTime camera. That was swapped for a new one. The second one had a fault with the FaceTime camera and had the whole front panel replaced, but the problem persisted (probably a logic board fault), so I am now on my third. So far it appears OK (I bet I have just jinxed this one).
I don't use a screen protector — I like to take care of my phone. When in my pocket, it is in a Black Nappa Leather FitBAG sleeve. When in my hand I prefer having no case.
What iPhone apps do you use the most, and why?
I use my phone mostly for listening to music and podcasts whilst walking my dog. Spotify is my main music app.
I recently tried out all the podcast apps — the top two were Instacast and Overcast. I settled on Overcast as it has a really good Smart Speed feature that speeds the podcast up without making the voices sound like chipmunks.
Dark Sky is the most accurate weather app I have ever used — a must if you walk a dog a lot and don't want to get soaked.
I read RSS feeds daily using Unread — the swipe based navigation is really easy to use and makes it really quick to get around the many feeds I follow.
Around the house I have Sonos speakers, Raspberry Pis on a few TVs running XBMC, and WEMO plugs on some lights. As the phone is always with me, the controller apps are used daily. I also have the IFTTT (If This Then That) app running to do a few things like turn all the lights off at a certain time.
I use Twitter mainly on my phone via Tweetbot. I think I have tried all the third-party apps and this one stuck. I prefer Google Chrome to Safari as I can access my tabs and bookmarks from other devices.
For personal email I use the standard Mail App. In place of the built in calendar app I use Calendars 5 as I really like the interface for entering new events. For work email and calendars (Exchange-based) I use Acompli. Microsoft just purchased it so I am going to guess it will soon be called Outlook — It is the best mail client for Exchange users on iOS as it integrates calendars and contacts into the same app making it really quick to use.
Which iPhone app could you not live without?
As on the desktop I have my GTD apps – OmniFocus and Evernote. I could not live without these two apps in my pocket. I will often have an idea when not at my machine. I would be lost without them as my mind is inside them, instead of being where it should be. I also use 1Password. Without it I'm sure my identity would have been stolen and I would be clicking the "Forgotten Password" button many times a day. The way it now integrates into iOS 8 makes it even better. I wear a Jawbone UP 24 which does not have a screen on it. The only way to see and interact with the data is through the companion app — it gets opened a few times a day to make sure I am on target to exceed my goals.
---
Which iPad do you have?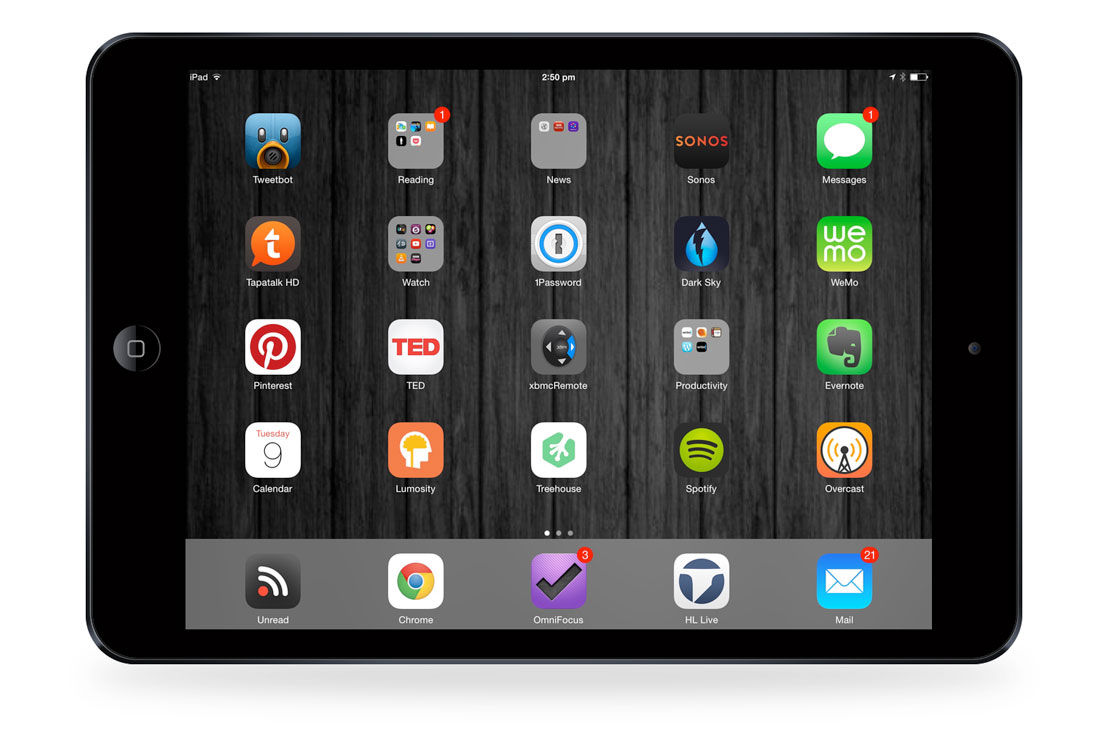 I currently have a 16 GB Space Grey Retina iPad Mini. I love the size of it. I had the original iPad and the 4th generation Retina iPad with Lightning connector, but as soon as the Retina Mini came out I had to get one.
How are you using your iPad on a daily basis?
I mainly use my iPad as a media consumption device. RSS feeds, news websites, and apps are used daily. My morning routine involves sitting down with my breakfast and reading the news on it. I tend not to read books on it — I have a Kindle Paperwhite that I use for that.
What apps do you use the most, and why?
I read the news on it every day using The Times app. I love the fact that it is the entire daily paper, updated throughout the day, allowing me to get access to all the latest well-written news.
As with my iPhone, I use Unread as my RSS reader. It shares the same great layout and swipe gestures making it quick and easy to use.
Chrome is my browser of choice as it keeps in sync with any tabs I have open on my other devices. I use Tapatalk HD to access any forums I regularly visit. It's nice to have a uniform look and feel to any forum, plus it makes image uploading really simple.
Which iPad app could you not live without?
I don't use them as often as on my phone, but 1Password and OmniFocus are apps that I would miss on my iPad. They just make my life so much easier. I'm a firm believer that a device should be used to make the user's life easier — most devices are really good at remembering things whereas the human mind is often forgetful. These apps make the iPad remember things so I do not have to.
---
There are more Sweet Setup interviews right here.