Save $679+ on the Entire TSS Course Library
November 27, 2021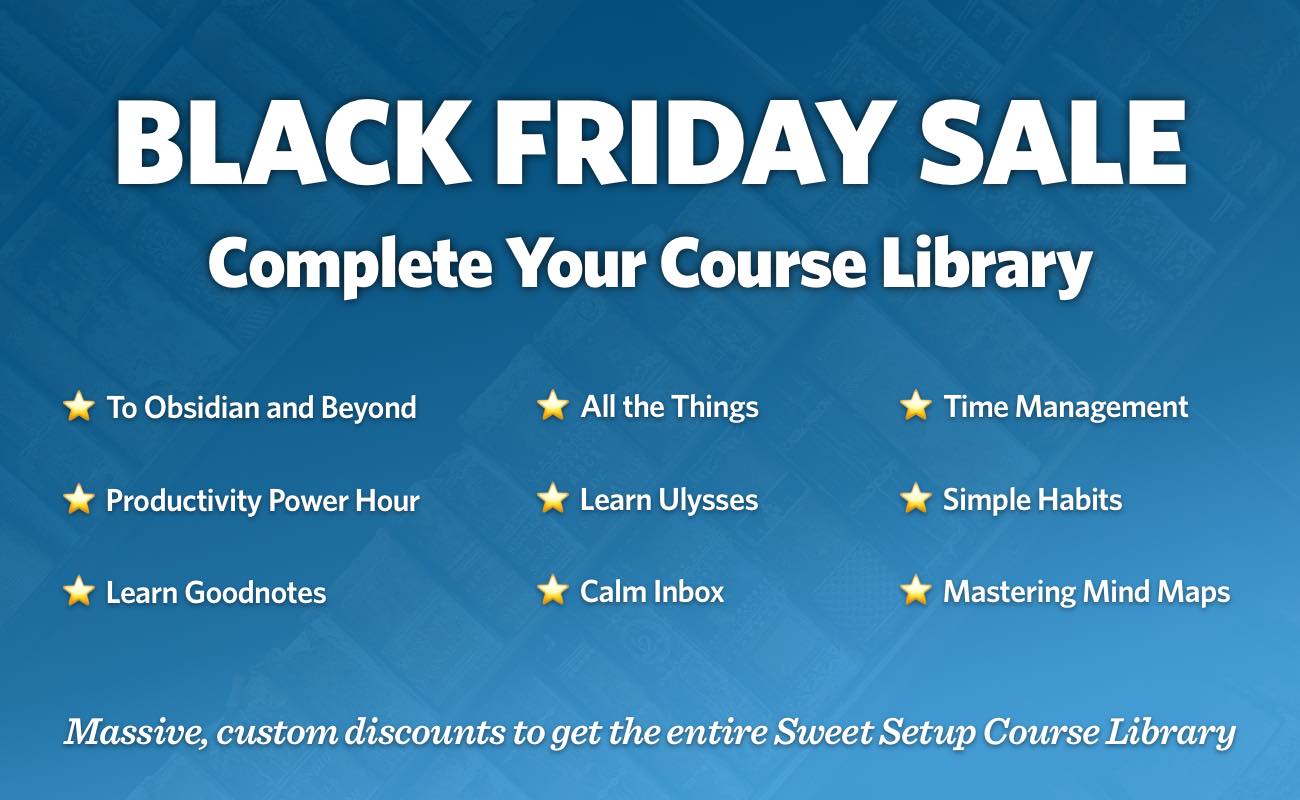 Right now you can get the entire TSS course library, bundled together, with a generous discount.
This is your chance to get instant (and lifetime) access to every one of our popular training courses for the price of about just two.
This offer expires after the weekend and includes every single one of our in-depth training courses.
What you get…
To Obsidian and Beyond: ($297) The brand-new, go-to master course for Obsidian users (new and old alike). Finally organize your notes and ideas to make creative output easy.

Time Management, Simplified: ($119) An easier way to track, block, and enjoy your time so you can get more done in less time with less anxiety about it all.

Calm Inbox: ($197) A step-by-step system for getting your email under control.

Mastering Mind Maps: ($119) A tried-and-true system for making your ideas better and saving yourself a LOT of time on the creative process.

Simple Habits: ($79) How (and why) to build better habits and change your life.

All the Things: ($119) Our most popular productivity course about getting in control of your tasks and your time.

Learn Ulysses: ($197) Our other most popular course about capturing your ideas and organizing your writing.

Learn GoodNotes + Templates: ($79) Our course about using the best handwriting app, GoodNotes. Also includes a bunch of awesome templates.

Productivity Power Hour: ($59) ****Discover our 4-Focus Method that makes it easy to prioritize and manage your responsibilities, follow-through with what is important to you, and stay motivated in life.
. . . . . .
That's $1,226 worth of courses… and you can get them all for just $547 (a 55% discount)!
This is the best price and the best deal we offer all year. If you have ever been on the fence about getting yourself a TSS Course, this is your chance.
Want to learn more? Here's a page with more details about each course.
---
Note: This is our biggest promotion of the entire year. If you have been on the fence about getting one of our courses, this is your opportunity.
And, even though this offer is so drastic, we are still backing it by our no-questions-asked, money-back guarantee. In fact, we are even DOUBLING THE LENGTH OF OUR GUARANTEE: from 30 days to 60!
---
Already a TSS Customer?
Awesome! We have a custom offer just for you that also includes credit for the courses you already own. Just punch in your email address below, and we'll use that to calculate your special offer and give you your own coupon code that you can use!