Sam Schmitt's Mac and iOS setup
May 23, 2016
Every week we post a new interview with someone about what software they use on their Mac, iPhone, or iPad. We do these interviews because not only are they fun, but a glimpse into what tools someone uses and how they use those tools can spark our imagination and give us an idea or insight into how we can do things better.
New setup interviews are posted every Monday; follow us on RSS or Twitter to stay up to date.
---
Who are you and what do you do?
My name is Sam Schmitt, and I am a current sophomore at the University of Massachusetts Amherst. My current major is Civil and Environmental Engineering, which (in case you didn't know) is the design and operation of infrastructure such as highways, bridges, and even solar farms. In my spare time, I am learning iOS and web development. I am also trying to write a lot more on my blog.
What is your current setup?
My current setup is a mid-2015 Macbook Pro Retina. I have the version with a 2.9Ghz Core i5, 16GB of RAM, and a 512GB SSD. It's covered in various decals from Redbubble for some brands and artists. At my desk, I have that hooked up to a Dell U3415W monitor. This monitor is absolutely amazing. It's so nice to have such a large canvas to use as my desktop. The extra horizontal real estate also makes it much easier to work in applications like AutoCAD and Xcode.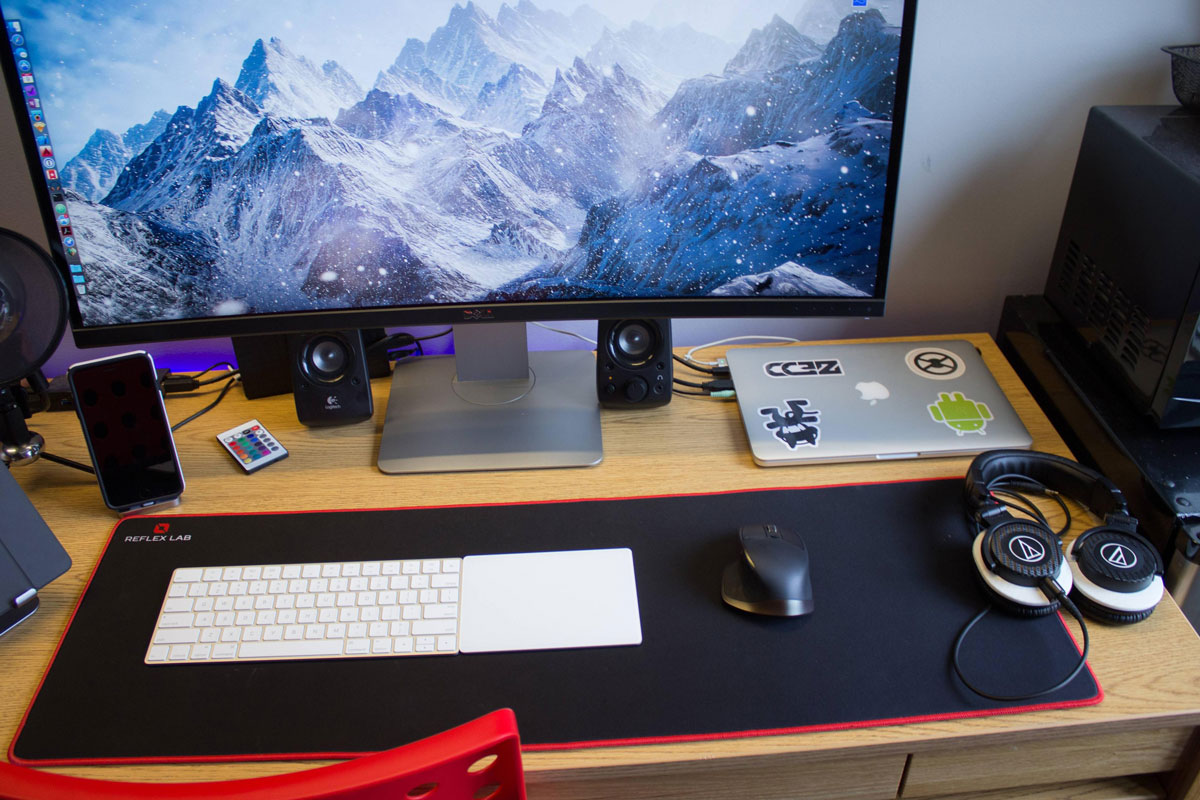 For peripherials, I am using the Magic Keyboard, Magic Trackpad 2, and the Logitech MX Master. The MX Master is a fantastic mouse, even though it can have some random connectivity issues (pro tip: connectivity is really spotty when you plug it into a USB hub). The massive mouse pad is from Reflex Labs. I also have an Amazon Basics USB 3.0 hub, a set of Logitech speakers, and a Blue Snowball microphone.
Where can we find your OS X wallpaper?
Most, if not all, of my wallpapers come from r/widescreenwallpapers on Reddit.
What software do you use and for what do you use it?
As a student, I spend most of my time in general office and productivity apps. I split my time fairly evenly between the Microsoft Office Suite and the iWork apps, but prefer to use the iWork apps whenever possible because they are so much lighter. I use OneNote as my notetaking app of choice. As an engineer, AutoCAD and MATLAB are used fairly frequently in my classes. This doesn't mean they're great or anything (in fact MATLAB is an awful program), it's just what I have to use. I use Fantastical and OmniFocus to manage my schedule and tasks. I just recently switched to OmniFocus from Wunderlist, and could not be happier with the power that OmniFocus provides. I almost always have Tweetbot open somewhere on my screen. Sketch, Xcode, and Atom are the apps I use for any sort of development and design. Radiant Player and Plug take care of my music needs for Google Play Music and HypeM respectively. And like many people here, I have most of my life within 1Password, so that gets a lot of use as well.
How would your ideal setup look and function?
My ideal setup would have to be a Mac Pro (hopefully an updated one) hooked up to the same monitor that I currently have. Then, I would have a MacBook for use in class and on the go. Additionally, I would love to have a mechanical keyboard again. I used to use a Corsair K95 RGB, but that thing was huge. I'd have to get a smaller one.
---
What iPhone do you have?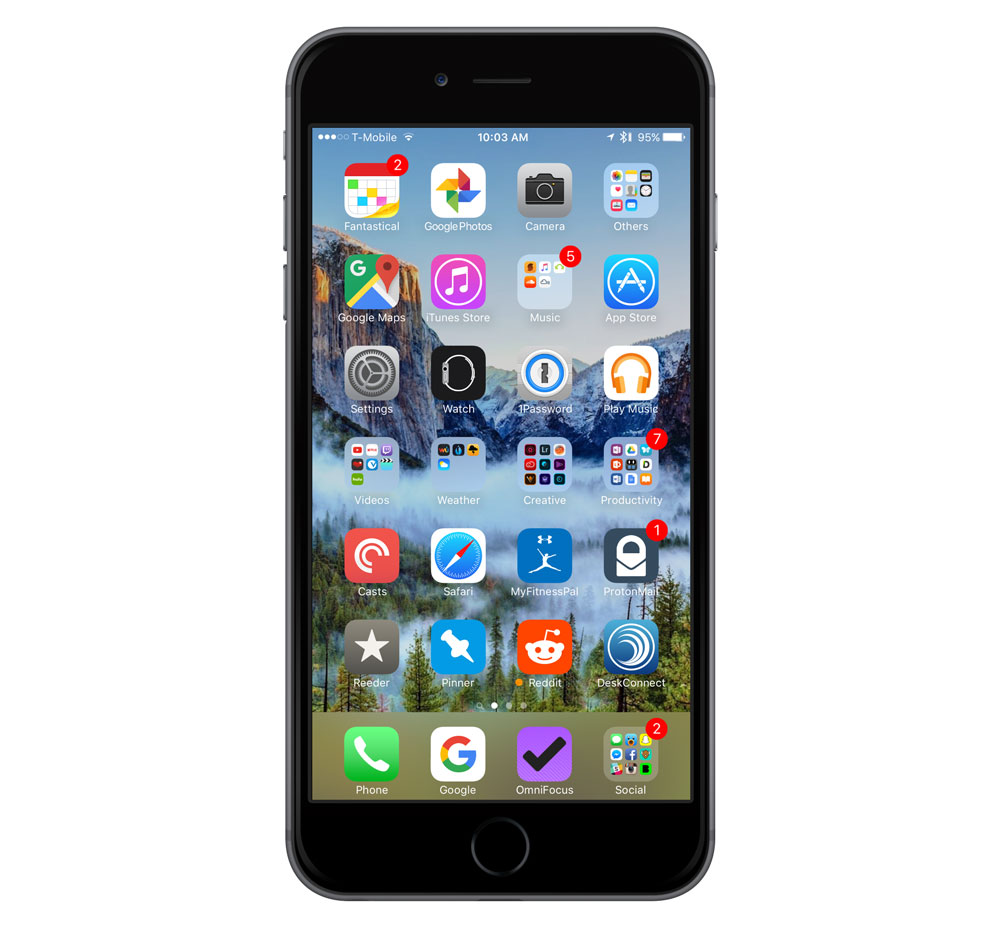 I have a 64GB iPhone 6S Plus in Space Gray. I also have a silver 42mm Apple Watch Sport.
What apps do you use the most, and why?
As a college student, communication with my friends is one of the most important things that I do on my phone, so Snapchat, Telegram, and Facebook Messenger fill that role. I use OmniFocus and Fantastical to manage my calendar and tasks because they pair nicely with their OS X counterparts. ProtonMail is my email provider of choice, and I have been very happy with their service so far, but their iOS app could use a lot of work. I use Reeder and Pinner to read things and archive my links. Google Play Music is the music streaming service I currently use, mostly because I can upload my own music without having to deal with iTunes. I am also somewhat of a weather fanatic, so Weather Underground is great at showing me real time data about my own weather station and weather stations close to me.
Which app could you not live without?
If I had to pick three, they would probably be Snapchat, Google Play Music, and OmniFocus. My phone is used mainly for communication with friends, streaming media to my Bluetooth earbuds, and managing my day, so these apps are what I use to do those every day. I have also started using DeskConnect in order to share things between my iOS devices and my Mac, and it's worked really well and is super helpful when you need to quickly transfer a random document.
---
Which iPad do you have?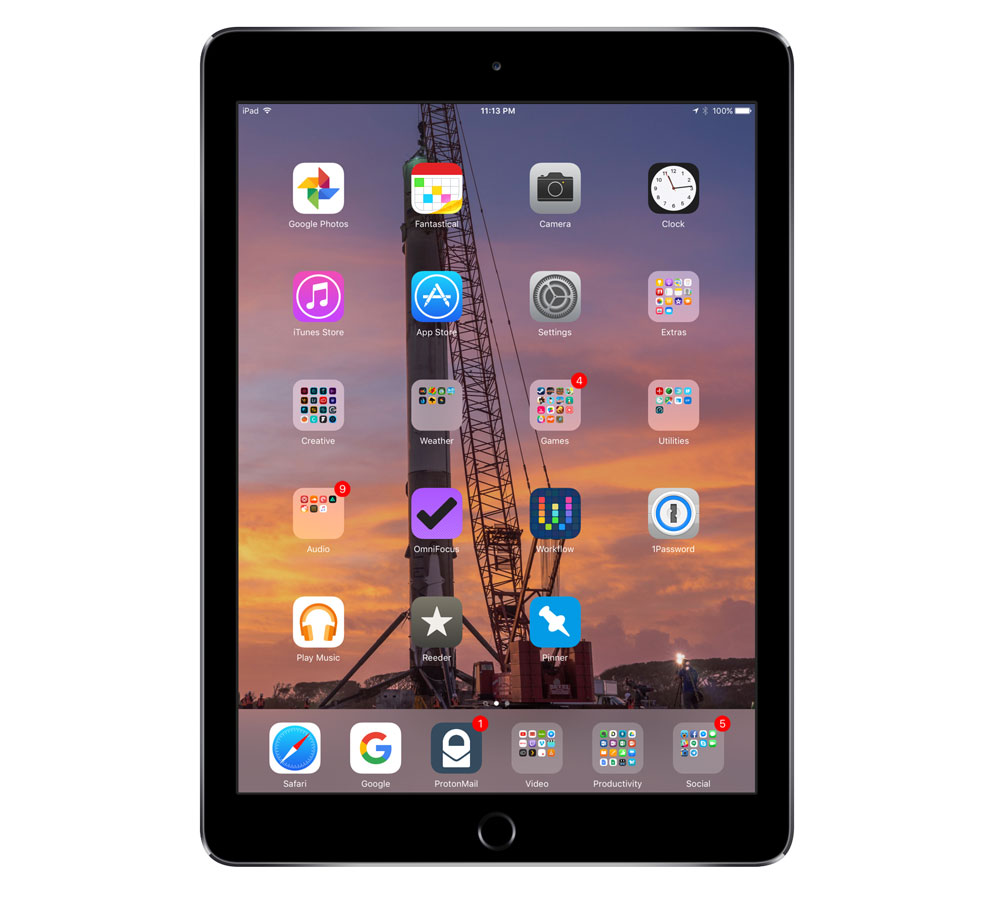 I have a 64GB iPad Air 2 in Space Gray.
Where can we find your wallpaper online?
My iPad wallpaper is a picture of the SpaceX Falcon 9 first stage after the Orbcomm OG2 landing. I'm a huge fan of SpaceX, and they have a ton of great photos like this one on their Flickr page.
How are you using your iPad on a daily basis?
I usually use my iPad for media consumption. YouTube is by far the most used app. After that, my iPad serves as a sort of second device for when I'm at my desk. I also use it when I'm away from my desk and don't want to deal with the hastle of taking out my laptop.
What apps do you use the most, and why?
Like I said, YouTube is definetly the most used app on my iPad (I just really wish they would add PiP support). After that, I use Tweetbot quite a bit to keep up with Twitter while I'm working. Many of the other apps that I use are the same as what I use on my phone, just optimized for the larger screen. I also use OneNote a lot to access my notes while I'm in class.
Which app could you not live without?
It would definetly have to be YouTube, as I watch more YouTube videos than I probably should. I really want to get an iPad Pro with an Apple Pencil in order to take notes in class, so OneNote would become a much more important part of my setup.
---
There are more Sweet Setup interviews right here.
Want to share your setup? We'd love to hear from you. Just fill out this form with some basic information and we'll be in touch.