Rupesh R. Mahalle's Mac and iPhone setup
September 26, 2016
Every week we post a new interview with someone about what software they use on their Mac, iPhone, or iPad. We do these interviews because not only are they fun, but a glimpse into what tools someone uses and how they use those tools can spark our imagination and give us an idea or insight into how we can do things better.
New setup interviews are posted every Monday; follow us on RSS or Twitter to stay up to date.
---
Who are you and what do you do?
I am Rupesh R. Mahalle. I am a 25-year-old Portfolio Manager and start-up investor. I manage my investors' capital for the stock market and work on devices almost 6 to 8 hours every day as I feel technology is the tool to make your life simple and organized.
What is your current setup?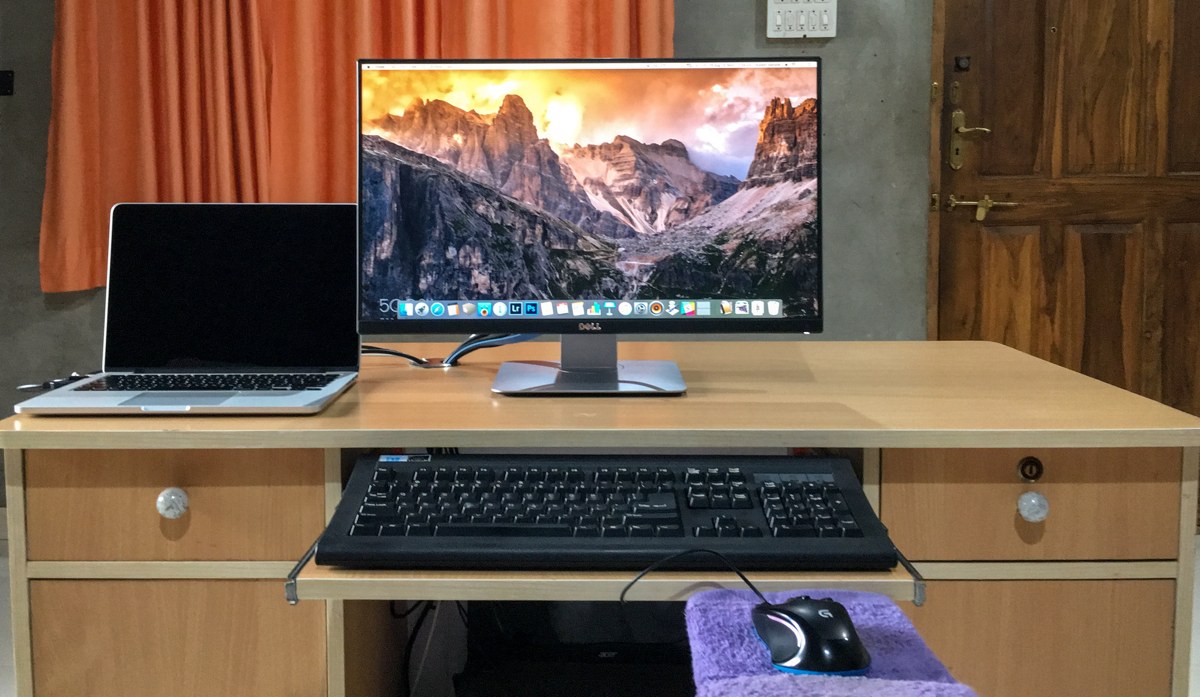 Since July 2015, I've used a 13″ Retina MacBook Pro. I have it connected to a Dell U2414H 24" Full HD monitor, which I find great for my office workspace. The MacBook is connected to an external mechanical keyboard (TVS E—Bharat Electronics) and a Logitech G300s gaming mouse. I find these external devices to be an essential convenience for the office workspace.
On the go, The MacBook alone is great. As a small note, I like an uncluttered desk, as you can see in the photo. I tend to clean it every day in morning as a routine (it takes only 2 minutes).
Where can we find your OS X wallpaper?
I use FreshBackMac as a tool to have great wallpapers twice daily.
What software do you use and for what do you use it?
Software is a great tool for simplifying and organizing my work. I use software purposely and extensively. For example, I have an Automator script for opening multiple apps in the morning so that I won't have to open them individually.
How would your ideal setup look and function?
I feel that I am using an ideal setup now. It took me a year to make it as good as it is now, and it will evolve more in the future as well. Simplicity is the top most priority for my setup. I feel that as Steve Jobs always said, "It should just work." I can proudly say that Mac and iOS just works. I am happy and satisfied with my setup.
---
What iPhone do you have?
I use an iPhone SE in silver. I love it because it's more handy and useful because of the small size. It still features the iconic design, is as powerful as the bigger ones, but still small. The camera is great and it is a great tool for traveling and quick updates. I use it as a secondary workspace as I mostly try to work on my Mac.
What apps do you use most, and why?
The iPhone is a really great no nonsense phone. It is fast and snappy. I use it for the phone feature and quick updates only. The apps I use are as follows.
Which app could you not live without?
I cannot live without Inbox, Slack, Twitter, EZ Financial Calculator because of how much convenience they add to my everyday work.
---
There are more Sweet Setup interviews right here.
Want to share your setup? We'd love to hear from you. Just fill out this form with some basic information and we'll be in touch.
---
Free Productivity Guide: Download our simple guide to productivity to help you improve your workflows and be more focused with your time and attention. Get it here.