Rob Bettis' Mac and iOS setup
August 6, 2018
Every week, we post a new interview with someone about what software they use on their Mac, iPhone, or iPad. We do these interviews because not only are they fun, but a glimpse into what tools someone uses and how they use those tools can spark our imagination and give us an idea or insight into how we can do things better.
New setup interviews are posted every Monday; follow us on RSS or Twitter to stay up to date.
---
Who are you and what do you do?
My name is Rob Bettis and I am an independent digital marketer based in Chattanooga, TN. I offer PPC management services to e-commence and lead generation businesses all over the country, as well as white-labeled ad management to agencies.
Additionally, I co-host a podcast about being an indie worker, Unfederated, and I write a weekly newsletter on Modern Marketing.
What is your current setup?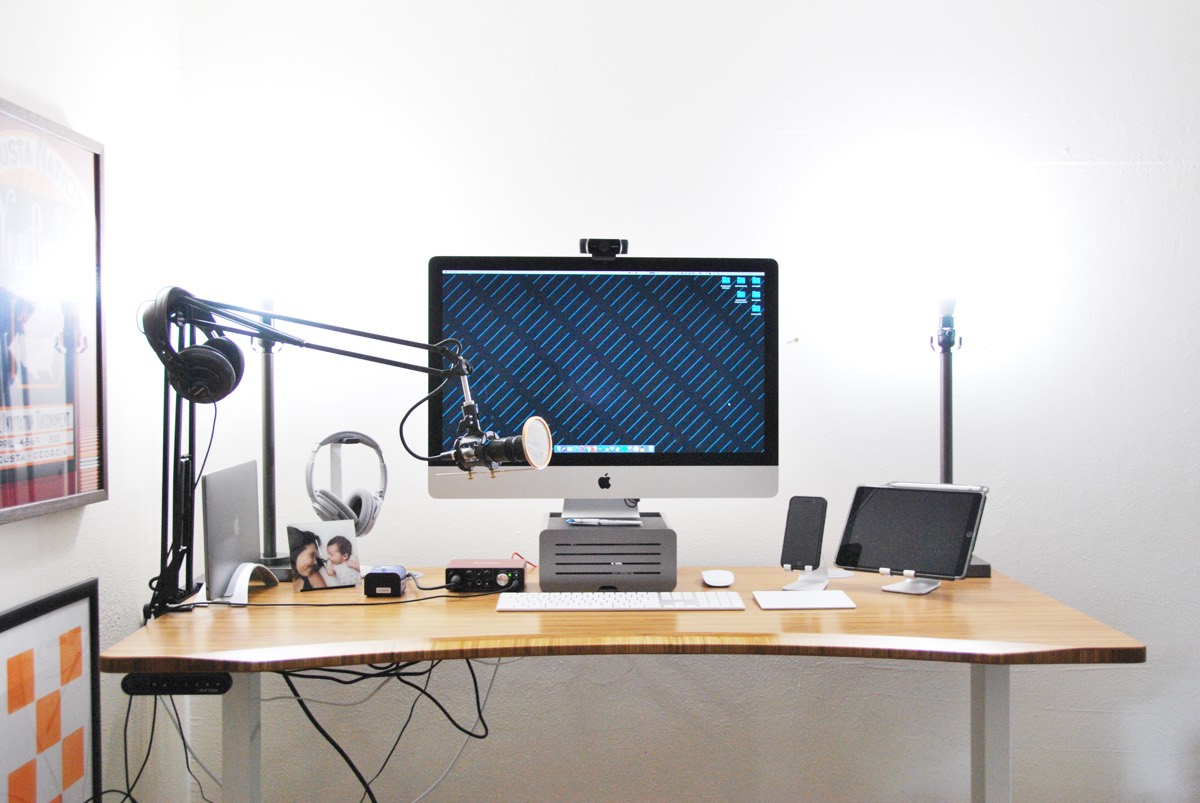 I largely work from my home office, were I use a 2017 27″ 5k iMac that sits atop Twelve South's HiRise Pro for ideal ergonomics. I typically stand at my UPLIFT bamboo stand up desk, which is fitted with Dan Benjamin's intermediate podcast gear recommendations and a Logitech C922x Pro Stream Webcam, along with two shadeless LED lamps for better video lighting.
Below my desk, I keep a "go bag" for work. It is a GoRuck GR1 that contains my 2016 MacBook Pro (Escape) and my 10.5in iPad Pro. It also includes a Twelve South Bookbook CaddySack that holds the ungodly amount of dongles required to make the MacBook Pro Escape functional in the outside world. iCloud allows me to keep both devices in sync.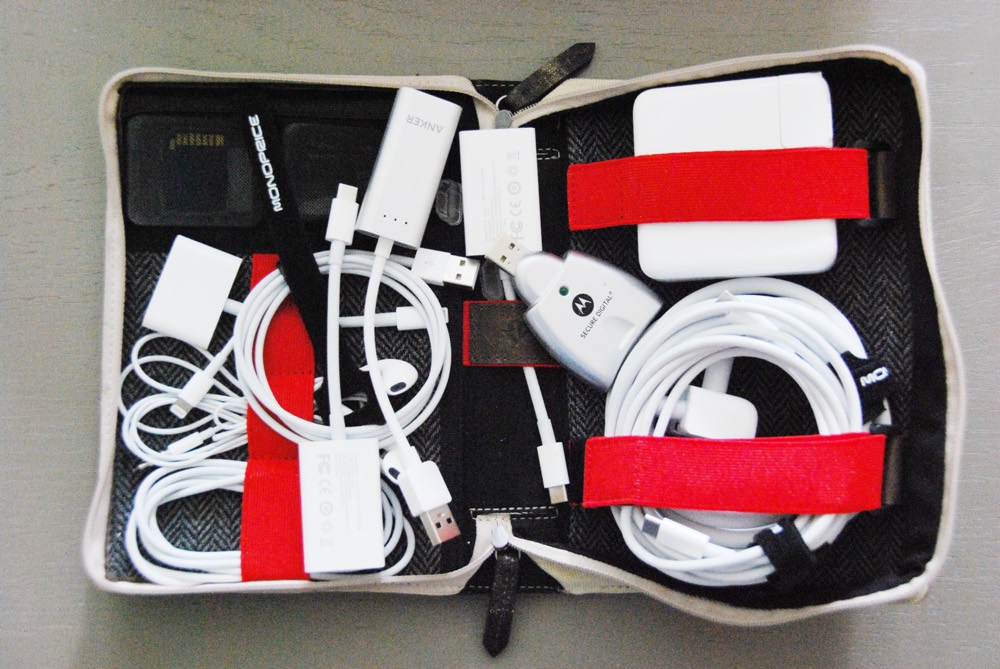 Where can we find your macOS wallpaper?
I am a huge fan of Simple Desktops. My wallpaper of choice for the moment is Pinstripe Rain.
What software do you use and for what do you use it?
My work is very browser heavy. Since I am largely using Google platforms, most of my PPC management takes place in Chrome. With my 27″ display, I typically run two split screen Chrome windows — one with AdWords and one with Analytics. The screen is big enough to see both windows reasonably well and I can slide the divider back and forth to accommodate edge cases.
All of my Facebook usage (work and personal) is done in Firefox, where I lean on Mozilla's Facebook Container Extension to minimize Facebook's creepiness.
Additionally, I mentioned that I provide white-label PPC services for agencies. The best way I have found to keep this organized on my machine is through Chrome Profiles. I have a "Person" for every agency I work for, so I typically have several Chrome AdWords/Analytics environments open at once — one for each agency. This allows me to accommodate the various workflows of each agency and it makes bouncing back and forth between accounts very easy.
All of my written work begins with Bear. Proposals and Agreements pass through Marked 2 before going to the client, and all other writing gets delivered to other tools that accept Markdown (ex. Squarespace).
I use Things 3 to manage tasks, Agenda to manage client meeting agendas, and Newton to manage email. There are things about Netwon I would love to see improved (such as adding Markdown support), but of the three tools, Newton would be the most painful to lose.
With regards to utilities, my favorites include:
How would your ideal setup look and function?
I don't have much to add here because I (more or less) have my ideal setup. Before going indie several years back, I always had lame equipment. As my solo business has found success, I have prioritized upgrading my equipment for maximum freedom and performance. I don't rent office space or have any other overhead to speak of, so primo equipment has been a reasonable luxury.
---
What iPhone do you have?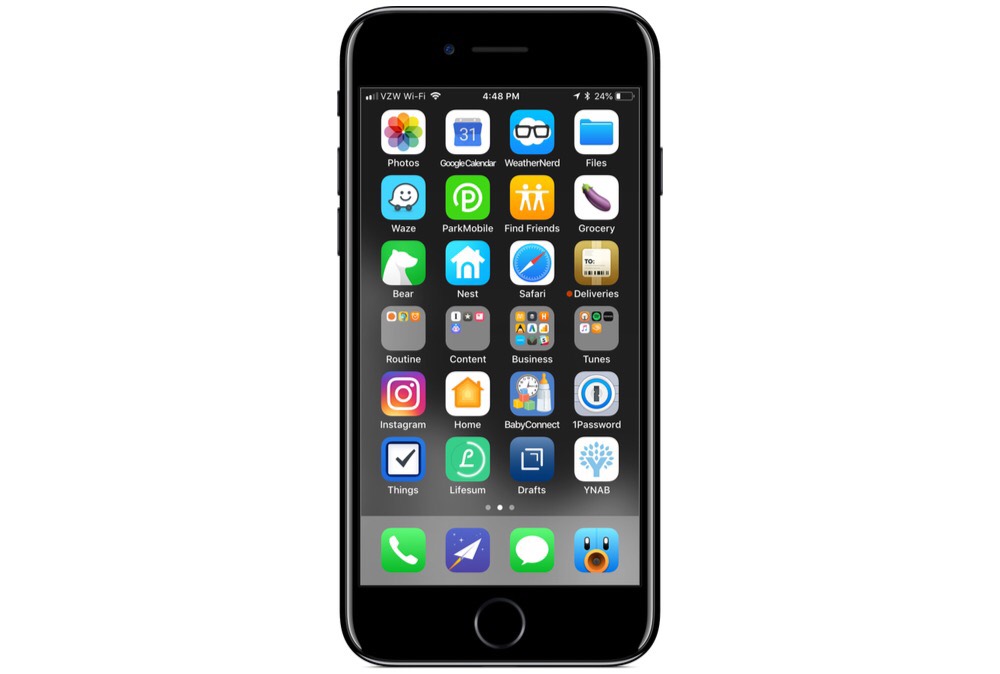 I have a Space Gray 128GB iPhone 7.
Where can we find your wallpaper online?
In the Vellum app, in the Earth By Google collection.
What apps do you use the most, and why?
With podcasts making up 80% of my listening, Overcast gets a lot of use.
YNAB and Lifesum help me keep my life in check. I have tried dozens of alternatives for each and these are my clear-cut favorites.
Vigil is a must-have for PPC managers so we can pause advertising accounts if a client's site experiences downtime.
Instapaper and Buffer allow me to take advantage of downtime to keep my social media marketing on point. After all, plumbers have the worst pipes.
Which app could you not live without?
As an indie worker who works from home, Twitter is largely my pipe to the rest of the world. As such, Tweetbot would be the hardest to live without. Hopefully an alternative network emerges before Twitter ruins third-party Twitter clients. RIP App.net.
---
Which iPad do you have?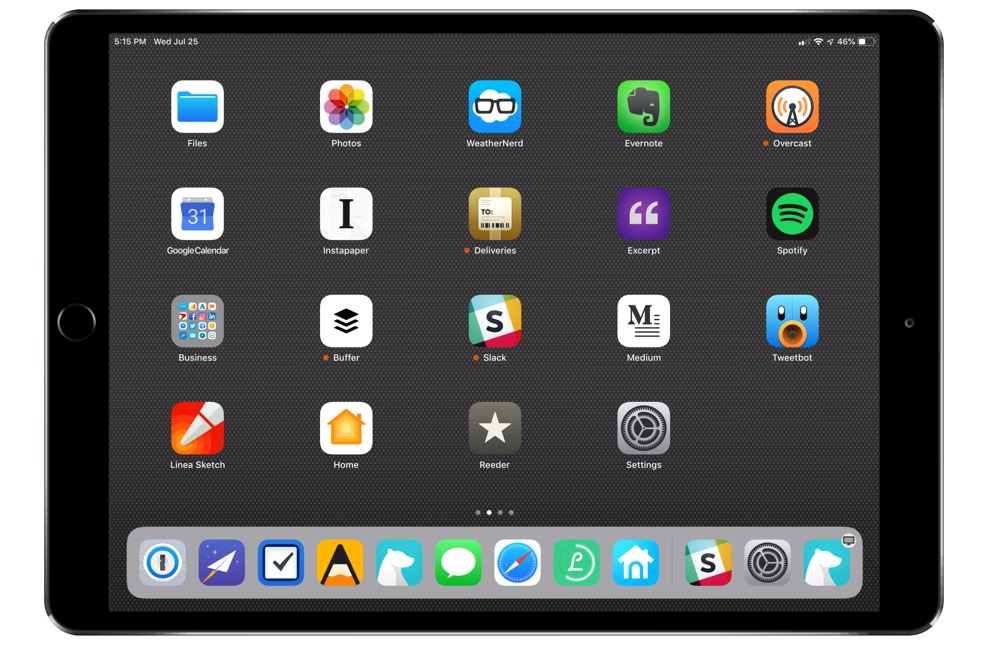 I have a Space Gray 256GB 10.5″ iPad Pro.
Where can we find your wallpaper online?
The lock screen wallpaper is a photo I took while visiting Lake Tahoe. I honestly have no idea where the home screen wallpaper came from, but it isn't particularly exciting.
How are you using your iPad on a daily basis?
My iPad Pro is my device of choice for client meetings. It has a cellular card, so I don't have to bother the client with a guest WiFi network password. I find the iPad feels less heavy-handed than bringing a laptop to a meeting, but the Smart Keyboard allows me to take the notes I need. It's great for when the casual coffee turns serious.
My iPad also gets used each evening as I catch up on links I have added to Instapaper throughout the day. It is also the only iOS device I put games on. So, I often use it to play Alto's Adventure/Odyssey or WGT Golf.
What apps do you use the most, and why?
I wish I could say I use this device to manage my clients' PPC accounts. It would be a unique use case for this site and make my professional life a lot easier. Unfortunately, the AdWords, Analytics, and Facebook Ads apps lack the feature parity needed to make this feasible. The Facebook Ads app does not even support the iPad, and managing accounts through an iOS browser is also severely painstaking.
With that said, I mainly use my iPad to write blog posts, email, client notes, etc. I use Bear, Agenda, and Newton to accomplish 99% of my writing.
Which app could you not live without?
For iPad purposes, I would say Instapaper. As I mentioned above, I consume industry news through Twitter. Being able to save posts to read later keeps me productive during the day, and it allows me to easily share interesting posts to Buffer or my marketing newsletter.
---
There are more Sweet Setup interviews right here.
Want to share your setup? We'd love to hear from you. Just fill out this form with some basic information and we'll be in touch.
---
Wait. There's a Bonus….
Custom Productivity Templates
We have a set of custom productivity templates that work well with the iPad app, GoodNotes. And if you want to try them out, we've put together a free guide that can help you.
We'll show you…
How to create and save custom page templates in GoodNotes.
How to use those page templates to transform GoodNotes into your own productivity notebook (or any other type of notebook replacement).
Plus, we also have included a couple of our custom productivity templates for you to get started with. These templates are right out of our popular productivity course.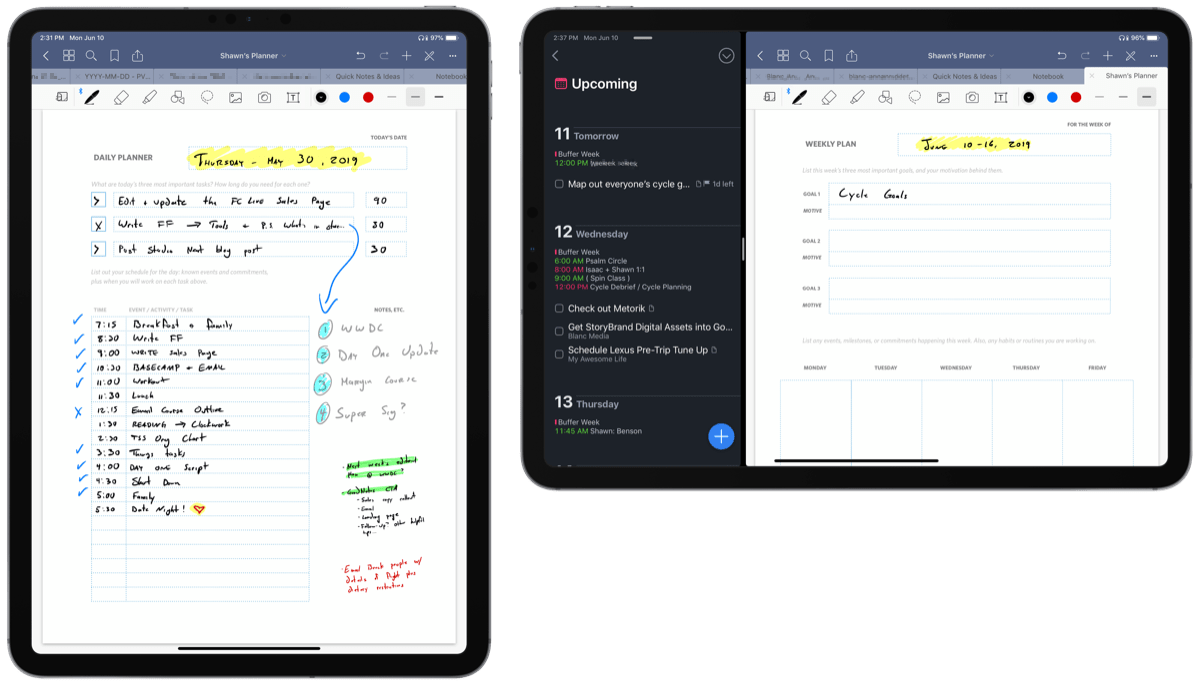 The custom templates and the guide are available for FREE to our email subscriber community. And you can get it right now. By joining the Sweet Setup community you'll also get access to our other guides, early previews to big new reviews and workflow articles we are working on, weekly roundups of our best content, and more.