Re:Schedule Is a New iPad App for Staying on Top of Your Calendar, Meeting Notes, and Tasks
June 24, 2019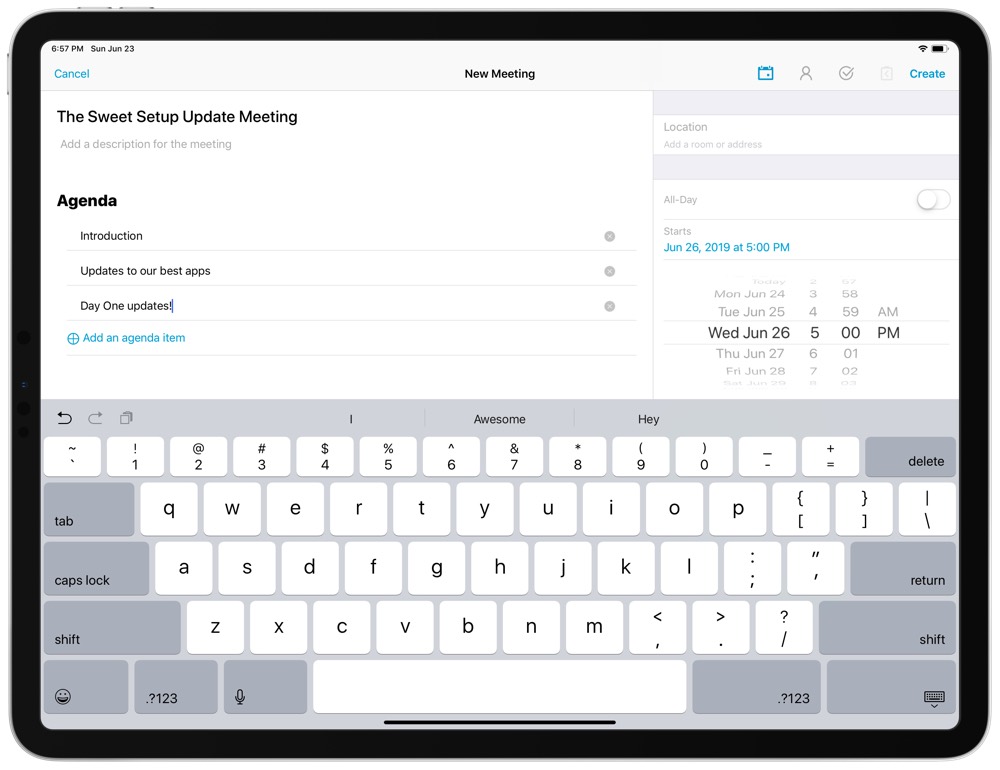 If I were the top dog of a huge company and it was one of my responsibilities to decide how to run meetings, the first thing I would do is banish all meetings.
Seriously.
In reality, if it were up to me, I'd move all delegates, notes, minutes, and scheduling to a digital format.
This app category — managing notes, meeting minutes, scheduling, tasks, delegations, and more — is becoming increasingly popular on the App Store. To a degree, at least to my understanding, Agenda fulfills this workflow nicely; its date-focused notes approach allows you to apply notes to a specific event on your calendar — perfect for taking notes during meetings. Plus, with the upcoming Reminders integration, Agenda looks to add improved task management as well.
Another app in this category is Re:Schedule. Re:Schedule has been on the App Store for a couple weeks at this point and has worked through some initial bugs, but now constitutes a great option for staying on top of meetings and meeting minutes.
Schedule
Re:Schedule, as its name implies, includes a full calendar for staying on top of tasks, mapping out your days, and for scheduling meetings.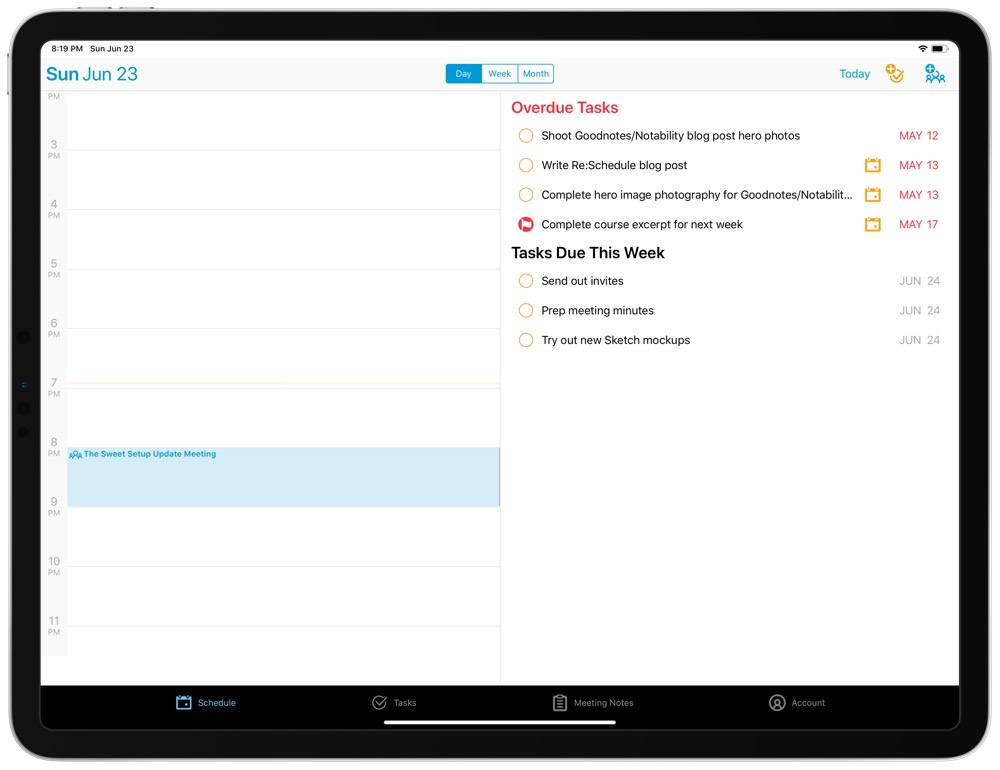 You can view your schedule in a daily, weekly, or monthly format, and I've found the daily view to be the most helpful. On the right side of the app, you can create new meetings or new tasks, and new tasks can be dragged from your list right into your daily schedule, allowing you to prepare your daily agenda in a very tangible way.
Once your tasks and meetings are dragged into your calendar, you can view your greater schedule in a weekly or monthly format, perfect for scheduling future meetings.
The Re:Schedule calendar only syncs using Google Calendar at this point, and I ran into a few bugs the first time I tried to jump into the app and get started. As far as I know, this bug has been rectified, so if you are a Google Calendar aficionado, Re:Schedule could fit in nicely.
Tasks
I don't see Re:Schedule being able to overtake an app like Things or OmniFocus for daily task management, but having tasks built into Re:Schedule allows you to delegate tasks in a way other apps can't do.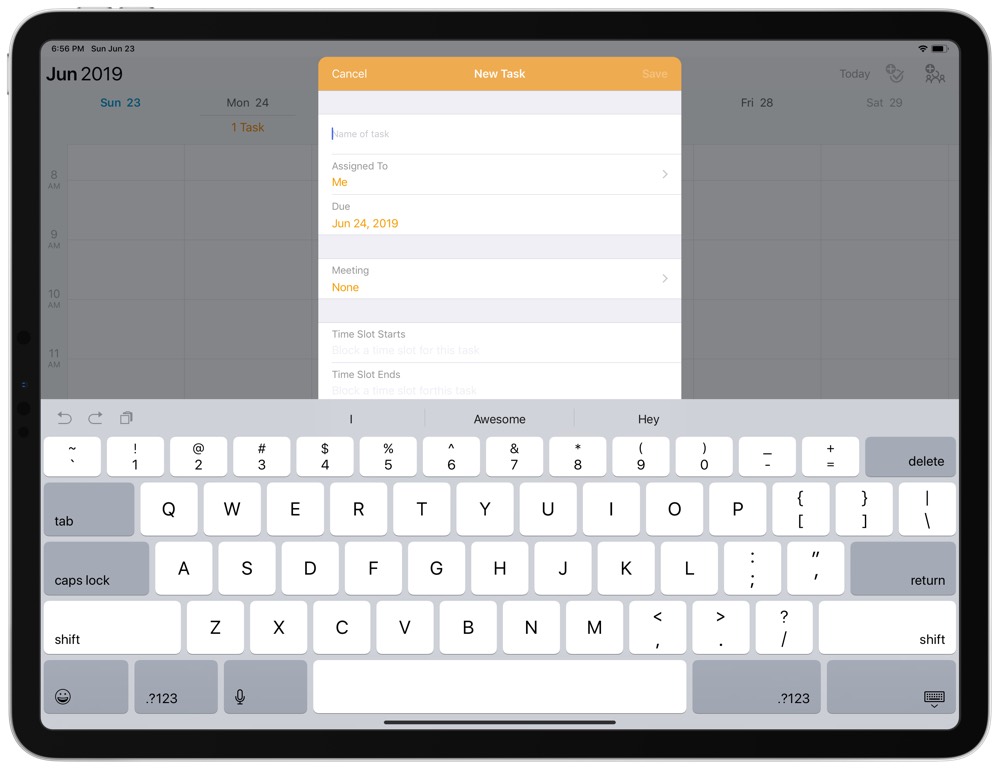 In the "Tasks" view, you can create new tasks either for yourself or assign them directly to a team member. From there, tasks can show up in your calendar and you can take action on them.
You can also create tasks right within a specific meeting — in the upper right corner of the "New Meeting" screen, tasks can be added, assigned to a specific individual, and assigned to a specific time slot as well.
Agenda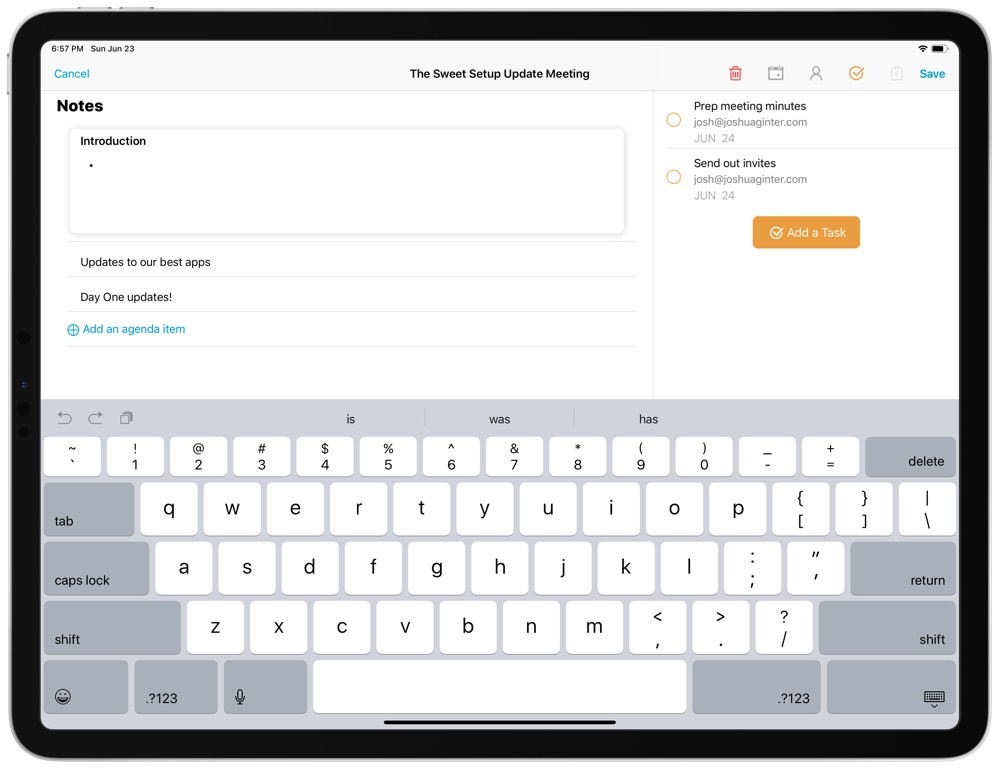 When you open tap on an upcoming meeting in your calendar, you are met with a variety of options, from assigning a location, a date, participants, tasks, and more. In this same screen, you're also able to create a meeting agenda — perfect for communicating with participants ahead of time.
Each agenda item is assigned a "Take Notes" section at the bottom of the view, ensuring you have an easy method for taking meeting minutes that follow along perfectly to the meeting's agenda.
Wrap Up
There are little areas that could make Re:Schedule that much better — it could sync with calendars beyond Google Calendar and it could shore up a few bugs and processes found in the app to make it smoother and more reliable.
However, as it stands, Re:Schedule looks like an interesting option if you lead a team, regularly have to create and attend meetings, regularly have to take notes at meetings, and need to coordinate with your team to complete a variety of tasks.
Re:Schedule for iPad is available as a free download on the App Store. The in-app purchase may initially seem a bit steep after the trial at $5.99/month or $59.99/year, but if the workflow suits you and your team, there's no price too expensive to ensure meetings operate more smoothly.
Our Must-Have, Most Used Productivity Apps
We spend an inordinate amount of time sorting through hundreds of apps to find the very best. We put together a short list of our must-have, most-used apps for increasing productivity.