Quick Tip: Use Carousel, Flickr, and Google Photos at the same time
August 27, 2015
I have a very specific method for organizing my photo library on my Mac (YYYY/YYYY-MM, or 2015/2015-08 for this month), and I want to keep that regardless of which photo service I use. I've got every photo since 2005 (when I got a digital camera) organized with that method. Here is my current setup:
Dropbox
My photo library is stored in a /Pictures folder inside the root Dropbox folder. This gives me backup #1. While I like Carousel just fine, it's not my favorite app. One of the things that I like about it is the "Flashback" feature that shows pictures taken on "this day" in previous years. I also like how I can easily delete a photo right from within the app and it will delete it locally on my computer.
Flickr
Flickr recently released version 4 of its interface. With 1 TB of free space, it's hard to ignore. I am using the Mac Uploader app to watch my /Pictures folder in Dropbox. Would I ever want to restore from Flickr? Absolutely not, but with 1 TB of free storage and fairly good iOS apps, there is no reason not to run the uploader and make an additional backup (this is backup #2). Flickr creates albums based on my folder structure as well.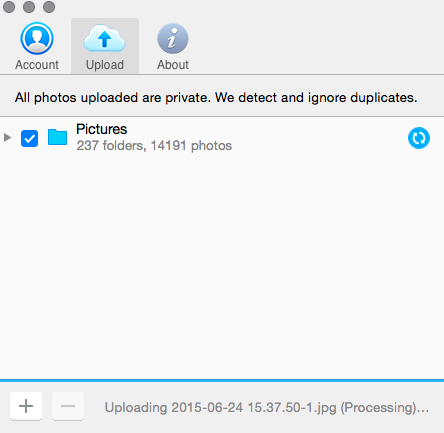 Google Photos
I am really a big fan of Google Photos so far. It reminds me the most of Everpix (RIP). By using the Mac Uploader tool, I can watch the /Pictures folder in Dropbox for automatic uploading. I'm just using the free version of Google Photos since I mainly use it for viewing my pictures on iOS. I still keep local copies on my Mac, so a little compression on the online version doesn't bother me. I would consider this backup #3, though. Like Flickr, I certainly wouldn't want to restore from it, but it's better than nothing.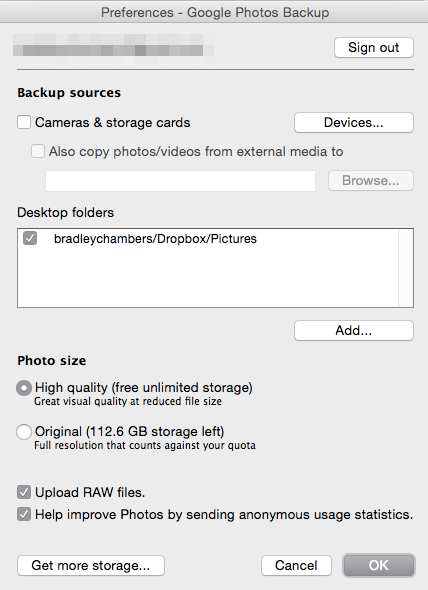 I should mention that I'm uploading all of the photos from my iPhone using Dropbox's Carousel app. Since I always keep local copies on my Mac, I want to be able to get the original photos into the appropriate folder before letting Google and Flickr upload it. If you add on a Time Machine backup and offsite backup service, you essentially have 5 backups of your photos.
For more info on managing your photo libraries, check out our review of Google Photos.
---
We have more Quick Tips right here.