Quick Tip: Understanding the Wi-Fi Preference pane
March 19, 2015
The Wi-Fi Preference Pane in Mac OS X is full of useful information, so it's helpful to understand where things are and what the different terms mean. First off, you can find it in System Preferences → Networks → Choose Wi-Fi on the left, and then click Advanced.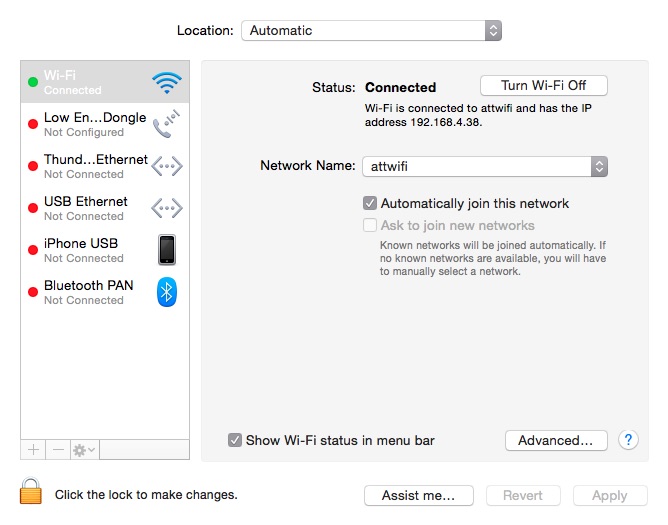 Wi-Fi Tab
Mac OS X keeps a list of Wi-Fi SSIDs that you have connected to previously. With iCloud keychain, it also includes SSIDs that your iPhone or iPad have connected to as well. What you may not know is that this order matters. If there are multiple SSIDs available, your devices will choose the one that is closest to the top.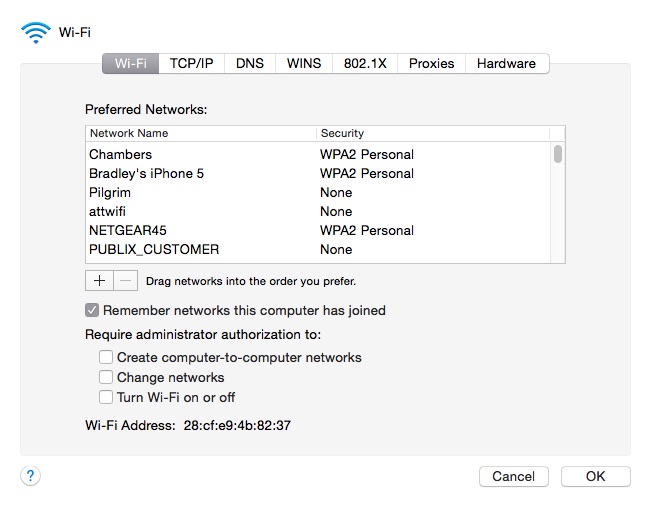 You can drag and drop SSIDs to re-order, or you can easily delete ones you aren't using. If you visit places with public Wi-Fi often, you'll likely see quite a few listed here.
TCP/IP
This section is helpful if you need to manually control how your Mac receives an IP address. Most people just choose DHCP.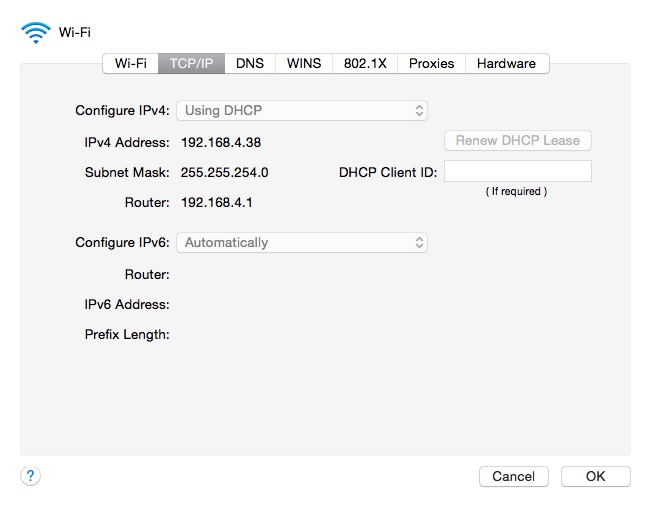 DHCP means that the router will automatically assign what information it needs. If you are setting up a Mac Media Center, it might be helpful to assign it with a static IP address. If you router starts its DHCP range (check your router's settings to see the range) at 192.168.1.4, then you might assign the media center to 192.168.1.3.
DNS
DNS is the phone book of the internet. It's what allows you to type in google.com and magically be connected to the right server. Your ISP provides DNS servers, but a lot of people use Google's DNS or OpenDNS. I'm a big fan of OpenDNS Family Shield. It's a version of OpenDNS that blocks adult content. DNS servers are very important to how fast your internet works. Many times, I've seen Comcast report outages that were just simply DNS outages. If you were using Google or OpenDNS, there wouldn't have been an issue.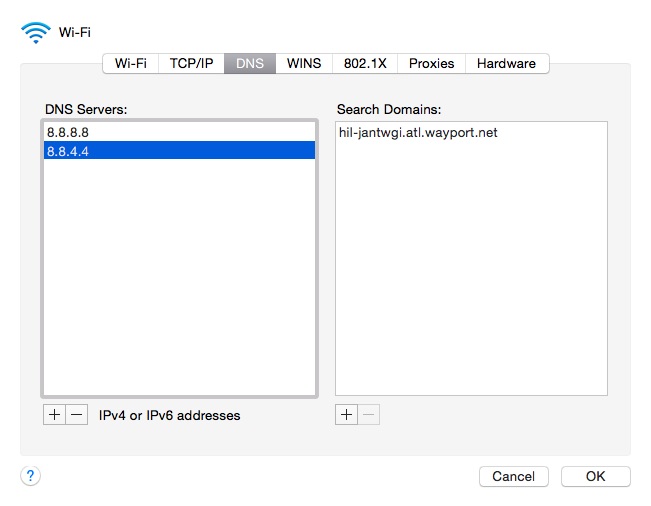 WINS, 802.1X, Proxies, Hardware
The other tabs in the Network pane are more advanced and aren't used very often. I've listed them here, but the reality is that you'll likely never need them.
WINS is a term for Windows networking. You can set the "workgroup" that the machine shows up in if you're connected to a Windows network.
802.1x is an enterprise authentication scheme for networks. Basically, this is where specific configuration profiles are listed if your Mac is controlled/owned by an enterprise IT department.
Proxies allows you to configure proxy settings on your Mac.
Hardware is useful because it shows your MAC address.
With a little knowledge about the TCP/IP, DNS, and Wi-Fi tabs, you can have a better understanding of how your Mac connects to the internet. This preference pane should be the first place you come when you run into issues.
We have more Quick Tips right here.