Quick Tip: Rename your photos based on EXIF metadata
August 20, 2015
I'm quite particular about how I manage my photos. In fact, I don't even use iCloud Photos because of my methods. One of the things I am very particular with is file names. I like file names like 2015-06-02_10-23-44.jpg. A lot of cameras use a format like DSC30948.jpg or IMG_4490.jpg when you import them. Thankfully, there is a great program for the Mac called ExifRenamer that can automatically rename photos based on their EXIF data.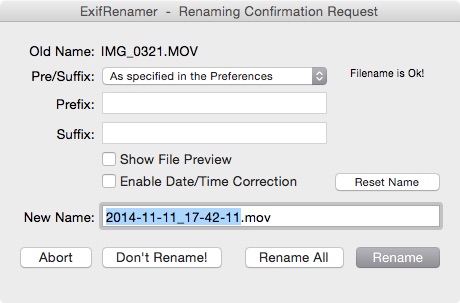 The one caveat to this app is that it's only reading EXIF data, so if your metadata is wrong on your photos, you'll have a lot of manual corrections to do before using the app. My son's preschool teacher had her camera set on 2007, so I used Photo Meta Edit to correct the files. Correct EXIF data is essential to a happy photo library as most photo management services are organizing based on the EXIF date.
For more info on managing your photo libraries, check out our review of Google Photos.
---
We have more Quick Tips right here.