Quick Tip: Keep track of your data usage
May 1, 2014
Introduction
With the introduction of Background-App Refresh in iOS 7, it's become increasingly important to keep an eye on your data usage.
Luckily, it's pretty easy to track your usage and avoid overage charges.
In Settings on your iPhone or iPad with LTE, tap Cellular. This screen has lots of information, including call time and cellular usage on the whole and per-app: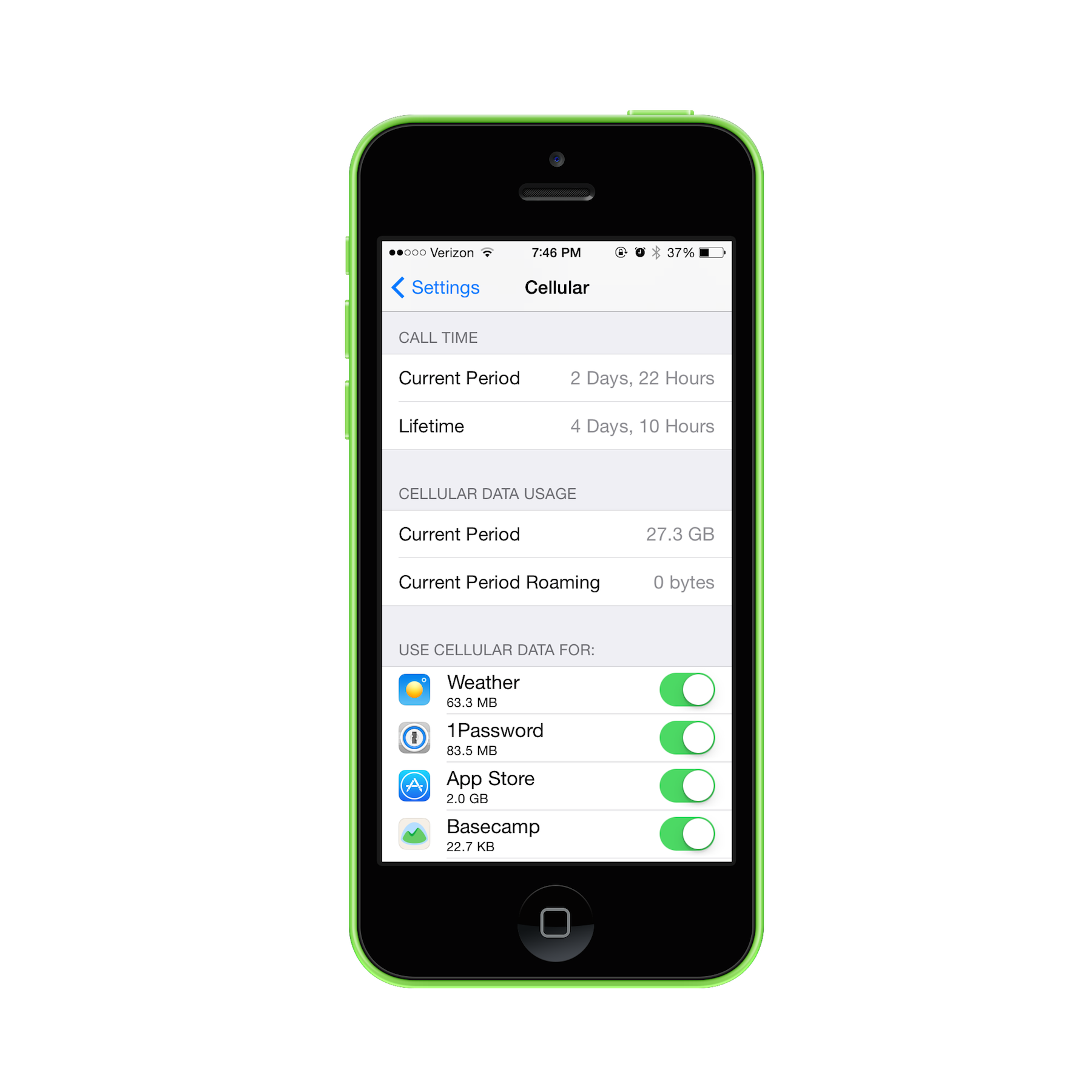 As this data is cumulative, it doesn't reset each month. However, tapping the "Reset Statistics" button at the bottom of the screen will clear all stored totals.
This can be used to track data usage month-to-month by making frequent trips to this screen, but date usage can also be checked with your cell phone carrier directly. This method will give you the most accurate information on your data usage.
That being said, the process is different for each carrier, so we've included instructions below for the four big US players.
AT&T
To check your data usage with an iPhone on AT&T, just type *3282# into your dialer and press *Call. In a few seconds, you'll receive a text message from 104. You can add both of these numbers to a new contact for easy access.
Verizon
The process for Verizon is very similar to AT&T's — just call #3282. Unfortunately, unlike AT&T, this will actually initiate a phone call. Just stay on the line for a couple seconds and you'll receive a text message with your data use. The text message containing your data usage will actually display as if it came from your phone.
T-Mobile
To check your data usage with an iPhone on T-Mobile, just type #932# into your dialer and press Call. Instead of sending you a text message, T-Mobile will display your data usage in a dialogue box within the dialer — it's pretty great.
Sprint
There's no dialer code to access your data usage if you're on Sprint. Don't worry, though. By texting usage to 1311, Sprint will reply with a message including information on your data use.
Go Further
The beauty of using what are essentially fancy phone numbers to access your data usage information is that whatever you can do with a regular phone number, you can do with these codes. That means by adding these to your contacts, you can add them to your favorites within the Phone app and even call them up via Siri.