How to archive completed tasks in OmniFocus for faster syncing
December 4, 2013
My to-do list app of choice is OmniFocus. I've been using the 3-app suite (iPad, iPhone, and Mac) since 2010.
Something OmniFocus lets you do, if you want, is clean out completed items from your main database and move them to a separate "archive" database. This makes OmniFocus more efficient — especially on the iOS apps where you'll notice that a lighter database helps with faster syncing and speedier overall use.
I have a monthly repeating reminder to move my old OmniFocus data to the archive (and out of the live database).
From OmniFocus on your Mac, click File → Move Old Data to Archive…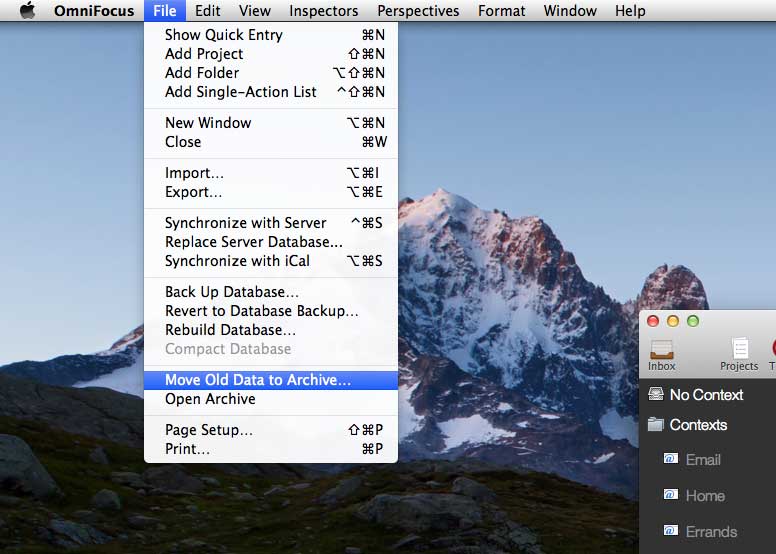 Then, choose how far back you want to clean up. I always leave the previous month's tasks in the database and get rid of everything else. So, for example, for this month's clean up (December), I will keep my tasks completed since November 1st (just in case I need to refer back to a recently-comleted task), but everything older than that gets archived. Ahhh. Feels good.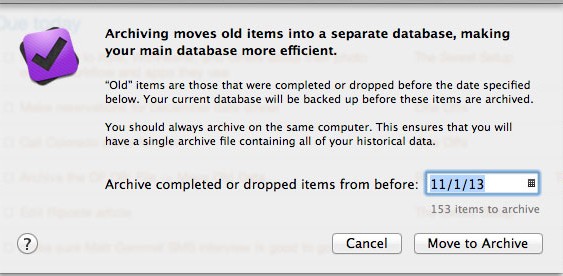 ---
We have more Quick Tips right here.