Preshit Deorukhkar's sweet Mac setup
April 28, 2014
Every week we try to post a new interview with someone about what software they use on their Mac, iPhone, or iPad. We do these interviews because not only are they fun, but a glimpse into what tools someone uses and how they use those tools can spark our imagination and give us an idea or insight into how we can do things better.
New setup interviews are posted every Monday; follow us on RSS or Twitter to stay up to date.
---
Who are you and what do you do?
My name is Preshit Deorukhkar. I'm the Founder & Editor-in-Chief of Beautiful Pixels, a site that showcases some of the finest examples of visual design in apps & on the web. I have also co-founded Homescreen.me and the now-defunct Apple blog Smoking Apples.
I work from a little home-office setup in Mumbai, India as a tech consultant & advisor, working with local Educational Institutes and other small businesses and helping them with their online presence & web properties.
I write about miscellaneous stuff over at Nuclear Bits, post photos to Flickr, and videos to YouTube.
What is your current setup?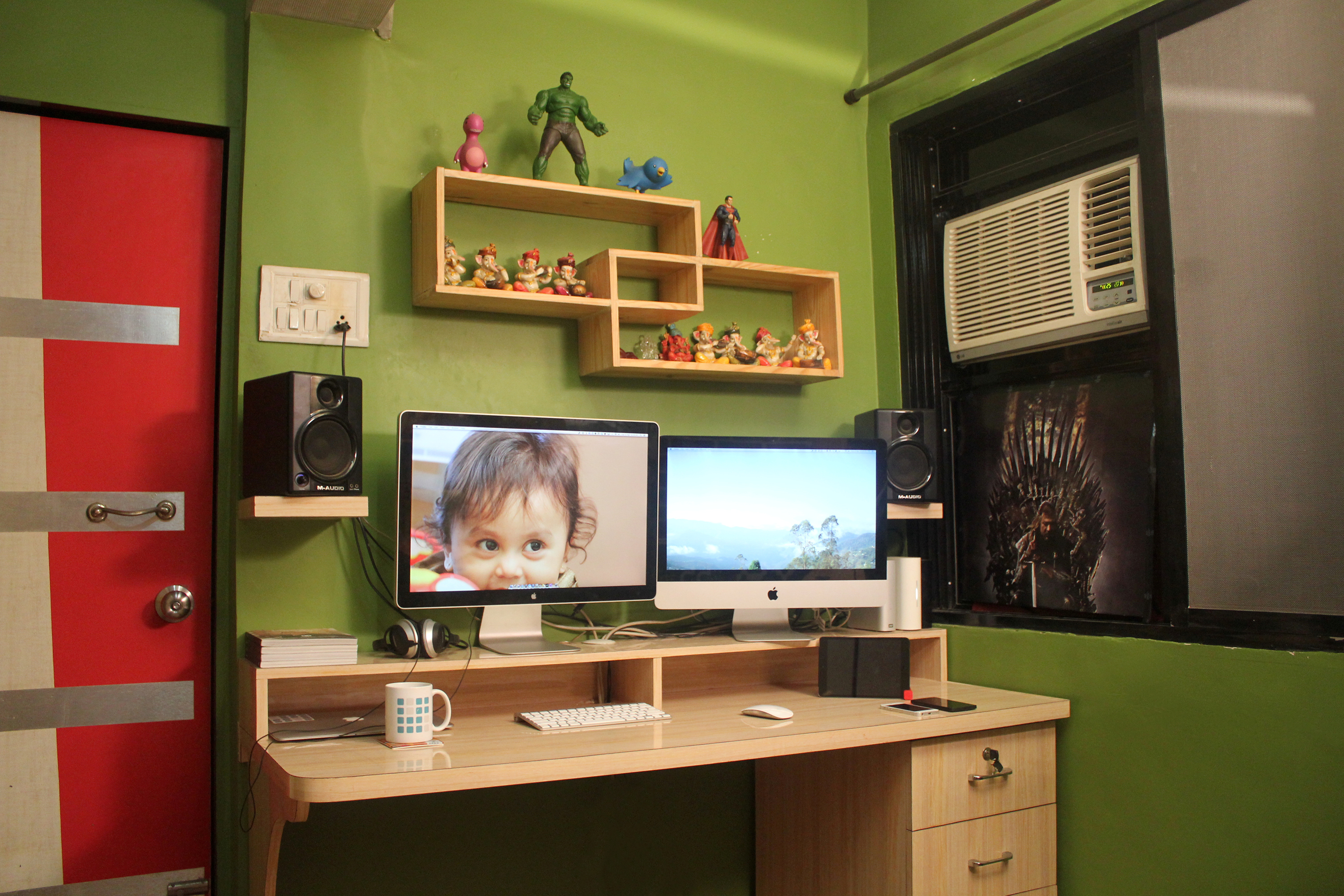 My current primary setup involves a 21.5" mid-2011 iMac with 16GB of RAM, connected to an Apple 24" LED Cinema Display as pictured above. I use the bundled Apple Wireless Keyboard & Magic Mouse because I'm too used to them now. These stand on a custom-built desk that I recently got done as I was running out of space on my old one.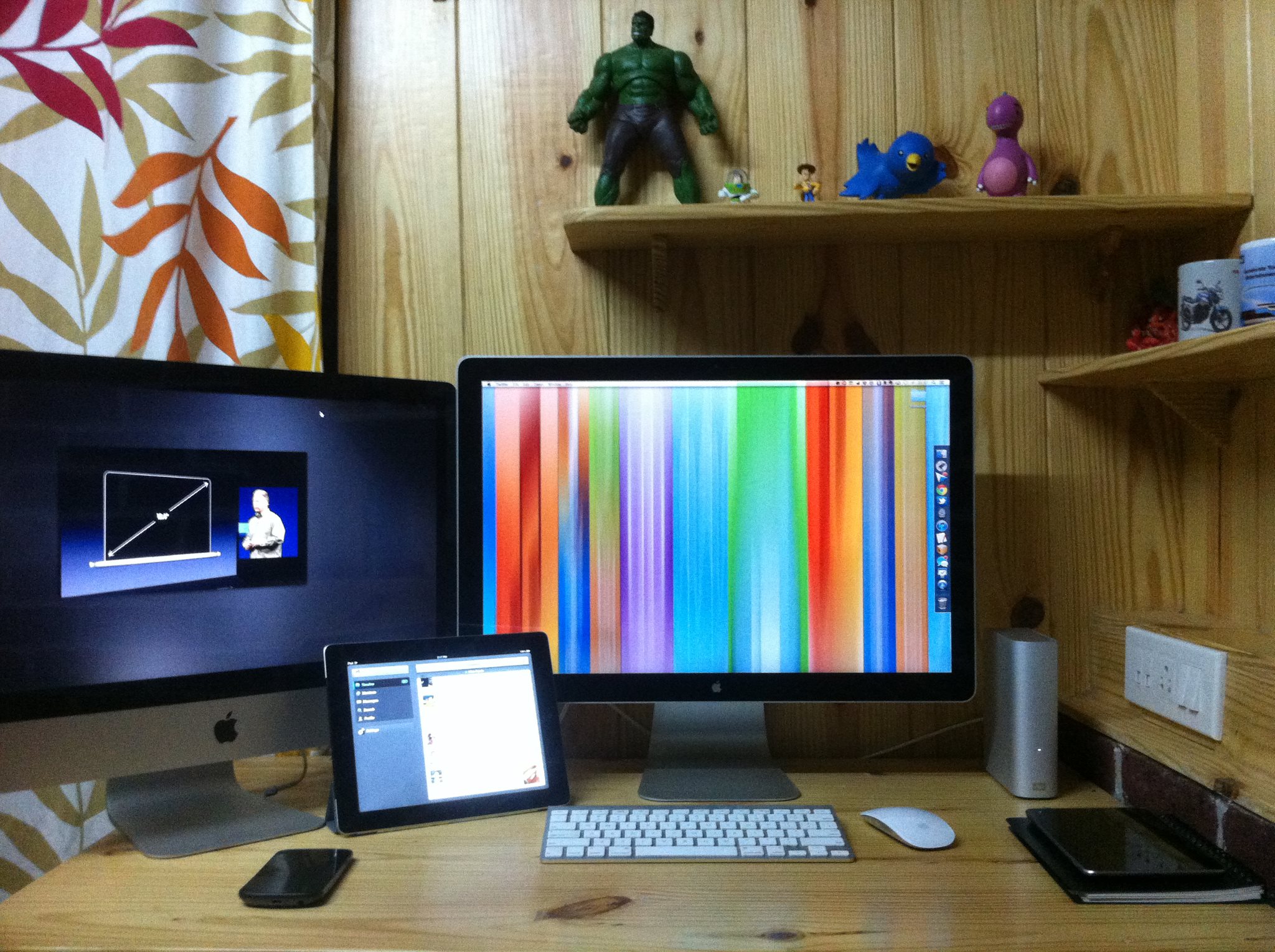 The old setup
For storage and backups, I only trust Western Digital drives. I currently have four external drives that I've collected over the years.
A 2TB WD My Book Studio, connected to the iMac via Firewire that houses all my media and is indexed by Plex Media Server.
A 2TB My Book World, connected over ethernet that works as a backup drive and also stores miscellaneous files.
Two 1TB My Book Essential drives that are used as spare drives.
I listen to music either on my M-Audio AV40 Studio Monitors or my Bose AE2 headphones. I especially love the AE2s because they're super light and produce crisp sound. These days, they're connected via the Traktor Audio 2 interface.
I do most of my writing (typing?) on a 13" MacBook Air (the 12hr version) and have a 16GB iPad mini with Retina display (Space Gray, Wi-Fi + Cellular) that I use mostly for reading. I upgraded from an iPad 3 and chose the iPad mini only due to its much smaller form factor. My primary phone is a white 16GB iPhone 5, but I also use a Nexus 5 at times to test Android apps.
My home network uses a D-Link DSL Modem, a 5th Gen Airport Extreme Base Station, a Linksys Gigabit router and a D-Link range extender.
What software do you use and for what do you use it?
Most of my time is spent using three apps: Safari for browsing the web, Tweetbot for keeping track of what's currently happening, and ReadKit, for reading what others are writing about.
The three most important apps on my Mac are:
Dropbox: Practically every work-related & important file resides on Dropbox. I am one of the early-adopters of Dropbox (#4,261) and have accrued a bunch of bonus space on it. Dropbox also works as a great sync solution for most apps, unless the developer works his magic around iCloud instead.

1Password: This really needs no introduction. As someone who's very active on the interwebs, I sign up on tons of different web services and apps every week. 1Password helps me retain my sanity and also makes this easier for me. This is the app I recommend to my friends and followers, and even registered a handy URL for it — http://get1.pw

Alfred: Since the time I got a Mac, I'd been using Launchbar to save time and make things easy for me. But then came along a handsome little app called Alfred and gave me enough reasons to switch. The community has been building some fantastic extensions for Alfred, so if you aren't already using them, you're really missing out. That said, the devs behind Launchbar recently hooked me up with a beta of their upcoming v6.0 and I have to say, it's looking pretty solid.
I have Plex Media Server running on my iMac that indexes all my media from the attached storage drives and neatly organizes them. My home network & Plex allow me to view this media from practically anywhere — my iPhone, iPad, Nexus 5, Apple TV and my Samsung LED TV all have Plex clients.
The other apps that are always open are Sparrow and Mailplane for email, Fantastical for calendar, iTunes to keep an eye on app updates, Omnifocus to get things done on time, Adobe Photoshop CC for editing images, Droplr for quickly sharing screenshots and Writer Pro or Ulysses III for writing.
We use Trello and Slack to organize and communicate between the team at Beautiful Pixels, both of which are fantastic services.
Occasionally, I edit code in Coda 2, organize my life into Evernote and store notes and snippets in Simplenote.
Before you berate me, I use SuperDuper! for my backups. Unfortunately, due to my geographical location, internet bandwidth and high latency issues, services like CrashPlan or Backblaze have never gone beyond their trial periods.
How would your ideal setup look and function?
I'd love to upgrade to a newer generation iMac in the second-half of the year, since my current iMac is limited to USB 2.0 and no Thunderbolt ports. I also hope Apple releases a Retina Thunderbolt Display, because that would be awesome. A lot of my peers are excited about the rumored MacBook Air with Retina display, but I'd much prefer those glorious pixels on my desk.
---
There are more Sweet Setup interviews right here.