Paul Westlake's Mac setup
September 5, 2016
Every week we post a new interview with someone about what software they use on their Mac, iPhone, or iPad. We do these interviews because not only are they fun, but a glimpse into what tools someone uses and how they use those tools can spark our imagination and give us an idea or insight into how we can do things better.
New setup interviews are posted every Monday; follow us on RSS or Twitter to stay up to date.
---
Who are you and what do you do?
My name is Paul Westlake, and I live in Bedfordshire in the UK.
I actually have a slightly odd "double life." By day, I work as a Solutions Consultant for Kineo.com designing digital learning solutions for corporate L&D teams and anything from elearning courses, videos, and animations. I predominantly work from home, so spend an awful lot of time in front of my Mac!
However, my real passion is my photography business, which encompasses motorsport, portrait work, and lots of weddings.
What is your current setup?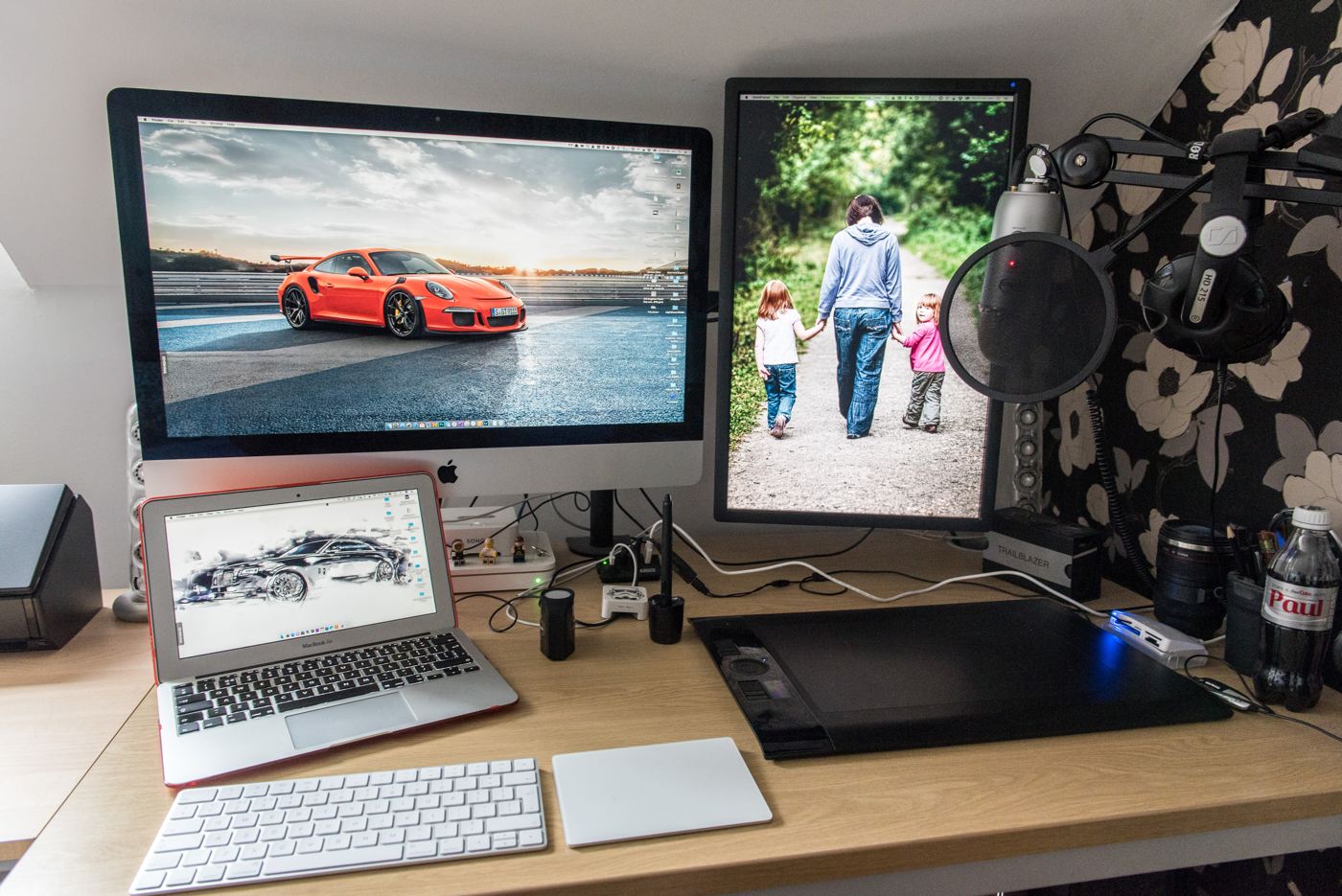 My main machine is a VESA mount late 2015 27" iMac 5K with 32GB of RAM and a 1TB Fusion drive. I went for the VESA version because I have a dual monitor set-up and needed the ability to adjust the height on both monitors.
My second screen is a Dell U2412M, which I have in portrait orientation. This is perfect for having the 800-1,000 images from a wedding open as thumbnails in Lightroom whilst I edit on the 5K Mac.
Colour correction is critical for me, so I have Philips Hue lighting in my room, which I can set to daylight when editing, avoiding the usual orange glow of standard bulbs.
Both monitors are colour-balanced (and kept in sync) by a ColorMunki, which checks ambient light and adjusts accordingly on an hourly basis.
I also find the dual monitor setup is great for working in Final Cut X, Motion, and Photoshop. Again, the Dell is pretty much for my palettes, with the iMac being a huge canvas.
Editing / working in most of the Pro Apps is done via my Wacom Intuos4 tablet. I find it easier than a mouse or trackpad, especially using the programmable keys that the Intuos offers.
I shoot in 14-Bit Nikon RAW (NEF) format for most weddings, so as you can imagine, I can never have enough storage space.
My media libraries sit on a ThunderBay 4 with 4 x 3TB drives in it – nice and fast using Thunderbolt 2 and SoftRaid. I perform daily backups to an internal drive on an older MacPro, which is running as a server. On a weekly basis, I also back-up to the 12TB Drobo attached to the Mac Pro.
I have two printers attached to the network too, one B&W Brother laser printer (for the day job!) and an Epson XP-850 for any print proofs that I need to make.
Working from home means that I spend a lot of time in Skype for Business, so I have a Blue Yeti microphone on a boom arm, and both Sennheiser headphones and Harmon/Kardon Soundsticks speakers available.
My travel machine for both jobs is a 2011 11" MacBook Air. It is perfect for client demos, email, and working on the go, but I am looking to replace it soon since I really miss the Retina screen (the 27" 5K iMac will spoil you).
Where can we find your OS X wallpaper?
My laptop wallpaper is a shot of a Rolls-Royce Black Badge Wraith, which I have made into a piece of artwork in photoshop. I am very fortunate to have Rolls-Royce as a client that I produce digital learning for.
I have two wallpapers on the iMac setup. One is a Porsche GT3, and the other is a shot of my family, which works well in portrait format.
What software do you use and for what do you use it?
My photography workflow was originally based around Apple Aperture, which I LOVED. However, once that went, I moved across to Lightroom. I have the full Adobe CC suite now, as I also spend a lot of time in Photoshop and Illustrator.
Lightroom's ability to publish direct to my website (www.westyphotography.com) is a huge bonus for me. The site is hosted by SmugMug, who have a great plug-in for Lightroom. I really can sort, edit, and upload a wedding from within one application, which is fantastic.
I create slideshows for wedding clients in FotoMagico, but tend to edit the output myself. All of my video work (including editing the slideshows) is done in Final Cut X, with animations and titles created in Motion.
I have started to build up some workflows recently to manage paperwork, so I am finding a combination of my ScanSnap iX500, Hazel, TextExpander, and DEVONthink indispensable.
How would your ideal setup look and function?
To be fair, I think I am pretty close to it now. I would, however, like to replace the Air with a new MacBook Pro, assuming that Apple makes it thin and light for me!
Oh, and replacing the Dell with something closer in resolution to the iMac would also be nice, but not really a necessity right now.
---
There are more Sweet Setup interviews right here.
Want to share your setup? We'd love to hear from you. Just fill out this form with some basic information and we'll be in touch.