Paul Morris' iPhone setup
March 19, 2018
Every week, we post a new interview with someone about what software they use on their Mac, iPhone, or iPad. We do these interviews because not only are they fun, but a glimpse into what tools someone uses and how they use those tools can spark our imagination and give us an idea or insight into how we can do things better.
New setup interviews are posted every Monday; follow us on RSS or Twitter to stay up to date.
---
Who are you and what do you do?
I'm Paul F. Morris, and I work in nonprofit fundraising and have for nearly 25 years. I am currently the Director of Development for Elevate Oregon. We do youth development and empowerment in outer northeast Portland through an accredited curriculum and 1:1 relational mentoring in school and out of school. Our focus is on helping kids build the tools they need to succeed — character
qualities and life skills.
What iPhone do you have?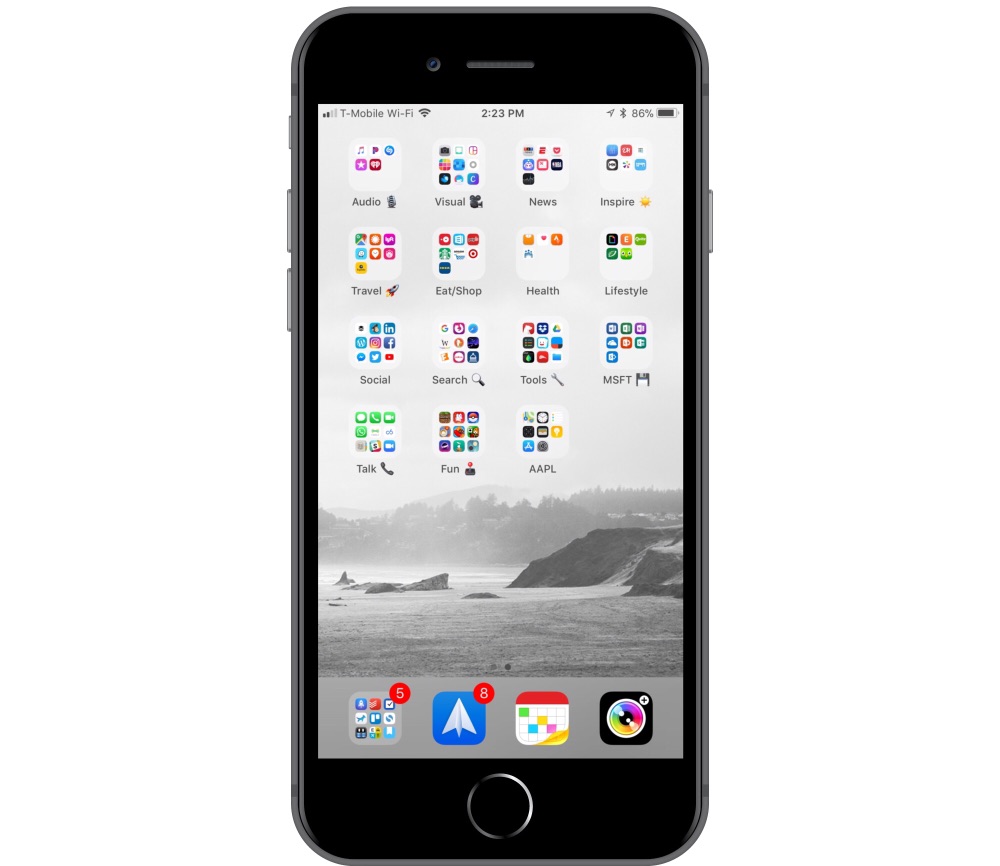 I am currently using the 8 Plus 64GB in space gray. It is wrapped in a black leatherette case I found in Madrid, Spain when we were
on vacation recently. I like to keep things simple and sleek.
Where can we find your wallpaper online?
It's a photo of the Oregon Coast I found via Google and edited to the mono look because I really don't like the gray that the app
folders are, so now they now appear pretty transparent.
What apps do you use the most, and why?
Todoist (Premium), Spark, Fantastical 2, and Trello — in that order. All of these apps are great cross-platform tools that allow me to stay on top of everything we are doing. Todoist's functionality around projects, prioritization, etc. has been fantastic for me. I also like the gamification of it (the karma function brings a little challenge/motivation to my list). I have tried a lot of project management apps and while I also have an affinity for Things 3, Todoist just suits me best. The same goes for Spark — I have tried almost all of the major email programs, and while I really like Airmail, Spark's size, functionality, and design just work better for me. Fantastical 2 — I don't think I need to say more. Trello allows me to manage all of the aspects of our development plan and process, as well as our communications, efficiently.
I am also using Day One, Firefox Focus, Bear, Calcbot, and Accompany. Most of the apps I use are oriented toward business; we are a small organization, so I need easy. I am also a big fan of IFTTT and use it to automate a lot of things. I use Day One as my personal journal to write, collect ideas, etc.
I keep all of my most-used apps in a single folder on the app dock for easy access and on one level. To get to secondary apps or apps I use less but are still important, I have Launch Center Pro, which I've used for a long time.
Which app could you not live without?
Do I have to choose one? Giving how dynamic fundraising is and the volume/pace at which we work, I would be sunk without Todoist, Spark, Fantastical 2, Trello, and Google. If I really had to choose just one, it would have to be Todoist.
---
There are more Sweet Setup interviews right here.
Want to share your setup? We'd love to hear from you. Just fill out this form with some basic information and we'll be in touch.
Bonus! One more thing…
The Complete Guide to Managing Tasks in Things (Video)
If you struggle to keep up with all your tasks, we can show you some organization tips that may help you.
We put together a video that shows you everything you need to know about a task in Things:
The difference between start dates and due dates and how to use them effectively.
How to set up reminders so you never forget an important task again.
How to use checklists for tasks that require more than one step.
How to configure daily, weekly, monthly, or even annual repeating tasks.
And more…
You don't have to use any of these things in your tasks if you don't want to. But knowing what they are and how they all work will help you be more organized, save time, and ensure you are using Things in the way that suits you best.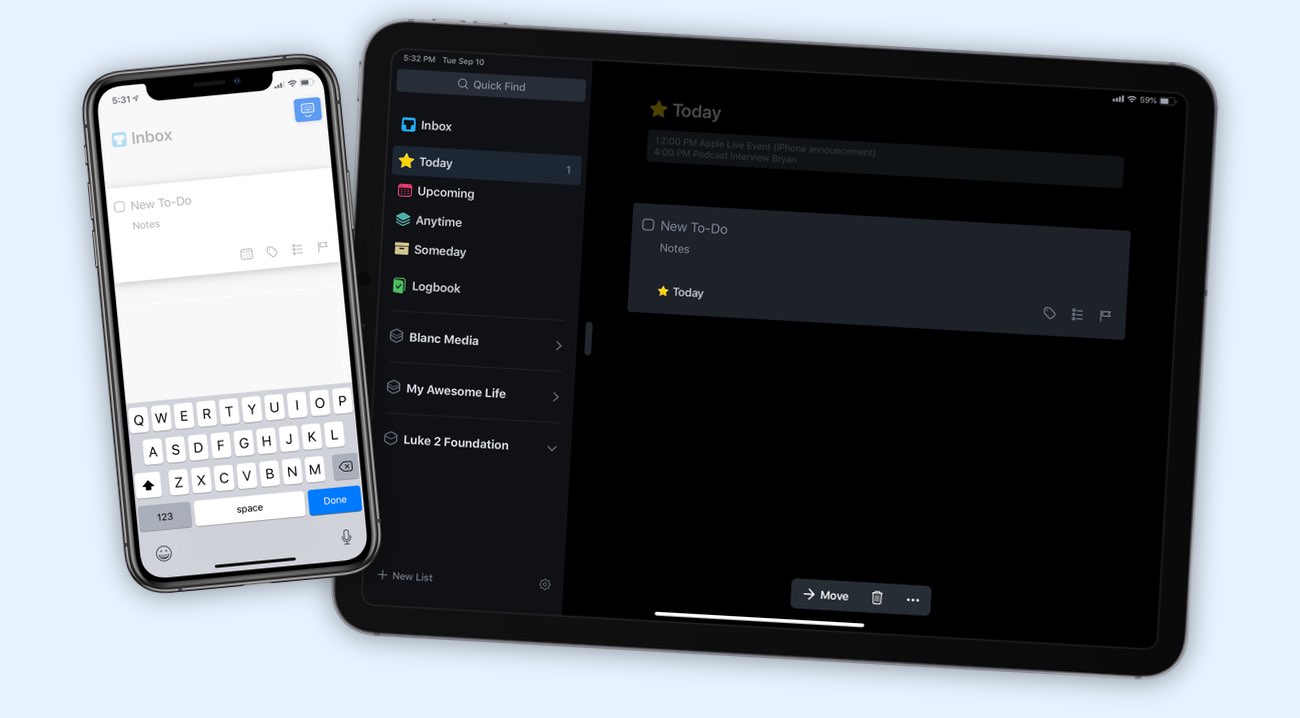 This video is something we have made available for free to our email subscriber community. You can get it right now. By joining the Sweet Setup community you'll also get access to other guides, early previews to big new reviews and workflow articles we are working on, weekly roundups of our best content, and more.