Our overview of Apple's 2020 September Event, Time Flies: New Watches, iPads, and a few "Finally" Moments
September 15, 2020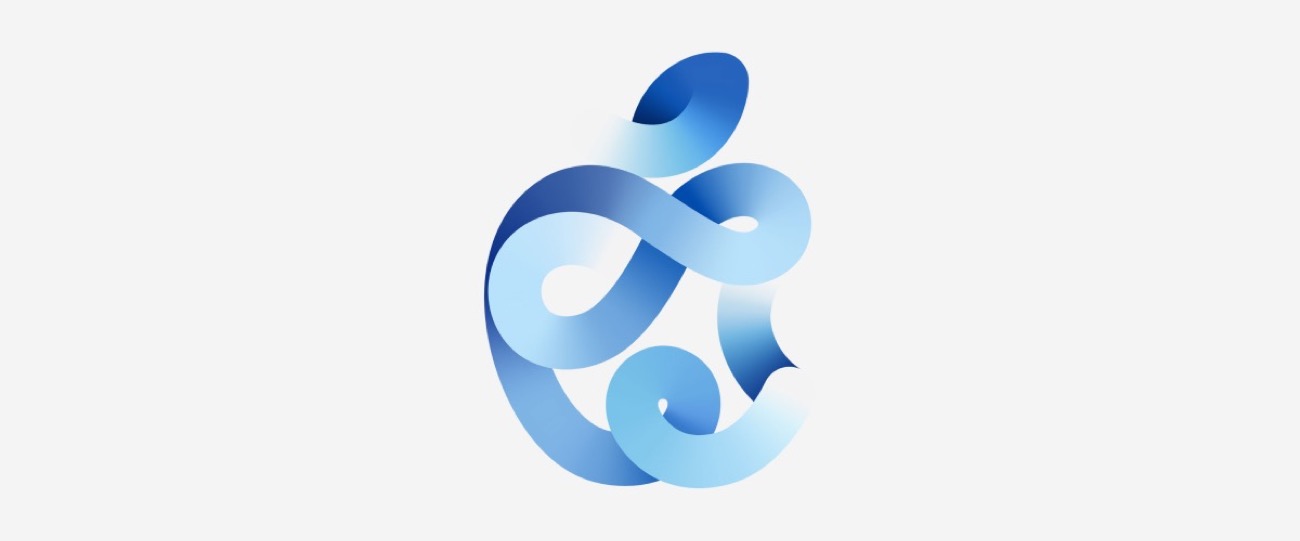 Over the course of a tightly-timed hour, Apple's September event introduced us to a new generation of Apple Watch, an exciting new chapter in the company's services push, as well as some significant updates to the consumer-level iPads.
As expected, there was no mention of the upcoming generation of iPhones, expected to land later in the fall.
Overview
Apple Watch Series 6 brings new sensor hardware and an improved display, plus a host of new bands and watch faces. There's also a brand new model, the Watch SE, that slots in between the lingering Series 3 and new Series 6 to offer most of the features of the high-end model at a more accessible price point.
Services are expanding to encompass a brand new Fitness+ offering. This Watch-first approach to workout videos and fitness tracking will be part of the new Apple One unified service offering too. Apple One, available in three different tiers, brings together all of Apple's services—iCloud, Music, Arcade, TV+, News+, and Fitness+—into a single discounted subscription.
Additionally, both the basic iPad and iPad Air received significant updates, including a complete redesign for the Air that transforms it into something that looks very much like the 2018 iPad Pro, with a brand new chip generation, albeit with Touch ID instead of Face ID and a slightly higher price point.
Finally, iOS/iPadOS 14, watchOS 7, and TVOS 14 are all arriving on September 15th.
The new watches and iPads are available to order now and arrive on Friday, September 18th.
You can watch the full, hour-long replay of the event on Apple's YouTube page, here.
The Big Picture
I have to admit that I'm a fan of the pre-recorded events that COVID has forced Apple into producing for us this year. They may not have the same spontaneity as their live equivalents, but they are certainly more focused and the also feel more fun and whimsical.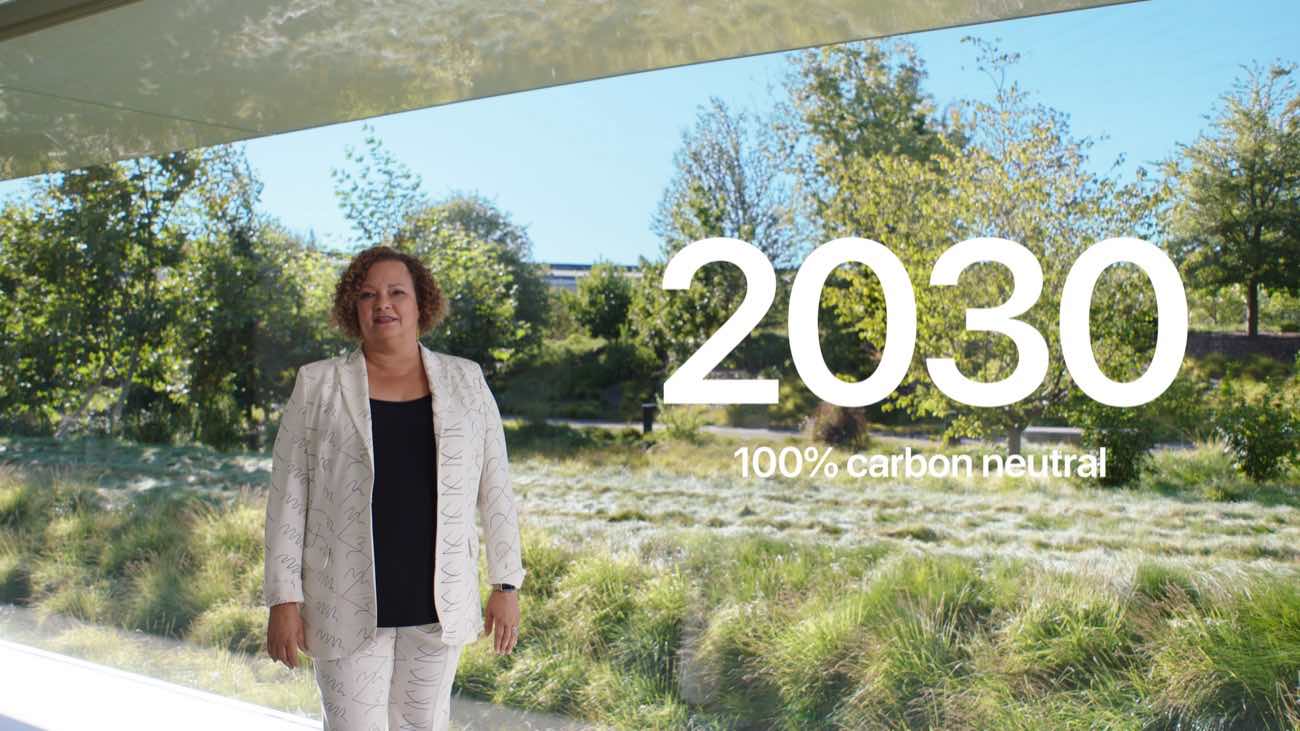 Outside of specific product and service announcements, Apple followed Google in committing to reach carbon neutrality in their operations by 2030. This is an ambitious goal, and one that will include some changes at the product level like removal of charging bricks from Apple Watch packaging going forward—a sensible choice given how many charging options most of us have these days.
Apple's also had a difficult year, PR-wise, and it's no surprise that conspicuously absent from the event was any mention of the App Store rules that they recently "clarified" for irate developers. It's unfortunate that these policies are so hostile to the leading game streaming services because it undermines the impact of some of the improvements Apple has made to the graphics capabilities of the new hardware.
Still, there are exciting new products and services to consider, so let's dig into the details and discuss some of the items we're most excited about.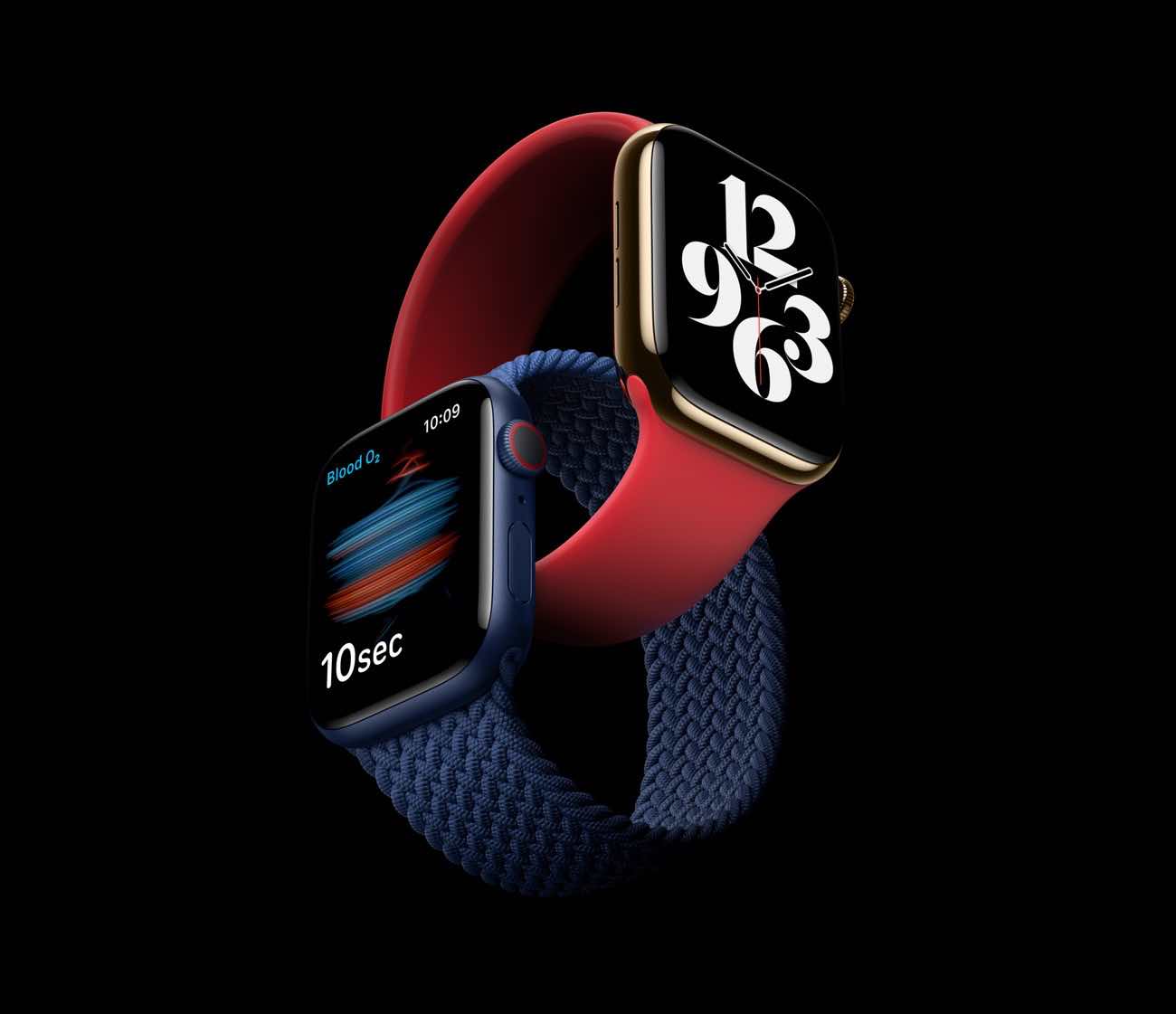 Apple Watch Series 6
The role of the watch is evolving to encompass much more than simply telling time.
Tim Cook began the Watch chapter of the event by highlighting a few more stories of people whose lives have been enriched or even saved by the Apple Watch. It seems that Apple is beginning to solidify their understanding of the Watch's appeal.
It's all about health.
From new VO2 Max measurements, to a brand new sensor capable of measuring blood oxygen levels, the combination of Apple new hardware and watchOS 7 establish the Apple Watch as a formidable personal health companion.
Series 6 introduces the new S6 chipset, a high-performance dual-core design based on A13 Bionic. It offers 20% faster performance than last year's Series 5. The always-on display has been upgraded too, with 2.5x more brightness in outdoor conditions and the ability to access notifications, Control Centre, and watch faces without fully waking the screen. An always-on altimeter is included in the sensor stack as well, adding another data point that can be measured.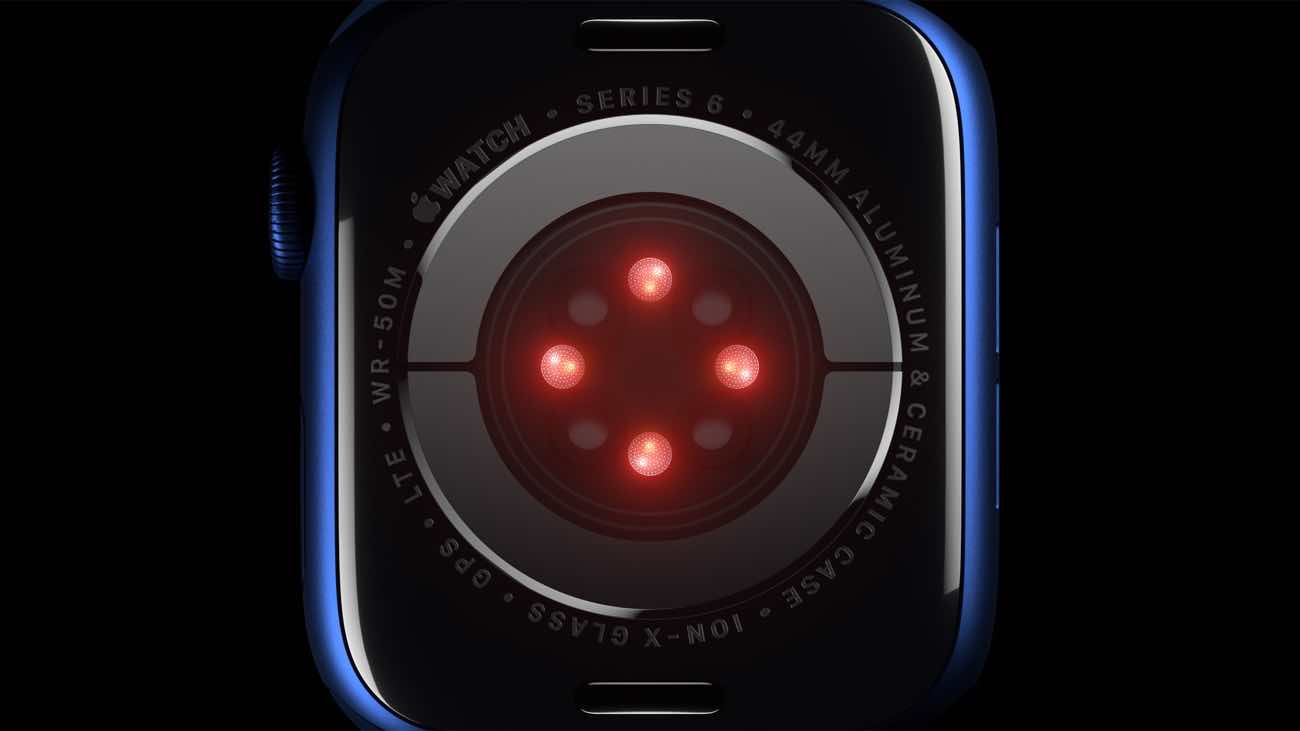 The blood oxygen sensor uses pulse oximetry to determine the saturation of oxygen in your blood. It does this by shining red and infrared light and measuring the reflected light. You can take a manual measurement in 15 seconds, and it will run periodic background readings too. Blood oxygen levels are a key indicator of breathing and circulation performance.
These new measurements have also allowed Apple to partner with a number of labs and universities to run new studies that will help us understand the relationships between heart health and a number of conditions, including respiratory illnesses like COVID-19.
Design and Customization
Externally, the Watch retains its familiar squared-off design for Series 6, but this year it'll be available in a number of new colours including blue and a bright Project Red version. You still have the choice of stainless steel, titanium, or 100% recycled aluminum for the case itself.
New bands are arriving as well, including an elastic Solo Loop with a seamless, buckle-free design, in both fluoroelastomer and braided yarn variants—each of which comes in a number of beautiful colour options. Existing bands like the Nike Sport Loops are getting new colours as well, and new Hermès bands round out the collection.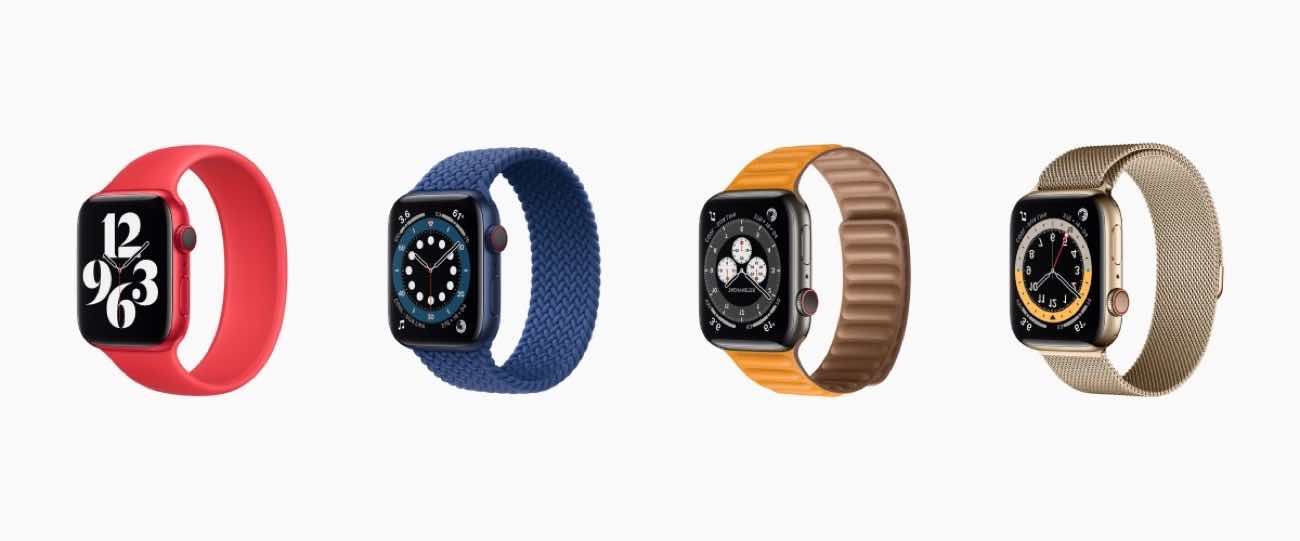 A few new watch faces are arriving too, including one that lets you use your own Memoji as the watch face (let's call it face…time?), a tachymeter face, and a new typography face.
Sorry, third-party developers: still no custom watch faces.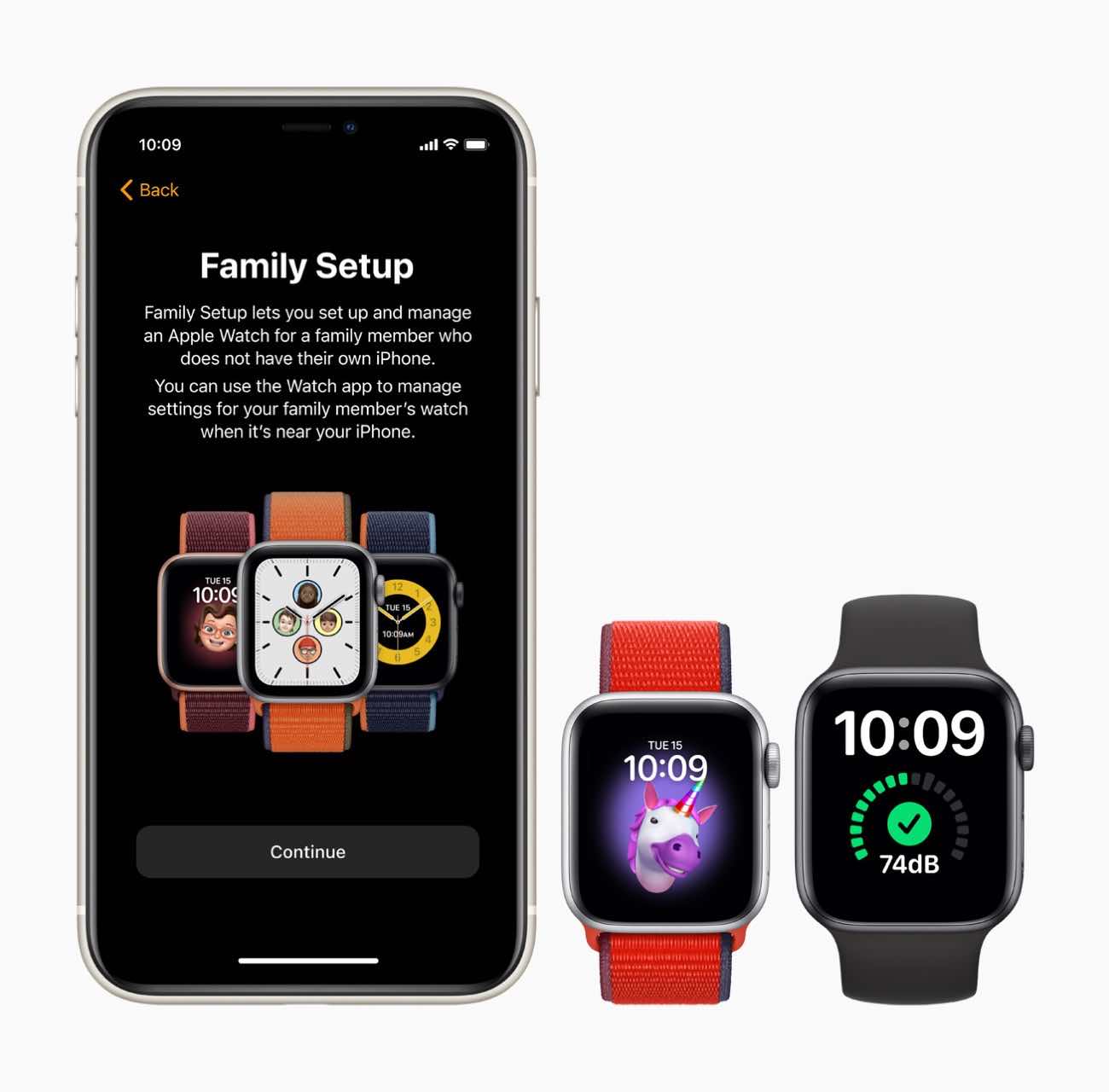 A new feature of Apple Watch is that you can now set up a Watch without having a dedicated iPhone to go with it.
Family Setup (Finally!)
An unexpected new capability of the Apple Watch is called Family Setup.
As the name suggests, the feature allows you to set up watches for multiple family members without each one of them needing their own iPhone.
All watches are paired to your phone, and there are a number of useful messaging, parental control, and tracking features. Parents will also have the ability to enable "Schooltime" mode, which puts the watch into a restricted state with a clearly-recognizable face that confirms to teachers that the watch isn't going to allow for any unwanted functionality during class time.
Family Setup requires a single iPhone, but the non-primary Apple Watches do need to be cellular models from Series 4 or later.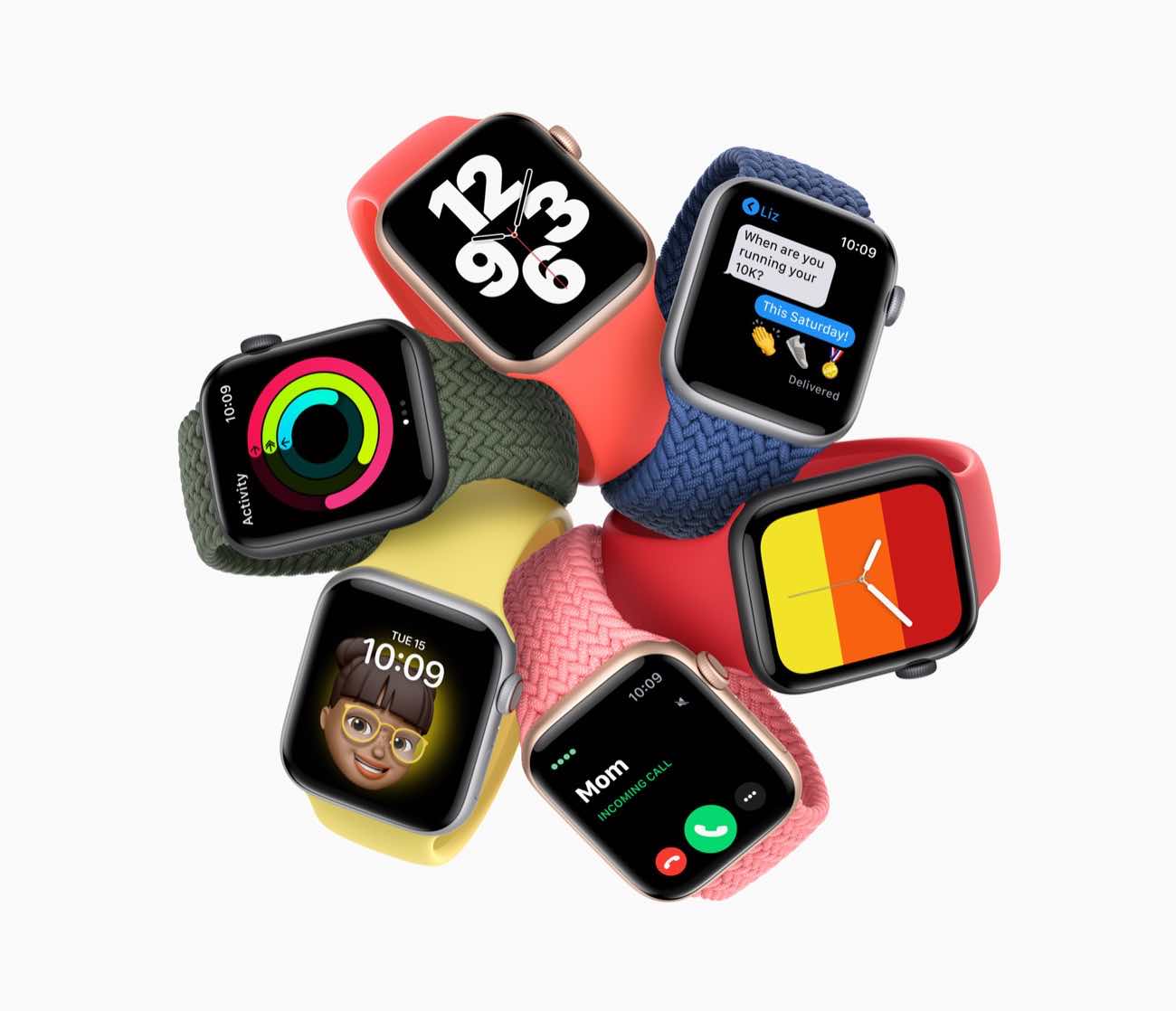 Apple Watch SE
In addition to the Series 6, Apple is also introducing the Apple Watch SE, an accessible mid-range model that features almost all the features from the Series 6 at a friendlier price point of $279.
The SE uses last year's chipset, but it has the same accelerometer, gyroscope, compass, and motion sensors as the Series 6 and is still 2x faster than lowest-end Series 3.
In practical terms, the most meaningful difference is that the SE doesn't have the always-on display from the Series 6 and 5. It also lacks the new blood oxygen sensors from the Series 6, but unless those two things are critical to your usage, the SE represents tremendous value.
And since the SE features the same chipset as the Series 5 but with its always-on display capability disabled, we expect battery life to be the best of any Apple Watch—an interesting trade-off that complicates the decision of which new watch model to go for.
Fitness+
Apple Watch's newfound focus on health features was the perfect segue into a brand new service offering: Fitness+.
In what feels like a natural extension of the existing Workout app functionality, Apple is getting into the business of personal training. Before the end of the year, you'll be able to choose from a number of guided workouts beginning with yoga, cycling, dance, treadmill walking & running, strength, core, HIIT, and rowing, with more categories coming later on.
Sessions are guided by "the world's best trainers", and new workouts are added weekly. The entire experience is powered by the Apple Watch, but you can initiate and watch a workout from any Apple device.
An absolute beginner program is built in too, as is a series of mindful cool-down sessions. Many workouts require no equipment, or simple only equipment, making it easy to participate.
Fitness+ will cost $9.99 per month or $79 per year—family sharing included—and is launching before the end of the year. As a bonus, 3 months of Fitness+ are included with any new Watch purchases.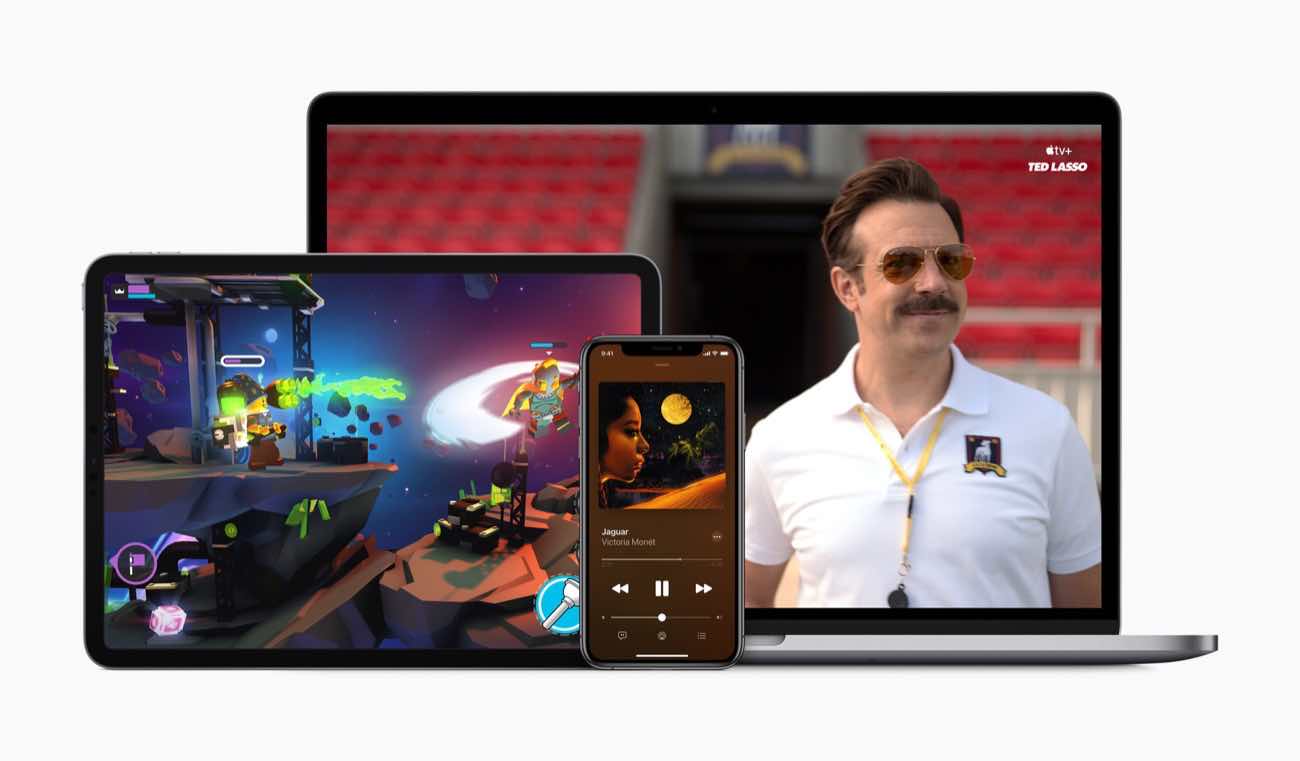 Apple One: A New Bundled Services Subscription
Perhaps one of the most anticipated announcements was the launch of Apple One, a unified subscription system that brings together all of Apple's services under a single simple fee.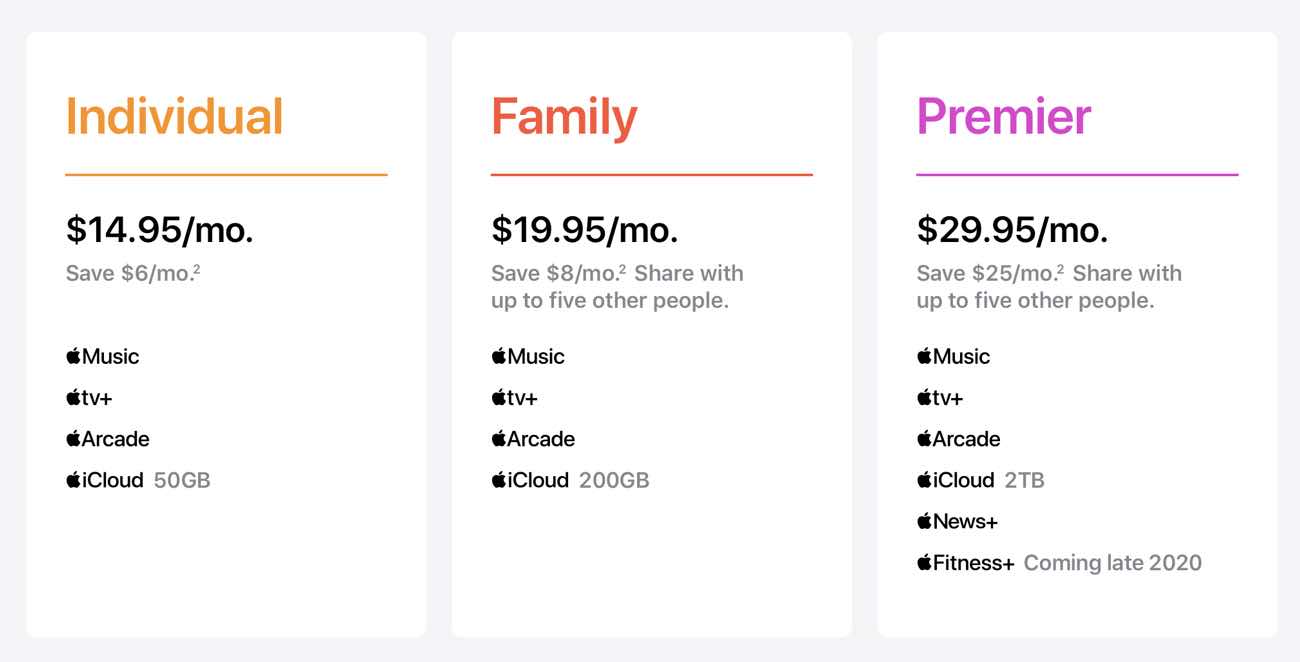 The Individual plan starts at $14.95 per month and includes Music, Arcade, TV+, and 50GB of iCloud storage. There's also a Family plan for $19.95 per month that offers all of the above for five people, and features 200GB of storage.
Finally, the Premier tier adds in News+ and Fitness+ for $29.95 per month and includes 2TB of iCloud Drive storage. You also retain the ability to share the subscription across five people, like with the Family plan.
The three tiers represent $6, $8, and $25 per month in savings over subscribing separately, so users of multiple services will almost certainly save money by switching to Apple One.
---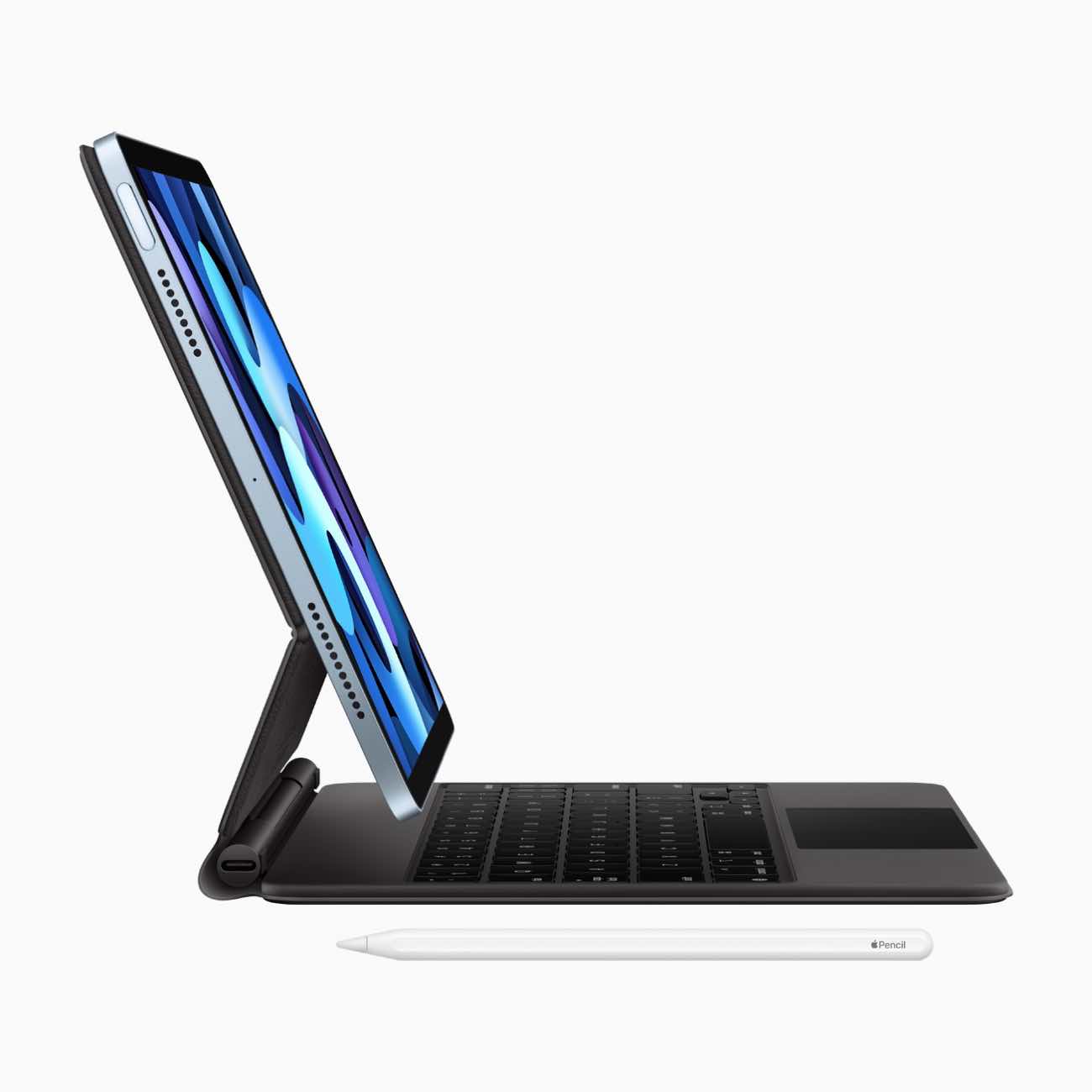 "A Big Year for iPad"
Tim Cook surprised us when he said that 53% of iPad customers are first-time buyers. The market clearly isn't saturated yet, and iPads are continuing to grow in importance for Apple as they celebrate their tenth year and 500 millionth sale.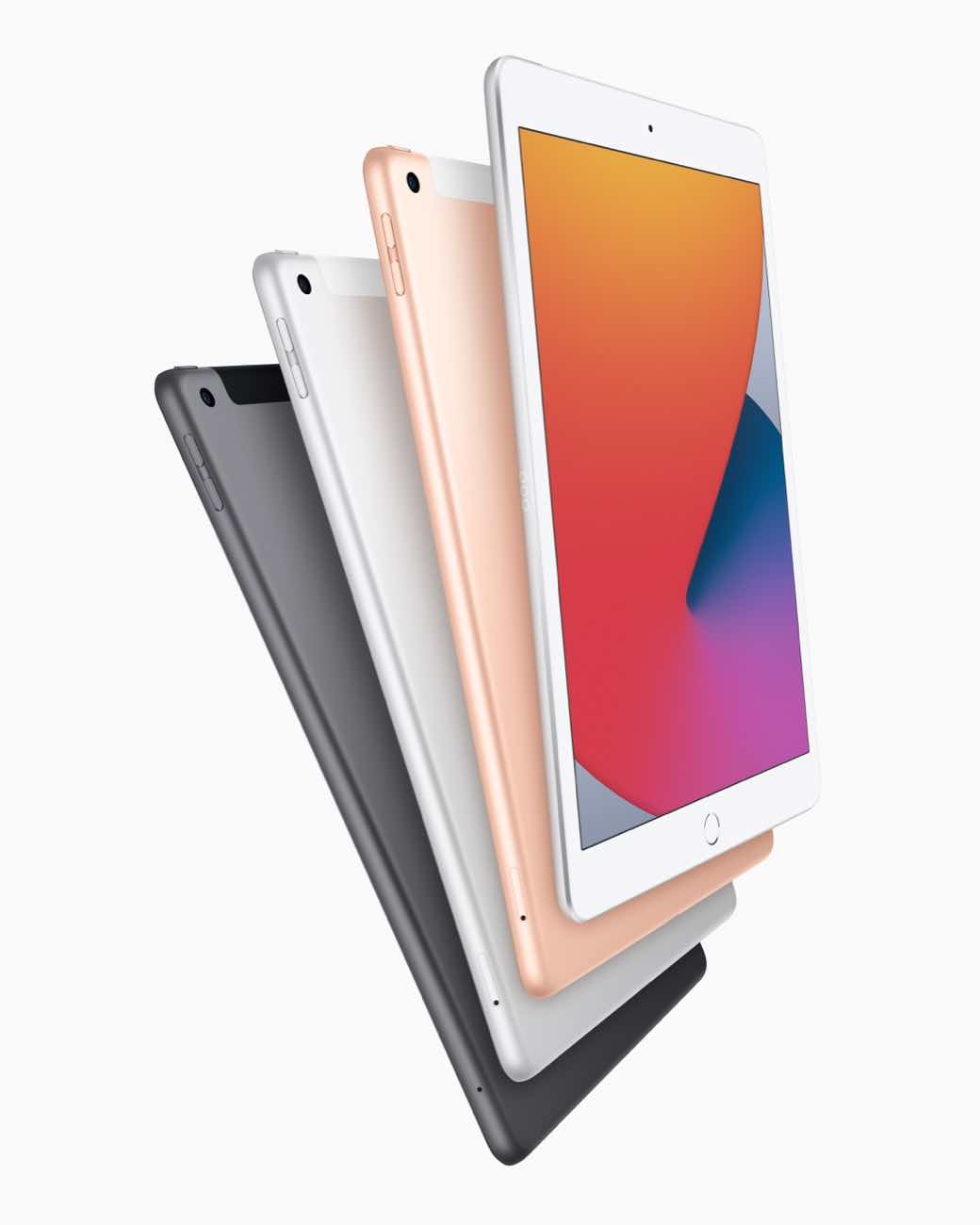 New iPad (8th Gen)
The first iPad to be refreshed today was the base model iPad, now in its eighth generation.
Sporting a 10.2" Retina display, the 8th gen iPad retains its familiar design but gains access to the A12 Bionic chipset, delivering 40% faster CPU and 2x faster graphics performance, along with the Neural Engine for the first time ever on this entry-level model.
Like before, the iPad is compatible with a full-sized Smart Keyboard as well as the Apple Pencil (first generation).
Priced at $329 (or $299 for education), the iPad remains an outstanding personal computer for everyone. The 8th gen is available to order today, and arrives on Friday.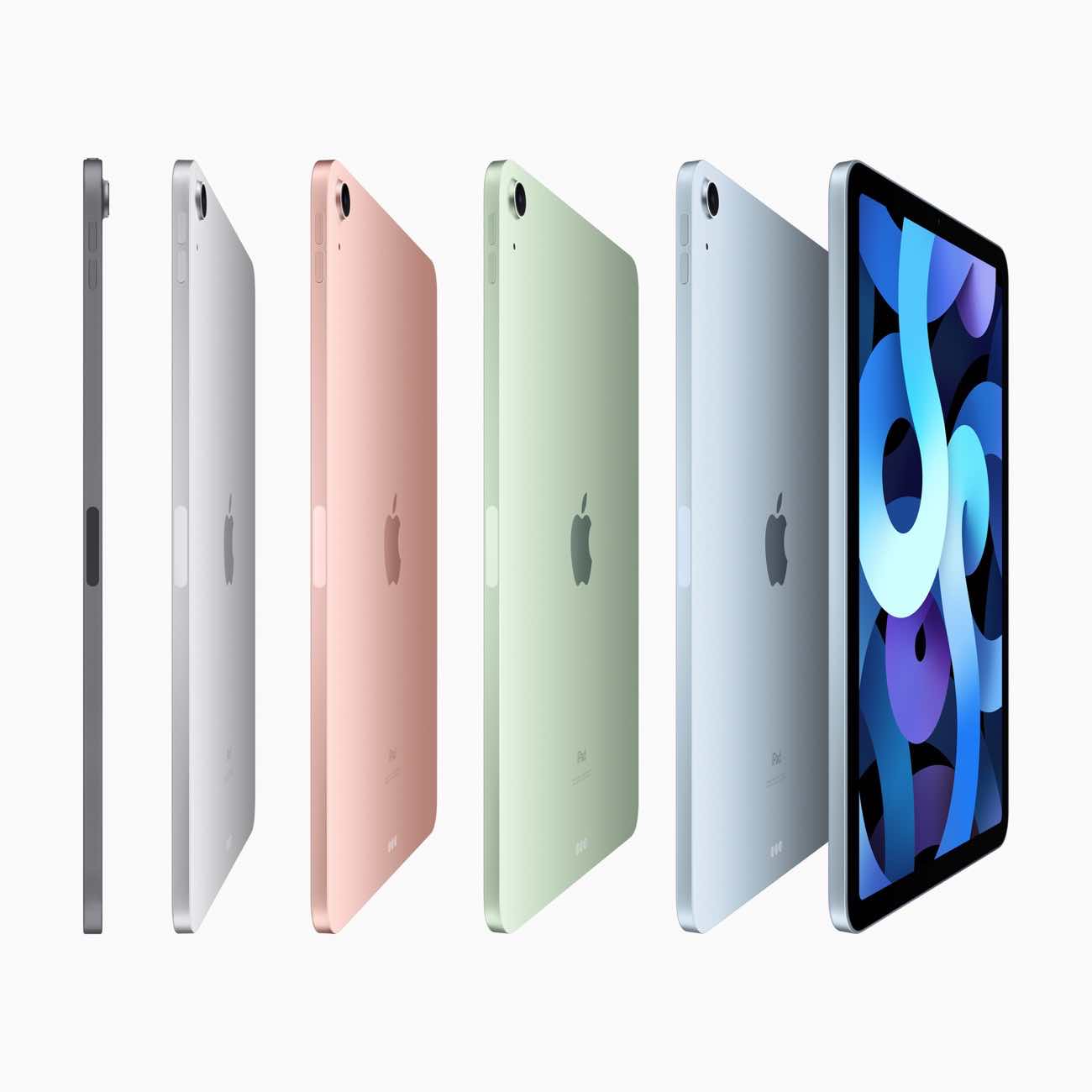 The 2020 iPad Air
A much bigger iPad update was brought to the new, 2020 iPad Air.
The new iPad Air inherits the iPad Pro's design language, looking very much like the original 2018 iPad Pro refresh.
For the first time in almost a decade, Apple is debuting their next generation chipset on something other than an iPhone. The iPad Air is the first Apple product on the market with the new A14 Bionic chip.
This remarkable new system-on-a-chip is the first in the industry to be built on a new 5 nanometer process, allowing for 11.8 billion transistors to be packed in—a 40% increase in density over the previous generation's 7nm process. This translates into performance boosts, new capabilities, and increased power efficiency. The 6-core CPU design offers a 40% increase in performance compared to the previous-generation iPad Air, and the GPU is now a 4-core setup that improves graphics performance by 30%.
The Neural Engine has also been improved with twice the number of cores—up to 16—to facilitate Machine Learning operations that are up to twice as fast as previous generations. This paves the way for more and more high-end software features, like Pixelmator's Machine Learning powered Super Resolution feature, which is now available on iPad.
Rounding out the technical stack is a 60% faster LTE chip and WiFi 6 for future-proofed speeds.
Available in five colours, the beautiful new Air features a 10.9" Liquid Retina display with P3 gamut support, full lamination, and True Tone—but no ProMotion.
Also absent (compared to the iPad Pro) is Face ID. Instead, Apple have re-introduced a Touch ID sensor that's integrated into the power button. It's a next-gen sensor with sapphire-crystal lens, all communicating to a faster Secure Enclave for blazing authentication.
Another characteristic brought over from the iPad Pro line is the presence of USB-C to replace the Lightning connector—a welcome update. Similarly, the cameras are the familiar 12MP rear-facing unit from the iPad Pro, and a 1080p-capable front-facing camera with SmartHDR for all those video calls we're all enjoying so much these days.
Stereo audio is now available too when the device is in landscape mode, and the Air is now compatible with the Magic Keyboard too, not to mention the second-generation Apple Pencil.
Both the iPad Air and 8th gen iPad are built from 100% recycled aluminum and are available to order today, for arrival on Friday.
One More Thing… iOS 14 and iPadOS 14 Release Dates…
Before signing off, Tim Cook confirmed that iOS/iPadOS 14, watchOS 7, and TVOS 14 are all launching tomorrow, September 16th.
macOS Big Sur was absent from the list, but it's often the case that macOS gets its update a bit later in the year.
If you were following the rumours, today's event didn't hold too many surprises. Nevertheless, the updates to Apple's fitness offering through Apple Watch, the huge new iPad Air improvements, and the much-anticipated introduction of a simpler, unified services subscription made this an important event.
…Even if we're all left wondering what comes next.
---
Curated List of Must-Have Apps
We spend an inordinate amount of time sorting through hundreds of apps to find the very best. Our team here at The Sweet Setup put together a short list of our must-have, most-used apps in 2022.
You will get…
The current list of The Sweet Setup's top 8, must-have apps.
A special, pro tip for each app to help you save time and become more of a power user.
A hidden feature of each app that you may not have known about.
The Sweet Setup Staff Picks for 2022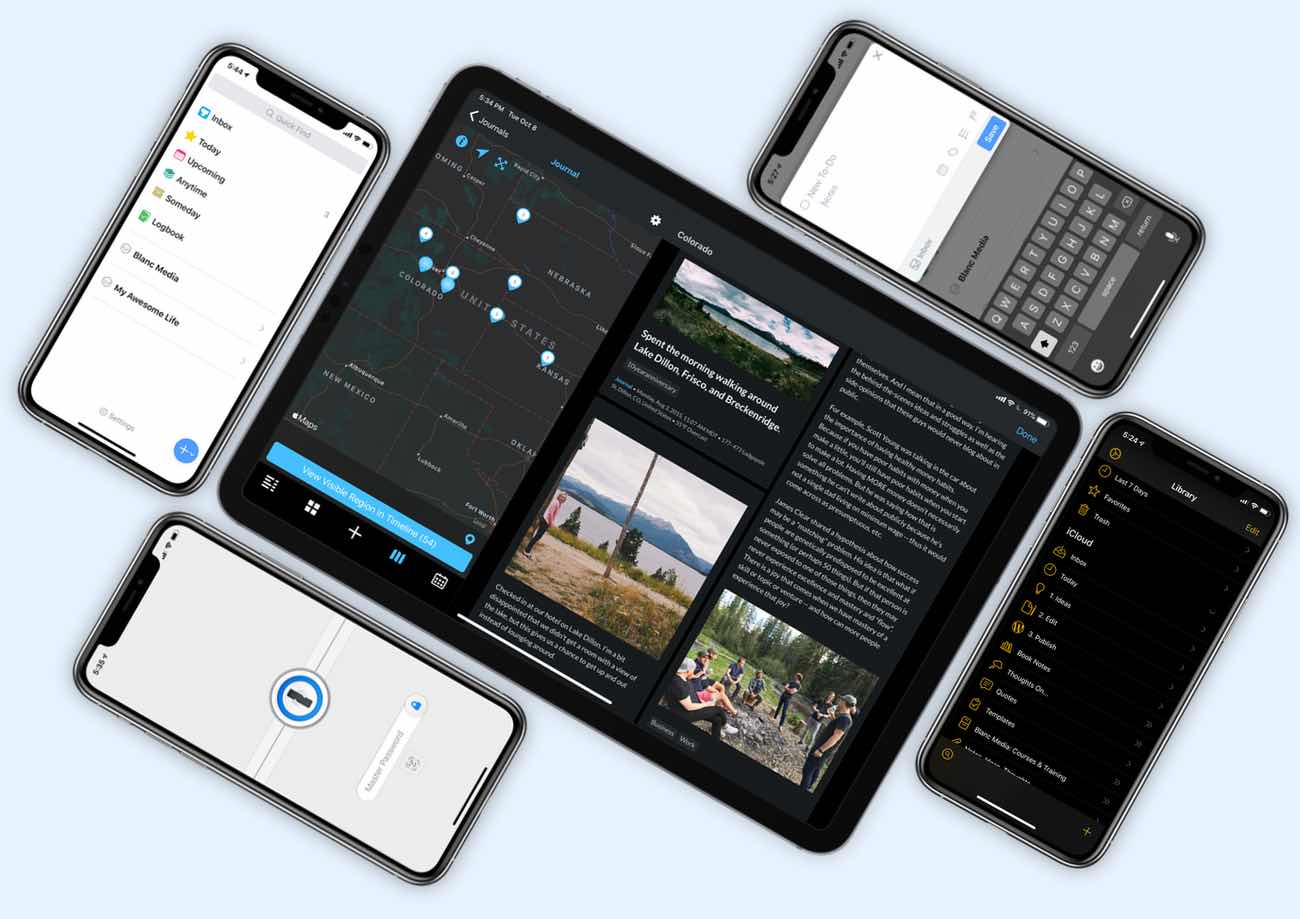 These apps work on iPad, iPhone, and Mac. And they range across several different categories but are mostly focused on productivity. They will help you get the most out of your devices and your day.