Our Favorite iOS and iPadOS 15 Updates for Your New iPhone 13 and iPad mini
September 24, 2021
It's been a very busy week in the Apple geekery world. From new iPhones to iPads and all the software to go with them, there's something for everyone.
Autumn means new iPhones, but it also means new iOS and iPadOS drops. With a push of a button in Cupertino, your year-old iPhone and iPad can feel brand new again. And though many are touting this year's iOS and iPadOS updates as relatively iterative, there are certain features that are sure to be daily-use features in the months to come.
Below are some of our favorite app updates to his the iOS 15 and iPadOS 15 airwaves this week. Each app update hones in on one of the latest OS features. We're especially excited about those apps which have chosen to implement iOS 15's Live Text features.
Things 3.15
Things 3 has long had some of the — if not the — best external keyboard support on the iPad for years. The entire app has long been navigated entirely with the keyboard, and the ability to search from any view in the app at anytime by simply typing is one of our favorite keyboard features available right now.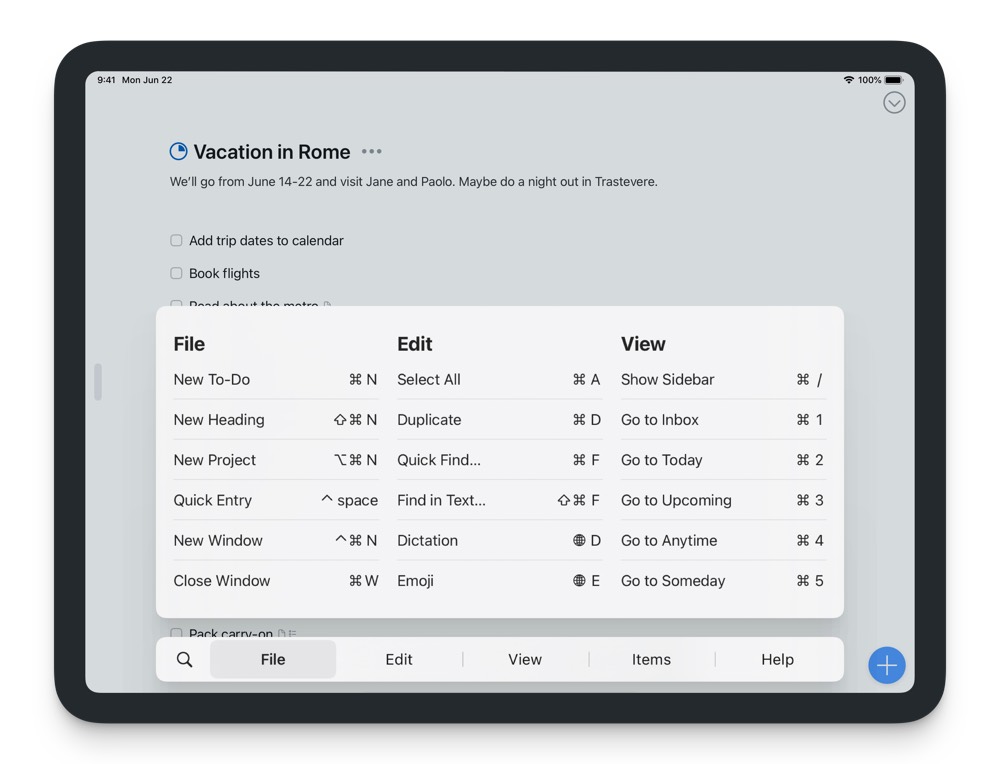 Things 3.15 on iPadOS 15 takes external keyboard support a step further. Now, all keyboard shortcuts are nicely organized in the new keyboard shortcuts menu. You can use iPadOS 15's new global shortcuts for controlling system-wide settings (like Split View and Slide Over) with the keyboard. And you can use the new CTRL + Return shortcut to enter into a task in Things and set parameters like repeating events.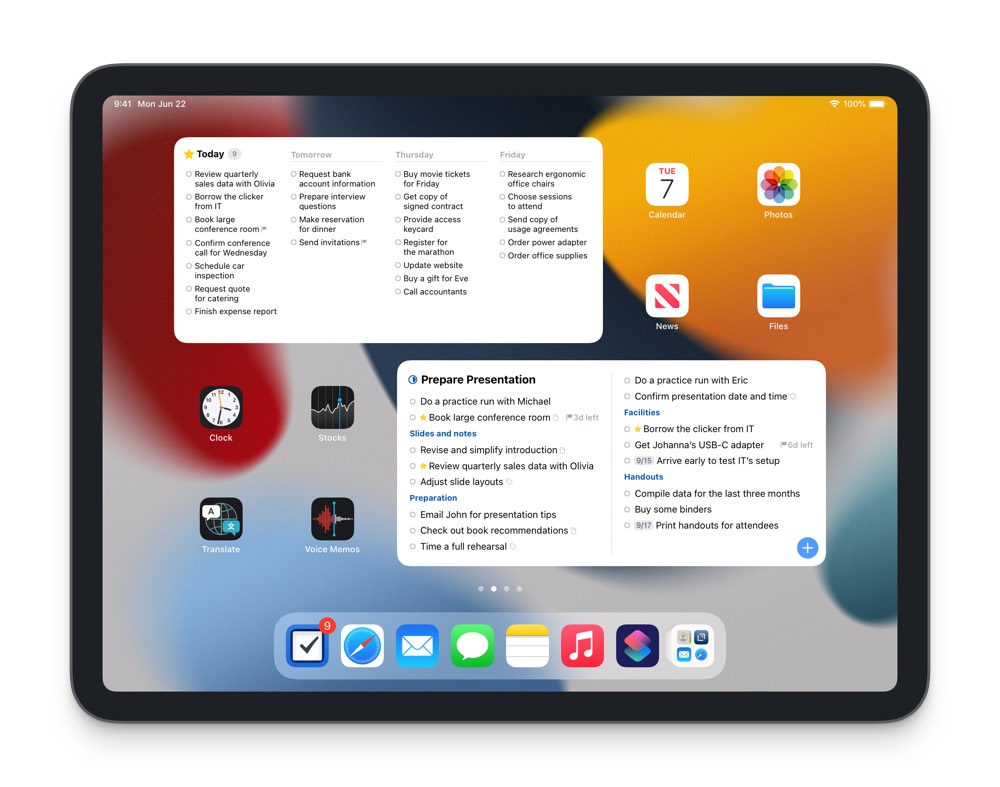 Of course, Things 3.15 also adopts the new XL widget in iPadOS 15. The four-column XL widget is our favorite — you can see your Today list plus the next three upcoming days worth of tasks in one widget view. There is a new Live Text feature as well, for pointing your iPhone camera at text and instantly adding the recognized text to a task's notes field.
Craft Notes 1.6.14
We've written a lot about Craft Notes recently here on The Sweet Setup, especially Craft on the iPad. However, it's Craft on the iPhone which received the biggest iOS 15 update.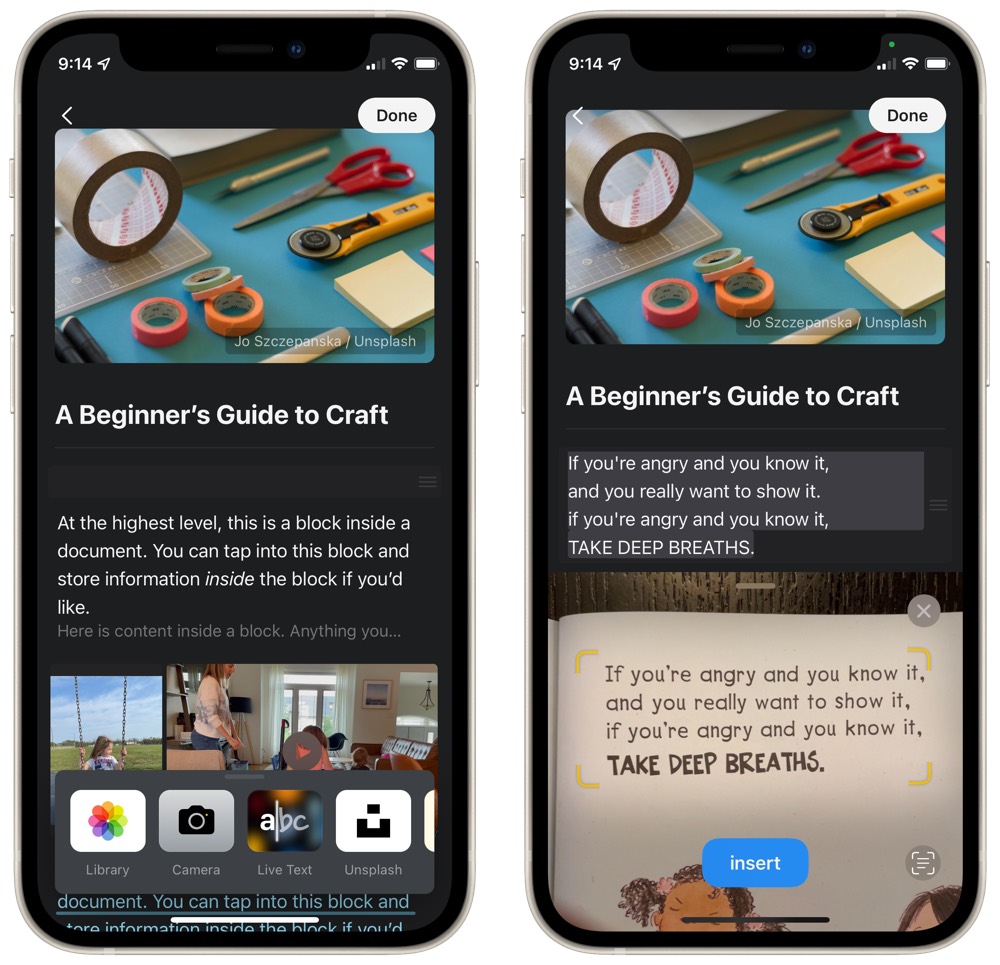 Many, many different apps have implemented Live Text features, but Craft's Live Text feature on the iPhone is killer. You can now add a Live Text block on the iPhone — point your iPhone camera at a handwritten note or any text and Craft will grab the text and insert it into the current block. It's like an OCR machine for your life, all but ensuring your hand written notes can be converted to digital notes with ease.
I've been looking for a reason to wholly adopt a Field Notes book or Traveler's Notebook after taking a two-month hiatus; Craft's Live Text block on the iPhone has provided the necessary kickstart to get back into analog note-taking.
Ulysses 24
Ulysses 24 for iOS 15 and iPadOS 15 isn't the biggest Ulysses update we've ever seen, but it's one app taking advantage of iPadOS 15's new center window view. The new center window view first debuted in Apple's WWDC 2021 keynote, whereby the presenter long-pressed on an email in Mail and opened the email in a squared-off center window.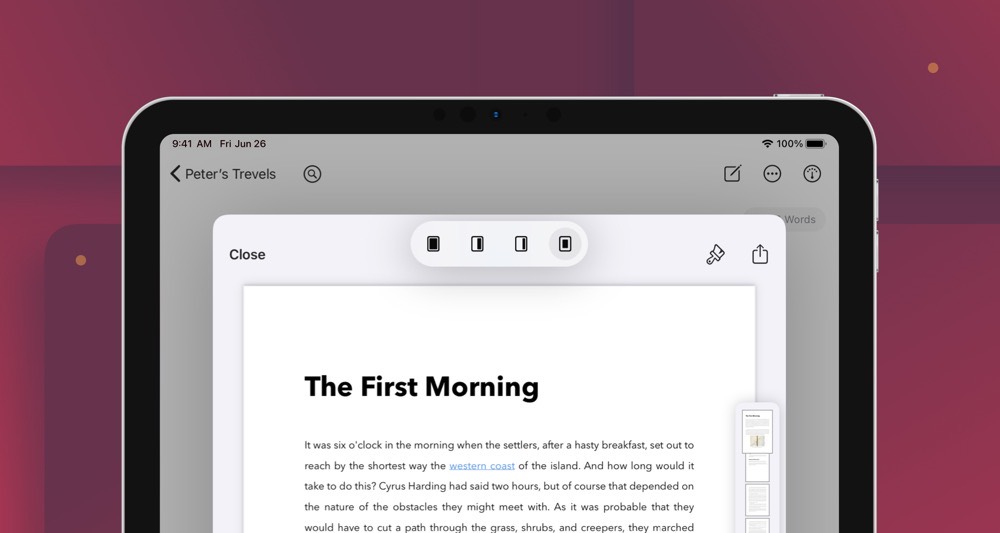 Ulysses has used this new view to house its handy exporting feature. Now, when you tap the "…" button in any sheet in the top right corner, a center window slides in from the bottom to showcase Ulysses's exporting window.
This view is clean, simple, and easier to understand than Ulysses 23's exporting window. We're excited to see how the Ulysses team continues to build out Ulysses's export feature — the current WordPress and Ghost blog publishing features make Ulysses the penultimate blogging app.
Fantastical 3.4.4
The goal of this piece was to highlight how different apps were delightfully implementing new iOS 15 and iPadOS 15 features. We already mentioned the XL widget for iPads in the Things 3.15 blurb, but it's Fantastical 3.4.4's new XL widget which takes the cake. There is likely no better XL widget in iPadOS 15 right now.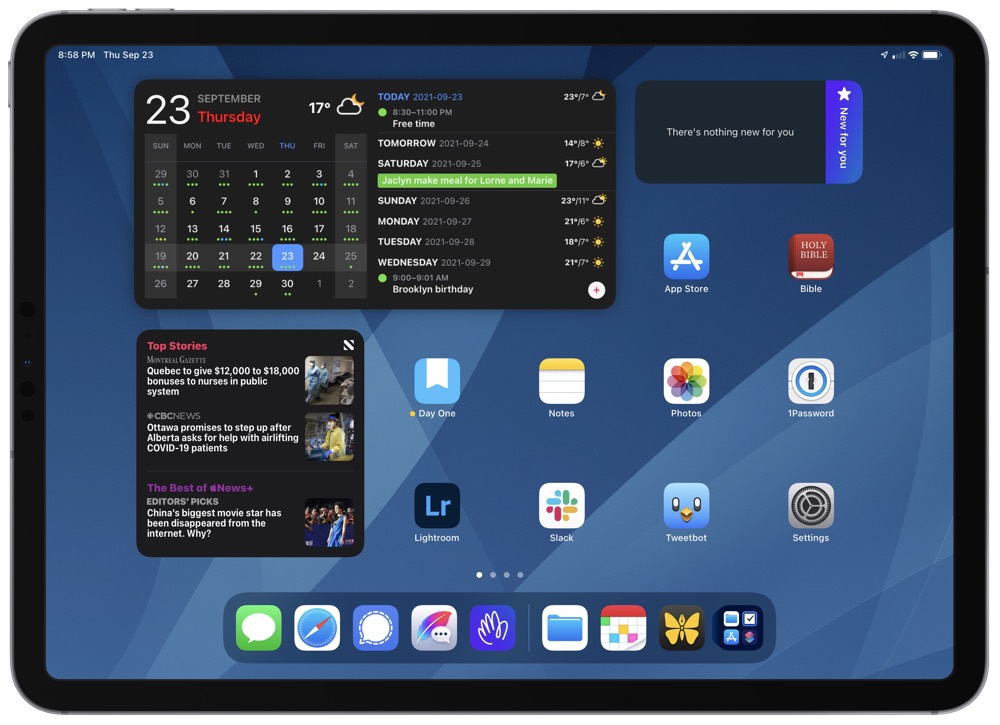 Fantastical's XL widget showcases a monthly calendar and an event list side-by-side. The widget gracefully highlights the current week and date and the event list showcases up to three days' worth of events. The widget also showcases expected weather for the next three days. There's also a small "+" button in the bottom right corner if you are looking to add a new event from the home screen.
When testing iPadOS 15 via public beta over the summer, my favorite XL widget was the stock Calendar app's widget. The moment Fantastical's widget debuted, I knew my enthusiasm about the stock Calendar app was misplaced.
Fantastical's XL widget is both beautiful to look at and immensely useful — a fantastic combination.
1Password 7.8
1Password's new Safari extension probably deserves to be at the very top of this highlight list. While we thought the prior share sheet 1Password extension was fairly easy to use, the new Safari extension in iOS 15 and iPadOS 15 makes the old share sheet extension feel like child's play.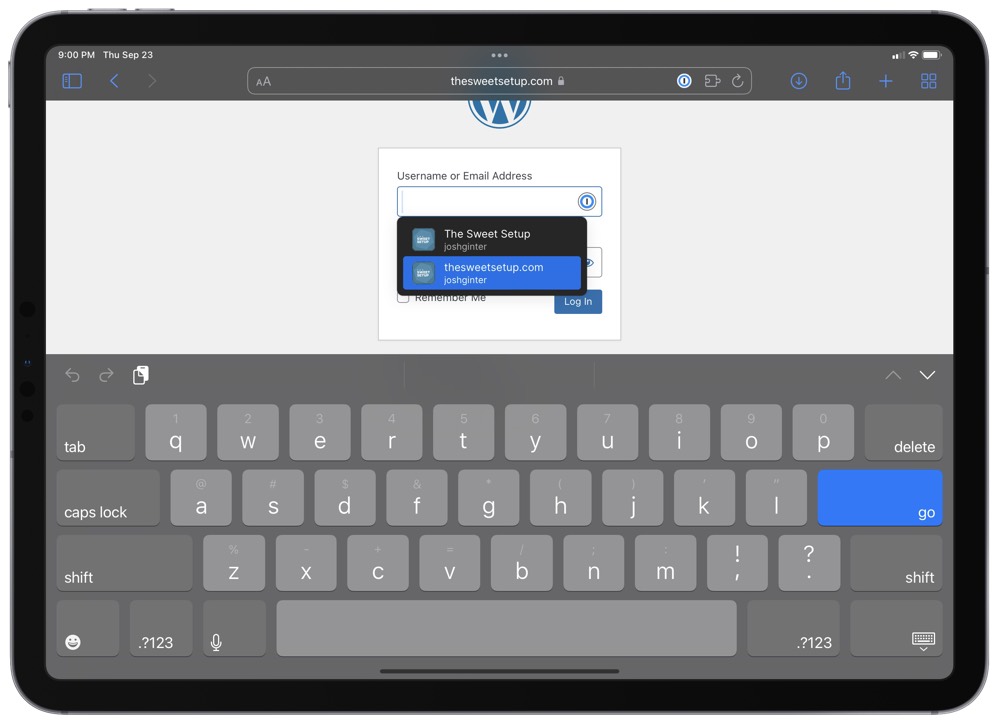 After you enable the extension in Safari (tap on the little puzzle piece icon and enable the extension right in Safari), 1Password will behave very much like you've experienced 1Password behave on the Mac. Anywhere there's a login field, 1Password will auto-fill (or provide options to pick for auto-fill) your username and password right into the fields. A simple button tap and you can jump right into your secure login.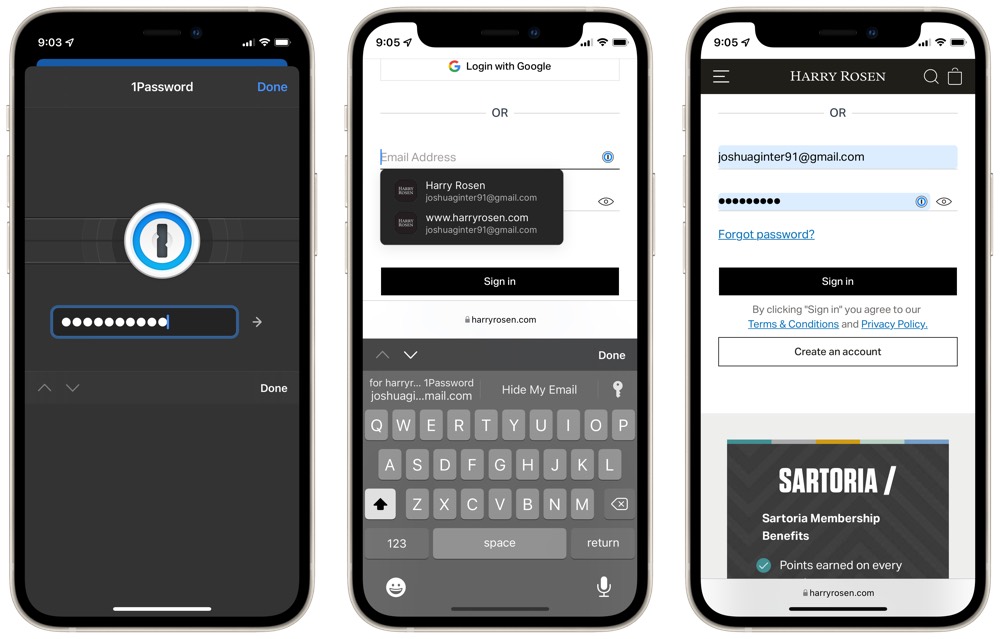 This feature is equally powerful on both iPhone and iPad. On the iPad, the extension feels very, very Mac-like. And while Face ID and Touch ID catapulted 1Password's usefulness on the iPhone, the new Safari extension somehow feels even faster and more delightful.
If there's one app on this list we implore you to download and implement, it's the new 1Password Safari extension. This extension is super simple to use and will secure your digital life for the better.
---
There are many, many iOS 15 and iPadOS 15 updates to try on your shiny new iPhone 13 or iPad mini. Developers have worked hard with the new technologies over the summer and it shows. Each update makes these glowing screens faster, more delightful, and smoother than ever before.
Our favorites are highlighted above, but if there's one we've missed, reach out on Twitter and let us know.