Our Favorite Books to Recommend
September 26, 2023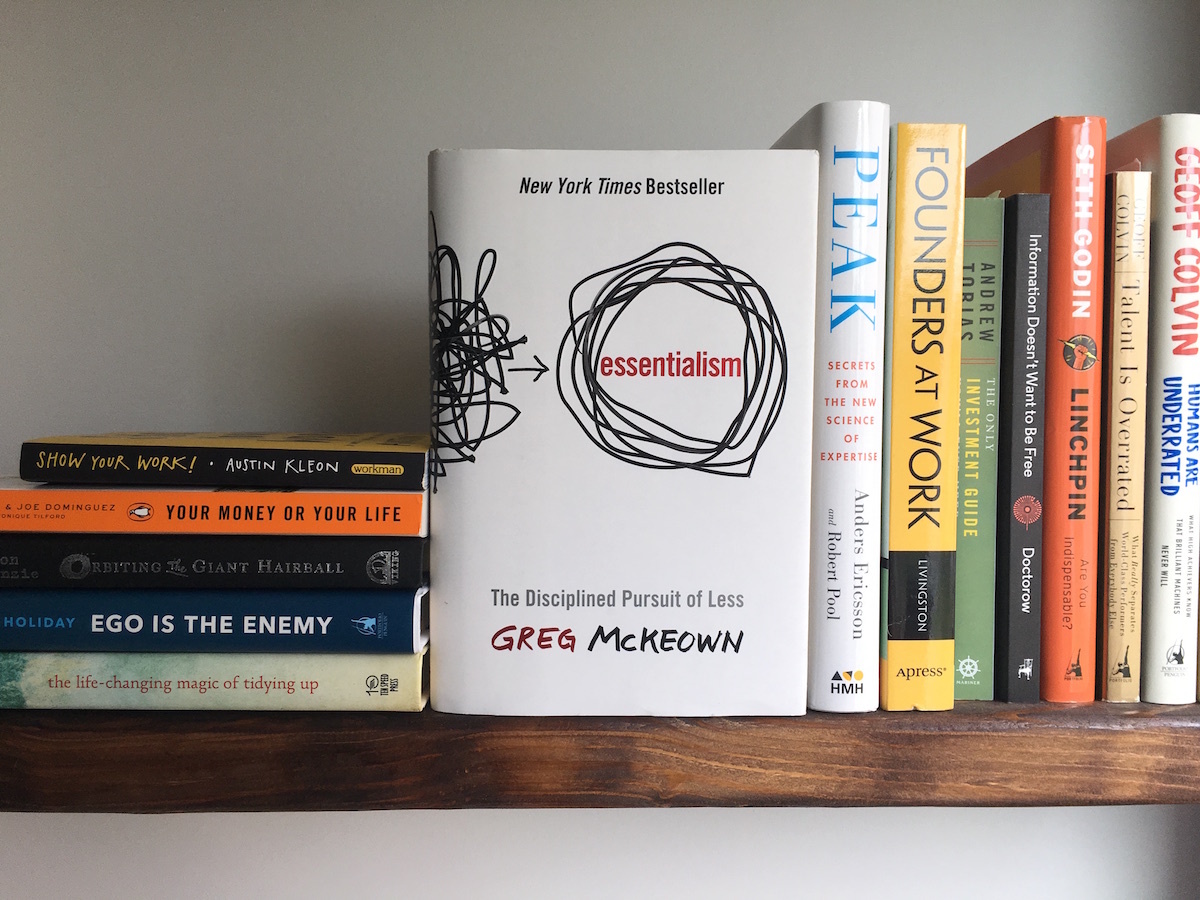 We are pretty avid readers over here. The books we've read have helped shape who we are as people and what our company values and offers to our customers. We all take time in our weekly routine to dive into some kind of book, be it a business development book or a gripping novel.
We also get asked a lot about book recommendations. Especially during our semi-annual cohorts of Focus Academy (btw you can enroll now for our October cohort). Shawn drops book recommendations left, right, and center during our sessions. We now have a running list of all of our favorite books that we like to recommend to our like minded friends.
You can see our full list of book recommendations in our Notion Database.
Our All Time Favorites
There are books that we always talk about during Focus Academy. These books are staples in our library and books we've learned a lot from. Let's dive into our most recommended books.
1. Essentialism by Greg McKeown
If you have to read one book this year, start here. Essentialism introduced the principle of defining what matters or what is "essential" and eliminating everything else. His next book Effortless takes in another step farther, teaching us how to simplify doing what matters most to us.
2. Margin by Dr. Richard Swenson
We wholeheartedly embrace the philosophy of having a healthy work-life balance (we take a week off every 8 weeks). Margin teaches about how to not always be in overdrive mode unto burnout, but how to restore our physical, emotional, and time reserves. It's the book in our office with the most highlights and flag tabs. Much of what we share and teach in week 4 of Focus Academy, "Margin Week" comes from all we learned from Dr. Swenson.
3. Atomic Habits by James Clear
You might not be very surprised by this recommendation. Atomic Habits is one of top best selling book, like ever. James Clear is brilliant in how he breaks down the science behind habits while incorporating useful examples and inspiring stories.
4. Deep Work by Cal Newport
We live in a world that is constantly being bombarded with distraction. Focus does not come easy. Cal Newport shares about the skill of focus and how to develop it for yourself.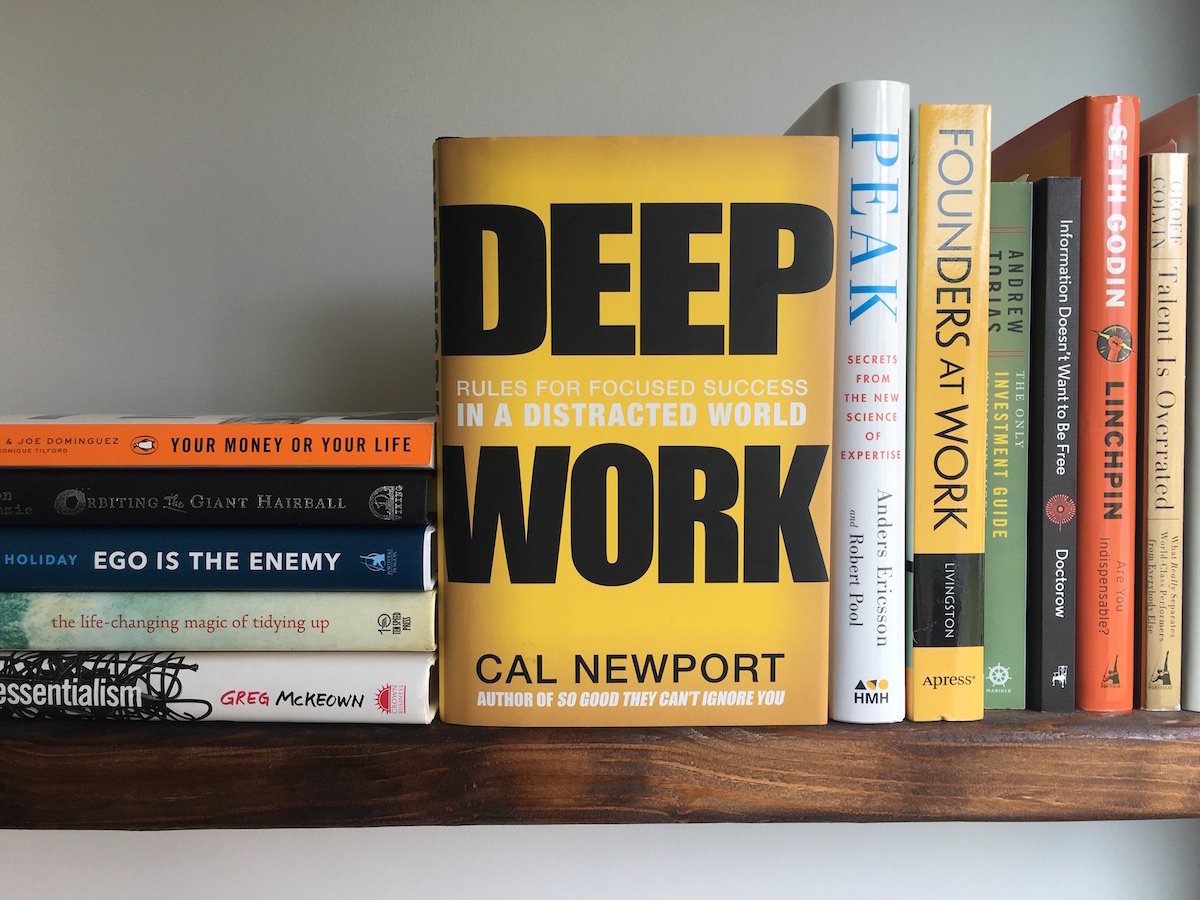 Our other favorites
Although not all these books get constantly mentioned during Focus Academy, they are still fantastic reads. Check out some of our other favorites, many of which are business related books (not in any particular order):
– Thinking in Bets by Annie Duke
This is one of Shawn's most recommended books right now. Annie Duke shares how to make smarter and faster decisions, and the science behind decision making.
– Creativity Inc. by Ed Catmull & Amy Wallace
If you are a leader, creative professional, or anyone who thinks Pixar is amazing, then this book is for you. Ed Catmull shares the story of how Pixar got started and grew to be the giant that it is today. He shares his unique insights on how to be a creative professional in business.
– Free Time by Jenny Blake 
A wonderfully written book about creating systems and simplicity within your business. Jenny Blake shares how to free up time within your business to live a more balanced life.
– The 4 Disciplines of Execution by Chris McChesney
This book is key for any organizational leader. Discover how to make lasting change and accomplish your goals within your company and focus on the wildly important.
– Digital Minimalism by Cal Newport
Another classic by Cal Newport, he shares about how to cut out the noise and distraction in an increasing digital world to focus on what matters most.
– Building a Second Brain by Tiago Forte
Our # 1 reading recommendation when diving into the world of PKM, Personal Knowledge Management.
– Bored and Brilliant by Manoush Zomorodi
This is another amazing book for living in a digital world. Manoush shares about the connection between boredom and original thinking.
– Extreme Ownership by Jocko Willink and Leif Babin
These two U.S. Navy Seal officers share about their first hand accounts in their next to impossible missions and how they discovered that leadership is the most important factor in a team's success.
– The Lion Tracker's Guide to Life by Boyd Varty
A fascinating book by a South African lion tracker, Boyd shares his unique stories about, well, lion tracking. Turns out the skills needed for tracking lions are applicable to lots of areas of life. We highly recommend listening to this book on Audio.
Novels
We don't only read productivity and business books over here. Most of us enjoy sitting back, relaxing and diving into a good novel. Although we have some varied tastes, here are a few of our recommendations.
Wrap Up
In a world that is constantly moving at hyper-speed, the simple act of slowing down to read a book is good for the soul. When you find a gem of a book, it's even better. These book recommendations are tried and true hits.
Twice a year we get to share with our Focus Academy community our favorite books that have shaped us and helped us grow. We usually learn about new books from them too!
Enrollment for the October Cohort of Focus Academy is open now through October 2. Focus Academy is a live-online masterclass for accomplishing your goals, doing work that matters, and growing in your personal life.