How to optimize storage space in macOS Sierra
November 3, 2016
Since the move to flash memory on the Mac, storage has been a lot more expensive. Apple's laptop line starts at 128 GB, so you can certainly fill it up quickly. In macOS Sierra, Apple introduced some features that allow you to easily trim up what you store locally. Thanks to iCloud, you can seamlessly access a lot of your content without having to store it locally.
To get started, click  → About This Mac. Then, go to Storage → Manage.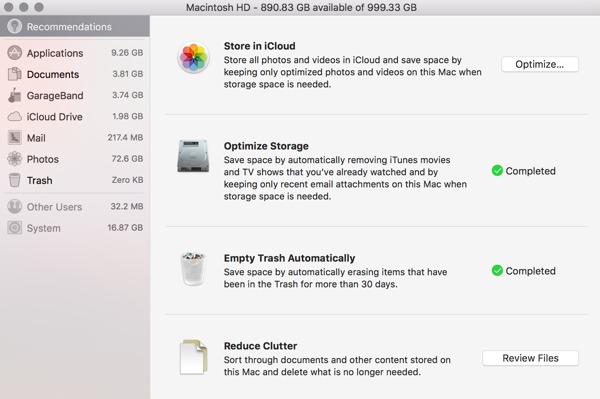 Under Recommendations, you can optimize Mail storage, automatically empty trash, remove local copies of iCloud Photos, review large files, and remove iTunes movies and TV shows that you have already watched (of course, you can redownload them later).
Under Applications, you can see the size of your individual apps, and you can also delete them.
Under Documents, you can review large files and examine the Downloads folder. In a lot of the Macs I see, the Downloads folder is one of the largest sources of wasted storage space. People download files and then never get rid of them. This section allows you to easily sort by file size, review, and delete if necessary.
Using these new tools in macOS Sierra will help you manage the limited space that these new Macs have, while also making it a cinch to determine what needs to stay or go.
---
We have more helpful tips right here.
---
Free Productivity Guide: Download our simple guide to productivity to help you improve your workflows and be more focused with your time and attention. Get it here.