Nik Fletcher's sweet setup
June 3, 2014
Every week we try to post a new interview with someone about what software they use on their Mac, iPhone, or iPad. We do these interviews because not only are they fun, but a glimpse into what tools someone uses and how they use those tools can spark our imagination and give us an idea or insight into how we can do things better.
New setup interviews are posted every Monday; follow us on RSS or Twitter to stay up to date.
---
Who are you and what do you do?
My name is Nik Fletcher, and I work at Realmac Software in Brighton, England. We're a small independent app studio that builds award-winning apps for iOS and the Mac: Clear, Ember and RapidWeaver. Officially, I'm "Product Manager" but as a small company, I'm involved in pretty-much everything we do: from concept, design, and all the way through to shipping and marketing our apps. I've dabbled in code before – building my own iPhone app, and an open-source developer tool – though it's not something I do full-time; and from time to time write about app development on my blog.
What is your current Mac setup?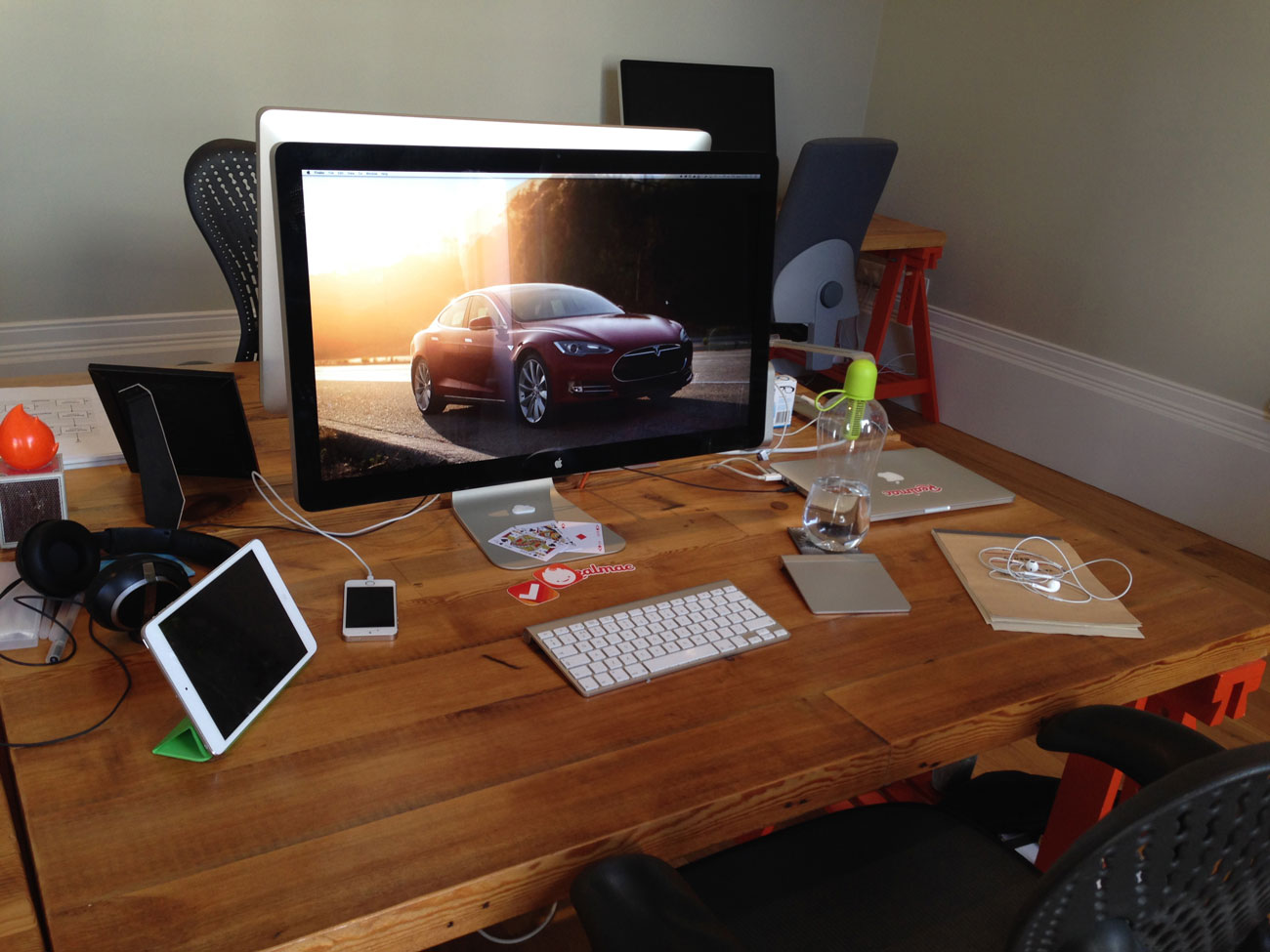 My current setup is a 13-inch 2013 Retina MacBook Pro: a 3 Ghz i7 model, 8GB RAM, 512GB SSD. Over the years I've used a variety of notebooks, starting first with a 12-inch iBook G4, then a 17-inch Aluminium MacBook Pro, Black 13-inch MacBook, with my previous laptops being 15-inch Unibody MacBook Pros.
The 13-inch MacBook Pro is the perfect machine — minimal weight in a rucksack, but with enough power to let Xcode sing and a day's battery life so I can work pretty much anywhere. When I'm in the office it's hooked up to a 27" Apple Thunderbolt Display and the laptop's kept closed. The laptop is hooked up to an Apple Bluetooth Keyboard & Magic Trackpad, along with a reliable and fairly well-balanced pair of Sennheiser HD 448 headphones.
Desk-wise, I've got a tressle desk with a top made from reclaimed wood, and we each varnished our own desktop when we moved into our new office. To round things off, the desk is accompanied by a Herman Miller Mirra chair.
What Mac software do you use and for what do you use it?
I do a lot of work in the browser — Safari specifically — on Google Apps, Lighthouse, and Zendesk. There's a lot of stuff we do that uses the web, and given the integration with iCloud Tabs and Keychain — not to mention the fact that Chrome just feels funny on OS X — I've nearly always used Safari. When it comes to Twitter, Tweetbot for Mac is a really powerful app, but I use all the official Twitter clients now. Twitter for Mac is far nimbler and more lightweight, and has a great Connect tab which no other app can replicate.
One other web service that I use but don't keep in the browser is Slack. Even though the Mac app is a wrapper for the web app, I use Slack all day and it's incredibly useful to have it in its own context instead of a browser tab.
It probably comes as no surprise that Ember & Clear are two of my most-used apps. I store nearly all my images in Ember, whether I'm capturing websites that catch my eye, to snapping problems that need reporting in our internal app builds. Everything is in one place. I take a lot of screenshots (both on Mac and iOS) and Ember makes organising them a breeze. Like many folks, I've tried a lot of productivity apps over the years, but I've kept Clear for Mac in my Dock since our very first internal builds.
I write. A lot. For the longest time, I was an iA Writer fan, but I didn't make the move to Writer Pro. Byword has been my writing app of choice for a long time now. My particular favourite feature is the ability to copy your Markdown directly to HTML without first having to export the HTML — we're at the point now where nearly all our tools support Markdown, but for the few that don't, this is a real lifesaver.
For reasons I haven't quite figured, I use a GUI app for Subversion but religiously use the Terminal for Git. I suspect it's because Versions is straight-forward, reliable and quirk-free (unlike some Git GUI apps). I've used Versions since its first launch, and consider it unlikely that I'd switch to anything else.
The latest OmniGraffle upgrade is simply great. Dropping the floating panels and going one-window makes everything far less cluttered (and it sings in Full Screen), and the stencils that have been in the app forever mean that it's the fastest way to put together a wireframe. Previously, I used Illustrator for wireframes (it works!), but OmniGraffle (along with OmniGraffle for iPad) blows it out of the water.
Xcode doesn't need much introduction, other than to say that it has come a long way since I started using it back in 2005. When it comes to HTML editors, we're spoilt on OS X. If you're hand-coding a web project, both Coda and Espresso are fantastic apps, but I've been a die-hard Coda user for a long time; and whilst I don't use the CSS editor, it's probably going to remain my go-to app for a long time. Coda is great for my HTML/Javascript workflow, but honestly the CSS editor can't better CSSEdit (now part of Espress). With things like Xray, and style-sheet overrides, it's never left my dock. It seems that Panic might be bringing some of these features to Coda, however, so it may mean that CSSEdit's days are numbered…
Slightly contentiously, I rather like the new versions of the iWork apps. There's still some things to come out in the wash (and Apple is, I feel, playing feature catch-up from last year's reset of the iWork franchise), but all three apps feel far less intimidating, with a lot more breathing room in the interface.
When iPhoto and Aperture gained inter-changeable libraries, I switched from Aperture to iPhoto – I take a tonne of screenshots on iOS, and quite simply, Aperture didn't offer a way to drag-out an image in its original format (PNG for screenshots, JPEG for photos). Now that we've got Ember on iOS with screenshot auto-import, I could switch back to Aperture – and still have the flexibility to do so – but I've stuck with iPhoto as it's a far quicker way to dive into my library.
How would your ideal Mac setup look and function?
I'm sorted for now, I think. I tend to try and avoid too much chopping and changing to the apps I use. I could probably change text editors every week, but there's always something that bothers me in most, and I'd rather have a toolset that works consistently. Building up muscle memories (keyboard shortcuts, etc.) takes time, but rewards loyalty. If you're changing tools too frequently, whatever you gain in new features is nearly always lost in learning and adapting.
What iPhone do you have?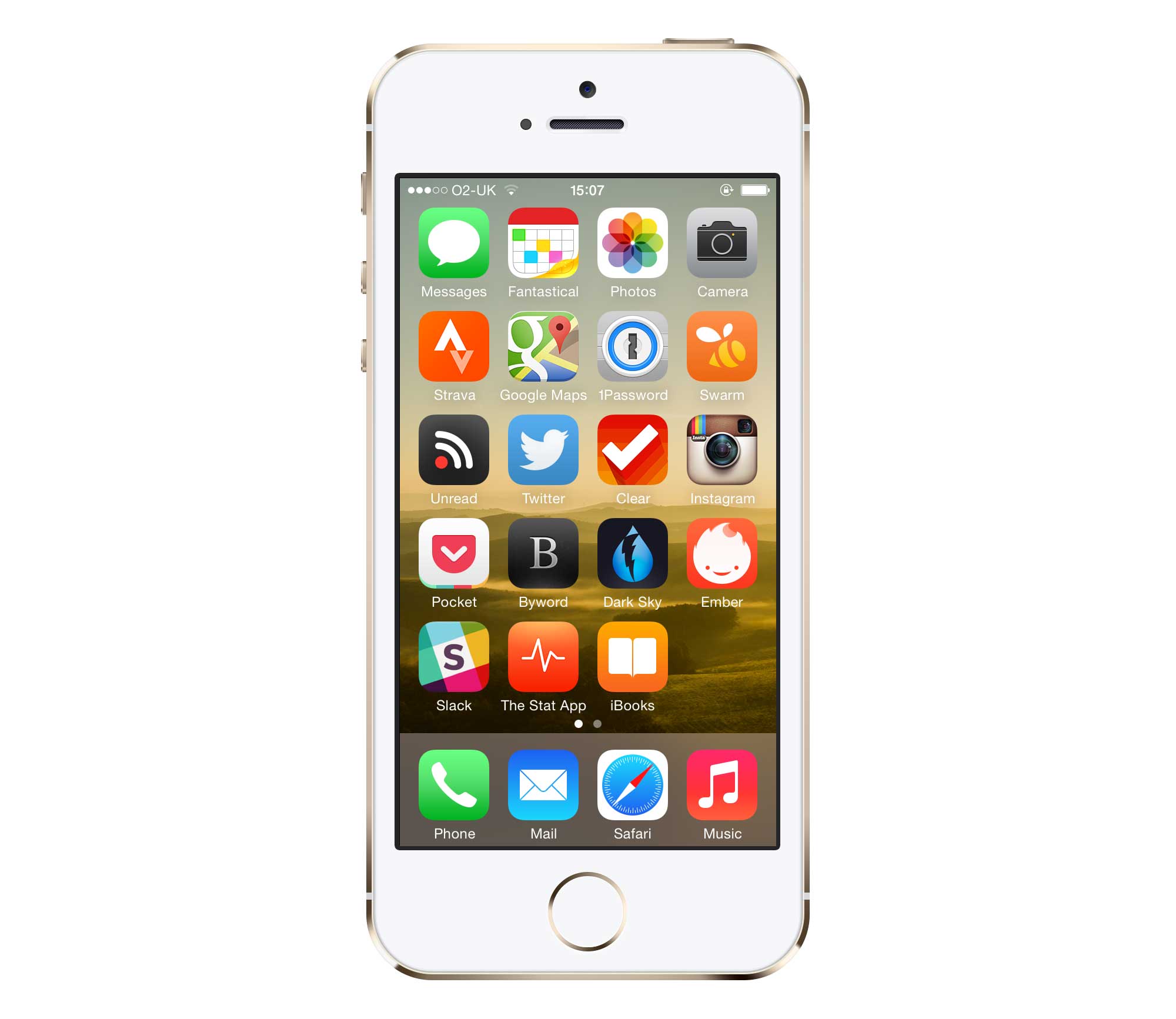 A gold iPhone 5s, 32GB. I've owned all-but 2 iPhones (3GS / 5), and the 5s is a fantastic piece of kit. I primarily upgrade for the camera whenever my contract is up. Touch ID is a great feature, one that feels somewhat untapped in its potential, and the camera just gets better and better each time around. I'm unsure how I feel about the possibility of a bigger iPhone — I suspect it would cannibalise my iPad usage, as the iPad offers more screenspace, yet the software and hardware in the iPhone 5s is near-matched with my Retina iPad mini.
What iOS apps do you use the most, and why?
I'm somewhat religious about keeping my homescreen folder-free (that's what my second screen is full of), and for the most part the top row and dock have stayed the same since I received my original iPhone. The only change there being the replacement of Calendar with Fantastical.
For some reason, I've always kept the bottom right spot of the homescreen empty. It's probably entirely irrational, but for some reason it's always made some kind of twisted sense. I use pretty much every app on the homescreen equally throughout the day — Swarm replaced Foursquare, and whilst I'm a huge fan of Foursquare's discovery stuff, I don't use it anywhere near as often as the check-in side of things.
1Password remains a favourite, complementing iCloud Keychain as the passwords in iCloud Keychain are only available in Safari (whereas 1Password isn't tied to any given app). And Google Maps gets my vote instead of Apple's own simply because I commute on public transport and Google supports transit.
Just as on the Mac, I use Twitter's own app — the "Notifications" tab isn't available in any other app, so my own vanity prevents me from using Tweetbot full-time (it's on my second screen, though). Of all the apps on my homescreen, iBooks is perhaps the one I use least – it's great if connectivity fails, and I've got quite a queue to get through, but Twitter & Unread saving to Pocket supplies me with most of my reading material.
Which iOS app could you not live without?
Quite honestly: Clear. I've been using it non-stop since we started testing prototypes in December 2011, and in my experience nothing is as quick and hassle-free in preparing shopping lists.
---
There are more Sweet Setup interviews right here.