Nick Foster's Mac and iOS setup
January 30, 2017
Every week we post a new interview with someone about what software they use on their Mac, iPhone, or iPad. We do these interviews because not only are they fun, but a glimpse into what tools someone uses and how they use those tools can spark our imagination and give us an idea or insight into how we can do things better.
New setup interviews are posted every Monday; follow us on RSS or Twitter to stay up to date.
---
Who are you and what do you do?
My name is Nick Foster, and I'm currently studying Electrical Engineering at Kennesaw State University in Marietta, Georgia. I also write a technology blog, work in the STEM tutoring center at school, play guitar, and volunteer in the high school youth group at church.
What is your current setup?
I currently have a 2012 13" MacBook Pro. I got it used from a friend for a really good price a few years ago. It was sluggish after I upgraded to Yosemite, but then I installed an SSD and it sped right back up! It's still a great little machine, and I love using it.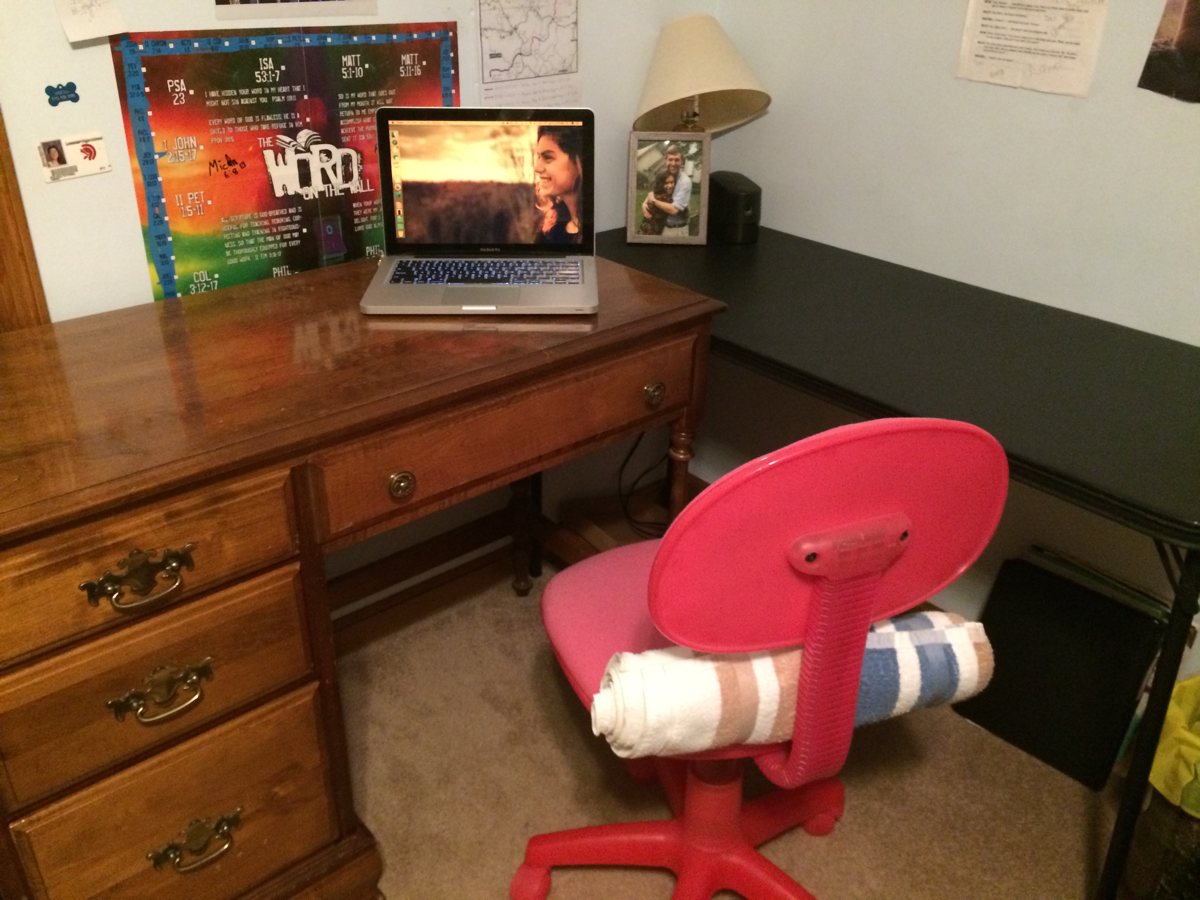 As you can see, I have a desk and a folding table set up next to each other. Before I got the table, I always felt cramped while doing homework (I like to spread out with all my books, notes, and electronics). Then my girlfriend's mom had the idea to set up another desk or table next to it. I found this old folding table in the basement and it's made a huge difference in the way I work. I can't imagine going back to a smaller desk.
I got my chair from my girlfriend when she was cleaning out her house. I had a "nicer" chair, but the arms were too big and I couldn't pull it close enough to my desk. The little pink one suits me fine. I've also got a rolled-up towel there to use as lumbar support.
Where can we find your macOS wallpaper?
This is a personal photo that was was taken using portrait mode in the iPhone 7 Plus, and I think the effect is stunning.
What software do you use and for what do you use it?
The app I've started using most recently is Airmail. Apple Mail worked great for me for years, but I was starting to outgrow it. I switched to Airmail a few months back and I finally feel like I'm using email again instead of fighting it. I've switched to an inbox-zero based approach by using Archive and Snooze to get everything that's not important right now out of my inbox. Airmail also has incredible customization for menus and actions. You can read my full review here.
Photos is another Mac app that I love. If you know how to use Photos on your iPhone, then you know how to use Photos on your Mac, and iCloud Photo Library is by far the easiest syncing solution out there.
I'm trying to get into iOS development, so that means I use Xcode. I'm not a coding expert, but my experience is that Xcode works well and offers a good feature set.
For normal day-to-day tasks, Safari, Messages, and Reminders serve me well. I feel that being able to text from the computer is one of the all-time most useful features of the Mac. I'm trying to avoid paying $50 for 2Do on the Mac, so I'm still using Apple Reminders. I don't use it nearly as much as I use 2Do on my iPhone, so it works out okay.
How would your ideal setup look and function?
I'd love a Retina iMac, but I also wouldn't want to worry about keeping an office machine and a portable laptop in sync. Because of this, I'll probably just stick with a laptop. An option for the future would be to get an external monitor, keyboard, and trackpad for my MacBook and have the best of both worlds.
As far as my desk is concerned, the folding table works, but I'd love a huge wraparound desk with lots of shelving. Maybe someday.
---
What iPhone do you have?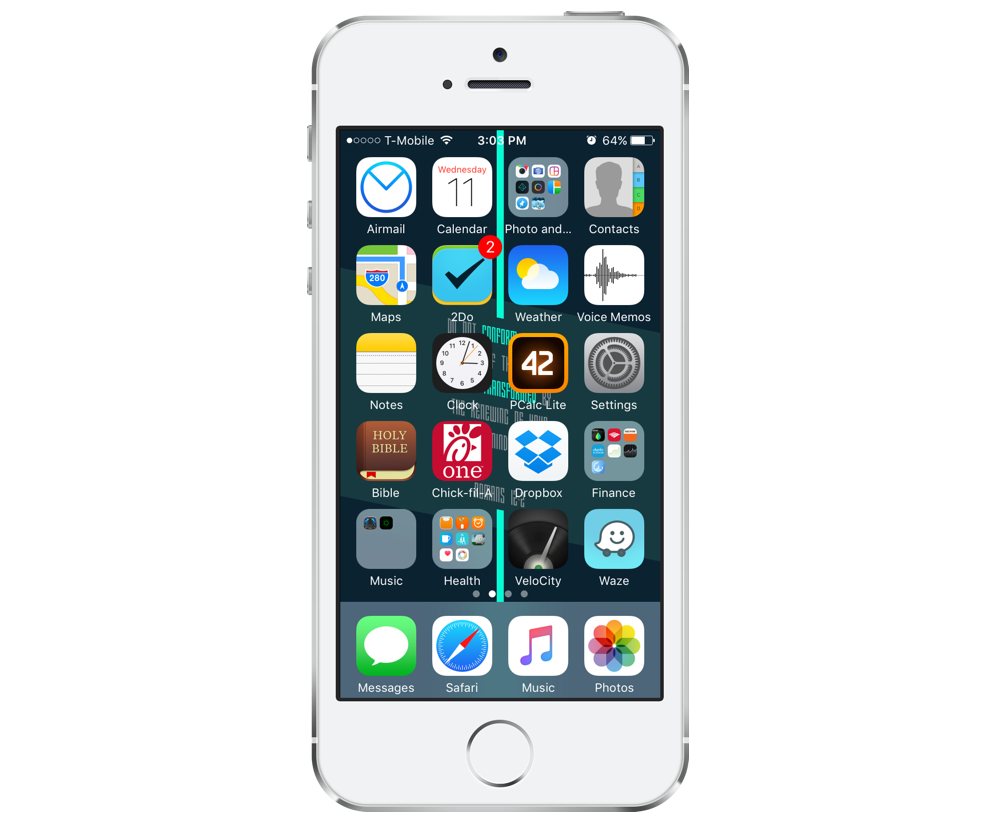 I have a 32GB, silver iPhone 5s. I'm thinking about maybe getting a new iPhone this year as my 5s is starting to feel slow and a little cramped. Even so, it serves me well. In many ways, my iPhone is my main device. I use it to communicate, track my fitness, and also to get work done when I don't have a bigger device handy.
Where can we find your wallpaper online?
My wallpaper is a Bible verse: Romans 12:2. It says, "Do not be conformed to the pattern of this world, but be transformed by the renewing of your mind." I can be very perfectionistic and worrisome at times. This verse is going to be a focus of mine this year; I'm trusting God to renew my mind and help me be more positive and less stressed out. If you want the wallpaper, I tweeted it here.
What apps do you use the most, and why?
The four Apple apps I use the most are on my dock: Messages, Safari, Music, and Photos. I use both Apple Music and iCloud Photo Library, and I love, love, love these services. The integration they have with iOS is so much better than Spotify and Dropbox photos.
In addition to music, I also love podcasts, and Overcast is my app of choice. I love the Smart Speed feature. My two favorite shows of all time are Upgrade (a tech podcast with Myke Hurley and Jason Snell) and Stuff You Should Know (a general knowledge podcast from HowStuffWorks).
I use many different health apps, but the one I use most often is Lose It! I'm not concerned with my weight, but I was tired of eating garbage and feeling like garbage. Lose It! has really helped me think about what I'm eating, and that's made me a healthier person.
Another really cool app that I don't think many people know about is Velocity. When the weather's nice and I'm driving with my windows down, this app adjusts my iPhone's volume based on my speed. No more need to adjust the volume at every stoplight!
You'll notice I have no social media apps on my first home screen. I try to limit the time I spend in these apps, so they're all relegated to a folder on the second page.
Which app could you not live without?
My task manager of choice is 2Do. I switched to 2Do in November, and it's so much more powerful than iOS Reminders. I refused to give up Siri, however, so I've got 2Do set to sync with iCloud. The way I've got syncing and notifications set up is a little convoluted, but it fits the way my brain works, so I'm a happy camper.
---
Which iPad do you have?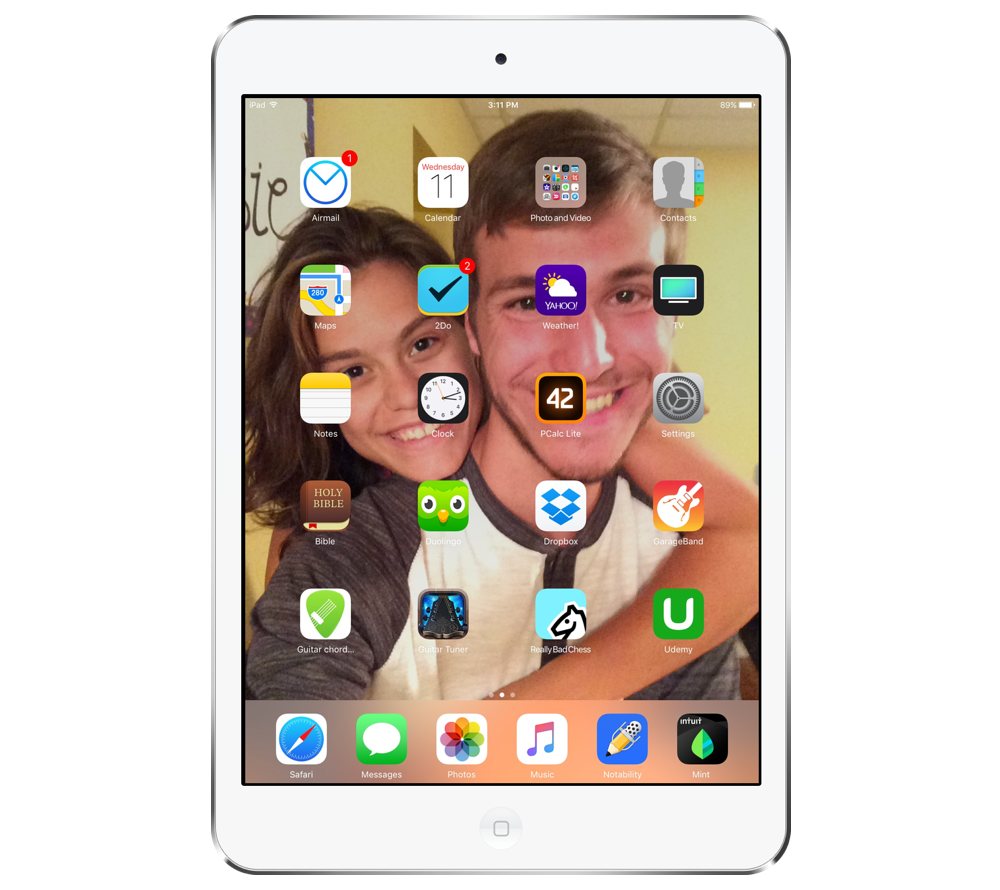 I have a silver, 2nd generation iPad mini with 32GB of space. This was the first iPad mini with a retina display, and it came out right when I was in the market for an iPad. This purchase was a no-brainer.
Where can we find your wallpaper online?
That's a personal shot of my girlfriend and I, so I think I'll hold onto that one for myself ;)
How are you using your iPad on a daily basis?
I first bought my iPad to use mostly as a consumption device (surfing the web on the couch, etc.). However, last semester my girlfriend convinced me to try taking notes in class on my iPad using an app called Notability. It's completely changed my life. No more forgetting notebooks, sharpening pencils, or getting frustrated drawing complicated diagrams. Notability really is a 21st century way to take notes. I can draw straight lines, highlight and draw in multiple colors, and import documents and images. You can read my full review here. I use a MEKO stylus from Amazon for Notability, and I also recently picked up an Amazon Basics Bluetooth keyboard.
What apps do you use the most, and why?
When I'm not using Notability, I basically just use my iPad as a bigger version of my iPhone or a more portable version of my Mac. As such, I use a lot of the same apps that I use on my other devices. Airmail and 2Do top this list.
Which app could you not live without?
Definitely Notability!
---
There are more Sweet Setup interviews right here.
Want to share your setup? We'd love to hear from you. Just fill out this form with some basic information and we'll be in touch.
---
Free Productivity Guide: Download our simple guide to productivity to help you improve your workflows and be more focused with your time and attention. Get it here.