Nadeem Vaidya's Mac and iOS setup
December 21, 2015
Every week we post a new interview with someone about what software they use on their Mac, iPhone, or iPad. We do these interviews because not only are they fun, but a glimpse into what tools someone uses and how they use those tools can spark our imagination and give us an idea or insight into how we can do things better.
New setup interviews are posted every Monday; follow us on RSS or Twitter to stay up to date.
---
Who are you and what do you do?
I'm Nadeem Vaidya. I'm originally from Cambridge, MA, but after starting my career in New York City, my wife got tired of Northeastern winters, and so we moved to Irvine, California about three years ago. I practice medicine as an ophthalmologist specializing in surgeries of the retina and vitreous. When we moved, I used the transition to do something that I had always dreamed of — to start my own private practice. After working in various settings, I realized how poorly leveraged medical practices are in terms of technology. Diagnostic technology has progressed so much in the past few decades, but modern business technology hasn't penetrated. How many of us have been to a doctor that doesn't have a web presence or was still using paper medical records? This was my opportunity to create my idea of what a modern medical practice should be.
What is your current setup?
I have two late-2015 iMac 21.5″ computers in the front for my staff with Fujitsu Scansnap scanners for each.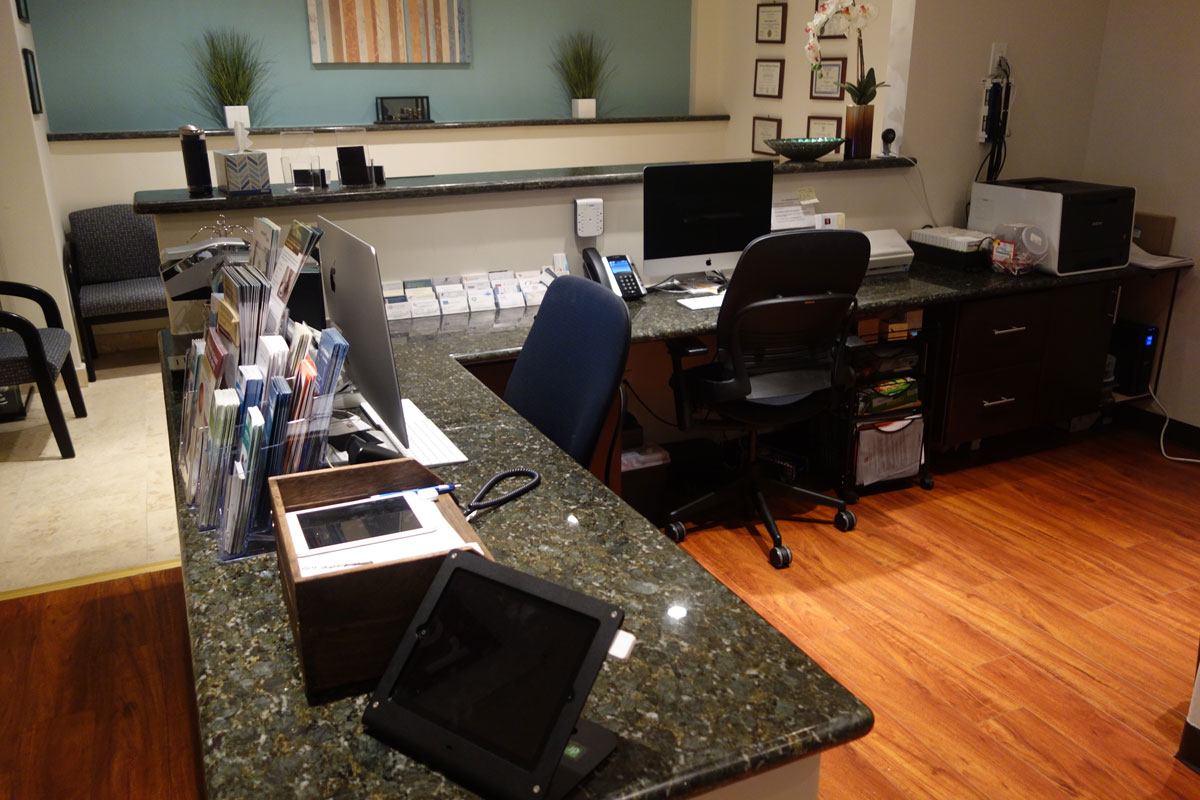 I also have a late 2015 27″ iMac with 5K display on my personal office desk, along with an early-2014 15″ Macbook Pro with Retina Display for when I have to work from home.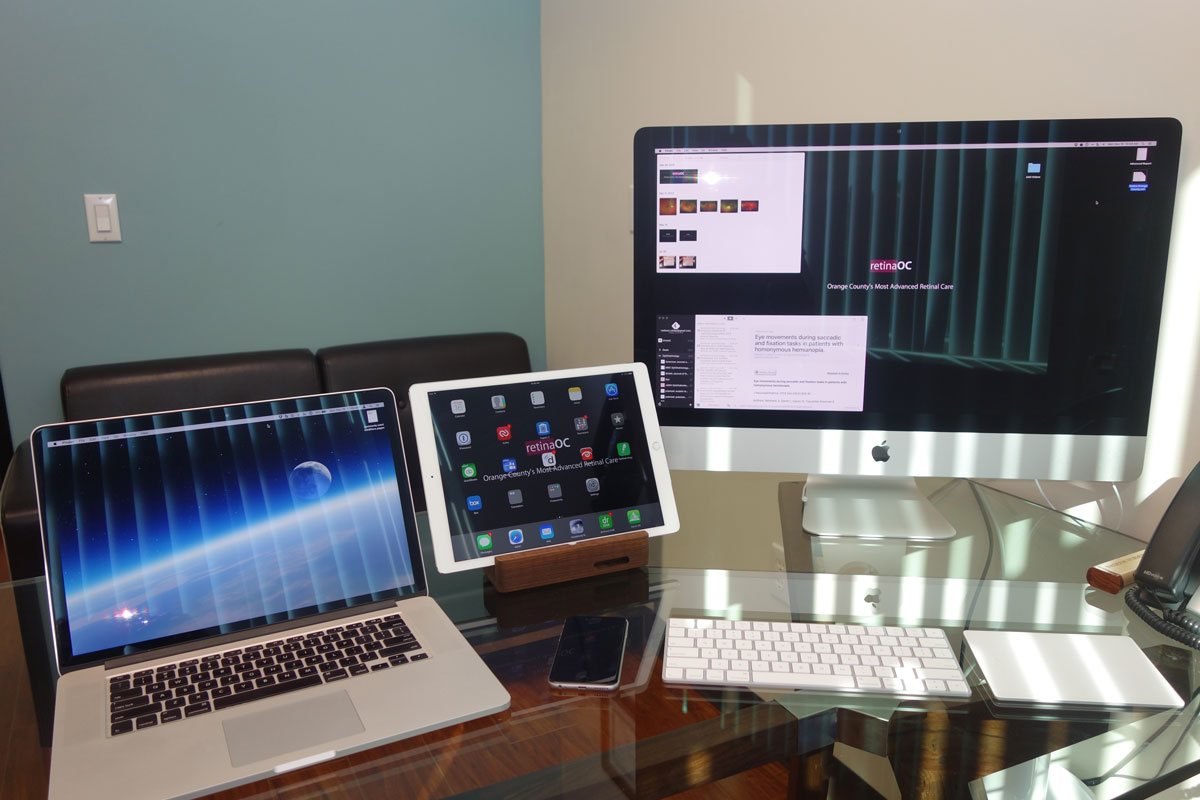 I don't have any stationary computers in the exam rooms (I'll explain soon).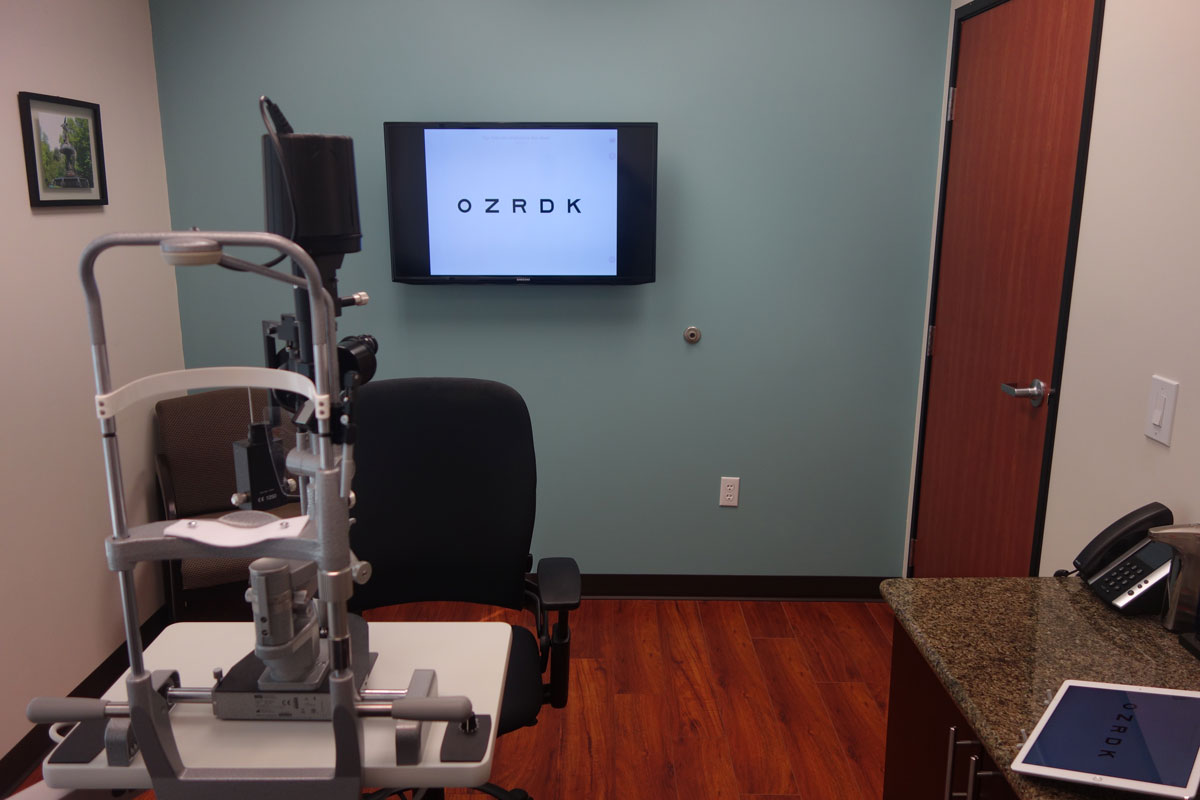 I splurged and got an SSD on all the computers and maxed out their RAM as a way to future-proof them for as long as possible. Previously, I had "borrowed" two old iMacs from my wife and my mother-in-law in order to save money as I was starting out, but they were starting to show their age. I also have a Synology DiskStation 1813 as my network file server which also serves as the destination for my TimeMachine backups. I have two 802.11ac AirPort Extremes providing excellent WiFi coverage for my numerous iPads.
Also, my desk is a Crate and Barrel Strut work table, something that I found reading the Sweet Setup. I have Steelcase Leap chairs, including a Leap Stool for my examination room to help avoid the back and neck problems endemic with ophthalmologists.
What software do you use and for what do you use it?
I feel like my life revolves around many browser tabs. I usually have at least 5 or 6 tabs open in Safari. I have my personal and corporate Gmail open, along with DrChrono.com, my electronic medical record of choice, and Doximity.com, my physician social network which also gives me a free e-fax line. Oftentimes, I'm also buying office supplies from Amazon.
I also couldn't live without 1Password. With all the various passwords we have to remember, it would be impossible to keep them all straight. Plus, by keeping all my passwords unique and random, I can keep my patient information secure.
Reeder — For my many RSS feeds, including The Sweet Setup, but also many journals and RSS PubMed searches on research interests of mine. It's the only way I could keep up on the latest medical advances in retinal diseases.
Osirix — a DICOM viewer/server to view and store the various medical images that several devices create. Specifically, a machine called the ocular coherence tomography (OCT), which is essentially like a CAT scan for the retina.
Quickbooks for Mac — to manage the office financials and payroll. Everything from accounting to payroll I do myself, and Quickbooks makes the process simple.
Preview — I know it's not very sexy, but almost every week I have contracts or prescriptions to sign, and instead of printing them and signing them, I just sign them on screen and email or fax them.
iMessage — for securely communicating with my staff.
How would your ideal setup look and function?
Actually, this pretty much is my ideal setup.
---
What iPhone do you have?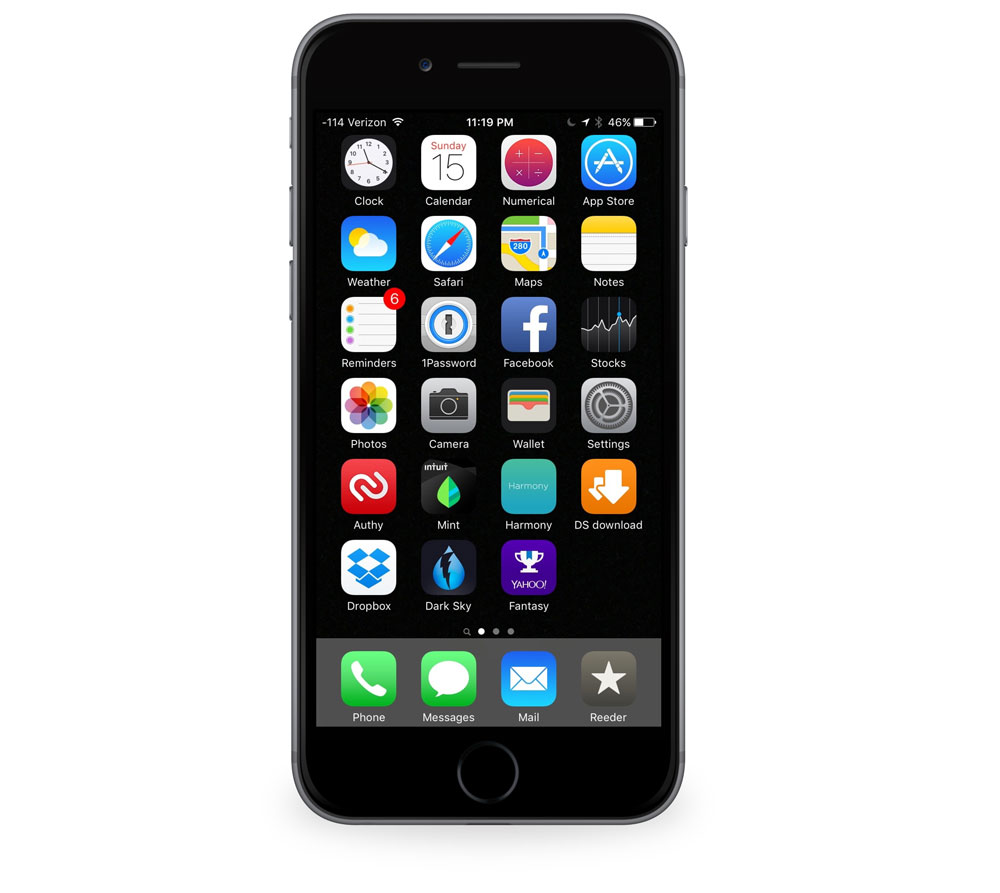 I have an iPhone 6 64Gb Space Gray.
Where can we find your wallpaper online?
It's simple. I actually agree with Steve Jobs that the basic black background lets you focus on the apps and the functionality of the phone. So, I took a picture of my couch with my phone right up against it.
What apps do you use the most, and why?
Which app could you not live without?
1Password without a doubt. I couldn't even log in to the other services without it.
---
Which iPad do you have?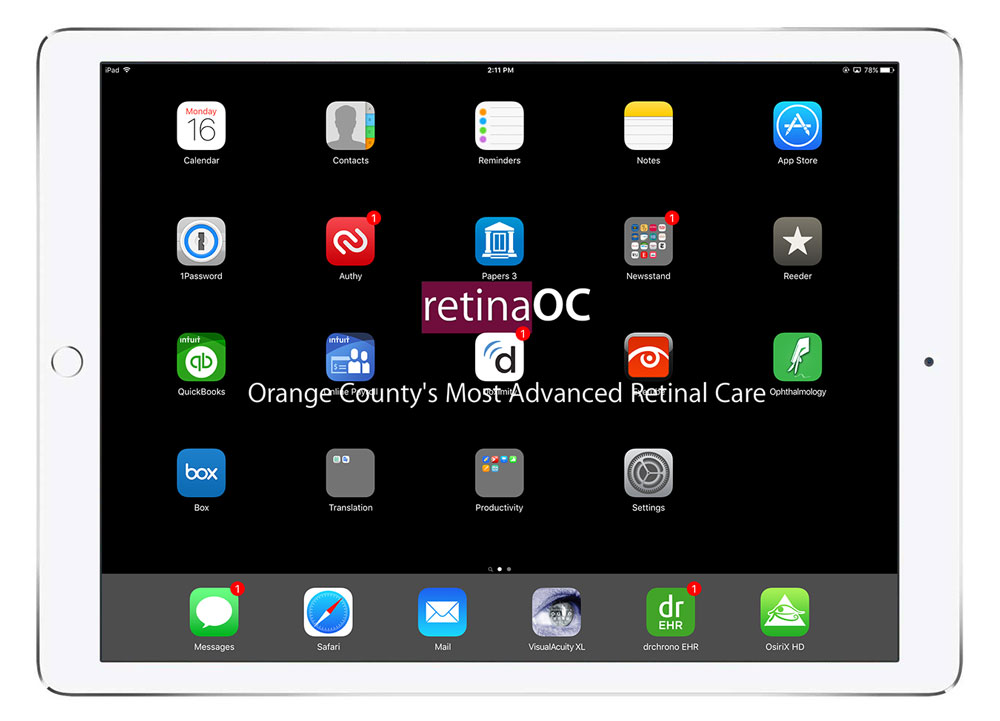 I just upgraded to a silver iPad Pro 32GB from a silver 16GB iPad Air. For home, I always just got the Black or Space Gray iPads, but I wanted the White/Silver to project a more clean/sterile/clinical appearance to go along with my white coat. I also have two iPad minis (1st Gen) for patients to check in on and read any magazine they want, an iPad 2 as a payment terminal, and an iPad 3 as a control station for my tech. I'll explain the differences when I get to the apps section.
How are you using your iPad on a daily basis?
It's my primary computing device. EMRs have been turning the patient-doctor interaction into a distraction of sorts. The computer was always getting in the way of the patient-doctor interaction by diverting the attention of the physician away from the patient and toward a keyboard or monitor. Gone was the tradition of sitting in front of the patient talking to them and taking notes on a clipboard. My goal was to recreate this experience by only having an iPad in the office with me to create clinical notes.
What apps do you use the most, and why?
What makes this paradigm possible is my EMR software, DrChrono. It was built as an iPad/mobile first application, and turns the patient-doctor interaction back to a true direct interaction. With this app, I barely do any typing — just tapping on fields to enter in patient data, and a note in full prose is created for me. The promise of the iPad Pro was that a lot of my work involves drawing various retinal pathologies on templates of retinal photos, and getting patients to sign consent forms. Using your fingers or other styli is not ideal as most patients in the demographic that I treat (mostly over the age of 65) are as saavy with the notion of a lack of palm rejection. I often have to try two or three times before I get a valid signature. DrChrono isn't just my EMR, it's my practice management app too. I bill insurances, schedule patients, and bill patients all from the web app and iPad.
DrChrono's Patient Check-In: lets the patient check in to their appointment and fill out any necessary paperwork before their visit. A HUGE time saver for me and my staff.

Osirix HD: allows me to review the OCT while I'm in the exam room with the patient. I can even use AirPlay to beam the image to an AppleTV attached to an HDTV monitor to educate the patient on their disease.

Visual Acuity XL: By far my most critical app. Unfortunately, it's seems to have been relagated to abandonware as it hasn't been updated since 2012. Yet it still works on the iPad Pro, truly a testament to the developers to survive 3 OS changes and multiple resolution changes. I use it to project a digital eyechart to my patients via AirPlay, perfectly calibrated to my 40″ monitors running AppleTVs mounted on the wall in front of them.

DrawMD Ophthalmology: allows me to show schematic drawings of the retina for patient education.

Square Register: for getting copayments from patients.

NextIssue — now Texture: Netflix for magazines. Patients can read any magazine they want without the mess and environmental impact of paper magazines littering the office.
Which app could you not live without?
I suppose I couldn't live without Visual Acuity XL. If and when it no longer supports an OS upgrade or a new iPad, I'm going to keep an old iPad around just to run this one app.
---
There are more Sweet Setup interviews right here.