Michael Wandl's Mac, iOS, and Watch setup
July 30, 2018
Every week, we post a new interview with someone about what software they use on their Mac, iPhone, or iPad. We do these interviews because not only are they fun, but a glimpse into what tools someone uses and how they use those tools can spark our imagination and give us an idea or insight into how we can do things better.
New setup interviews are posted every Monday; follow us on RSS or Twitter to stay up to date.
---
Who are you and what do you do?
I'm Michael Wandl, and I'm currently studying at the Vienna University of Business and Economics. Besides my studies, I'm an amateur photographer (Instagram: @miwa_photo), a huge Apple enthusiast, and a sneakerhead.
What is your current setup?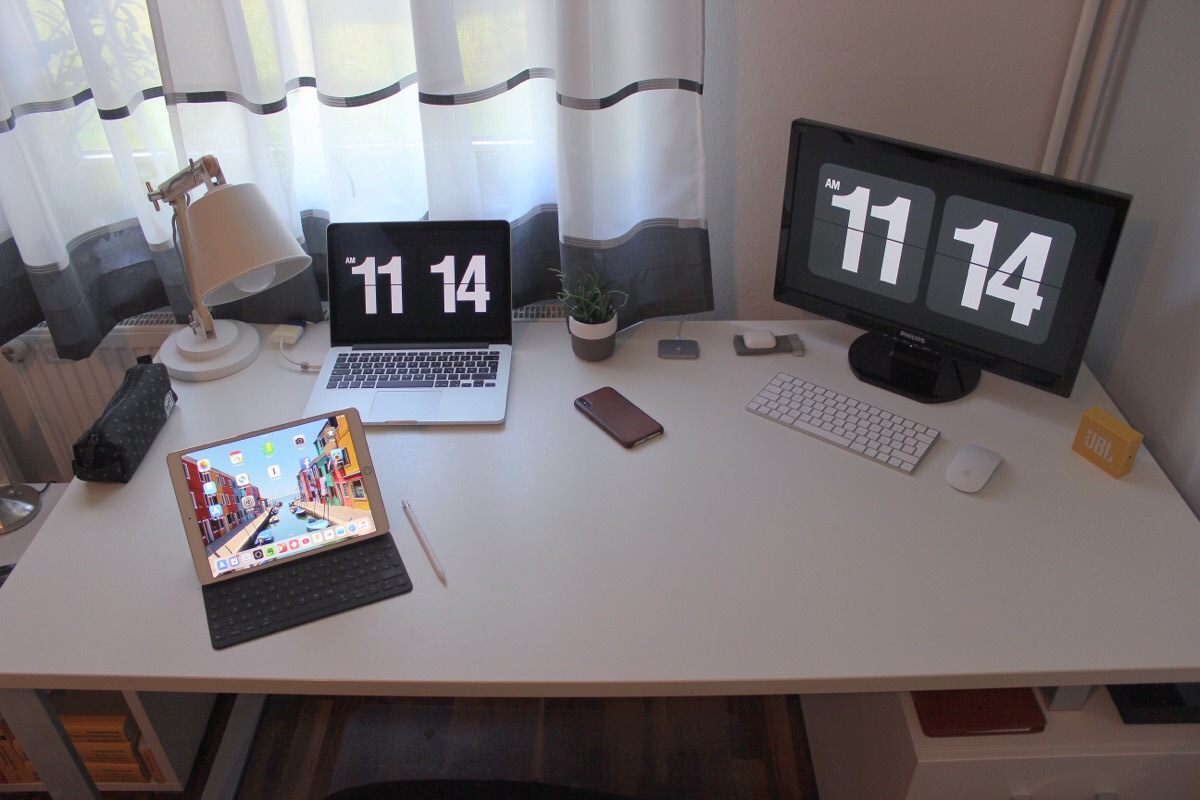 My main machine is currently an early 2013 13″ MacBook Pro with 256 GB of storage. This was my first Mac and it's still going strong after about five years of use.
Additionally I have a pretty old external Philips 220E display, an Apple Magic Keyboard, and an old first-gen Magic Mouse. My desk lamp of choice is from Tomons. If I want to listen to some music, I fire up my JBL Go, but when I'm out and about I'm almost always using my AirPods. They have been my constant companion since I purchased them and I never leave the house without them.
In addition to that I have a space gray Apple dock on my desk for charging my iPhone and iPad. I also use a Field Notes notebook for taking quick notes, and beneath my desk you can find two external drives (4TB & 500GB) for Time Machine and backup purposes.
A Herschel Settlement case also sits on my table, that is used for storing my pens, markers and other small stuff when I travel. To keep my cable setup clean and tidy I've picked up some magnetic cable clips from Amazon. I really like how they make my charging and display cable always neatly reachable.
Where can we find your macOS wallpaper?
I'm using an app called Wallcat that supplies me with four wallpapers that I can choose from every day.
What software do you use and for what do you use it?
1Password holds all my passwords and sensitive information and it would be the first app to be downloaded on a new Mac for sure. Spark works perfectly for my email routine and I find myself always in Franz, which puts all the different messenger platforms in one app. My photo editing software of choice is Polarr Photo Editor Pro and I occasionally (if I need to design something) use the excellent Pixelmator. In addition, I really love iA Writer because of its simplicity and it gets used a lot. It's also the app I'm currently writing this article in.
PDF Expert is my go to client for all my PDF needs. It has many great features and is really easy to use. Additionally, I use Simplenote because it is a minimal app and works great across platforms. In my opinion, Alternote offers a much more streamlined Evernote experience on the Mac. Articles from Instapaper that I really adore are saved into Evernote which serves as my big archive for later reference. I also have all the iWork and Office 365 software on my computer, but they are not getting that much use recently.
Furthermore, I have Vanilla installed for cleaning up my menu bar and ToothFairy for quickly connecting my speaker or my AirPods to my Mac. Unclutter is also pretty useful as a clipboard manager, has a quick notes section, and some space for dropping files too. Shortcut Bar acts as a quick way to access folders from the menu bar and Monster prevents my Mac from sleeping if I don't want it to.
How would your ideal setup look and function?
I would really like to have that sick new 13″ MacBook Pro with Touch Bar in that sexy space gray color. In addition to that, a bigger 4K monitor would definitely be an improvement to my current aging one. The only thing that I would be missing then would be the Magic Trackpad 2 to complete the set of Magic accessories.
---
What iPhone do you have?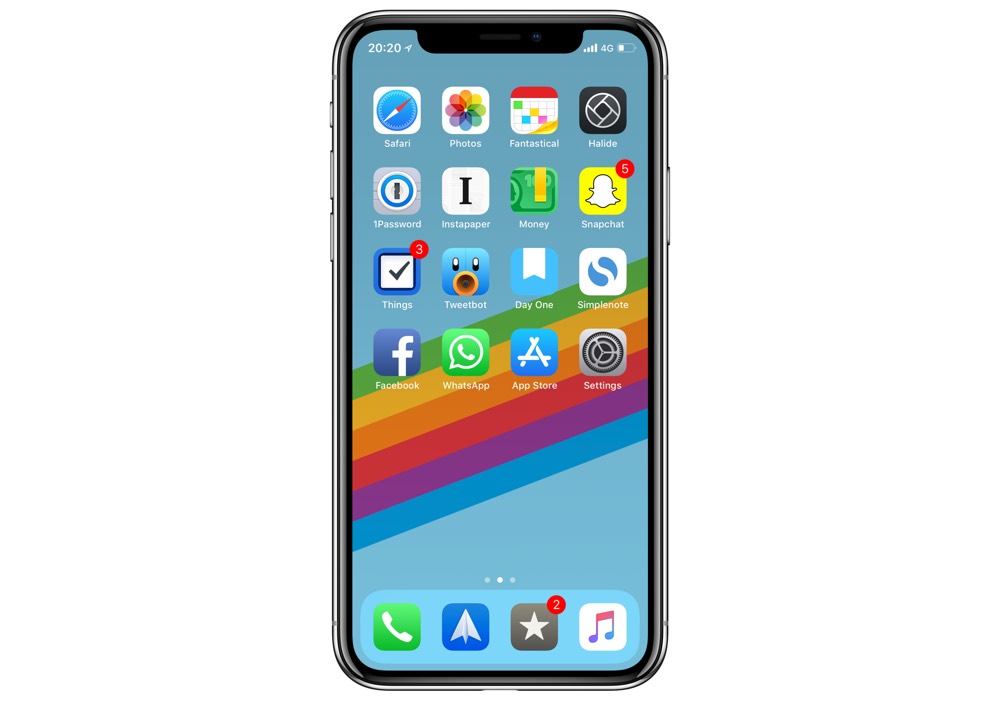 I currently rock the iPhone X in silver with 256 GB of storage that I purchased on day one. My iPhone is my main device and I use it all the time. The huge storage really pays off for me because now I can have my huge iCloud photo library and all my music available offline. In my opinion, the white glass back looks just amazing and it reminds me of the really sick iPhone 4S back.
Most of the time, my iPhone is in the Saddle Brown Apple Leather Case. It feels premium and develops a patina over time.
Where can we find your wallpaper online?
My wallpaper is a default one that looks gorgeous in my opinion.
What apps do you use the most, and why?
Productivity
Social
Other
Which app could you not live without?
Definitely WhatsApp. Everybody that I know communicates through it and I would be screwed if I couldn't use it anymore.
---
Which iPad do you have?
I'm currently rocking a 10.5″ iPad Pro in gold with 256 GB of storage. To be honest, I wouldn't want to be without my iPad anymore because, together with the Smart Keyboard and Apple Pencil, this device is truly magical. Furthermore, the many great optimized apps make me truly love my iPad more and more every day.
Where can we find your wallpaper online?
My wallpaper is a picture I took in Venice with my Canon EOS 600D recently.
How are you using your iPad on a daily basis?
My iPad is mostly used for annotating PDFs and taking notes during lectures. Beside that, it's also my favorite device for reading. I even sold my Kindle since I like reading articles on the iPad so much more.
What apps do you use the most, and why?
All the apps I use on my Mac and iPhone are installed on my iPad too, like 1Password, Things, Spark, and iA Writer. PDF Expert is running all the time on my tablet during the week. In my opinion, Whink is the best app for taking notes if you're studying. Despite missing keyboard shortcuts, its simple interface really makes the difference for me.
For entertainment purposes I have YouTube installed on my iPad. Most of my reading takes place on the device, and that's why Instapaper and Reeder sit on the first page of my home screen. Additionally, Day One is mostly used on the iPad because, in my opinion, the app is way easier to use than the Mac counterpart and I also really like writing on the Smart Keyboard.
Which app could you not live without?
PDF Expert. It's the main software that I use all the time for my bachelors degree. What I would really like Readdle to add are keyboard shortcuts since I use my Smart Keyboard all the time.
---
Which Apple Watch do you have?

My Apple Watch is a 42 mm Series 3 with LTE in the new gold color and a variety of bands. However, most of the time I wear mine with the white check woven nylon band.
I've been wearing an Apple Watch since it first came out and Apple really nailed it with this device in my opinion.
What apps do you use the most, and why?
The watch is great for simple interactions that don't require a massive display, and that's why I fire up Shazam, the Weather app, and the pre-installed Calendar app the most. When I'm exercising, I always track my progress using the Workout app.
How do you use your Watch on a daily basis?
To be honest, my Apple Watch mostly serves as a notification device and to look up the weather and so on. What I really love is that I can use it to control the music playing on my iPhone, speakers, or AirPods.
---
There are more Sweet Setup interviews right here.
Want to share your setup? We'd love to hear from you. Just fill out this form with some basic information and we'll be in touch.
---
Wait. There's a Bonus….
Custom Productivity Templates
We have a set of custom productivity templates that work well with the iPad app, GoodNotes. And if you want to try them out, we've put together a free guide that can help you.
We'll show you…
How to create and save custom page templates in GoodNotes.
How to use those page templates to transform GoodNotes into your own productivity notebook (or any other type of notebook replacement).
Plus, we also have included a couple of our custom productivity templates for you to get started with. These templates are right out of our popular productivity course.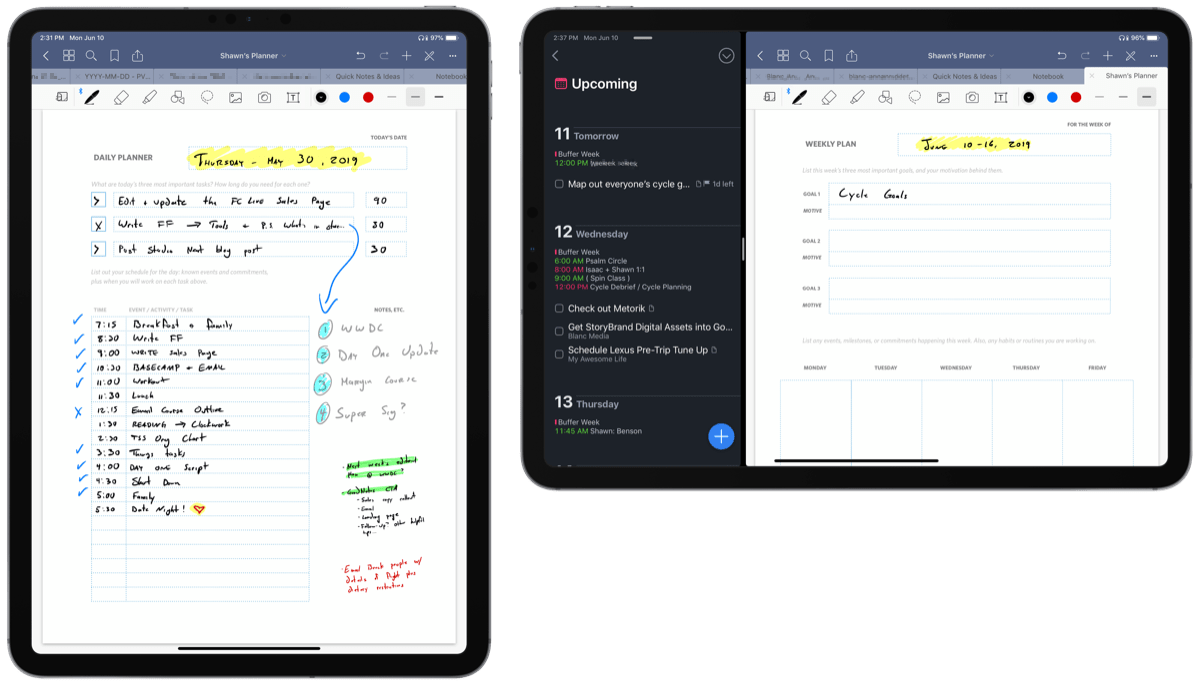 The custom templates and the guide are available for FREE to our email subscriber community. And you can get it right now. By joining the Sweet Setup community you'll also get access to our other guides, early previews to big new reviews and workflow articles we are working on, weekly roundups of our best content, and more.