Matthew Guay's Mac and iPhone setup
March 13, 2017
Every week we post a new interview with someone about what software they use on their Mac, iPhone, or iPad. We do these interviews because not only are they fun, but a glimpse into what tools someone uses and how they use those tools can spark our imagination and give us an idea or insight into how we can do things better.
New setup interviews are posted every Monday; follow us on RSS or Twitter to stay up to date.
---
Who are you and what do you do?
My name is Matthew Guay. I'm a content marketer at Zapier and, since we're a fully remote team, I work from my home office in Bangkok, Thailand. I also write occasionally on my tech blog, Techinch.
What is your current setup?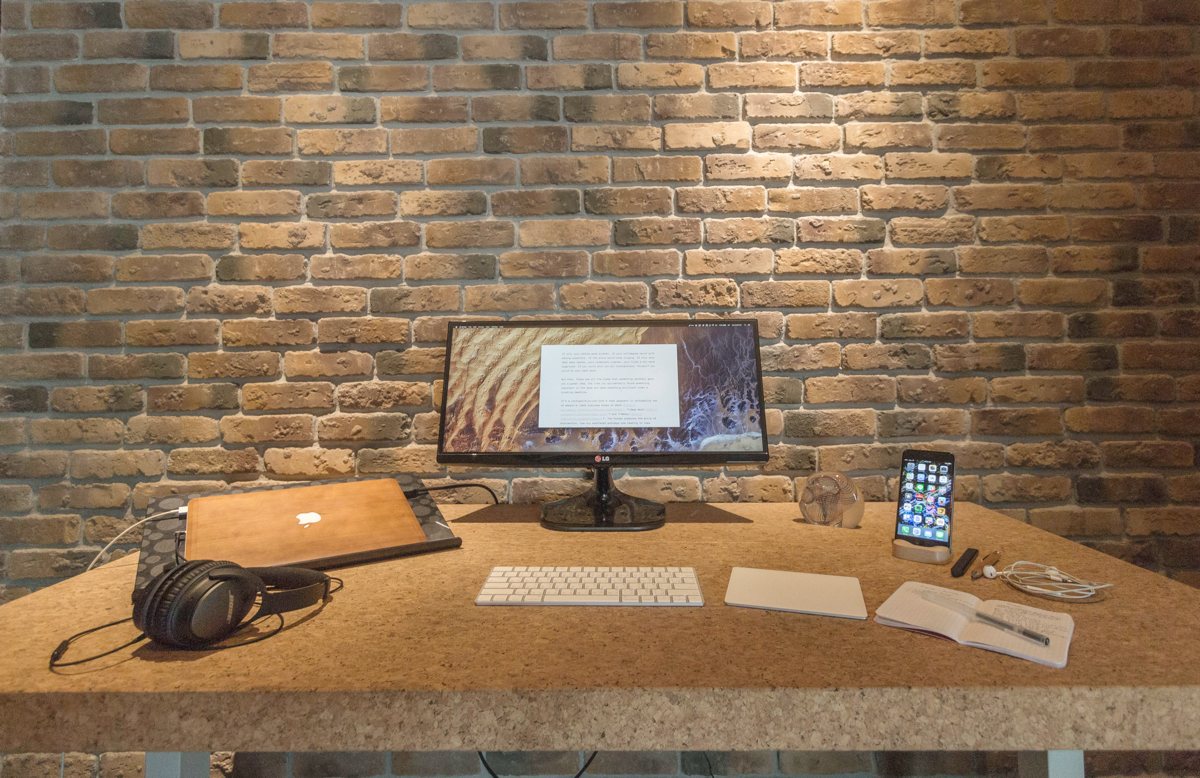 My current Mac is a mid-2014 13″ MacBook Pro connected to a 25″ LG Ultrawide monitor, an Apple Magic Keyboard, and a Magic Trackpad 2. I've used Apple keyboards for years and am pretty happy with the latest version, though I hope they update it with a Touchbar in the near future.
I use an IKEA Skarsta standing desk with a cork top — a bit of a hack since I didn't like the default white top IKEA offered. Working at a standing desk has spoiled me; it feels odd to sit the full workday now. The thing I like the most is that a large, standing desk adds spatial context to your work. You can move around while working, perhaps doing personal things on the laptop off to one side, core work in the center, and then move to the right to jot down some notes.
Where can we find your macOS wallpaper?
I get most of my wallpapers — including my current one — from the iOS app WLPPR. They don't include desktop-sized wallpapers, but do include links to the original images so you can download them and crop to fit your desktop.
You can grab my current wallpaper here.
What software do you use and for what do you use it?
As a writer, I spend a large portion of my day in iA Writer. Its clean interface won me over when it first came out, and despite trying dozens of other apps, it's the one I always come back to. Ulysses, though, is a close second I switch to every so often, and OmniOutliner is brilliant for brainstorming ideas and organizing my thoughts. Once I'm done writing, I'll copy everything over to Google Docs where our team edits collaboratively. It's not designed for Markdown, but it is still the best way to add comments and track changes.
I use Spark for email, Slack for team chat, Tweetbot for Twitter, and Reeder for RSS and reading later. OmniFocus manages my personal tasks, and I use Trello for my team projects. Apple Photos is surprisingly good for managing photos and even developing RAW files, and Sketch plus Noun Project icons can make anyone seem like a designer.
My favorite apps now, though, are the hidden ones. I use Alfred for text expansion, quick calculations, custom searches, and dozens of other tasks. BetterTouchTool is a must-have with the Magic Trackpad 2. I can click the lower right corner to take screenshots, the upper right corner to upload them to our server, and save a link to Instapaper with a 3-finger force touch. And Zapier does everything else in the background, like automatically sharing articles, adding team tasks to OmniFocus, sending follow-up emails, saving newsletters to Instapaper, and—with its Push extension for Chrome, reminding me at the end of a timer or appending an article to an Evernote note.
How would your ideal setup look and function?
My current setup was a bit early in the retina game, and the 4k monitors available when I was shopping weren't that great. That's why I went with my current monitor. I happen to like the extra-wide design, so a 4k or 5k version of this monitor — or a true 5k Cinema Display in the iMac's style — would be perfect.
Computer-wise, I'd like the new Pro with TouchBar in a MacBook form factor. One day.
A bit further out, I'm still anticipating the day when our phones can be our only computer, when you'll just connect your phone to your monitor when more screen space is needed to get work done. Windows Phone hints at the possibility, and surely it'll happen across the board someday. And by then, just maybe, battery life won't be such an annoyance.
---
What iPhone do you have?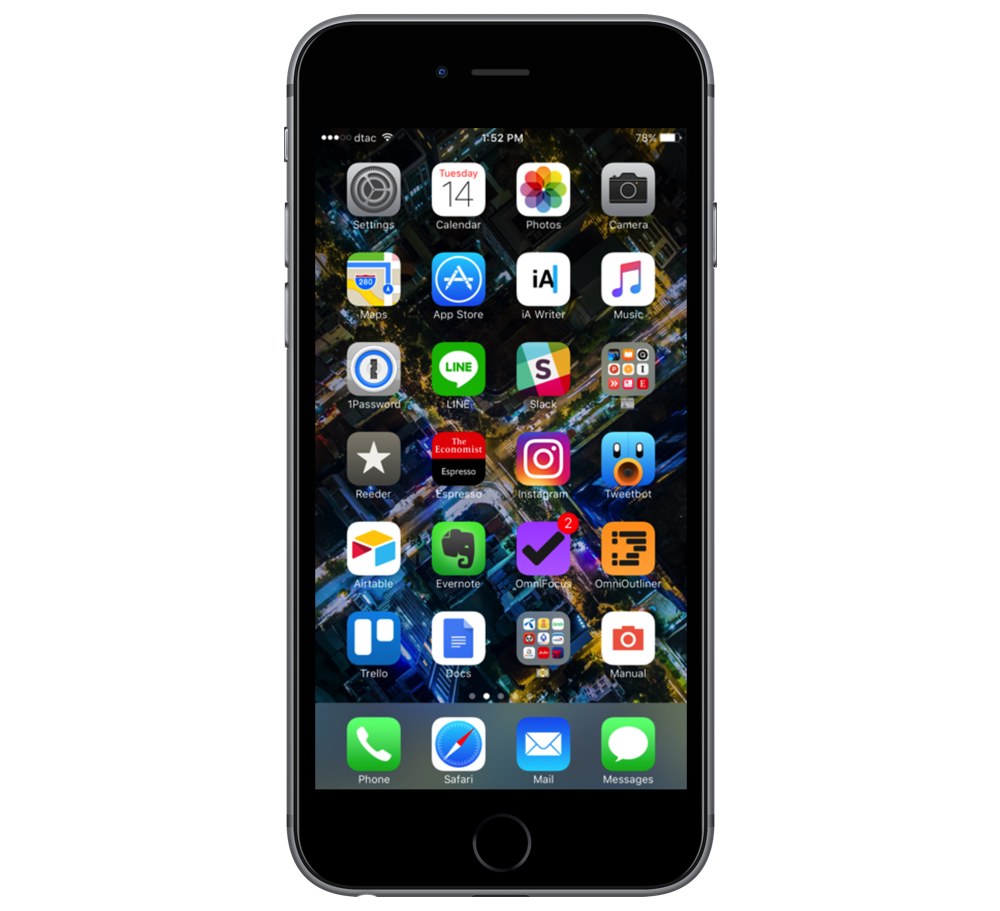 My current iPhone is a space gray 64GB 6S Plus.
Where can we find your wallpaper online?
I'm using another photo from WLPPR on my phone right now. This one you can download here.
What apps do you use the most, and why?
I use Mail on my phone more than I do on the desktop since it's easy to quickly triage email and delete or archive everything unessential. And since most of my teammates work on the opposite side of the globe from me, each day starts out with a lot of notifications. I happen to find email to be a convenient way to read through them.
Reading apps come next. The Economist Espresso is great for keeping up with what's happening around the world without getting pulled too deeply into the news cycle. Reeder is still my go-to for RSS feeds, Instapaper for long-form articles, and Kindle for books (mostly for when I don't have my Kindle Paperwhite around).
Writing apps are also pretty important, and I keep a number around: iA Writer, Evernote, Drafts, Notes, and even Scrivener and Ulysses. I'd choose only iA Writer if I had to pick.
Then, there's one extra thing that seems crazy on phones, and yet is still amazingly useful: a spreadsheet app. I have Google Sheets for crunching data (great for comparison shopping or keeping exchange rates straight while traveling), and the spreadsheet-like database app Airtable for organizing lists of things. They're handy.
Which app could you not live without?
Live without is a tough question. I'd choose to have a phone with only a browser if I could only have one app. Otherwise, 1Password would have to be my next pick. I'd never be able to log into anything — or remember any other private data — without it.
---
There are more Sweet Setup interviews right here.
Want to share your setup? We'd love to hear from you. Just fill out this form with some basic information and we'll be in touch.
---
Wait. There's a Bonus….
Custom Productivity Templates
We have a set of custom productivity templates that work well with the iPad app, GoodNotes. And if you want to try them out, we've put together a free guide that can help you.
We'll show you…
How to create and save custom page templates in GoodNotes.
How to use those page templates to transform GoodNotes into your own productivity notebook (or any other type of notebook replacement).
Plus, we also have included a couple of our custom productivity templates for you to get started with. These templates are right out of our popular productivity course.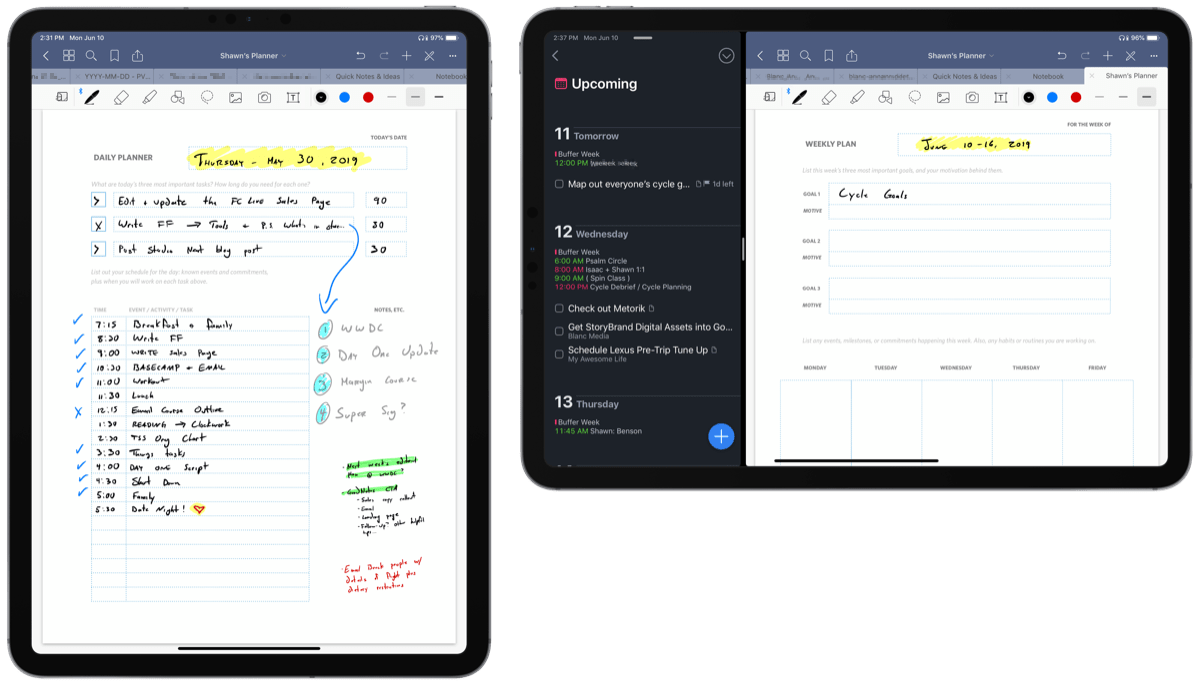 The custom templates and the guide are available for FREE to our email subscriber community. And you can get it right now. By joining the Sweet Setup community you'll also get access to our other guides, early previews to big new reviews and workflow articles we are working on, weekly roundups of our best content, and more.