Matt Birchler's Mac and iPhone setup
March 30, 2015
Every week we post a new interview with someone about what software they use on their Mac, iPhone, or iPad. We do these interviews because not only are they fun, but a glimpse into what tools someone uses and how they use those tools can spark our imagination and give us an idea or insight into how we can do things better.
New setup interviews are posted every Monday; follow us on RSS or Twitter to stay up to date.
---
Who are you and what do you do?
My name is Matt, and I work a non-techie day job at Target. By night, I write the tech blog BirchTree, as well as the Birch Bark podcast, and the Highest Notes music blog. I've been writing on the web since 2010, and support my work exclusively with the kindness of strangers (aka $2 contributions from readers).
What is your current setup?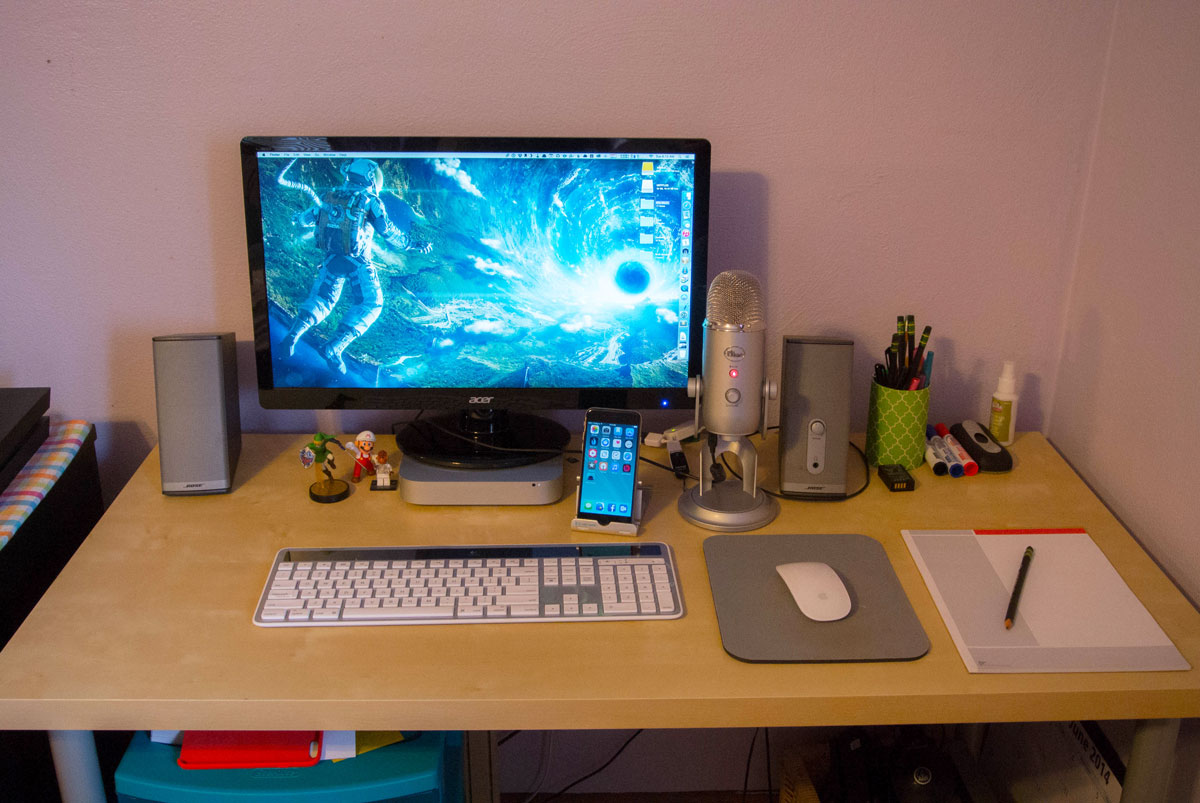 Editor's note: You can find Matt's desktop wallpaper here.
I have a late-2012 Mac mini, and I adore this little guy. I know it's antiquated to own a desktop computer in 2015, but it's the tool that works for me. I upgraded it to an SSD last year. If anyone is on the fence about whether they should upgrade their old spinning hard drive, do it!
Attached to the computer is a basic Acer monitor that I got from Target — it's not great, but it was cheap. I have a set of Bose Companion 2 speakers that I have been carrying around with me for years. As I've moved from computer to computer, desk to desk, these guys have followed. They're great.
I also have a Blue Yeti microphone that I just got a few months ago and am in love with. There's a pad of Aaron Mahnke's Frictionless paper off to the side for jotting down notes throughout my day. And for fun, I have a couple Nintendo and Star Wars figures on my desk.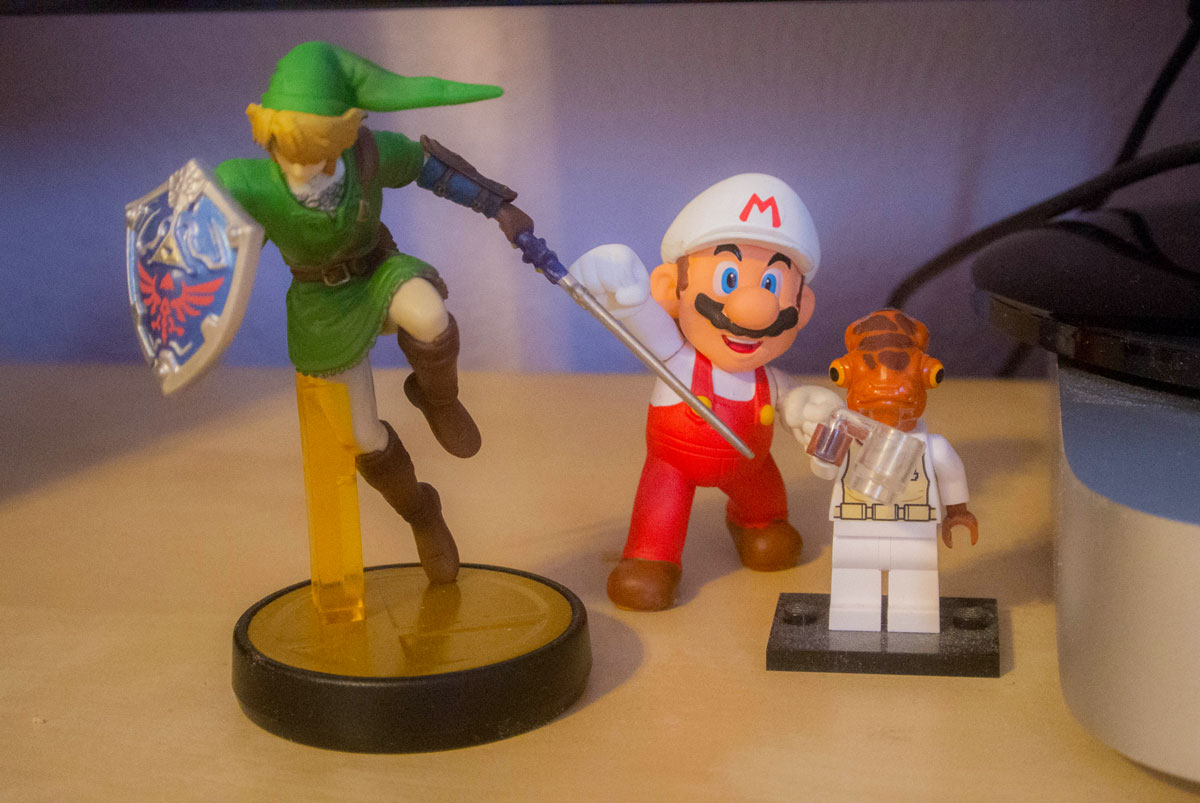 What software do you use and for what do you use it?
I know that some people "live in" one app or another, but I find myself bouncing around all day. I do most of my web work in Byword. I've tried every other text editor out there, and Byword fits my needs the best. I also have to do some design work, and I'm all in on this Photoshop subscription Adobe has going on now. $700+ was always a hard sell for a semi-pro like me, but $12 a month is much easier to swallow.
RSS is not dead — at least that's what I tell myself — so Reeder is where I catch up on the goings-on online. Tweetbot is far and away the best Twitter client for Mac, and Apple's own Messages app are where I communicate. The addition of SMS to Messages was a game changer in Yosemite.
My most recent endeavor is into iOS development and I'm learning that Xcode is kind of great.
How would your ideal setup look and function?
I wouldn't change much from what I have now. That 5K iMac is pretty tempting, though. Maybe a clicky keyboard as well.
---
What iPhone do you have?
I have the iPhone 6 in space grey. I don't use a case, but I do have a skin to give it some grip.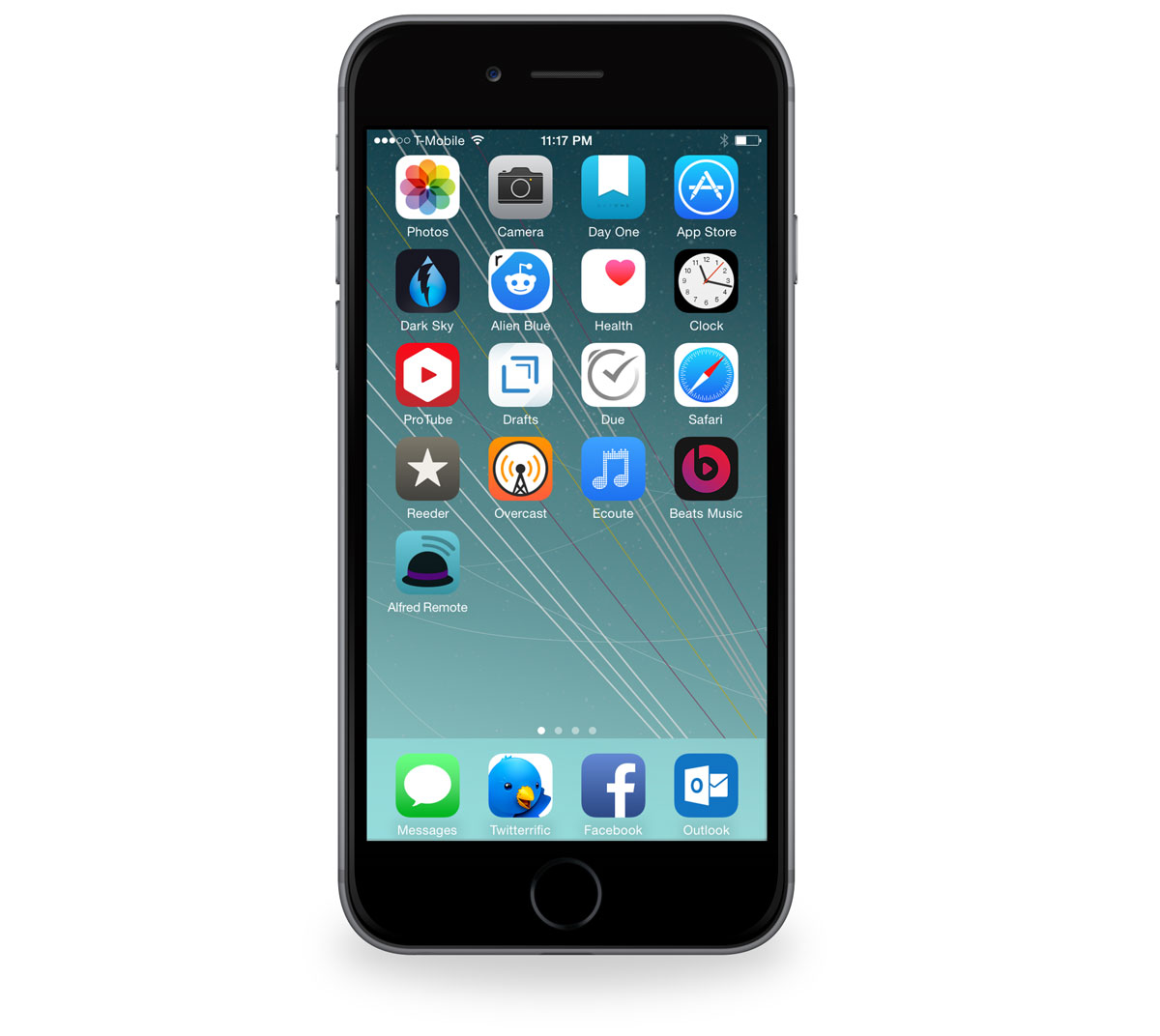 Editor's note: You can find Matt's wallpaper here.
What apps do you use the most, and why?
If developers got paid based on how much you use their apps, Marco Arment would be incredibly wealthy because I use Overcast for a couple hours everyday to and from work. I've tried every podcast app you can imagine, and this is the one that clicked with me.
Due is my favorite app for reminding me to get stuff done. I use it for everything from basic reminders to keeping me on some of my weekly routines. My favorite thing is that the app will pester you like crazy when you miss a deadline. It makes me at least address the thing that I said I was going to do, even if that is delaying the alarm for another time. Due refuses to be ignored.
ProTube is an app that I don't think gets enough play, but I think it's great! It does just about everything the official YouTube app does, but adds full iOS 8 extension support as well as a really cool interface.
Which app could you not live without?
I know it's built into the system, but Messages. iMessage + Continuity + Handoff + SMS on my other devices = a near perfect messaging app. I spent 6 months of 2014 with an Android phone and Messages is what I missed most.
---
There are more Sweet Setup interviews right here.