Last Call: RSVP for the free Margin class tomorrow
March 7, 2023
Tomorrow… Wednesday, 8 March… at 3pm Eastern / 8pm GMT…
Join me (Shawn) for a free, live class to show you how to get back your time (and your life) starting now.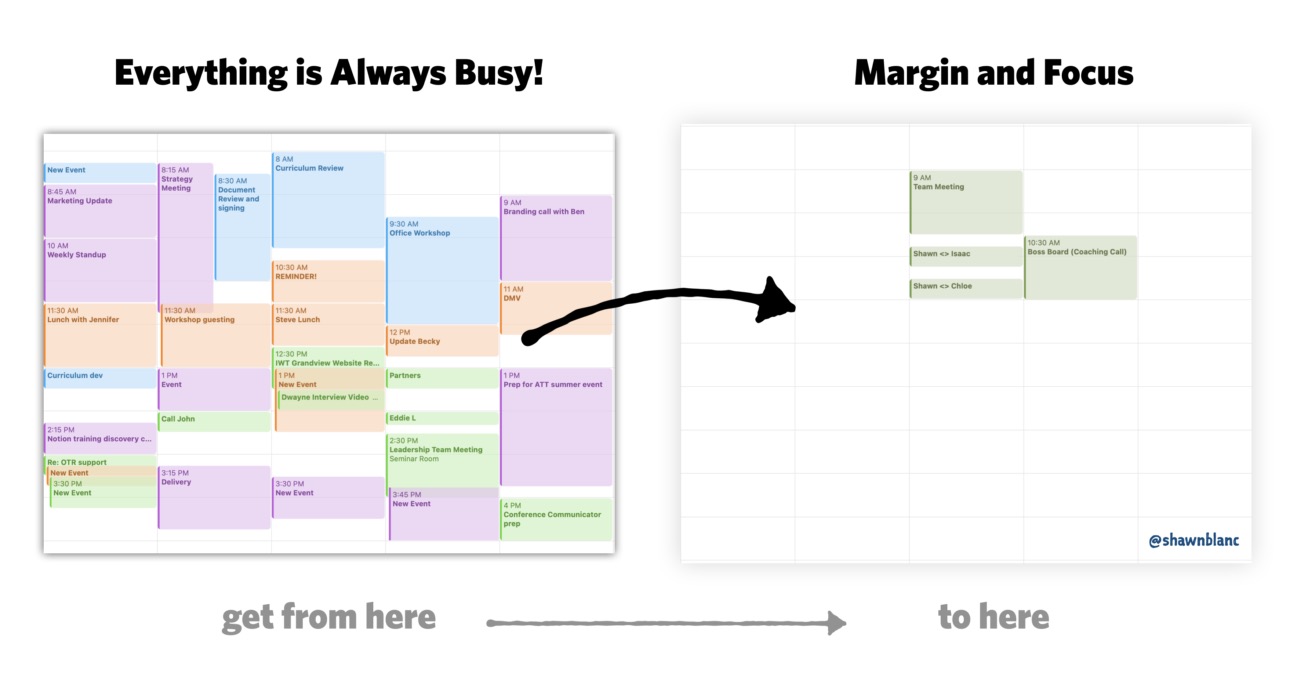 Everything is Always Busy
My average work week use to be 70 hours…
I would regularly work 10-12 hour days, 6 or 7 days per week. But I never got ahead. And that "one more thing" which I thought would finally get me back to a sustainable schedule never appeared.
Now… I work about 35 hours per week. (That's a screenshot of my real-life work calendar up there on the right.)
And the things I do with my work are all my favorite things.
When you have margin and breathing room, then you have options and flexibility.
. . . . .
If you want to get your time (and your life) back, I'll show you how…
…even if things feel overwhelming, you're not sure where to start, and you've already "been there, tried that, and bought a t-shirt."
As mentioned, what I'll show you is very simple and straightforward. (Stuff that works always is.)
When you have more breathing room, it means more possibilities, more rest, and more fun. Join me to find out how to free yourself from overwhelm and restore margin to you week. (RSVP here.)
Live Class Details
Register for the Everything is Busy webinar
What: Everything is Always Busy: (Live Webinar) — The only two ways to restore breathing room to your life
When: Wednesday 8 March 2023 @ 3pm Eastern / Noon Pacific / 8pm GMT
Where: RSVP Here (this way we can email you a link to join us live).
Plus, live Q&A to talk about any questions you may have around margin, time management, how to say "no", and more.
What we'll cover during the live class
My simple, 2-part framework to restore margin

The 5 Areas of Margin

How (and why) we use this approach to take off 9 weeks per year in our company

Why people struggle to maintain breathing room in their life

How to get more breathing room in your own life (starting now)

Bonus: The Margin Assessment tool (shows you exactly where you should focus first)

Live Q&A (time management, decision making, focus, etc)