We like Overcast
July 16, 2014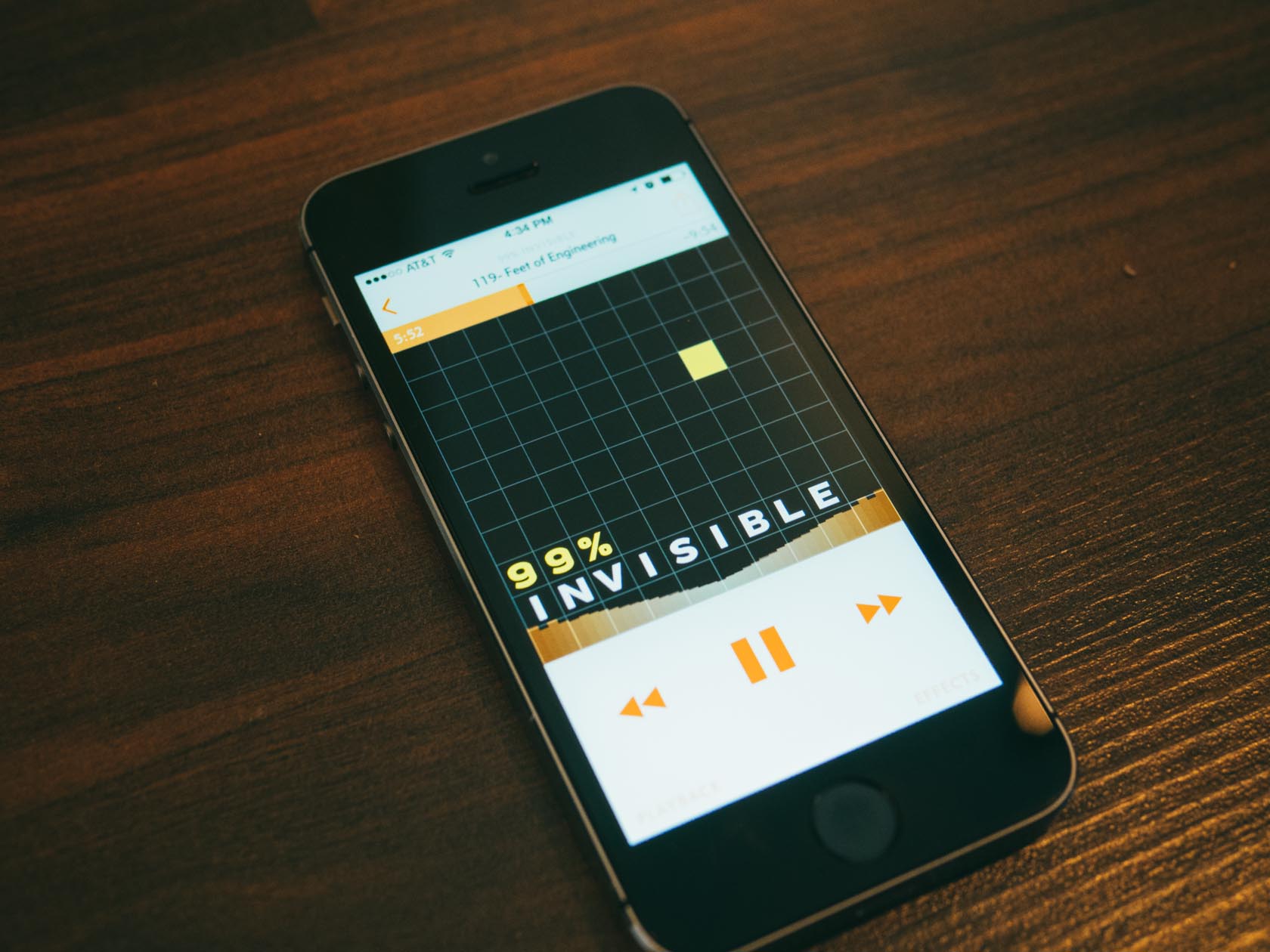 Marco Arment's new podcast app for the iPhone is Overcast. And it is a force to be reckoned with in this category of apps. With a résumé that includes Tumblr, Instapaper, and The Magazine, any Arment-built app is worth a look.
Unlike Pocket Casts, which is our longstanding favorite podcasts app for iOS, Overcast is iPhone-only, but it shares many of the features found in an app like Pocket Casts. It has sever-side feed scraping with push notifications, so refreshing the app is very fast.
Also like Pocket Casts, Overcast supports smart playlists. Playlists can filter based on play status and can affect all subscribed shows, or just select ones. Additionally, specific podcasts can be marked as a priority, so their episodes always appear at the top of any playlists.
There are issues, however. Overcast doesn't support streaming podcasts. Episodes must be downloaded to be played. This is an issue for users with nearly-full iOS devices, but Overcast is designed to stop downloading before it uses all available free space. Arment has said that streaming will be added after iOS 8 is released, however.
Likewise, while Arment has stated that an iPad app is on his roadmap, the lack of a tablet app will be a stumbling block for some users. However, Overcast's web interface works great on the iPad. It isn't a full-featured client, but it handles the basics well enough.
Look and Feel
While not straying far from the standard iOS look, the use of the color orange and custom fonts gives the app a very unique feel.
The hierarchy in Overcast is relatively simple. The main screen gives you a list of all your playlists and shows. Tapping an item drills deeper into the app, but the real magic is how Overcast displays where the playing episode resides within the app itself.
Overcast overlays a real-time EQ over the bottom of the artwork on the Currently Playing screen. But that real-time EQ graphic is also overlaid on the podcast episode's list view (if you're in a list showing several episodes), as well as on the name of the playlist that contains the episode (if you're at the main Overcast screen). The real-time EQ graphic is, honestly, difficult to describe. It not only serves as a visual indicator that audio is playing and which show it's coming from, but it's also a visually clever implementation. Download the app, add a show or two, hit play, and you'll see what we're talking about.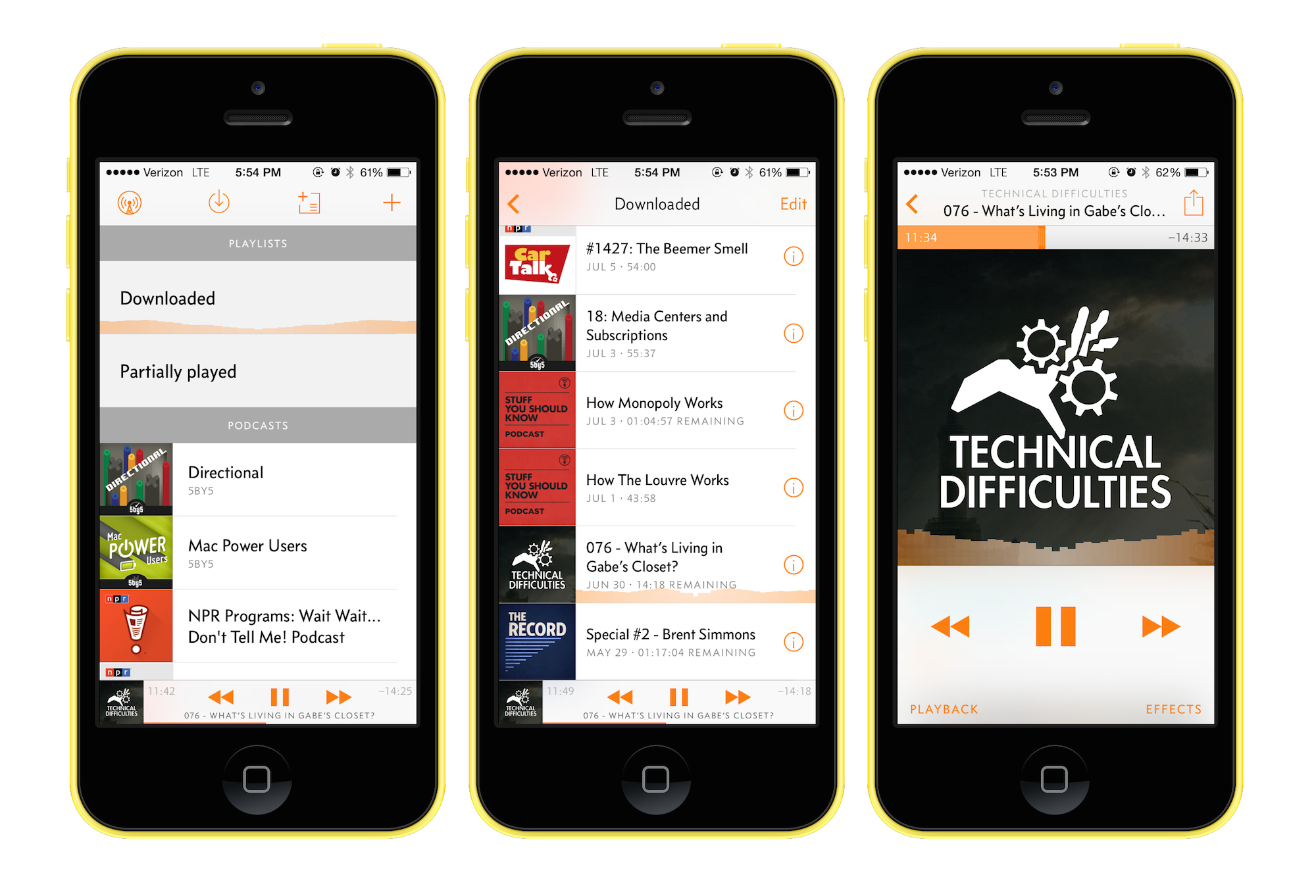 Show Discovery
The built-in Directory section comes with a "Recommendations From Twitter" section. In short, if you give Overcast access to your Twitter account (don't worry, Overcast won't ever tweet for you) and star an episode, your Twitter followers will see that recommendation within the app. When I visit this section of the app, I can see (and download) episodes of shows recommended from people I follow on Twitter: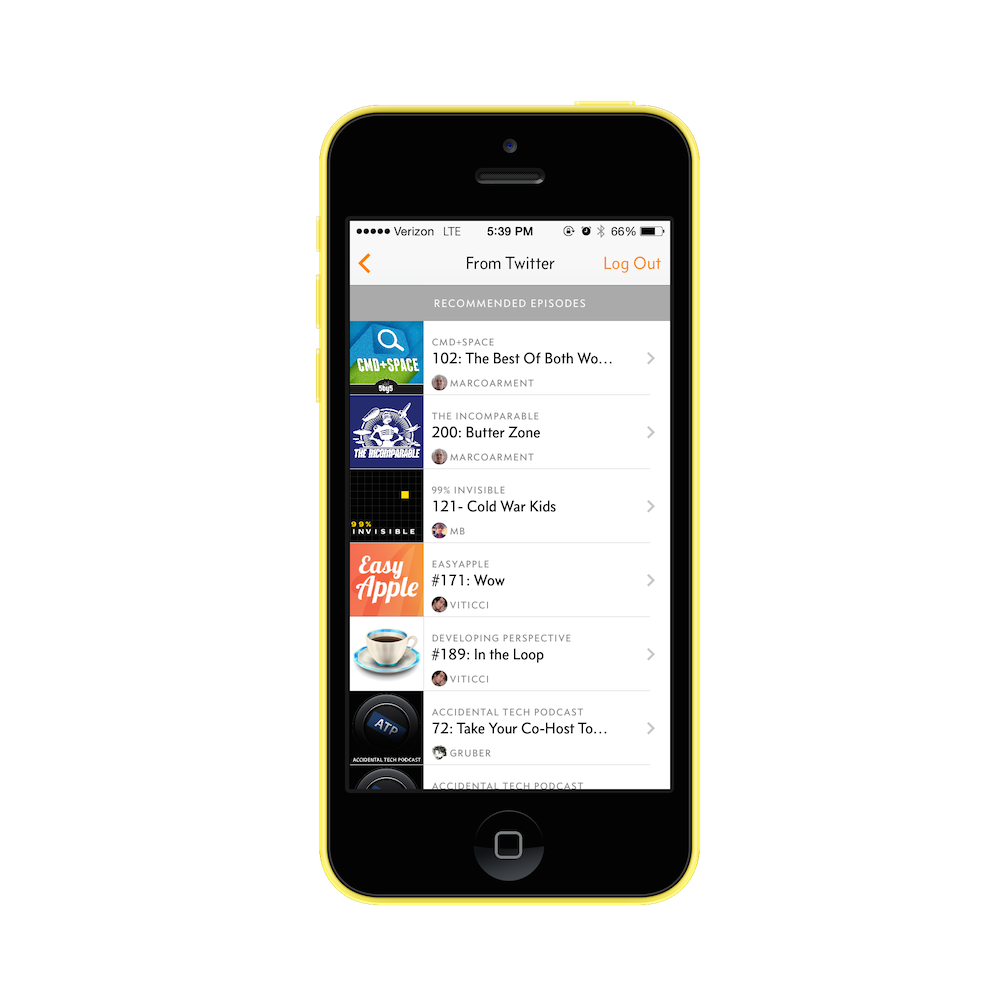 This discovery tool is great. Instead of relying on some algorithm on a server somewhere, I can browse what people I already know — and trust — are liking in Overcast.
Audio
Overcast ships with two unique and impressive audio features:
In addition to the normal variable playback speed most podcast apps come with (IE: 1.5x, 2x playback), Overcast has a "Smart Speed," which strips out long silences in the audio file as it goes. The result is imperceptible, but has saved me nearly 5 hours of listening time in the two-month beta period I've been using Overcast, which is above and beyond the standard speed adjustments alone.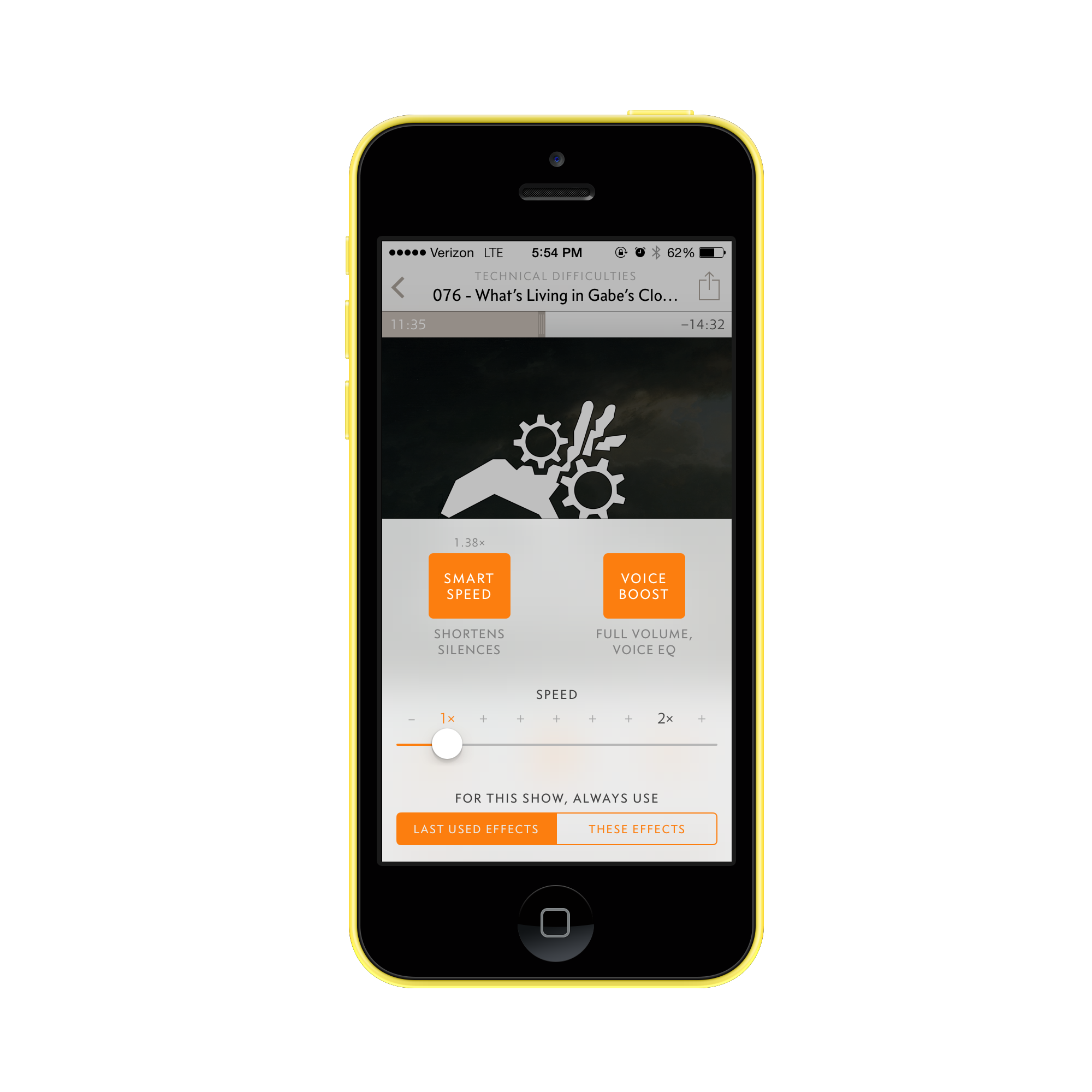 The other feature is Voice Boost, which increases the volume of the episode. Overcast trims some of the low-end out of playback so the audio doesn't sound blown out or distorted. This is ideal if you're listening to a podcast in the car or with small earbuds while exercising.
Pricing
Overcast is free to download, with a $5 in-app purchase that unlocks several features:
Smart Speed
Voice Boost
Cellular downloads
Variable playback speed
Per-podcast audio effect settings
One-by-one playback option
Sleep Timer
Unlimited playlists
Unlimited episodes in playlists
TL;DR
We stand by our pick that Pocket Casts is the best all-around iOS podcast app, but with Overcast, it's a tighter race than ever.
The app's unique audio and discovery features are great, but the lack of a tablet app and streaming support will be disappointing for many users.
However, it's important to remember that Pocket Casts has years of development behind it. I'm positive that the areas in which Overcast is behind its competition will be addressed. It's anyone's game. Keep an eye on this category — the race is on.