Lee Peterson's Mac and iOS setup
January 2, 2017
Every week we post a new interview with someone about what software they use on their Mac, iPhone, or iPad. We do these interviews because not only are they fun, but a glimpse into what tools someone uses and how they use those tools can spark our imagination and give us an idea or insight into how we can do things better.
New setup interviews are posted every Monday; follow us Twitter to stay up to date.
Free Productivity Guide: Download our simple guide to productivity to help you improve your workflows and be more focused with your time and attention. Get it here.
---
Who are you and what do you do?
Hi, my name is Lee Peterson, and I'm a UK-based Technical Consultant for a multinational company by day and freelance technology writer by night. I'm also known to podcast, write my own music, and I'm also an avid photographer.
You'll find my writing over at my blog, and I've contributed to other publications such as The Loop Magazine and The App Factor. If you are interested in seeing podcasts I've been involved in, check out British Tech Network.
You can also find me on Twitter and Instagram.
What is your current setup?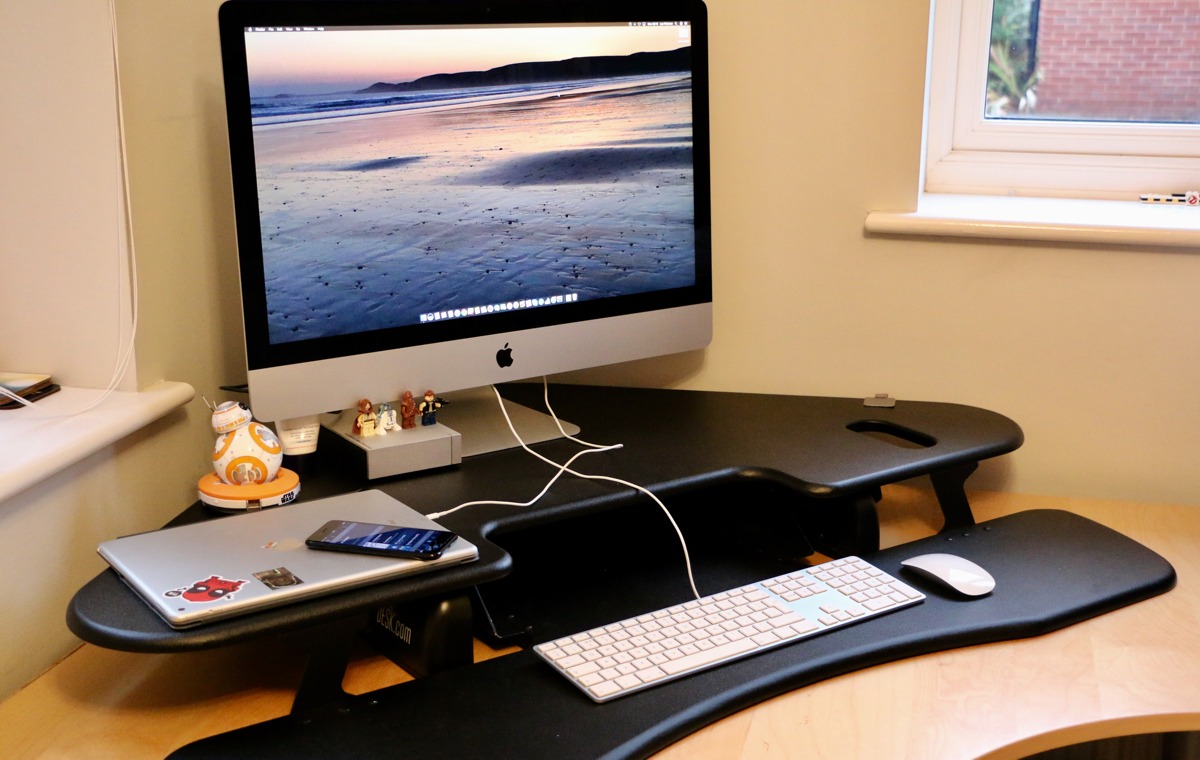 My Mac is a 2015 5k iMac that I picked up from the Apple refurbished online store. It replaced a 2010 iMac that served the family very well over the last 6 years. I use the Apple Wired Keyboard and Magic Mouse, and I also have a LaCie 1TB external drive attached for Time Machine.
My desk is a standard IKEA corner desk with a Veridesk on top to help me change my working position through the day since I work from home.
Where can we find your macOS wallpaper?
I took this whilst on a family holiday in West Wales. You can find it here.
What software do you use and for what do you use it?
On my Mac, I keep it pretty basic. I use the apps that Apple provide for my Mail and Calendar needs, and then Photos for managing my library. My use of the Mac has dwindled over the last year in favour of using iOS. Aside from photo management, it doesn't get a massive amount of use. I have iCloud Photo Library turned on for everyone in the house and (thankfully) it's been reliable so far.
How would your ideal setup look and function?
My only regret with my setup is that I have a fusion drive rather than an SSD. I've not noticed any slow down, and compared to my 2010 it's a rapid machine, but I know it could be quicker with an SSD fitted. It's a decision I made based on the money I saved getting a refurbished machine.
---
What iPhone do you have?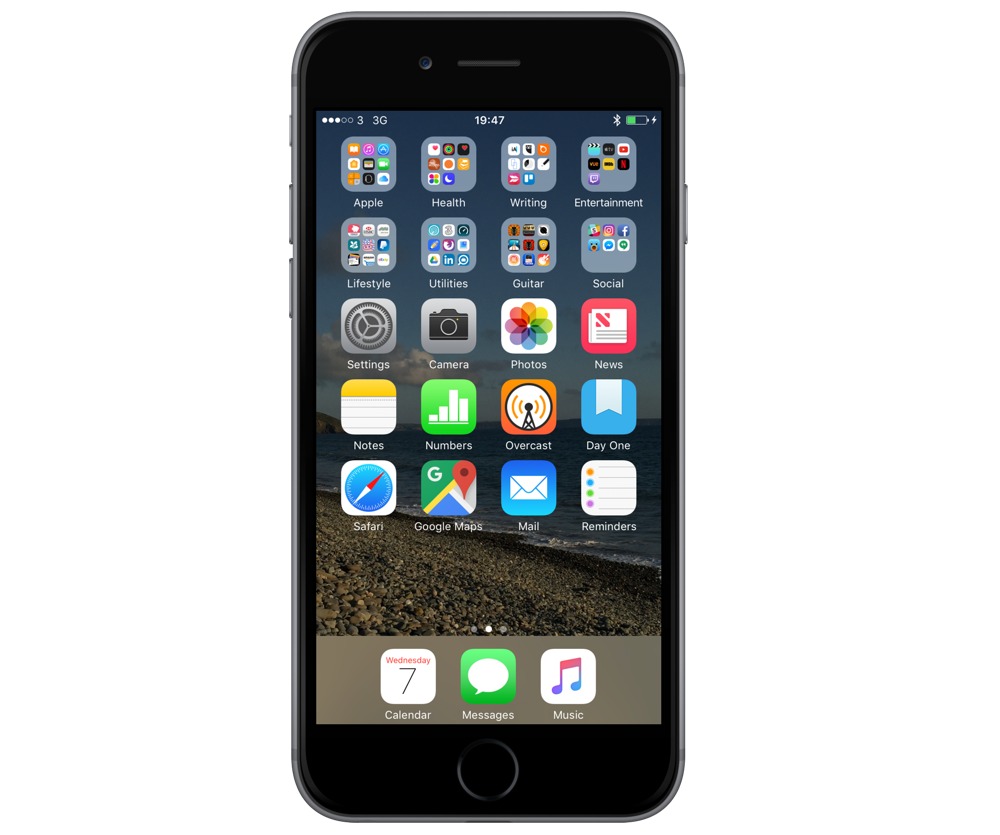 I use a 128GB Jet Black iPhone 7. I love the finish and use it without a case. I can live with scratches for the extra grip it gives me over the other finishes.
Where can we find your wallpaper online?
It's one I took when we were on another holiday in West Wales, love seeing the sea every time I unlock my phone – you can find it here.
What apps do you use the most, and why?
My iPhone is the hub of everything I do. I manage my day, listen to music and podcasts, record guitar, and write blog posts.
Overcast: I use this all the time for listening to podcasts throughout the day.
Music: I'm an Apple Music subscriber and use it daily.
iA Writer: This is my go-to Markdown editor for writing all of my freelance work and blog posts.
Squarespace Blog: A Squarespace app for managing my site and updating content.
Mail: Yes, I use the standard Mail app for both iCloud and Gmail.
Reminders: It's easy to use and sync is reliable.
Day One: For my daily journalling (I'm using the classic version with iCloud sync).
News: I completely switched from Flipboard and feel that once I tweaked it a bit (like/dislike/mute channels) it's become a really great experience.
Which app could you not live without?
It has to be Music. I use it whilst working and relaxing.
---
Which iPad do you have?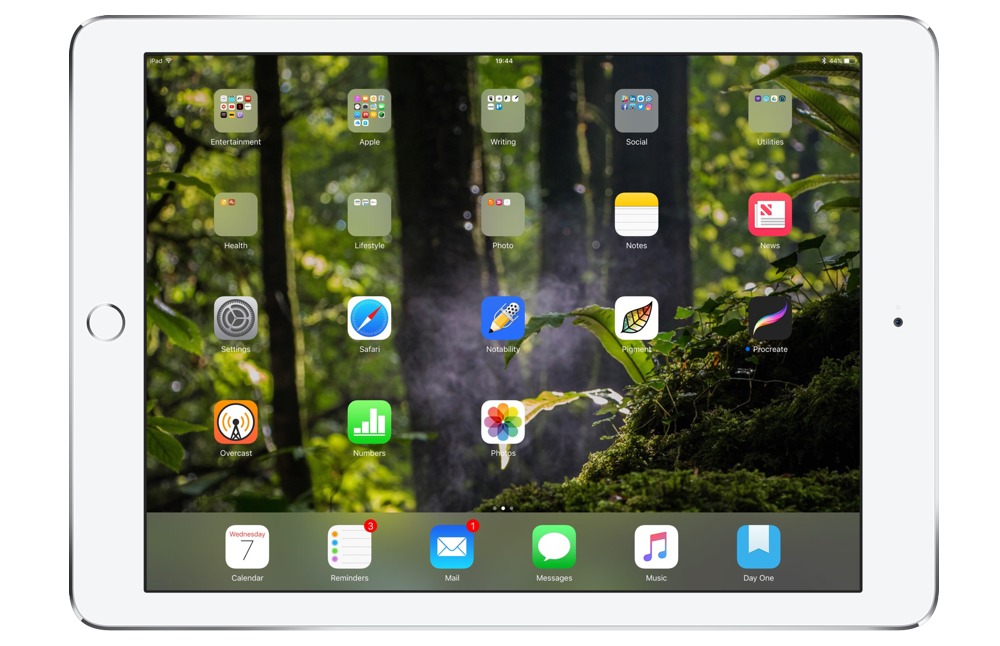 I use a 128GB 12.9″ iPad Pro in silver. I also use the Apple Pencil and Smart Keyboard cover daily. For photo management, I use an SD card reader and always have it with me in my camera bag. My iPad has become my go-to mobile device and has replaced my previous 2014 MacBook Pro, which I don't really miss. I find the iPad much more comfortable to use on a daily basis, and, for a musician, it's such a great tool for learning and recording.
Where can we find your wallpaper online?
For the Star Wars fans out there, my wallpaper is from the planet where Han Solo takes Rey and Finn to see Maz Kanata in The Force Awakens, which was shot locally to me at Puzzlewood in Gloucestershire. I took this a couple of years ago; you can find it here.
What apps do you use the most, and why?
I use pretty much the same set of apps as on my iPhone with the exception of:
---
Which Apple Watch do you have?
I have the 42mm NIKE+ edition, and I'm using the band that came with it. I use it for tracking my health, sleep, and general watch type stuff like checking the time. I've definitely come to rely on it and have been wearing one since it launched.
Which watch face do you use?
I use the standard NIKE+ Digital one with the following complications:
Weather
Activity (I'm really trying to get 30 mins exercise in a day at the moment, so it's a nice reminder.)
Calendar
The only third-party app that I use is Sleep++.
---
There are more Sweet Setup interviews right here.
Want to share your setup? We'd love to hear from you. Just fill out this form with some basic information and we'll be in touch.
---
Free Productivity Guide: Download our simple guide to productivity to help you improve your workflows and be more focused with your time and attention. Get it here.