Lawrence Gimenez' Mac and iPhone setup
August 20, 2018
Every week, we post a new interview with someone about what software they use on their Mac, iPhone, or iPad. We do these interviews because not only are they fun, but a glimpse into what tools someone uses and how they use those tools can spark our imagination and give us an idea or insight into how we can do things better.
New setup interviews are posted every Monday; follow us on RSS or Twitter to stay up to date.
---
Who are you and what do you do?
I'm Lawrence Gimenez, and I'm a Senior Mobile Developer based in Cebu City, Philippines. I develop mobile apps for both iOS and Android platforms. As part of my everyday work, I use a lot of Xcode, Android Studio, and macOS Terminal.
What is your current setup?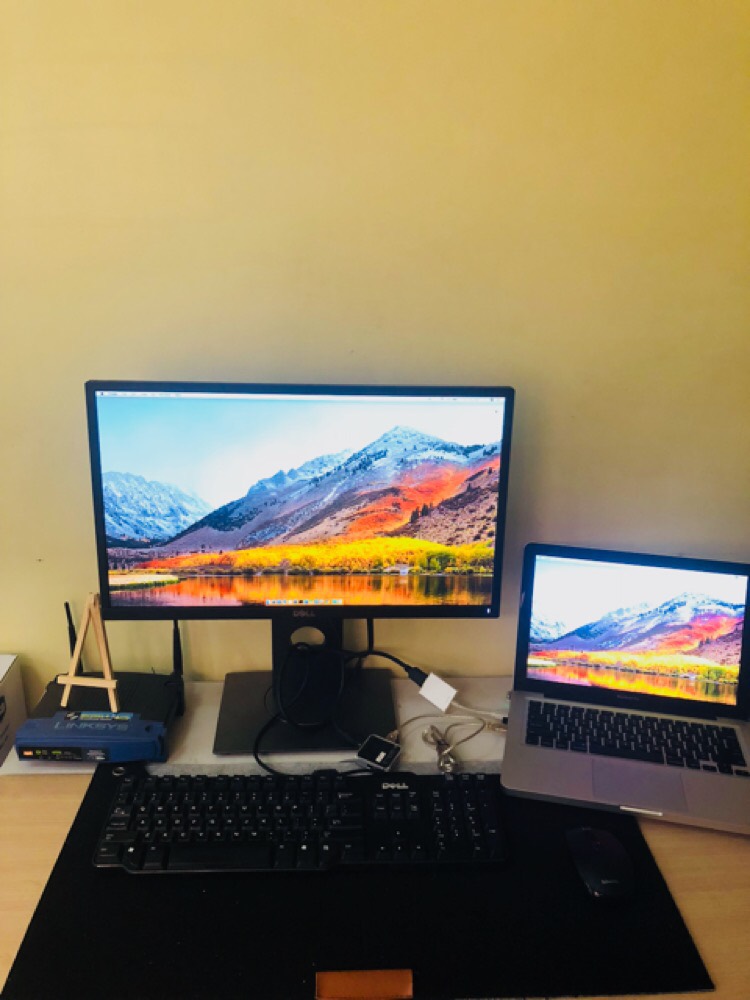 My current setup is MacBook Pro (Mid-2012) running High Sierra, fully maxed out with 16GB and 256GB SSD and a Dell P2217H monitor. My current MBP is still decent enough, and has no trouble running both Xcode and Android Studio.
I'm planning to upgrade to a new MacBook Pro model sometime early next year as well as another Dell monitor.
I also use a Dell keyboard and a wireless mouse. I love coding with Dell keyboards because of its clacking sound that is not prevalent anymore.
Where can we find your macOS wallpaper?
My wallpaper is just macOS default High Sierra.
What software do you use and for what do you use it?
I use Xcode and Android Studio a lot for both iOS and Android app development respectively. Along with this workflow, I use Terminal a lot for source code management and for configuring my servers which I personally manage. I recently switched to Apple Music for listening to music while coding.
I just started writing my own personal blog, so I'm using Bear for writing.
How would your ideal setup look and function?
I would love to get back to using dual monitors, so in the future I would like to get an additional Dell monitor.
---
What iPhone do you have?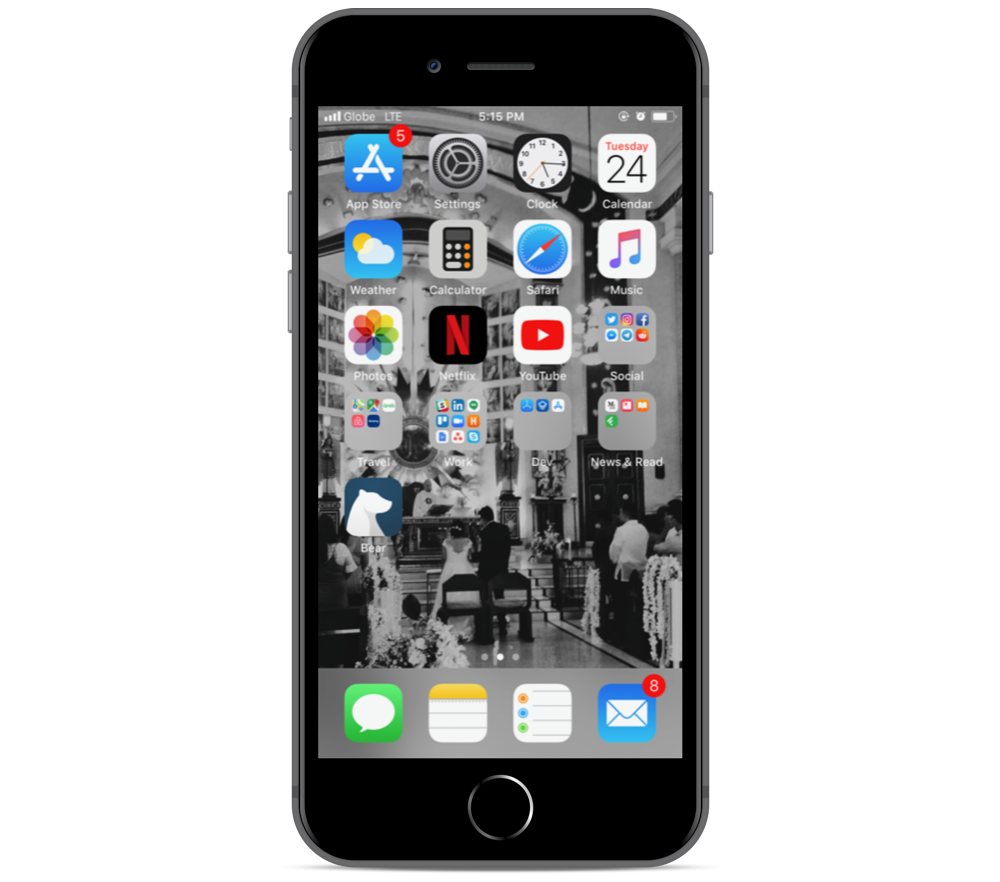 I have an iPhone 8 64GB in Space Gray. I think this is the most comfortable and rugged phone. I reply to a lot of emails, Trello tasks, and work chats like Hangouts, and iPhone 8 is a decent enough phone to be used for that. I feel like the iPhone X is just fancy and has so many gestures that I need to get familiar with that will ultimately disrupt my workflow.
Where can we find your wallpaper online?
My wallpaper is from our wedding with my wife last month. It's one of the best moments in our lives! So no, you can't find it online.
What apps do you use the most and why
Previously, I used Things 3 a lot, but because of its limited sharing capabilities, I went back to iOS stock Reminders. Same situation with Airmail — I've been using it for almost a year, but the compose feature is so buggy that I switched back to Mail.app.
For development, I have a folder called dev and it is for managing and testing the iOS apps I have developed.
For work, I switch a lot between Trello, Hangouts and Slack.
For personal stuff, I use a lot of Notes, Twitter, Medium, News, Feedly, Telegram, and Safari.
Which app could you not live without?
I have to say Notes and Reminders, as they keep my life and work in order.
---
There are more Sweet Setup interviews right here.
Want to share your setup? We'd love to hear from you. Just fill out this form with some basic information and we'll be in touch.
---
Wait. There's a Bonus….
Custom Productivity Templates
We have a set of custom productivity templates that work well with the iPad app, GoodNotes. And if you want to try them out, we've put together a free guide that can help you.
We'll show you…
How to create and save custom page templates in GoodNotes.
How to use those page templates to transform GoodNotes into your own productivity notebook (or any other type of notebook replacement).
Plus, we also have included a couple of our custom productivity templates for you to get started with. These templates are right out of our popular productivity course.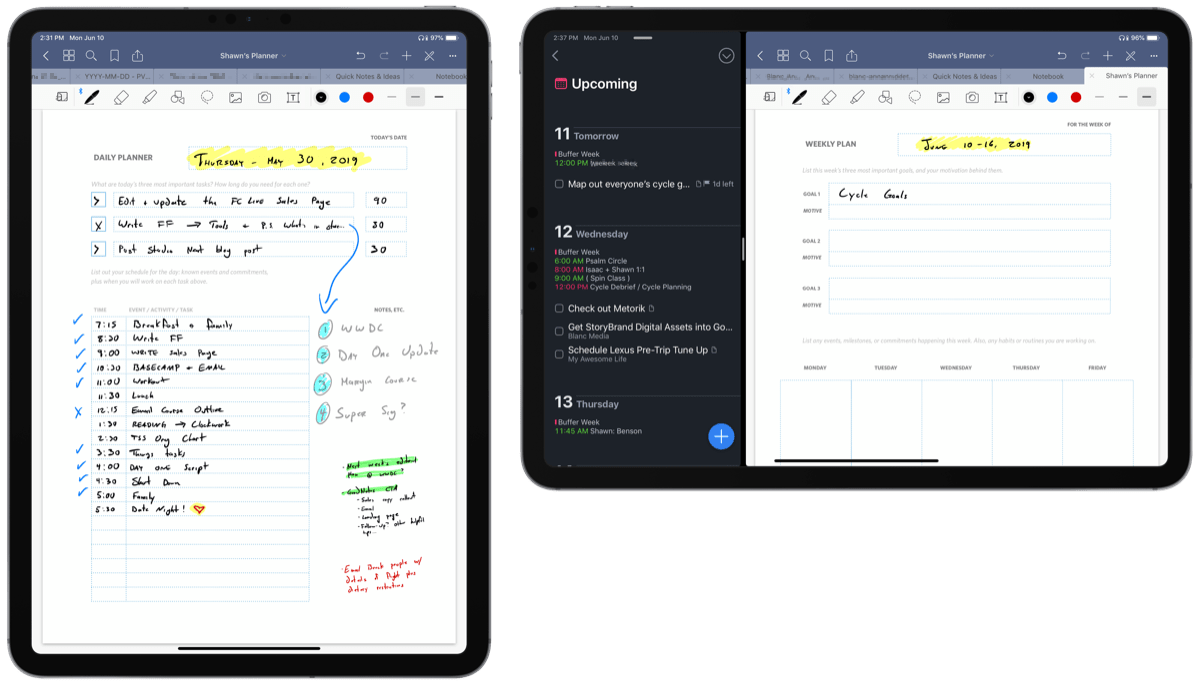 The custom templates and the guide are available for FREE to our email subscriber community. And you can get it right now. By joining the Sweet Setup community you'll also get access to our other guides, early previews to big new reviews and workflow articles we are working on, weekly roundups of our best content, and more.