Kramer Wetzel's Mac and iOS setup
January 18, 2016
Every week we post a new interview with someone about what software they use on their Mac, iPhone, or iPad. We do these interviews because not only are they fun, but a glimpse into what tools someone uses and how they use those tools can spark our imagination and give us an idea or insight into how we can do things better.
New setup interviews are posted every Monday; follow us on RSS or Twitter to stay up to date.
---
Who are you and what do you do?
My Name is Kramer Wetzel, and I'm a writer and a consulting astrologer, now based in San Antonio with deep roots in the Austin area. I've been doing readings and writing horoscopes for more than 20 years. I'm most widely known as the author of the weekly horoscopes, "Fishing Guide to the Stars," which, in one form or another, has been online continuously since 1993. In internet years, that's roughly a really long time. As an adjunct, creative outlet and source of amusement, I've had a daily weblog hanging off the side of the site since 1998.
The whole corpus, websites, books, the weekly column, and all of that? Done on a Mac. I've traveled with this career as an itinerant astrologer, currently sticking to a circuit that is sort of limited to Central Texas, but I've bounced world-wide over the years. I spent more than 20 years hopping on and off, mostly local, commercial air. Big influence in my decisions.
What is your current setup?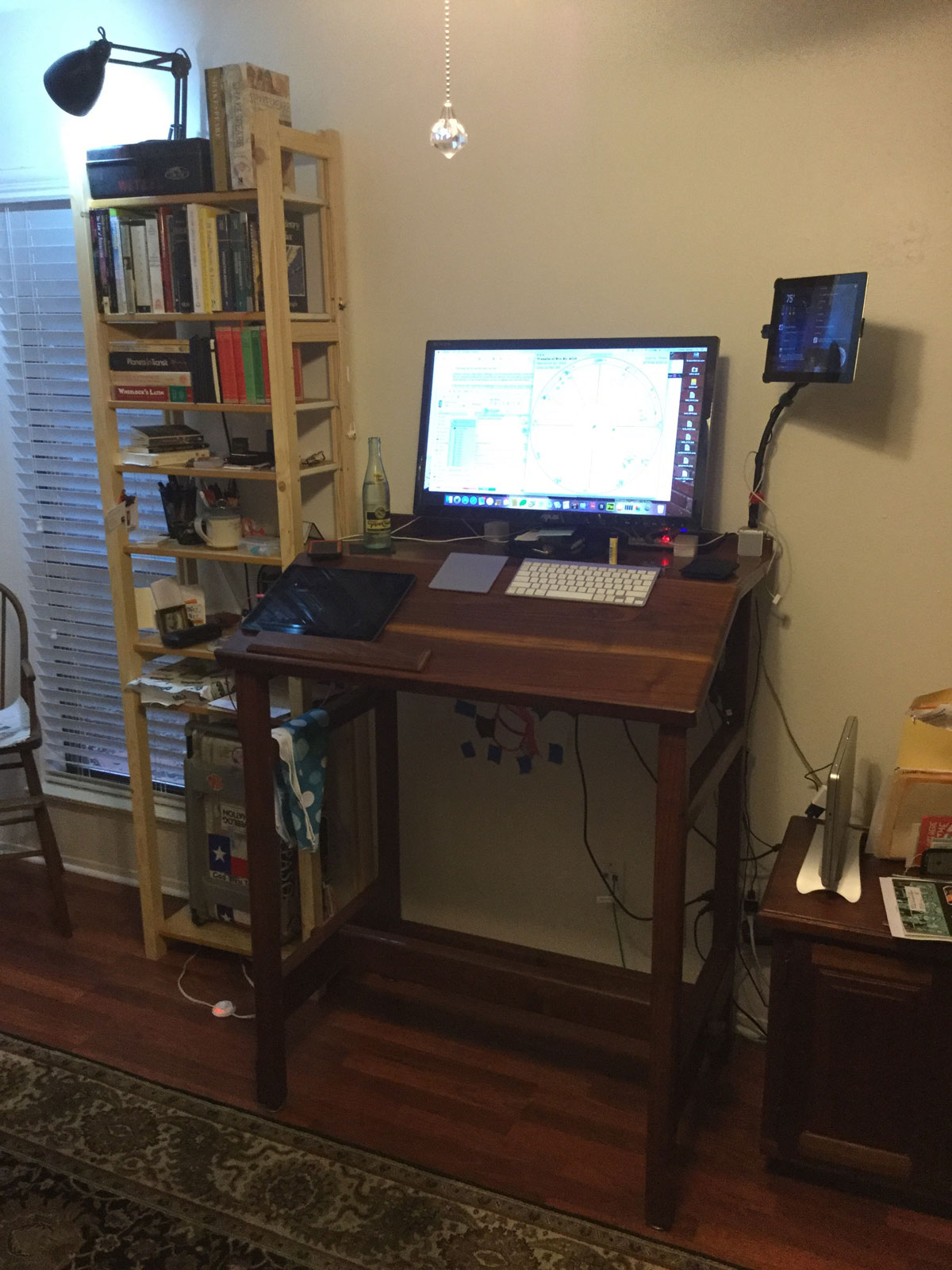 My current set-up is in a state of transition and migration. I have a late-2012 MacBook Pro, with maxed out RAM and HD, and I just picked up another new (to me) MacBook Pro, late-2012 with maxed out RAM and a 1 TB drive.
Yes, I'm pretty much wedded to a MacBook Pro as the workhorse, preferring the 13-inch as it feels more portable. At the home office, that's linked to a 27-inch inexpensive monitor that replaced an Apple 21-inch display. I like the extra width instead of a dual monitor set-up.
When I get home and let the battery start to recharge, the laptop backs up via Time Machine and Airport to a hard disk. Again, I've been at this so long, I don't recall without looking — a 3 TB thing. I've gotten to the point where I use a big drive to back up for a year and then just store the drive at the end of its cycle.
What software do you use and for what do you use it?
Mail, as e-mail is my main — and preferred — form of communication. While I've tried a number of programs, for the last few years Apple's Mail just works. Until recently, I've preferred FireFox over Safari, but that's an ongoing question. As a writer, Apple's Pages works fine. It handles a lengthy manuscript with ease; iCloud integration is a big plus, now, and it exports to Word and PDF, etc. For the last decade or more, I've been turning out an average weekly column that runs more than 100K words in a year, and that's just ever so much more manageable in Pages, with iCloud for keeping the documents current across my family of hardware.
It depends on location, but I'll either use GarageBand or a handy program from Rogue Amoeba called Piezo for recoding calls and client interaction — I provide an audio file (mp3) or burn a CD for each reading.
I use Calendar, Address Book, iTunes, etc. out of the box — no thinking, no need to do too much to make it work for mailing lists, client contact, ambient music, and scheduling duties.
Two important pieces of web software I use are small programs, one called Byword and another called Coda. I tend to use Byword more on the iPad, but I'll use it for the various blogs I write and administer, with Coda reserved for more serious site tinkering. So much is now streamlined, there's little call for something like Coda and its older sibling, Transmit, but I carry and use them as situations arise. Record keeping and bookkeeping — most of that is handled in an offline version of Quicken, except for one small side business, which I literally run with a single Numbers spreadsheet.
The final piece to my work is an accurate and stable astrology program. I use Io Edition by Time Cycles Research, a Mac-only program and Mac-only shop.
How would your ideal setup look and function?
A fast MacBook Pro would be the ideal desktop machine since it is ultimately portable. Part of my ideal setup has already been achieved, with an iPad (old iPad 2) hanging off the side of the monitor, which I use for Status Board, a tiny Panic program, to monitor news, weather, Twitter ticker, keep tabs my various websites, and maintain a tenuous grip on e-mail. That's as close as I come to having any kind of "to do" list.
An ideal setup would include a second slot for a traveling MacBook Pro, so I could dock it and let it back up whenever I landed at home. I'm hoping to add Google Fiber internet, too, as that would be a great upgrade — the promise and delivery of real broadband.
For now, the 27-inch monitor is just about right, as I can stack work; and that supplemental window with an iPad mounted up and off to one side is about perfect for quick checks on superfluous details, as need be.
Apple's Time Machine is integral to my arrangements, in any form. you have to have a backup plan.
The stand-up desk was custom-built in the middle of the 1980's, years ahead of its time, but largely unused until recently. Its original design was built around the exact size and shape of an old Mac Plus sitting on a hard drive. That stand-up desk has helped more than anything else, although, currently, I'm a little worried that the new keyboard might slide off, and I'm not sure what to do about that.
Underneath the desk (I thought about pulling it down), there's a barely visible piece of art, done by a five-year old. I don't recall the specifics of what is displayed, but it was important, and since she visits on a regular basis, I just leave it there.
Because I use a Mac, I spend less time thinking about how to do a particular task and I spend more time doing those tasks that I enjoy: reading, writing, and researching.
---
What iPhone do you have?
My current iPhone is a 64 GB iPhone 6.

Editor's note: Kramer's iPhone background is from his website.
What apps do you use the most, and why?
Calendar, Camera, Mail, Maps, Message, and Music. I use Flint for accepting credit cards on the iPhone. Between that and taking pictures of checks for online banking, I'm still trying to figure out how to deposit cash with the iPhone.
In the last few year, some kind of pedometer is fun to play with as I tend to walk several miles on days when I can. I found it was interesting to have the phone track the mileage, just out of curiosity. I'm leery of Twitter and Instagram apps because of security, but I'm not a big user of either app; those are more like, "Let's see what this does."
Which app could you not live without?
Dead even between Phone and Music (or Notes), as there are two examples: for one, once or twice a month, I'll commute to Austin, which is between an hour or three, depending on traffic. I started listening to all of Shakespeare's plays, read aloud. "Music may be the food of love,"1 but Elizabethan drama can keep me from going medieval on Austin's traffic.
As a full-time, professional writer, and a proto-blogger, Notes gradually replaced notepads, old business cards, receipts, backs of envelopes, and scraps of paper for rambling ideas that get turned into horoscopes and stories. As a serious writer, I need some kind of note-taking ability, and Notes seems efficient enough for my style.
One of my more successful short-short stories was originally "written" on an iPhone. It started out as notes while I was waiting, and it turned into a full-fledged micro-story. So, my iPhone replaces pens, pencils, scraps of paper, and notebooks, digital camera, iPod, beeper, and cell phone.
---
Which iPad do you have?
My first iPad was a gift — a perfect gift at that — an item I wouldn't have bought, yet enjoyed immensely. Currently, I just picked up one of the iPad Pro, but I'm still having trouble letting go of the iPad 2.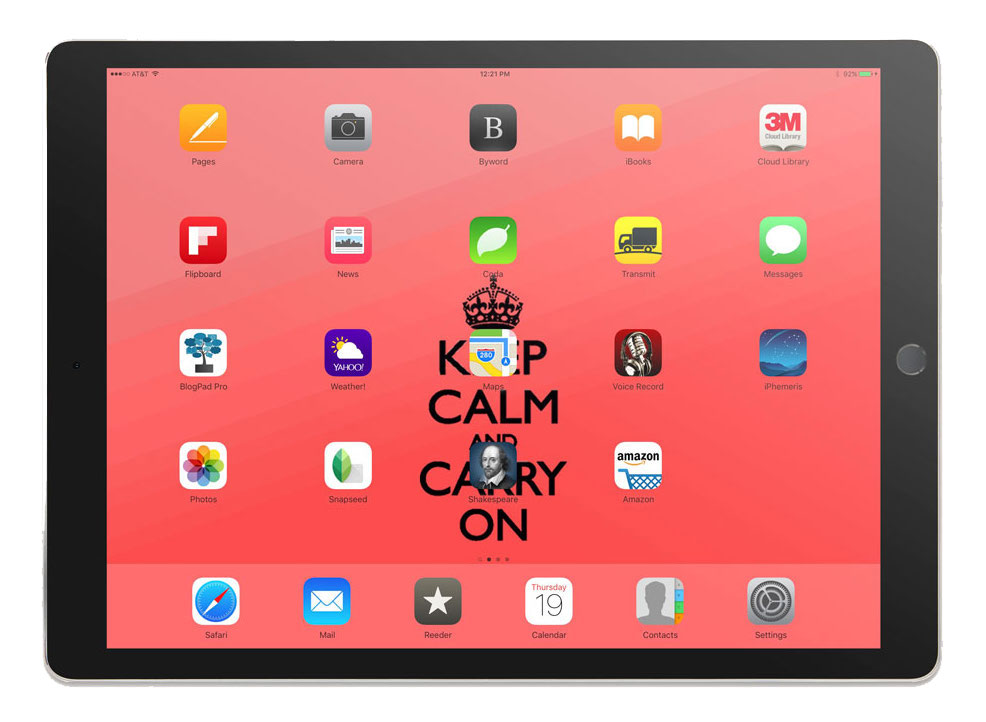 Editor's note: Kramer's iPad background is from his website.
How are you using your iPad on a daily basis?
My iPad sees two forms of heavy use: consumption of various media, and — in conjunction with that consumption — I use my iPad as effortless curation and creation of other content. My photo blog, which is a side-project, has been administered almost completely from my iPad for years.
What apps do you use the most, and why?
Reeder is my long-standing favorite RSS reader. I have 30-40 daily feeds. Other than occasional maintenance issues, I consume all RSS feeds on the iPad.
Mail (of course), Pages, Safari, Maps, and the rest of the standard iOS apps, plus, just as a sideline, there's a Shakespeare app that I use with great frequency despite its weak search feature.
I toyed with several Shakespeare apps, but the one I stuck with is Shakespeare Pro. Its strengths are easy to copy a quote, easy to get around, fun icons for the individual plays, and not too much cruft I don't need. One Shakespeare app I looked at briefly was nothing more than an expensive front end for the freely available audio files on LibriVox.org. While it features prominently in my weekly column, I consider Shakespeare a hobby, as I'm no serious scholar. So, the comments about the Shakespeare Pro app might not carry much authority. Great app, easy to access and read the plays, good that it includes the Shakespeare apocrypha, but it has limited use in the search function, which is a glaring weakness.
While I've experimented with a number of image-editing programs and filters, I'm not that proficient in digital image editing, with this week's preference being Snapseed. That might change, or it might not. So, Photos and the iPhone camera are a big deal to me.
While I'm still waiting on the new Square chip-reader to arrive, I do tend to use Square as a quick, easy way to accept credit cards.
For the last (maybe ten years now?) I do a short, weekly video message for my subscribers. I tend to collect video footage and filler, plus record my missive, on the iPad, pulling it together and spitting it out in iMovie. I haven't totally mastered doing the podcast on the iPad, but with the iPad Pro, that might just happen.
I deleted Flipboard from the first iPad because I couldn't stand the earlier interface. However, these days, as an alternative source for reading feeds, I keep it just to change the pace. I'm experimenting with Apple News, but can't switch over — yet.
San Antonio, TX was the first major metropolitan city to introduce a library with no books — www.BexarBiblioTech.org. All digital. More than the Kindle app, I love access to a library that includes numerous best sellers as well as arcane local lore — like a real library, only much closer, on the iPad. With that in mind, I've found that (for me) the reading experience in iBooks is superior to all other tablet readers. So, the slightly screwy library reader app and iBooks are favored, and I've been known to buy both a hard copy for the book shelf, and an iBooks version to read. That might be a very sad commentary on my own life.
While I've worked with several astrology programs on the iPad, and I do use one or two, none of the current apps offer the robust, mature, and sophisticated output that the Mac program provides.
A couple of years ago, I swapped out hosting companies, and I did most of the heavy lifting — more than a dozen years of daily, weekly, monthly, and yearly material online. I did most of that transfer on a Mac, but there was coding that needed to be corrected, new pointers and such, small text files to fix, just the behind the scenes stuff to make web pages work… I did some of that in an app called Diet Coda. While I rarely do any such site maintenance these days, I still have the ability.Transmit is also still useful for quick uploads.
I was thoroughly underwhelmed by a number of the WordPress apps, and while I'm not totally pleased with BlogPad Pro, it works well enough to limp along, and it is on my homescreen. I'm always looking for a more efficient way to interact with the WordPress backend. Most of the apps I've used are clunky or too short on useful features.
Which app could you not live without?
This week, it is Byword. While it's functional on a Mac, the iPad app is simply my favorite tool for writing and posting to sites. It's that beautiful combination of form, function, and streamlined-yet-elegant execution. It's great for jotting down notes. I can start an entry on any machine and flesh out that post as I have time. I can use a link I copied from e-mail, Flipboard, Safari, Reeder, Twitter, or I can start with just the thinnest shard of idea, drop it into Byword and see what develops. I find the file management portion of Byword works best, (and the whole app itself), on the iPad. Byword didn't have a steep learning curve as much as there was a hump in the middle. This stopped me from using it for a while, but once I got over the obstacle, the app is invaluable for my style of online writing.
---
There are more Sweet Setup interviews right here.
---
"If music is the food love, play on", Count Orsino's opening line for Shakespeare's 12th Night. ↩