Keep a master playlist of your Apple Music Mixes using Shortcuts
August 1, 2018
One of my biggest problems with streaming services is the temporary nature of so many playlists — while it's enjoyable to always have something fresh to listen to, playlists are never permanent and adding tracks to your library isn't the same as keeping the playlist intact.1
---
Editor's note: Updated to reflect addition of Friends Mix to Apple Music, plus new download links for the workflows that include Import Questions.
---
Wait. There's a Bonus….
Custom Productivity Templates
We have a set of custom productivity templates that work well with the iPad app, GoodNotes. And if you want to try them out, we've put together a free guide that can help you.
We'll show you…
How to create and save custom page templates in GoodNotes.
How to use those page templates to transform GoodNotes into your own productivity notebook (or any other type of notebook replacement).
Plus, we also have included a couple of our custom productivity templates for you to get started with. These templates are right out of our popular productivity course.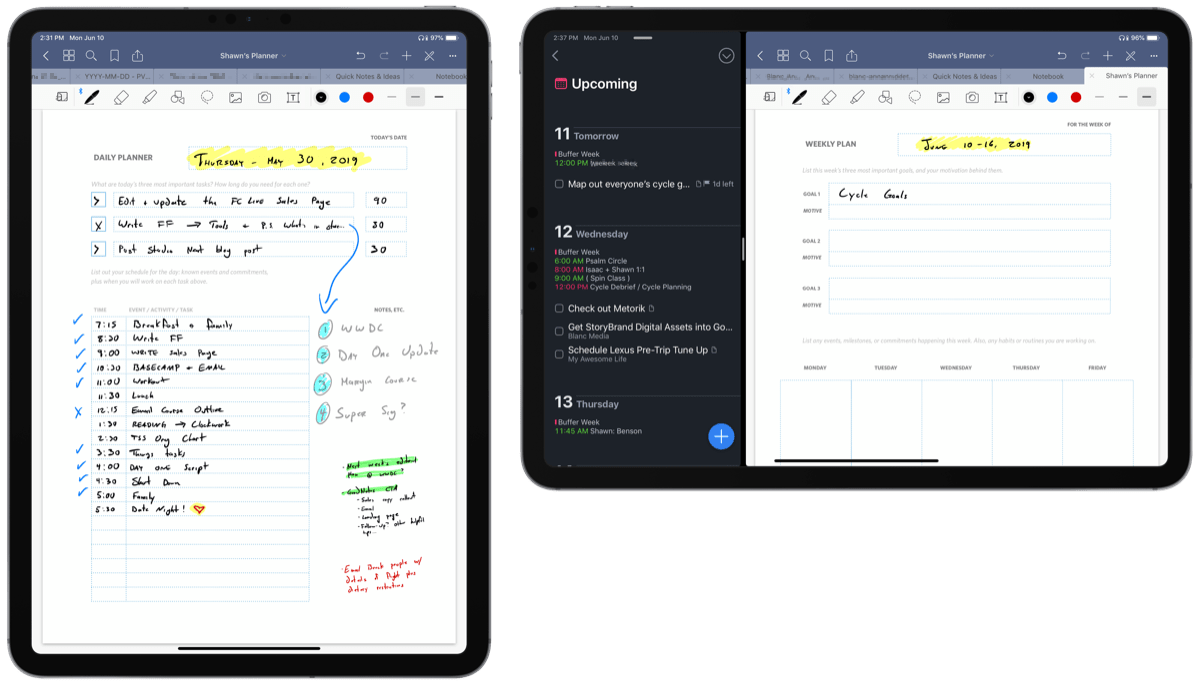 The custom templates and the guide are available for FREE to our email subscriber community. And you can get it right now. By joining the Sweet Setup community you'll also get access to our other guides, early previews to big new reviews and workflow articles we are working on, weekly roundups of our best content, and more.
If you're an Apple Music subscriber, you're given four special mixes that update on a weekly basis:
My Favorites Mix for something you know you'll like
New Music Mix for something you might like
Chill Mix for something you can just listen to and relax
Friends Mix for something your peers like (and you might too)
Each of these updates on a different day of the week:
On Friday, your New Music Mix gives you things to explore over the weekend.
On Sunday, you can wind down and prep for the week with your Chill Mix.
On Monday, top tracks from people you follow will be curated into your Friends Mix
On Tuesday, you get a refresh of your My Favorites Mix to keep things going through the week.
A while back, I had the idea to make "master" playlists for each of these. The goal was to keep a running log of each and stay aware of what artists or songs I enjoyed over time, so I could have one huge playlist of songs that had been recommended to me. That way, at a moment's notice, I could easily shuffle one of them and play reliably good music.
How you could do this manually
Now, I could go into Apple Music four times a week, find the playlist, tap Add to a Playlist, and scroll to the right spot to add the tracks to my master playlists. When I want to update those master playlists and maybe remove something I didn't like, I could navigate in and start poking around. And when I'm ready, I could hit that little shuffle icon or swipe down to the semi-invisible extra options under the music player to shuffle it there.
If I wanted to play one of the curated mixes, I could use my voice and start it with Siri. And I could dive into Apple Music and explore them manually.
But, I'd rather not. Instead of a bunch of separate ways to manage it all manually, I wanted one tool that lets me do all of that.
So, I built a workflow in Shortcuts.
Roll your own in Shortcuts
My solution was to build a menu that let me choose which mix I wanted to work with, then another sub-menu for each that lets me choose whether to play this week's mix, open the mix playlist, update my master playlist, shuffle my master playlist, or open the master playlist for each.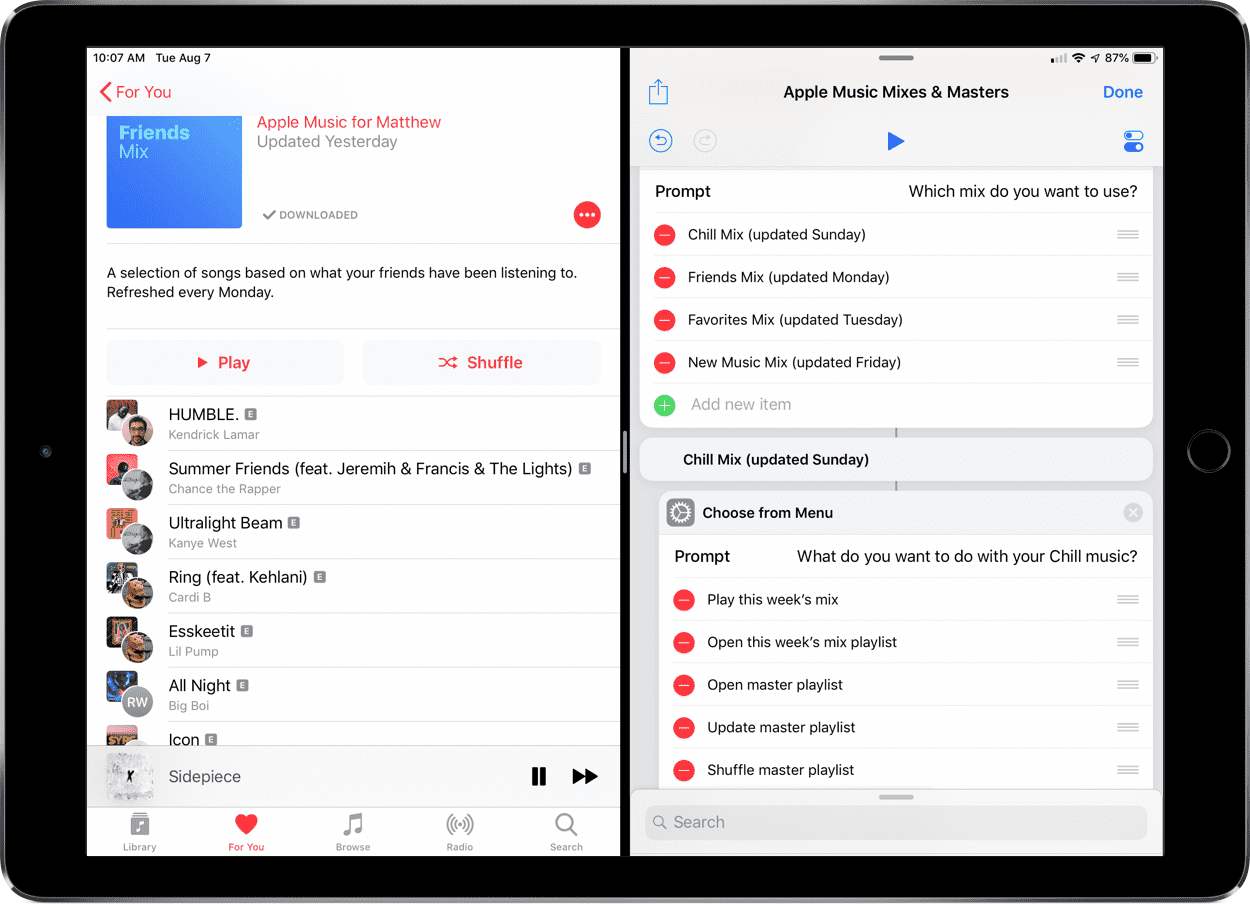 This was a bit complicated to set up and came about from combining my "master playlist" method with convenient ways to access the rest, but it's turned into an extremely useful tool for using my Apple Music subscription to its full potential.
To set up your own version, you should first create your own "master" playlists — I named mine "Master: Favorites Mix," "Master: New Music Mix," "Master: Friends Mix," and "Master: Chill Mix" so they would all be grouped together when viewing playlists sorted by title.
Then, download the shortcut2 and add it to your Library.
---
Editor's note: For now, we're providing the Workflow link since the application is still entirely free and available to everyone, and this setup functions exactly the same in practice.
If you're on the public beta, you can setup a custom phrase in Siri settings that triggers Workflow to open and run your workflow, which is how shortcuts currently operate in the Shortcuts beta when they require more advanced input like this.
---
Once you have the shortcut/workflow, you'll be prompted with some Import Questions. You'll need to fill out the entire flow with your own playlists, links for the original Apple Music Mixes, and links for the new Master playlists.
Since you probably don't want to do all 23(!) of these right away, you can just skip them all (for now). Then, when you're ready, tap into the workflow/shortcut, tap the gear icon/options icon to go into its settings and use "Customize this" to re-run the Import Questions to go through the process and set it up just right.
Using your new playlist tool
I've placed the shortcut in the Shortcuts widget and keep it near the top, so whenever I want to start it right away I can:
Swipe over from the lock screen or home screen on iOS
Tap to once to start the flow
Tap again to pick a playlist
Tap once more to choose what I want do with it.
With just four movements on your phone, you could also be listening to suggestions from Apple Music, exploring them in more detail, updating your master playlists, shuffling one of those master playlists, or opening into your updated archive of new, chill, or favorite tracks.
With Shortcuts, you can also use Add to Siri and gave it a custom phrase, so at any time you can launch into the flow with just your voice from iPhone or iPad.
Unfortunately, the Shortcuts beta doesn't let shortcuts that include menus like this function entirely from within the Siri interface, so this will open into Shortcuts and prompt you (I'm hoping that changes in future releases).3
Get the workflow or recreate it yourself in Shortcuts with the full screenshot.
Also, follow the author Matthew Cassinelli on Apple Music.
---
We have more useful workflow examples right here.
---
They're more like radio setlists, if you ask me. ↩

To get it into Shortcuts, go into the workflow, tap the share icon to open a share sheet, tap Share as File in the bottom row of extensions, and then in the next share sheet that pops up tap Copy to Shortcuts in the top row. ↩

I'd like the option for Siri to read out the menu choices to you, but also maybe a toggle so you can just say your choice if you already know the options (or maybe be able to easily interrupt her while she's speaking them out). ↩