Josh Ginter's macOS, iPhone, and Watch setup
October 24, 2016
Every week we post a new interview with someone about what software they use on their Mac, iPhone, or iPad. We do these interviews because not only are they fun, but a glimpse into what tools someone uses and how they use those tools can spark our imagination and give us an idea or insight into how we can do things better.
New setup interviews are posted every Monday; follow us on RSS or Twitter to stay up to date.
---
Who are you and what do you do?
My name is Josh Ginter, and I use my rig for a wide range of jobs. I am the Deals Editor and Reviews Editor for Tools & Toys, I shoot and sell some photographs on occasion, and I co-host the photography podcast Candid with my two friends Álvaro Serrano and Marius Masalar. I also write occasionally on my personal site, The Newsprint, and I work (by day) at an accounting firm and am working toward my accounting designation.
What is your current setup?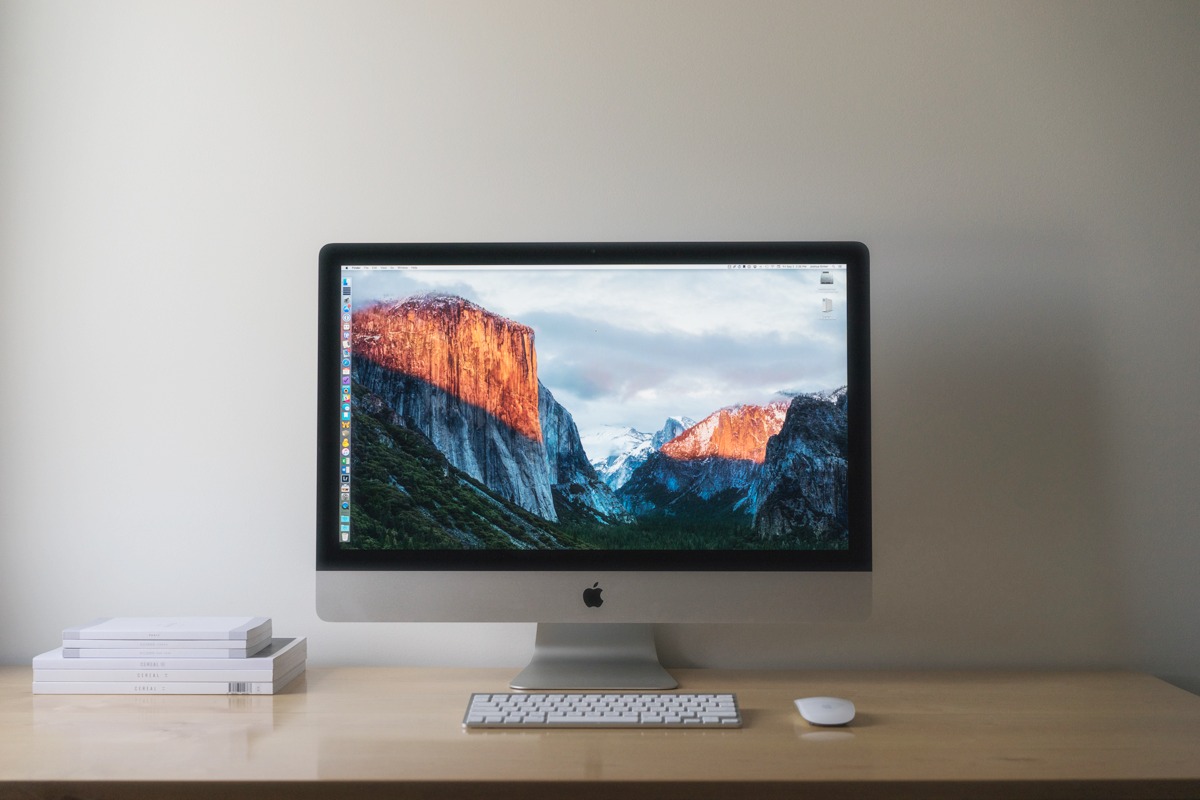 I use a 2014 Retina 5K iMac with 8GB RAM and a 1TB Fusion Drive. The iMac is set up on a homemade maple desk in a bedroom of our condo full of photo gear, backdrops, and other office stuff. This is the closest thing we have to a dedicated home office.
I've tried a wide range of keyboards and constantly come back to two different keyboards: the Apple Keyboard with Numeric Keypad and the Apple Wireless Keyboard. If I'm in the middle of classes, or if I have some office work to do at home, I quickly plug in the wired keyboard. And, if I'm in a writing mood, I fire up the Wireless Keyboard. I love the larger travel of both keyboards (which isn't to say I don't like the short travel of the Magic Keyboard or the MacBook; it just sits in nice contrast when going back and forth) and, as an aspiring accountant, I can't live without a numpad for very long.
Lastly, I use an Apple Magic Mouse (first generation), an Apple AirPort Extreme, an old LaCie Starck 1TB hard drive, a new LaCie d2 Thunderbolt 3TB desktop hard drive, a Blue Nessie microphone, and a wide range of Sony photography kit. I store all my personal work files in iCloud Drive and back up photos in iCloud Drive as well.
That's on the iMac side.
We recently picked up a 2016 MacBook as well, which is our portable option. We went with the Core m5, 512GB model and have been pleasantly surprised with what the little machine can do. The MacBook generally sits at a second desk in our condo where we can sit and write, drink coffee, or browse the internet while watching TV. At that desk is my favorite Herman Miller Eames Chair, a Twelve South ParcSlope, and a second Apple Magic Mouse. Nothing more.
Where can we find your OS X wallpaper?
On both machines, I like to stick to Apple's stock wallpapers. No matter how many photos I shoot, I struggle to match the incredible photos Apple chooses for its macOS launches.
What software do you use and for what do you use it?
iMac
Generally, the software I use on the iMac is also used on the MacBook. I use Mail.app, Safari, and Messages fairly regularly, as they work pretty well between devices. On both machines, Slack, Tweetbot, and OmniFocus are open nearly 100% of the time, and I use Reeder for any RSS reading I do. Lastly, I use Ulysses to manage the different channels of writing and editing I do.
Although it's 100% possible — and actually incredibly enjoyable — to use Adobe Lightroom on the MacBook, it's still a better experience on the Retina 5K iMac. My wife and I ventured on a three-week trip to Europe in June with only the MacBook, and I was extremely happy with how Lightroom performed on it. Normally though, Lightroom is only used on the iMac.
To optimize photos for the web, I use a simple application called ImageOptim, and I use Cyberduck to upload photos to my personal site.
Like every other efficient computer user out there, I use TextExpander for quick snippets. I'm not a power user, mind you. I also recently downloaded the Pastebot public beta, and I'm working on different filters and pasteboards that may render Textexpander moot. We'll see where we end up.
iTunes is in my dock, but I listen to very, very little music. I could easily justify removing it. I also have Day One in my iMac dock, but I generally use Day One on the iMac (and MacBook) to surf through old memories rather than add new entries. Most new entries are created on the iPhone, especially with some of the features Day One 2.1 has to offer.
I recently re-downloaded Fantastical 2 and have been working to keep more of my schedule in a digital book. Although I log my days in a Hobonichi Techo, I try to plan my schedule in Fantastical 2 so I can receive notifications prior to appointments.
For calculations, I've recently switched over to Soulver. I'm a pretty dedicated Calcbot fan, but a friend of mine has me trying out something fresh. So far, I'm not disappointed.
Perhaps I'm weird, but I'm not a hardcore 1Password user. It's obviously an incredibly popular app, but I've always found iCloud's keychain fits my needs. Maybe I'm naive, but 1Password has never clicked for me. However, with 1Password recently switching over to a subscription model with a six month free trial, I figured now was as good a time as ever to see if I could use 1Password to more thoroughly secure my digital working life.
Lastly, Microsoft Office for Mac is extremely well done, at least in respect to what it used to be. I use Microsoft Excel extensively for budgets, invoicing, and expense tracking (I realize there are dedicated apps to do this, but I prefer Excel's power to all of them). And although I never choose to work in Microsoft Word, I receive a fair number of emails with attachments that demand Word. This is the bane of corporate email, after all.
MacBook
For the most part, I have the MacBook set up with the same applications as the iMac. As mentioned earlier, Safari, Messages, Mail.app, Slack, and Tweetbot are used on both machines, but I find myself inside OmniFocus and Fantastical 2 much more on the MacBook. I think this is because I generally create task lists and schedules when I'm at the firm and less so at home. So, looking from a bird's eye view, I reference OmniFocus and Fantastical 2 on the iMac and iPhone, but do most of my work within those apps on the MacBook.
I also do 90% of my writing on the MacBook. The simplicity and focus of a smaller screen helps eliminate unwanted distractions, so the MacBook is often the writing tool of choice. It's great to have options, though.
There are a few notable omissions on the MacBook, as I alluded to earlier. I don't use Adobe Lightroom on the laptop very often. Although the screen is second to none, and although the machine is more than capable of running such an application, the size of the 12" MacBook's screen doesn't particularly excite me for editing photos. Making edits on the go with the MacBook, though, is particularly fun.
Lastly, I'm currently running macOS Sierra. I like where Apple is going regarding iCloud Drive and its ability to sync everything safely, securely, and quickly across your devices. That said, I have no use for Siri on the Mac unless it becomes text-based at some point.
How would your ideal setup look and function?
Some people may look at it differently, but I would rather deal with a slow-moving machine and have the best display for editing photos than a fast machine with a low resolution display. The little MacBook's screen is extraordinary and the iMac's 5K resolution is incredible. Ideally, a Retina 5K Cinema Display would emerge alongside a MacBook Pro that could drive it. This would replace the two machine setup pretty quickly.
I would really like a sit/stand desk, and if I had all the money in the world, a NextDesk Terra (or one of NextDesk's options) would be my choice. Sitting at the desk would be done in a Herman Miller Embody, ideally. Hopefully that day isn't too far away. Aside from that, I would appreciate a 100TB SSD desktop drive that came in for a price under $200 for all my backups, photos, and videos. Maybe my grandkids will see such a day.
---
What iPhone do you have?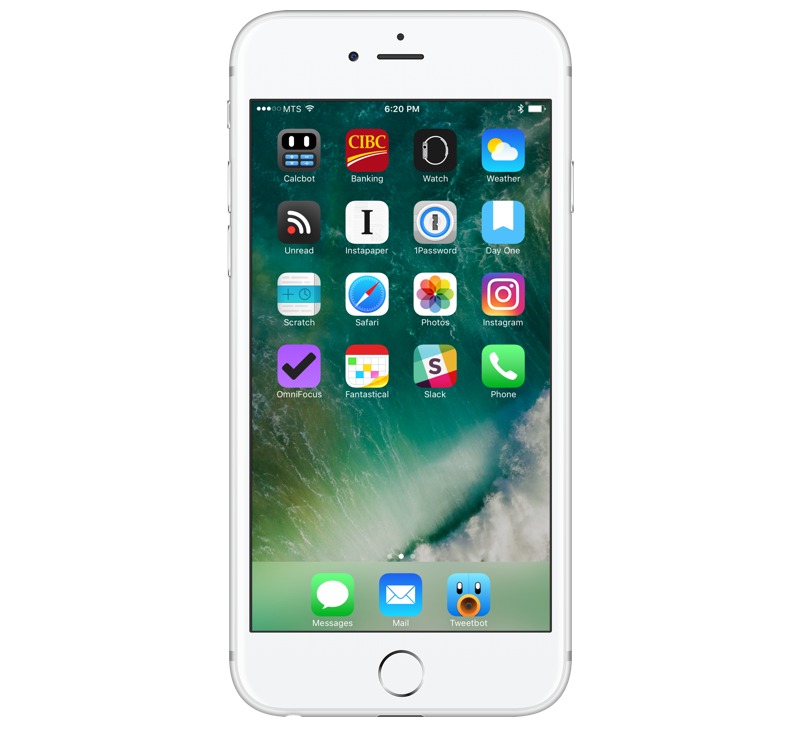 I have a 128GB Silver iPhone 7 Plus wrapped in an Apple Storm Grey Leather case. Returning to the larger Plus-sized phone has been such a breath of fresh air.
What apps do you use the most, and why?
My iPhone is mainly used for checking on communication channels and for browsing Instagram and Twitter. I have apps like Fantastical, Instapaper, and Day One on my home screen, but they are there more as a reminder of my poor iPhone habits than for their utility. I occasionally create new calendar events in Fantastical and new tasks in OmniFocus, but usually use the iPhone to check in on those calendars and task lists as I go through my day. And now, with the Apple Watch, I find myself using Fantastical and OmniFocus on the iPhone even less.
Generally, I'm inside Messages, Mail, Slack, and Tweetbot about 60% of the time my iPhone is turned on. And, believe it or not, I spend a good amount of time in Phone.app throughout the day. Like an animal.
For the other 40%, my iPhone is my portal into Instagram. I don't use Instagram more than the aforementioned set of apps, but I enjoy using Instagram more than any other app on my iPhone. Instagram has its hiccups, but the Explore tab is a wonderful look into the talented photographers around the world. I garner a huge amount of inspiration for my own photography from Instagram's Explore tab and hope one day my own work will be shown on that tab for other users. I just wish Instagram would venture onto other platforms — it seems like it would be amazing on an iPad.
To round out the iPhone home screen:
I have Calcbot for general calculations and conversions (actually, conversions mostly).
I use the CIBC banking app for 99% of my banking needs.
I use Day One to keep track of memories and my favorite photos. The new Day One 2.1 update is a phenomenal update — Activity Feed has singlehandedly boosted my journal entry creation two-fold.
I use the stock Weather app for general check-ins. We Canadians don't have the option of some of the best weather apps, like Dark Sky or Check the Weather.
I recently switched over to Unread from Reeder to see if it would inspire more RSS reading. So far, the experiment is paying off — I love Unread's minimalist approach on the big Plus phone.
1Password is now installed on my iPhone as I continue my 1Password experiment.
Scratch is a simple, straightforward app for taking notes. I like how it links up with Dropbox and how I can open those notes inside any text editor on the Mac.
With past iPhones, I normally kept Photos.app hidden in a second homescreen folder, but with the 7 Plus' new camera, I've been shooting more often with the iPhone than ever before.
Which app could you not live without?
It flies in the face of what I just said, but I could theoretically live and work without Instagram. I don't think I could live or work without Messages/Mail/Slack. "Why" is very self explanatory, but these apps play a fundamental role in my work and family life. They are foundational apps that are taken for granted in everyday communication.
Oh, and the Phone app. Because problems are solved with phone calls in a tenth of the time it takes for emails and messages to get through.
---
What Apple Watch do you have?
With the introduction of the Apple Watch Series 2, I jumped on board as quickly as possible. I originally purchased an Aluminum Apple Watch with silver casing and white sport band, but realized I loved the watch too much to have the stainless steel model tempting me. I returned the Aluminum Apple Watch and just received a Stainless Steel Apple Watch with white sport band.
What apps do you use the most, and why?
In the first few weeks, my use-case for the Apple Watch isn't all that different from other people. The Apple Watch is my notification center, fitness tracker, alarm clock, and general timepiece on a daily basis. For all of these purposes, I'm using stock Apple Watch apps. I also like dictating messages through the Apple Watch while driving, and I've found it to work pretty well as a speakerphone as well.
When it comes to non-stock apps, the only app I use each and every day on the Apple Watch is OmniFocus. If I'm at my desk, tasks go into OmniFocus on the MacBook. If I'm out and about, tasks go into the inbox for triaging via the iPhone. And 99% of checking off my tasks is done on the Apple Watch.
My Apple Watch face is the Activity Analog face with a text-based weather complication on the bottom, the Workout app in the right corner, OmniFocus in the left corner (I love the numerical complication — I don't need a little OmniFocus checkmark clogging up the watch face), the date inside the analog watch face, and my fitness rings scattered throughout the rest of the watch face. I prefer analog faces to digital faces bar none, and (unless I'm mistaken) this analog watch face provides the most complication options and the most detailed complication options of all the analog faces.
Which app could you not live without?
I think there's something magical about having weather information on your wrist at all times. Notifications on your wrist is really cool too, but being able to glance down and check the weather in the morning feels really cool.
---
There are more Sweet Setup interviews right here.
Want to share your setup? We'd love to hear from you. Just fill out this form with some basic information and we'll be in touch.
---
Free Productivity Guide: Download our simple guide to productivity to help you improve your workflows and be more focused with your time and attention. Get it here.