Jordan McMahon's Mac, iPhone, and Watch setup
May 1, 2017
Every week we post a new interview with someone about what software they use on their Mac, iPhone, or iPad. We do these interviews because not only are they fun, but a glimpse into what tools someone uses and how they use those tools can spark our imagination and give us an idea or insight into how we can do things better.
New setup interviews are posted every Monday; follow us on RSS or Twitter to stay up to date.
---
Who are you and what do you do?
My name is Jordan McMahon, and I'm a personal trainer by day, but spend most of my time as a freelance writer. I'm currently publishing weekly articles on how I've used technology to overcome my struggles with ADHD on Medium.
What is your current setup?
For the past year, I've been using a 2015 MacBook, 1.1 GHz with 256 GB of storage as my main work device. It's portable enough to take to work and carry to coffee shops or the park without worrying too much about it.
When I'm at home, I plug it into my Dell UltraSharp 24-inch monitor with a Pok3r Cherry Blue keyboard. It gives me a bit more screen real estate for photo editing, illustration work, and editing longer articles. It's made writing those articles more manageable with the Pok3r than the MacBook's Butterfly Hinge allows. It's also plugged into my Blue Yeti, which I use for Skype calls and recording a podcast I've been working on.
This has been my setup for roughly a year, and it's worked out pretty well so far. I've been really impressed with what the MacBook can handle. It doesn't handle everything as quickly as I'd like, but for now the benefits of its portability are worth it to me.
Where can we find your macOS wallpaper?
I alternate between two. The one you see in my setup is a picture of my dog, Baxter, I took on Christmas Eve. That might not be something people want to use, so here's the picture I sometimes switch to that I took in Seattle last summer. It's one of my favorite shots I've taken.
What software do you use and for what do you use it?
Most of my work is pretty simple as it revolves around writing, but I use a few different apps to get everything from drafting articles to publishing and illustrating them. For most of my writing purposes, I use Bear for writing and editing, Reeder for catching up on the news and finding stories to link to on my blog, TypingPixels, Fantastical for scheduling, OneNote for podcast writing and planning, and Highland for another project I've been toying with.
My most-used app on the Mac is Bear. I was sold on it the moment it was announced since it seemed to fill the void in my life that I had since leaving Evernote. It's great for storing little notes, quotes, and ideas, but I also use it to store all of my writing. It took some getting used to, but Bear's tag-oriented system is one of the coolest bits of software I've used recently. I can have notes stored in multiple places at once, so even if what I'm trying to get done differs a bit from how the note originated, I can tag it to make sure that it shows up wherever I need it. I also love that it allows me to pin notes to the top of my list so I can easily access the articles I'm currently working on and track their progress.
How would your ideal setup look and function?
I'm pretty happy with the functionality of my setup, but I'd like to get some power improvements. I'm saving up to buy LG's 5K display and a MacBook Pro with Touchbar. The MacBook isn't the best tool for editing podcasts and doing illustrations, which have become recent additions to my workflow, so I'd like to have something with a bit more power that I can easily dock at my desk and still carry without too much worrying about weight.
---
What iPhone do you have?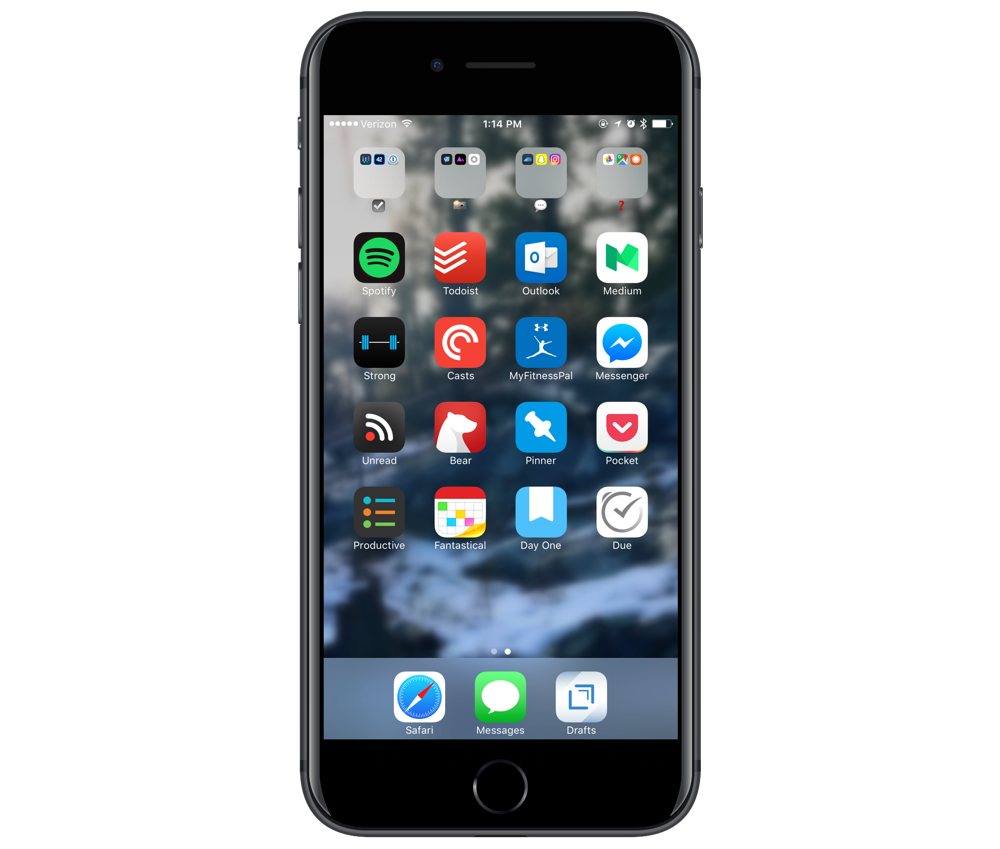 I have a matte black iPhone 7 Plus with 256 GB of storage.
Where can we find your wallpaper online?
It's a picture I took and added some blur to for clarity. I've linked it here.
What apps do you use the most, and why?
I wrote about this in detail in an early article for my ADHD series, but the apps I use the most are:
Which app could you not live without?
Drafts has become my favorite and most crucial app on any device. I'm an incredibly spacy person, so I needed something that would help me jot down my ideas quickly. Since I'm on my feet most of the day, I can't always grab a pen and paper to record things, so being able to use voice dication or quickly jump into Drafts via its widget is invaluable. Once I have my ideas recorded, I can send it off to any number of apps through its Actions system. I love that it lets me get work done across apps without having to fiddle between them, and it's nice to know that most things I need to do on my phone can all be directed through a single app.
---
What Apple Watch do you have?
I have the original Apple Watch Sport 42mm in gold with a navy blue band.
How do you use your Watch on a daily basis?
The Watch has been a surprising addition to my tech tools, and it's helped me in more ways than I expected it to.
I have a Drafts complication on my Watch face so that whenever I have an idea (or something that needs to be processed in another app, but can't type it out), I just talk to my watch and Drafts holds onto it until I have time to sort it out.
Other than idea capturing, my Watch is predominantly used to help keep me on task. I use Due to set timers and track my time without having to use my phone and risk distractions, Todoist to show me everything I need to do, Workflow for dictation to Bear and Todoist, Authy and 1Password for account security and quick access, and Strong to help keep me on track with my workouts.
---
There are more Sweet Setup interviews right here.
Want to share your setup? We'd love to hear from you. Just fill out this form with some basic information and we'll be in touch.
---
Wait. There's a Bonus….
Custom Productivity Templates
We have a set of custom productivity templates that work well with the iPad app, GoodNotes. And if you want to try them out, we've put together a free guide that can help you.
We'll show you…
How to create and save custom page templates in GoodNotes.
How to use those page templates to transform GoodNotes into your own productivity notebook (or any other type of notebook replacement).
Plus, we also have included a couple of our custom productivity templates for you to get started with. These templates are right out of our popular productivity course.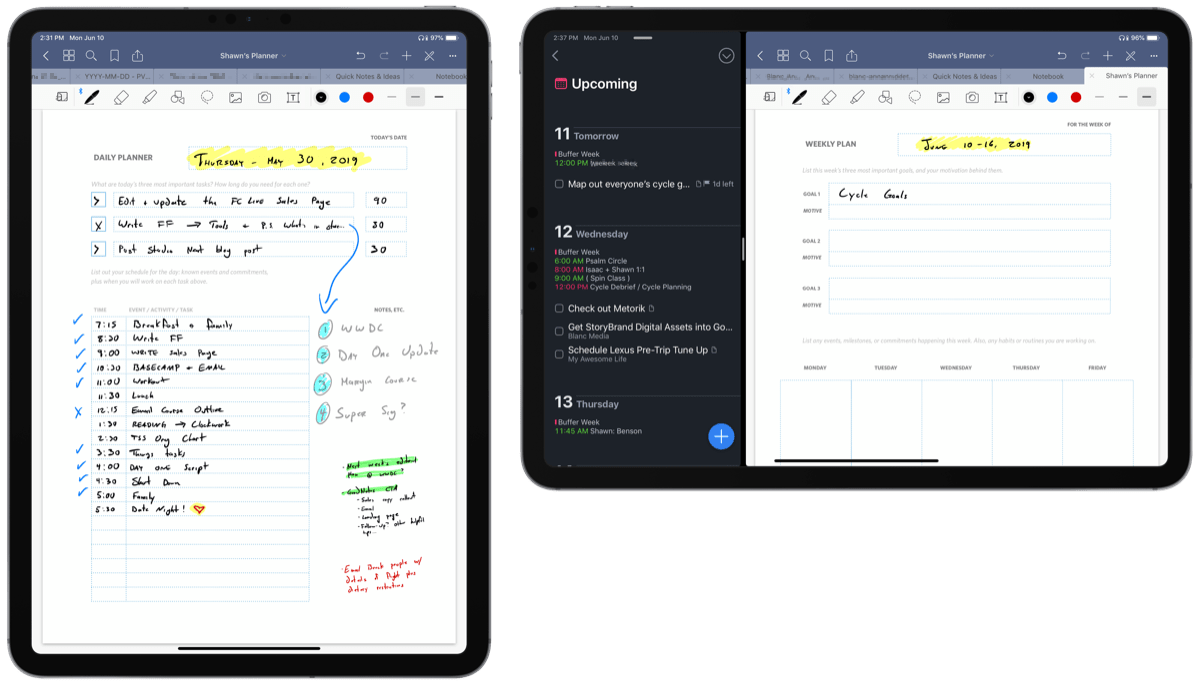 The custom templates and the guide are available for FREE to our email subscriber community. And you can get it right now. By joining the Sweet Setup community you'll also get access to our other guides, early previews to big new reviews and workflow articles we are working on, weekly roundups of our best content, and more.