John Voorhees' sweet Mac setup
July 14, 2014
Every week we post a new interview with someone about what software they use on their Mac, iPhone, or iPad. We do these interviews because not only are they fun, but a glimpse into what tools someone uses and how they use those tools can spark our imagination and give us an idea or insight into how we can do things better.
New setup interviews are posted every Monday; follow us on RSS or Twitter to stay up to date.
---
Who are you and what do you do?
My name is John Voorhees. I live in Hinsdale, Illinois with my wife and three sons.
By day, I am a bankruptcy lawyer at a law firm in Chicago. Most of my work is on large corporate Chapter 11 reorganizations for creditors like banks.
I also help my eldest son with Squibner Software, his iOS development business, which led me to learn iOS programming myself. I have two apps on the iTunes App Store, including a soundboard companion app to Myke Hurley and Matt Alexander's Bionic podcast called Vlcnr. Next up is an iTunes affiliate linking app for bloggers that I expect to release when iOS 8 debuts.
What is your current setup?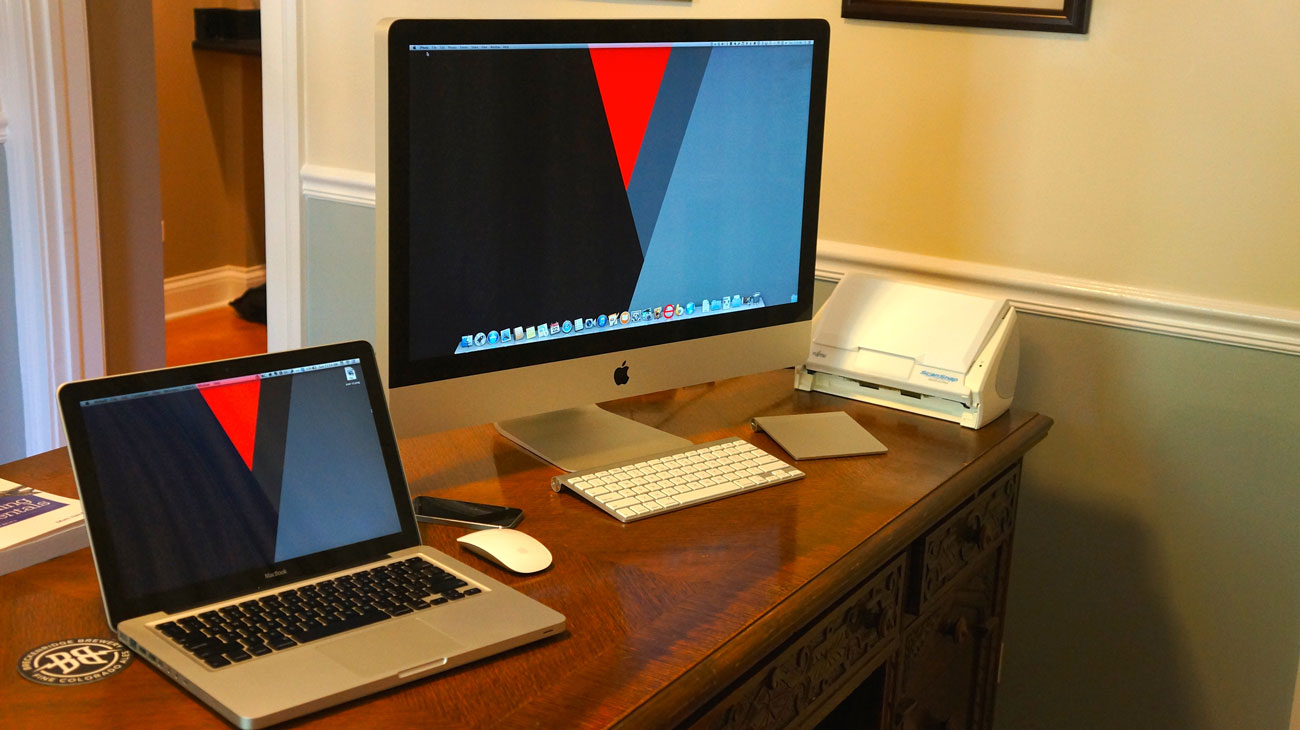 My Mac computing is split between an aging 2008 13-inch MacBook and a 2011 iMac. About a year ago I breathed new life into the MacBook with a replacement battery and a 240 GB SSD from Other World Computing. While it is amazing how much snappier the SSD made my MacBook, the battery life still leaves a lot to be desired.
My other Mac is a 2011 27-inch iMac with a 2.7 GHz quad-core i5, 16 GB of RAM, a 1 TB HDD and a 256 GB SSD that my whole family uses. Our iMac came out about a year before Apple introduced Fusion drives, so after the frustration of trying to keep OS X and my apps on the SSD and everything else on the HDD, I merged them into a home-brewed Fusion drive, which has been fast and rock solid.
The wallpaper on both of my Macs was designed by @forgottentowel, who also created the icon for the Vlcnr app. The wallpaper is available at vlcnr.com.
The desk belonged originally to my great-grandfather. Built in the mid-1800s, I enjoy the contrast between the desk's longevity and the relatively short life of the computers that have sat atop it. As an added bonus, the desk weighs nearly as much as a small car, which is exactly what I will need to barricade my door when the zombies rise up against humanity.
Tucked in a desk drawer is a Samson Meteor USB microphone. It's a nice all-around mic that comes in handy for speech-to-text dictation and an occasional podcast appearance. The only peripheral that sits on my desk is a Fujitsu ScanSnap S510M sheet-fed scanner, which won that spot because it is used often and handier to have at the ready when something needs to be archived.
Next to my desk is a small closet that hides the rest of my peripherals:
A first generation USB/firewire, four-bay Drobo that houses my iTunes media library;
A combo printer/scanner/copier made by Hewlett-Packard that is far too big, but handy for my kids' school projects; and
A 1 TB Western Digital external drive that I use for SuperDuper clones.
The peripherals connect to the iMac via a Belkin Thunderbolt Express Dock, which is fantastic because it just works.
What software do you use and for what do you use it?
Text and Documents
I use three primary writing tools: NVAlt, Byword and Marked. NVAlt, Brett Terprstra's fork of Notational Velocity, collects nearly all of my text whether it is something I'm writing, a travel itinerary, or a link. NVAlt's fast search, tagging, and cross-note linking, along with the flexibility of plain text, makes NVAlt the perfect home base for all of my text.
If I write anything longer than a few paragraphs, I use Cmd-Shift-E in NVAlt to edit in Byword. There are a lot of great text editors, but Byword has a perfect balance of features and simplicity for me.
I also use Brett Terpstra's Marked app to preview and polish longer Markdown documents. I am constantly surprised and delighted by the elegance and depth of tools that Marked offers writers beyond simply previewing Markdown files.
As a lawyer, I deal with lots of PDFs. For reading and marking up PDFs, I use PDFpenPro from Smile Software. I especially like the iCloud integration, which makes it a breeze to carry hundreds of pages of documents with me on my MacBook or iOS devices.
Utilities
There are a bunch of utility apps that are critical to my everyday Mac use:
Task Management and Calendar
I used to feel bad that I don't use perspectives and some of the fancier customizations available in OmniFocus 2, but I have a system that works for me and fits well with OmniFocus. I particularly like the new Forecast view that originated on iOS.
I use Fantastical as my primary calendar. The natural language input is wonderful and I love being able to get a quick glance at upcoming events from the menu bar drop-down, although I still use Apple's calendar app when I want to look at a whole month.
Email and Social
I have never been a big fan of Mail.app, but I do find myself returning to it often because I have not found another email app with which I am completely happy. At the moment I am using Airmail, which does a good job with Gmail and is the best of the third-party mail apps I have tried.
For Twitter I use Tweetbot, which sits open taking up the right side of my screen most days. Apple's Messages is my main chat client. The syncing with iOS has gotten much better and it's just the easiest way to communicate with most of my friends and family.
Development
Unsurprisingly, I use XCode to build apps. For documentation, you can't beat Dash, which has lightning fast search. I use CodeRunner for experimenting with snippets of code before I add them to a project. For tracking app ideas, bugs, and tasks for a project, I create an outline in OmniOutliner Pro roughly organized according to how the app is architected. I also use Evernote to store tutorials and other research materials I gather during the course of a project.
On the design side, I use Sketch to create vector art for app UI elements because it makes it easy to scale them to different iOS screen sizes. I also use Spectrum, which lets you pick a color and find complements based on color harmonics.
How would your ideal setup look and function?
I have equipped my two high school-age sons with 13" MacBook Airs over the last couple of years, so my own mobile setup is pretty long in the tooth. Therefore, a 13" Retina MacBook Pro or 13" MacBook Air is probably the first piece of kit I will buy.
My two oldest boys will be off to college over the next few years, so instead of replacing the shared family iMac in a few years, I'm hopeful that Apple will release a retina 27" Cinema display that I can dock with my next laptop. I would also like to upgrade my Drobo to a full-fledged NAS from Synology.
The last piece of the puzzle would be a Retina iPad Mini or iPad Air. I have an iPad 4 that I enjoy, but it's a bit heavy. I prefer the large form-factor of the Air, but the extra-portability of the Mini is tempting.
Despite the family history of my desk, it is not well-suited for computing. I would prefer a large wrap-around desk with cleaner lines and a lighter look. Perhaps something like the furniture designed for Jessica Hische and Erik Marinovich at Title Case.
---
There are more Sweet Setup interviews right here.