John Davis' Mac and iOS setup
March 28, 2016
Every week we post a new interview with someone about what software they use on their Mac, iPhone, or iPad. We do these interviews because not only are they fun, but a glimpse into what tools someone uses and how they use those tools can spark our imagination and give us an idea or insight into how we can do things better.
New setup interviews are posted every Monday; follow us on RSS or Twitter to stay up to date.
---
Who are you and what do you do?
My name is John Davis. I'm a Youth Minister at the Owensboro Church of Christ in Owensboro, KY. I spend most of my days studying the Bible, prepping to teach classes or sermons, and planning events for the kids and teenagers at our church.
What is your current setup?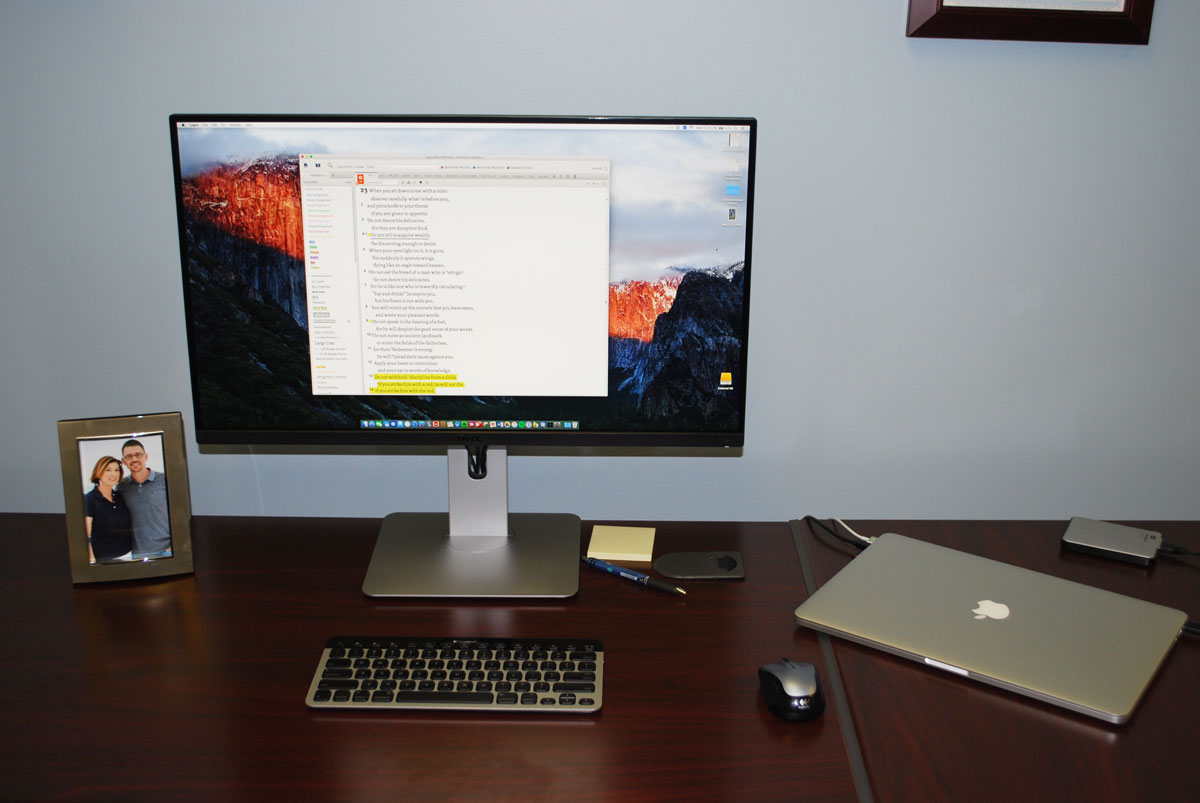 I use a 2015 15" Macbook Pro connected to a Dell U2715H monitor for extra screen space. I need the portability of a laptop but I also run about 10-14 programs at a time, so I need a powerful machine and the Macbook Pro is excellent. The flash storage on the new MacBooks is also critical when using Logos Bible Software – something I can't live without. The monitor has been a huge help to me since I've had it. The ability to see 2-3 programs at a larger size simultaneously is a big plus for my productivity. I often find myself writing a class in Word while constantly referencing the Bible and Evernote at the same time. Finally, I'm using one of the Logitech K811 Bluetooth keyboards. I like the feel of the keys a lot better than the Apple keyboards. Reminds me of the keys on the old Macbook Pros, which I loved.
What software do you use and for what do you use it?
The most important software for me is Logos Bible Software. For studying the Bible there's absolutely nothing better. Those guys over at Logos are doing some amazing work. This software allows me to access lots of translations along with hundreds of commentaries, dictionaries, and lexicons without ever having to grab a book off a bookshelf and find the right page. It's also got some great Hebrew and Greek tools for anyone who's looking to deeply study Scripture.
I also couldn't live without Launchbar. It saves me so much time and I've always tried keep my hands off the mouse/trackpad as much as possible. Keeping my hands on the keyboard makes me happy.
Evernote is my digital filing system. The $50/year for Evernote Premium is well worth it with all the extra space and features you get. I try to keep as few physical documents as possible both at work and at home and Evernote is where everything goes.
I use the new Day One app for journaling. Airmail is my e-mail client of choice, and YNAB is our family budgeting software. It has really turned around our financial habits.
Finally, I burn up the Messages app on the Mac. As a Youth Minister, I'm constantly texting, but I loathe typing on a phone. The ability to fire off a longer text from a full keyboard while keeping my eyes on my monitor is great.
How would your ideal setup look and function?
Honestly, I'm very blessed to have a pretty ideal setup right now. I would love to put a ScanSnap ix500 on my desk, but that will take a bit of a financial investment. I can see myself moving to a 27" iMac at work and keeping the Macbook Pro at home some time in the future, but for now this is great.
---
What iPhone do you have?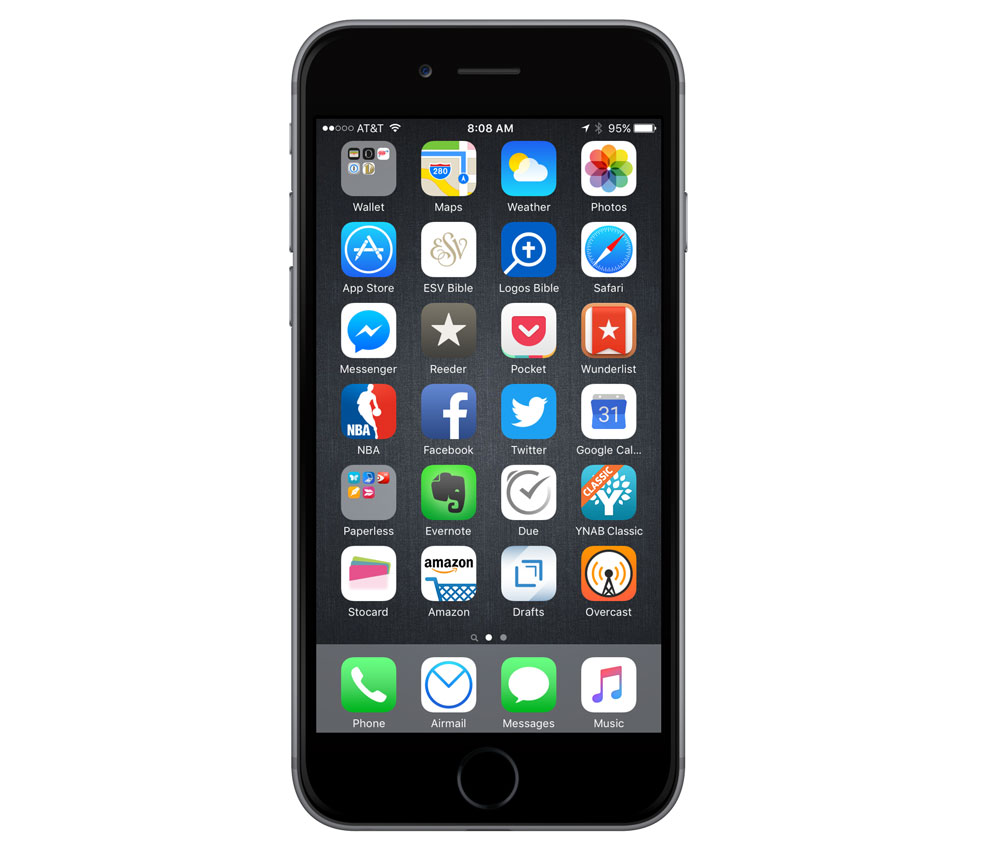 iPhone 6 – 64GB
What apps do you use the most, and why?
Overcast probably gets the most use. As you guys have noted on your site, this is a really well-made podcast app and I'm always listening to a podcast on ministry, the NBA, or Mac Power Users.
I also use Reedle's ScannerPro quite often to stay as paperless as possible. It auto-uploads to my Dropbox, and I've got Hazel on the Mac watching that folder ready to rename files and create Evernote notes accordingly. Big thanks to Katie Floyd's Macworld article for that workflow!
Reeder is my RSS reader of choice, and Airmail for iPhone is my e-mail client. I was impressed with Spark from Reedle for e-mail (especially since it's free!), but Airmail is very solid. Also, having continuity between my phone and Mac is something I like.
I also use Launch Center Pro quite a bit, but mostly through the Today screen. It gives me quick access to Bluetooth settings, 1Password, and other quick actions.
Which app could you not live without?
Can I cheat and say two? First would be Due. It has replaced the stock Reminders app on my phone. Due is a great place to dump a task for later. The great thing about Due is it keeps dinging you until you either mark the task as done or snooze it for later. It's also extremely easy to create new reminders with due and typically I just dictate one into Siri, and Due pulls it automatically from the Reminders app.
Second is 1Password. Gosh, what would I do without 1Password? I guess I'd have the same password for everything and wait around for someone to hack me.
---
Which iPad do you have?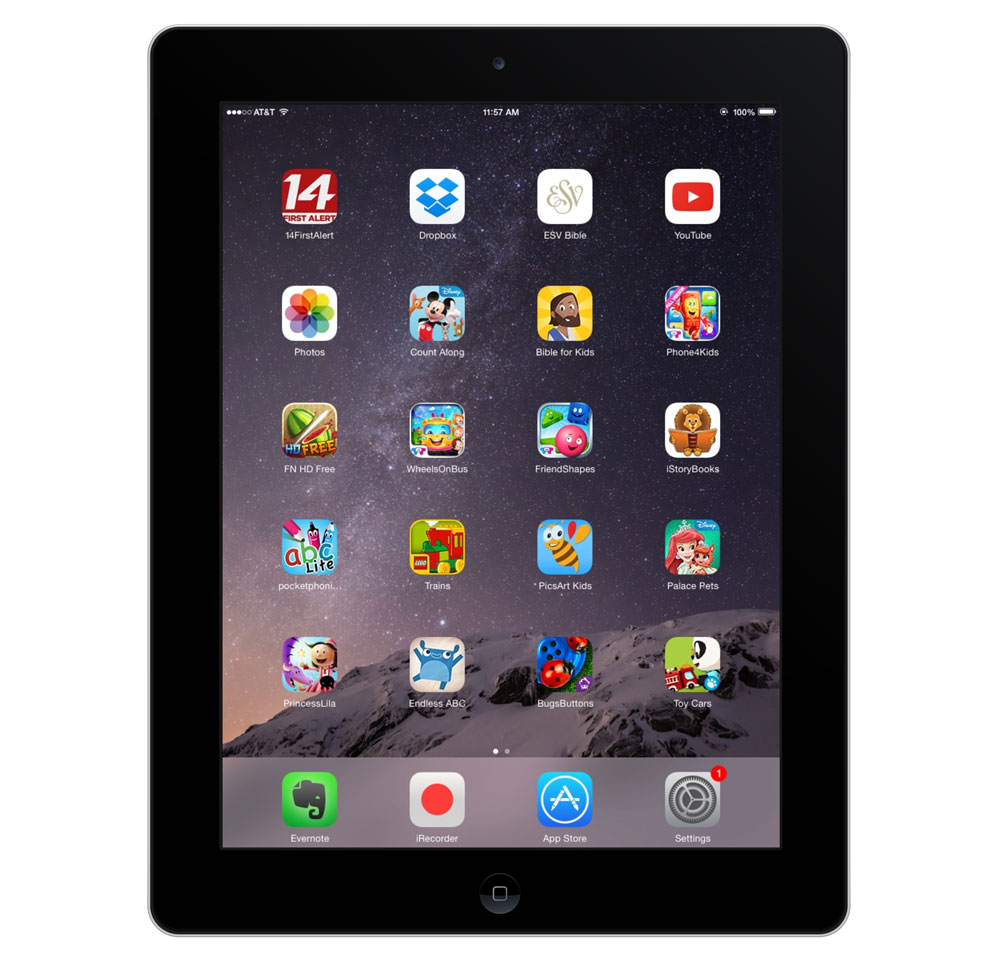 I'm using an old 16GB iPad 2 (I know you're jealous).
How are you using your iPad on a daily basis?
The iPad is for two things and two things only: Preaching/teaching at church, and games for the kids. At church I'm usually writing classes or sermons on Word on my Mac, then I use Dropbox to look at the notes as I'm teaching class or in the pulpit. I switch back and forth between Dropbox for notes and the ESV Bible app for reading Scripture. I used to use the iPad for reading because I read a ton of Kindle books, but I've found I get much less distracted on a Kindle Paperwhite. Plus, my wrists didn't like holding up that big iPad for so long.
What apps do you use the most, and why?
I use Dropbox for notes while I'm preaching or teaching a class at church. The ESV Bible app also gets a lot of use. It's the best Bible app out there by far. My 5- and 3-year-olds burn up those kid games when Mom and Dad give them some iPad time!
Which app could you not live without?
Most definitely Dropbox. Oh, and Phone for Kids has gotten my wife and I through some sticky situations out in public!
---
There are more Sweet Setup interviews right here.