Jeff Perry's iPad Pro and iPhone setup
March 12, 2018
Every week, we post a new interview with someone about what software they use on their Mac, iPhone, or iPad. We do these interviews because not only are they fun, but a glimpse into what tools someone uses and how they use those tools can spark our imagination and give us an idea or insight into how we can do things better.
New setup interviews are posted every Monday; follow us on RSS or Twitter to stay up to date.
---
Who are you and what do you do?
My name is Jeff Perry, and I write for Tablet Habit, co-host the podcast Getting Caught Up, and I will be releasing a new podcast I am on that's all about the iPad called A Slab of Glass on March 18th.
Outside of my blog and podcasts, I work as an audio engineer for my day job at a local TV news station.
What iPhone do you have?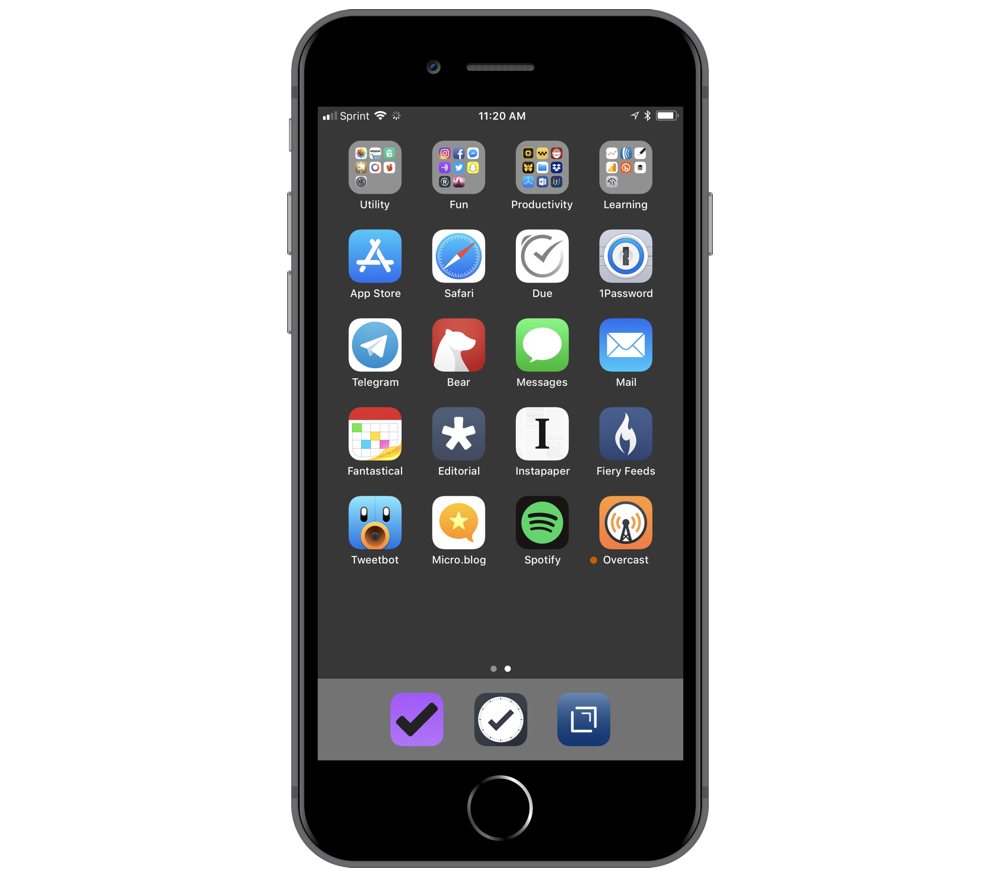 I have the Space Gray iPhone 8 Plus 64 GB. A lot of people are surprised by my low storage, but I manage to only fill half that even with the 45 podcasts I am subscribed to and the litany of music I have in Spotify. Storage never seems to be much of an issue for me.
Where can we find your wallpaper online?
My wallpaper is custom-made. I created it in Pixelmator because I just wanted a solid gray background. It lets the apps pop in their own right and also give me the minimal feel I am going for with my devices.
What apps do you use the most, and why?
I use Fiery Feeds 2 for my news consumption and RSS reading. Tablet Habit isn't a news site, but I like to keep up on what is going on in the world of Apple and iPad. I also like sharing articles on Twitter that I think people interested in Tablet Habit would like. Inoreader is the RSS service I use because it allows some serious filtering and rules so you can only allow the things you are interested in to come through your feeds.
Tweetbot is the current Twitter app I use. I tend to switch every few months between the official Twitter app, Tweetbot, and Twitteriffic. I haven't been able to stick to a Twitter client long term in years. I am always looking to try out each app in every major update to see how they fair. Twitter is the go-to social media platform for me — it always has been, and unless the company goes under, I don't think that will change.
I also use Bear as a note taking application. I wrote about what made me switch from the stock Apple Notes app to Bear recently. If you are wondering why, you can read more about it. To give a quick synopsis, I mainly use Bear because it is my favorite Markdown notes app that offers great ways to sort your notes for reading and review later.
Which app could you not live without?
On the iPhone, it has to be Overcast. I consume podcasts like it's my job (last I checked, I think I am subscribed to about 50 podcasts), and I rarely use my phone for any actual deep work. If I lost my main form of media to consume on my phone, I would be lost. If you want to know some of my favorites, or even just want new shows to listen to, I would be happy to offer some your way on Twitter!
---
Which iPad do you have?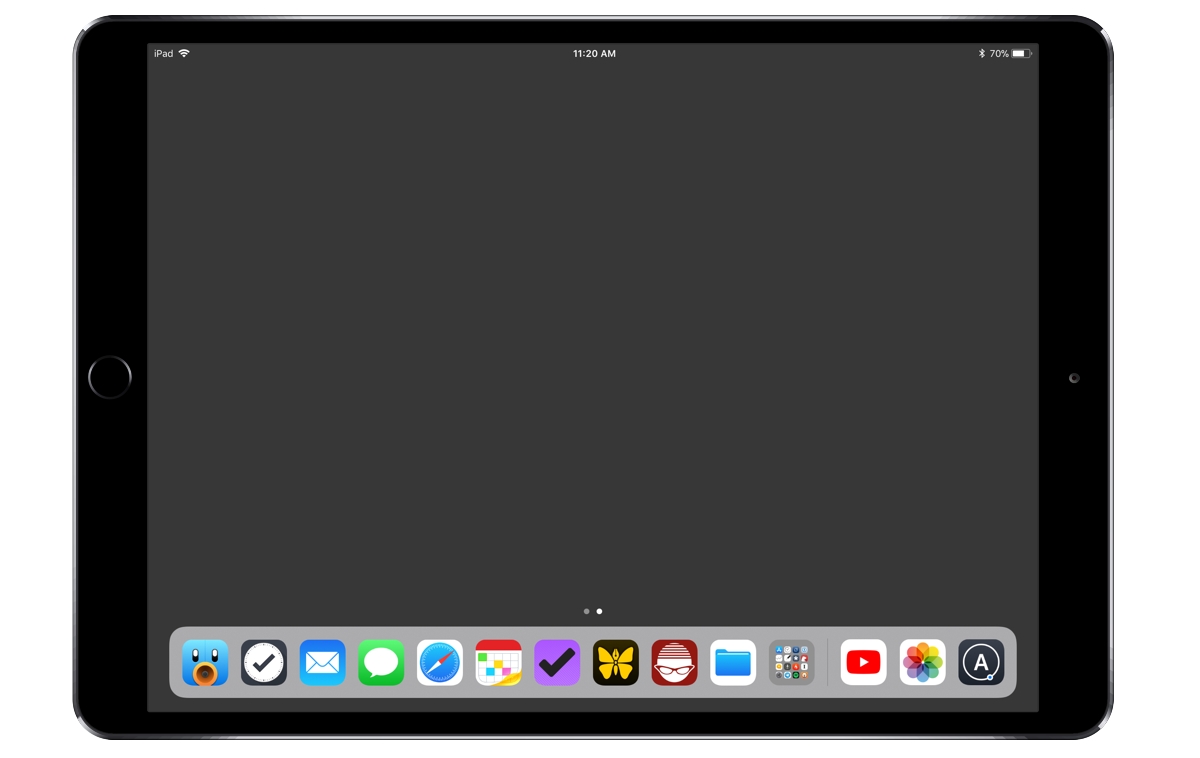 I have the Space Gray iPad Pro 10.5" 64 GB. Again, storage isn't a huge deal for me as I write for a large amount of my work on the iPad. I edit the occasional podcast on here as well, but that doesn't put my storage in any real trouble. I keep a tight ship on my iPad and only allow apps I need on here and nothing more.
Where can we find your wallpaper online?
This is the same wallpaper as my iPhone. I have a high res version of this you can use on any device.
How are you using your iPad on a daily basis?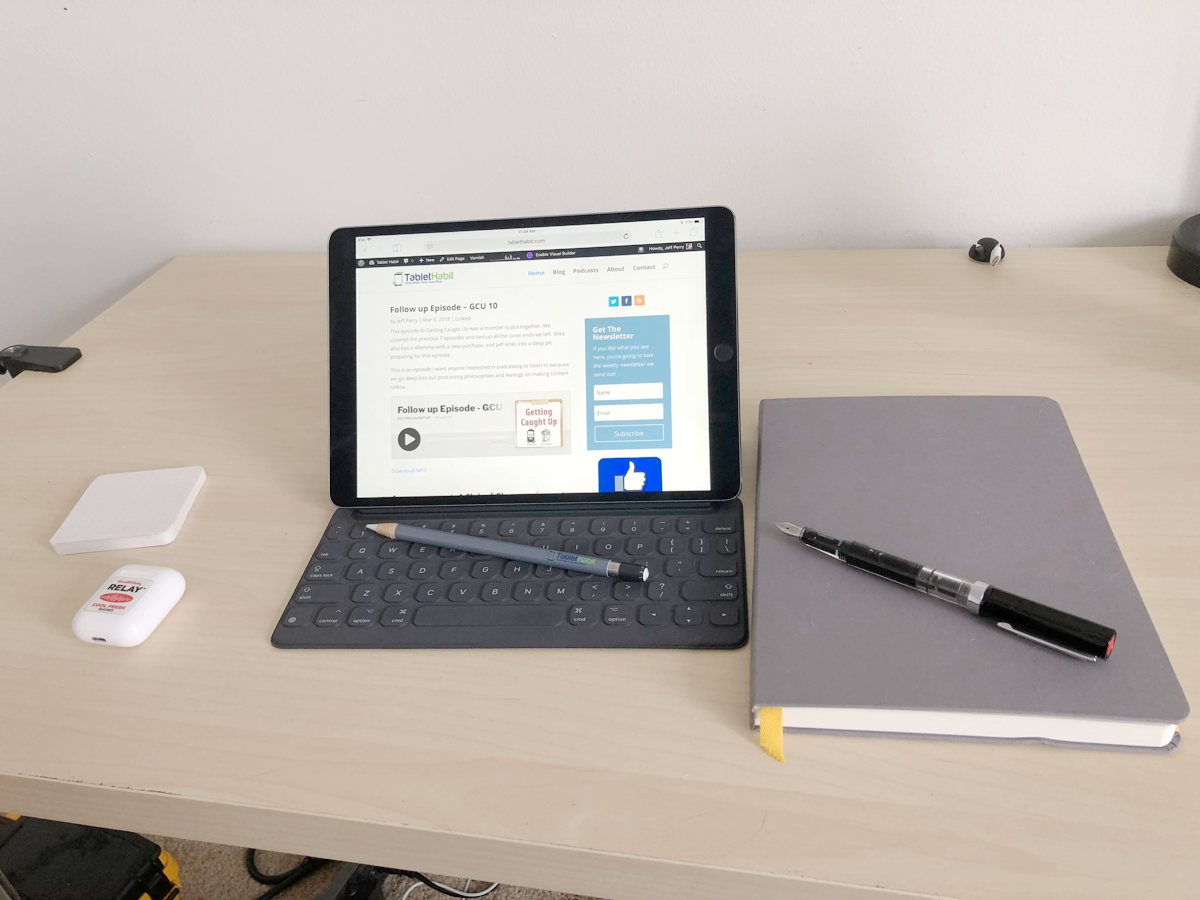 My iPad is my main computer. I write my blog posts on it, I handle my day-to-day stuff like finances and email on it, I edit my podcasts with it using Ferrite, and I work on pretty much everything others might use a Mac for. I just feel more comfortable on iOS over macOS and I love it so much I write a blog about it. Don't get me wrong, macOS is a great OS, but it is just not the best for me. Something about working with my hands directly on the glass is just so satisfying that a traditional computer can't give me. I dove deeper into my reasoning on Tablet Habit, which you can find here.
When writing, I am usually at my desk in my office writing with the Apple Smart Keyboard (It's not perfect, but I have tried pretty much every kind of keyboard out there and this is the best one in my opinion). I also have an Apple Pencil I use mainly as a pointing device. I have the artistic talent of a 3-year-old, so when I don't want to use my hands to move a page or something that requires me touching the screen, I just use the Pencil. It really helps having tools to change how I'm working to prevent any cramps or, even worse, RSI.
Outside of writing, I am usually working on something for Tablet Habit or one of my podcasts.
What apps do you use the most, and why?
I write in Ulysses, which takes up most of my work. I only write in Markdown, and Ulysses has some seriously powerful features that I love. One of them is the awesome built-in markup tools that you can use when editing a draft. I love that with just a few additional characters I can delete a whole section from the final export, add comments, or even have annotations. It is super convenient and something I think not everyone knows about with Ulysses. I also use it because of the "sheets" I can make to break up thoughts and help figure out where I want each section to go on my posts. It provides a really simple way to keep all of my thoughts on a post in one place, but only focusing on one section at a time when writing/editing.
I also use an app called Timelogger. Time tracking is a new addition to my life, and I decided to do it because I wanted to learn more about how long tasks take for me to do with my work and how I can optimize my work better. This led me to start using an app called Toggl, but deleted it shortly after because it was clumsy and at times very frustrating to work with on iOS. It is clearly a web app first, and for me that isn't going to work. When I saw that Federico Viticci, founder of MacStories, recently mentioned Timelogger in one of his articles, it seemed to check all the boxes I want in a time tracker — so I downloaded it. I use it as much as I can because I really want to start working on time management and working on optimizing my workflows.
Finally, Gladys is a fantastic shelf app that is a huge help when I am working on things like the newsletter for Tablet Habit, show notes for my podcasts, or if I just want to save something for later use on a different app. Shelf apps are kind of a new phenomenon thanks to iOS 11. It is a great addition to my workflow and makes working on my iPad even more delightful. I talked about shelf apps on Tablet Habit, so if you are interested you can find out more there.
Which app could you not live without?
On my iPad, it has to be OmniFocus. It is my task manager of choice and literally holds my entire life in it. I put everything from my grocery list to the big projects I am working on with Tablet Habit. It handles everything I do. It has some quirks, but I am hoping OmniFocus 3 will fix those (I am crossing my fingers I get beta access).
One of the big reasons I choose OmniFocus over something like Things 3 is because of its TaskPaper integration. It allows me to create templates with variables to change the text before importing into OmniFocus.
When I have a new blog post or podcast to edit, I can import an entire project with the name of the post/podcast, all the tasks and sub tasks in place, and relative dates I set with just a few taps. It makes handling the repetitive tasks so much easier and leaves less time for me to chip away at my task manager and more time on my actual work.
I also love the way OmniFocus hides the things you defer or set for a later date. It is like having a personal assistant telling you all the things you can work on today and omitting any of the stuff you have planned to do but can't do today. It makes managing things on a day-to-day basis with a lot less friction, and that is the main goal with task managers, right?
Also as a quick note, the notebook you see in my picture is a Baron Fig Confidant (plus size) and a TWSBI Eco fountain pen. I journal every day and use it the way Shawn Blanc does as a way to keep my daily priorities analog and the rest of the other tasks digital. It really breaks up what I need to do today from everything else.
---
There are more Sweet Setup interviews right here.
Want to share your setup? We'd love to hear from you. Just fill out this form with some basic information and we'll be in touch.
---
Wait. There's a Bonus….
Custom Productivity Templates
We have a set of custom productivity templates that work well with the iPad app, GoodNotes. And if you want to try them out, we've put together a free guide that can help you.
We'll show you…
How to create and save custom page templates in GoodNotes.
How to use those page templates to transform GoodNotes into your own productivity notebook (or any other type of notebook replacement).
Plus, we also have included a couple of our custom productivity templates for you to get started with. These templates are right out of our popular productivity course.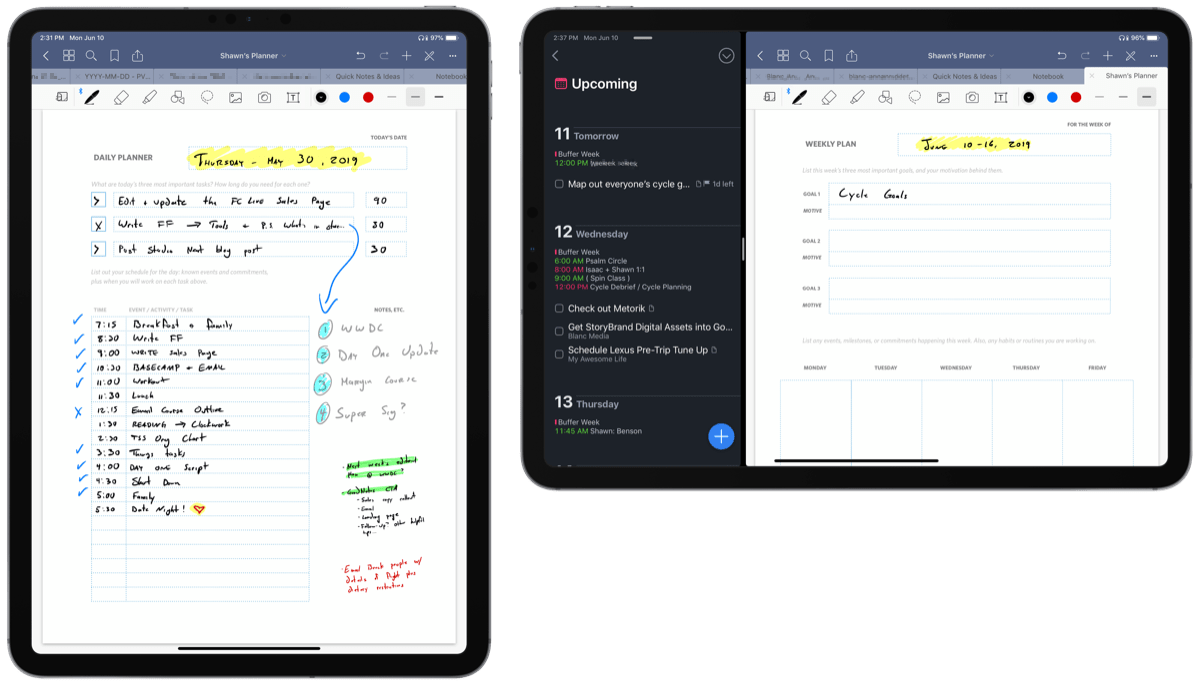 The custom templates and the guide are available for FREE to our email subscriber community. And you can get it right now. By joining the Sweet Setup community you'll also get access to our other guides, early previews to big new reviews and workflow articles we are working on, weekly roundups of our best content, and more.