Jared Roebuck's iPad Pro setup
May 9, 2016
Every week we post a new interview with someone about what software they use on their Mac, iPhone, or iPad. We do these interviews because not only are they fun, but a glimpse into what tools someone uses and how they use those tools can spark our imagination and give us an idea or insight into how we can do things better.
New setup interviews are posted every Monday; follow us on RSS or Twitter to stay up to date.
---
Who are you and what do you do?
My name is Jared. I'm the Assistant Principal at Fahari Academy Charter school in Brooklyn. As an Assistant Principal, my job is to develop teachers and emerging leaders at our school.
Which iPad do you have?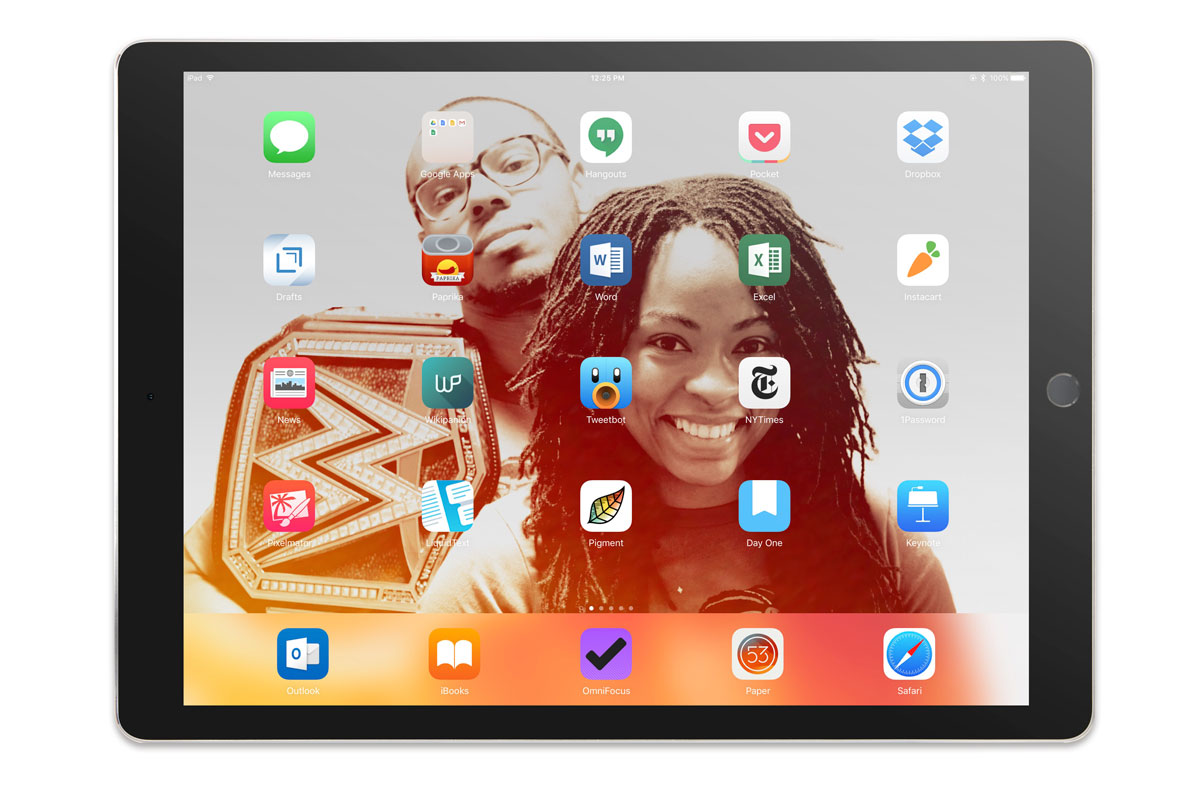 I have a 32 GB, Wi-Fi only, 12.9″ Space Gray iPad Pro. This is the fourth iPad I've owned, and it's by far my favorite. Dating back to the original iPad, I've been waiting to make the iPad my primary computer. With previous versions, I made it a couple of weeks, maybe a few months, but then my MacBook Pro would find its way back to work. But I don't see that happening with the larger screen, iOS 9, the Smart Keyboard, and (maybe) most importantly, the Apple Pencil.
Where can we find your wallpaper online?
You won't. It's a picture of me and my girlfriend that I edited with Pixelmator. The Apple Pencil made a lot of the editing I did possible. Yes, I'm WWE nerd.
How are you using your iPad on a daily basis?
As a school leader, I'm always moving around the building. I'm in multiple classrooms throughout the day observing teachers, collaborating with colleagues, and sometimes teaching. Being mobile is important, and an iPad has always been a useful tool no matter what circumstance I find myself in. What's different about the iPad Pro is that it allows me to do all things I need to do really well while I'm on the move.
Here's a cross section of my day and how the iPad Pro makes it all work:
Before I leave for school, I review the calendar for the day using Outlook. Soon after, I'm doing the daily coverage schedule using Google Apps. Once I'm on-site, I spend a good deal of time in Paper and Drafts when I'm visiting classrooms. A big part of my job is providing feedback to teachers and students. I use Paper when I visit classrooms to write informal handwritten notes using the Apple Pencil. What's cool is that I can email the note to the teacher as I walk out the door. Because it's handwritten, it adds a personal touch to the communication, which, I think, makes it less anxiety-producing for teachers. I use Drafts to take full transcriptions during formal visits to classrooms. The Smart Keyboard paired with the Markdown tools in Drafts makes capturing the events in the classroom quick and easy.
When I'm not visiting classrooms, I'm in meetings. Google Apps are pretty ubiquitous in most schools in NYC these days. We use shared documents in almost all of our meetings to agendas, minutes, and other data. For budget stuff, I rely on Excel.
What apps do you use the most, and why?
I probably spend the most time in Outlook because it has my calendar and my email. OmniFocus tells me what to do. Paper is in heavy rotation for the use case mentioned above, but also for mind-mapping ideas with the Principal. Pigment also gets a lot of burn. If at any point I'm overloaded during the day, I open up Pigment to do some mindful coloring before heading into the next conversation or meeting.
Outside of work I'd say Paprika and Instacart. I love to cook, and food keeps my girlfriend happy. I collect recipes in Paprika and build my grocery list in Instacart over the course of the week as ideas come to me. I usually close the day by reflecting in Day One or reading in Apple News.
---
There are more Sweet Setup interviews right here.