James Langston's Mac, iOS, and Watch Setup
June 24, 2019
Every week, we post a new interview with someone about what software they use on their Mac, iPhone, or iPad. We do these interviews because not only are they fun, but a glimpse into what tools someone uses and how they use those tools can spark our imagination and give us an idea or insight into how we can do things better.
New setup interviews are posted every Monday; follow us on RSS or Twitter to stay up to date.
---
Who are you and what do you do?
My names is James Langston, and I am a 35-year old stay at home dad of three daughters aged 9,7, and 5. I also run a small house/pet sitting service. My days during the school year (August-May) mainly consist of drop off and pick up at school, household chores, and after-school activities. I also coach co-ed indoor 10U soccer, tweet, take pictures, and sometimes I even blog.
What is your current setup?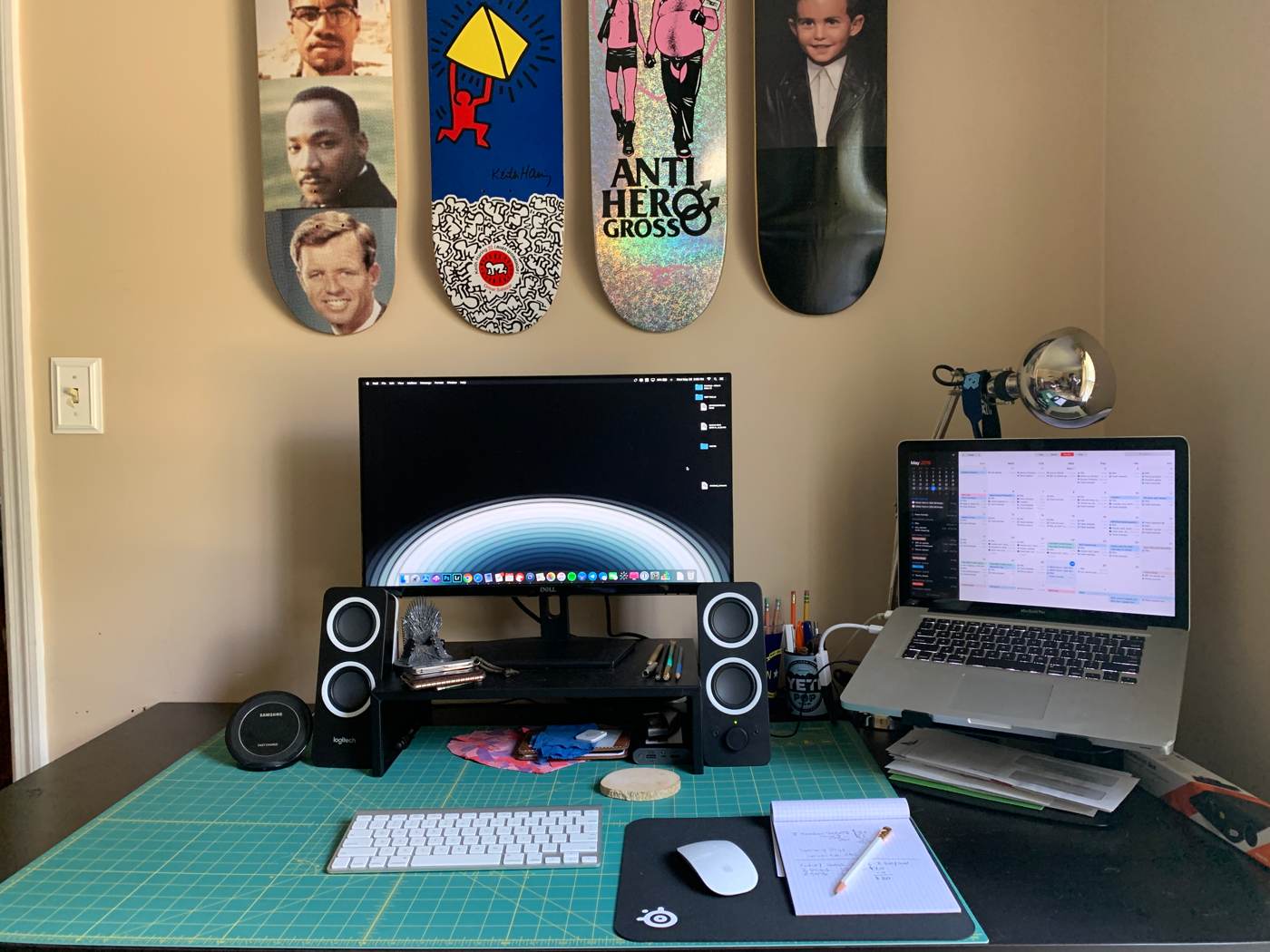 My current set up is centered around mobility. At my Ikea desk sits my 2011 15″ MacBook Pro. It has 16GB of RAM and a 256GB SSD, both of which I installed myself with help from the internet. My MBP sits on a stand from Amazon and is connected to a 24-inch Dell SE2419H monitor. It has a matte finish so it doesn't have any glare. I have the display on a display stand I got from Target. I use it as my main display and use the MacBook as my second screen typically with Fantastical in full-screen mode.
I use the older Apple bluetooth keyboard and Magic Mouse from my now retired-to-the-kids 2009 iMac. I recently bought a SteelSeries Qck gaming mousepad, and I absolutely love it. I also have some Logitech speakers because the MBP speakers aren't great. I also keep a notepad nearby, typically a Rhodia grid No. 16 and a few Blackwing Pencils on my desk. I also keep a Samsung fast charge Qi charger on my desk, although I rarely have to charge my Xr.
Where can we find your macOS wallpaper?
My wallpaper is from AR7. If you didn't know about him, you're welcome. I use his stuff across all of my devices.
What software do you use and for what do you use it?
How would your ideal setup look and function?
My ideal setup would be a 2015 15-inch MacBook Pro from before the current Touch Bar generation. This is something that would be future proof for the next 5 years or so and something that I could easily upgrade myself. Nothing against the Touch Bar — I'm sure it's great — I just know that the newer models have keyboard issues and aren't as upgradable. I'd also like a much smaller desk as mine is just too big. I'd also like to have a USB hub since I only have 2 USB A ports on my current MacBook Pro.
---
What iPhone do you have?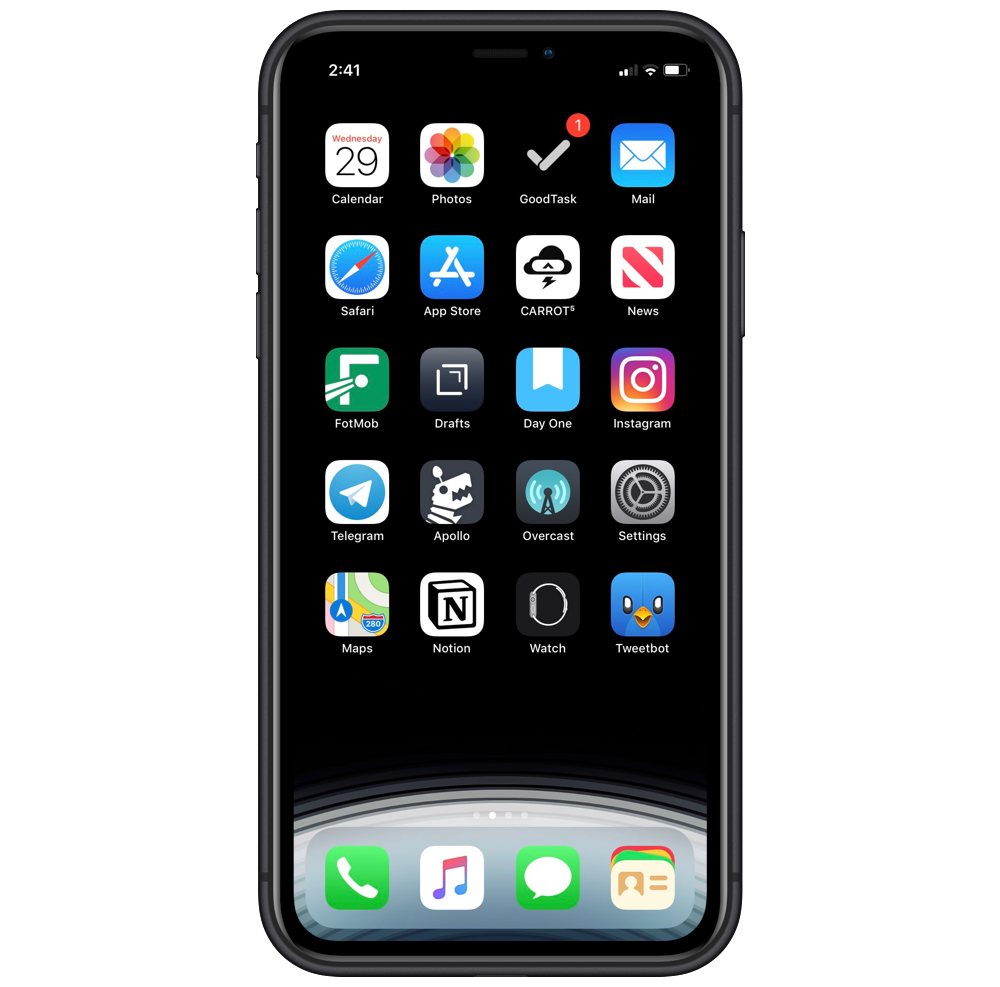 I have a 128GB iPhone XR in black on the Sprint network. I keep it in a Mous case — yes, it's as tough as they claim. My MBP set up is for business, but my phone setup is a mix of both business and fun. I use all of the iOS versions of the macOS apps I mentioned in addition to a few others.
What apps do you use the most, and why?
Tweetbot: For me, it's just muscle memory at this point. When I try and use the official app or even Twitterrific, I can't use the gestures that I can in Tweetbot. I love it and have used it for years.
Instagram: It's really my preferred social network. I can share pictures of my kids or take some super arty picture and everything in between.
Facebook and Facebook Messenger: A necessary evil as I get all of my business through the platform. In my opinion, the apps are awful and aren't very user friendly.
PayPal: This is how I get paid and how I pay for activities for the kids at school and with my soccer team. I don't recall ever having a problem with the app or the platform.
Apollo: This is hands down the best Reddit app. I'm an ultra premium member and it's worth every penny.
Telegram: Or "Nerd Chat" as my wife calls it. I have a group chat with some like-minded folks from all over the world. Most of us have known each other for years as we were all friends on App.net. I also get the latest and greatest AR7 wallpapers there. I really wish I could get more people to use it.
Overcast: I've tried all of the big podcast apps and this one has just stuck.
Which app could you not live without?
I don't think I could get by without Apple Music. Like I said, music helps me function as well as relax, and it gives me just a lot of joy to sit back with my AirPods in and listen to an album.
---
Which iPad do you have?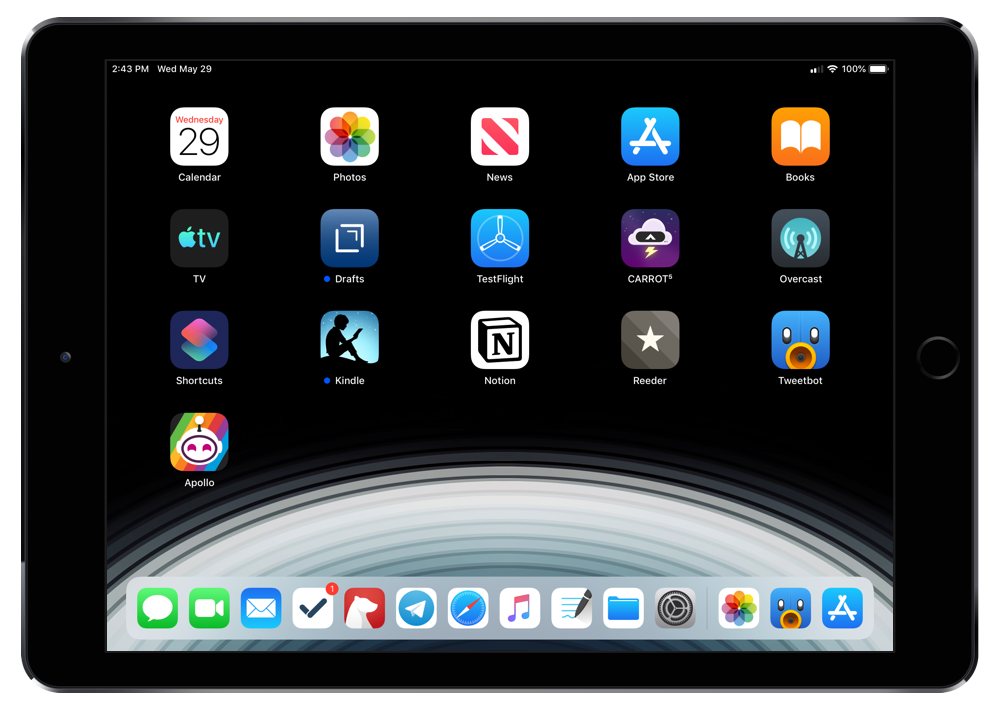 I have a 2018 9.7-inch iPad in space gray with cellular and 32GB of storage. I also have an Apple Pencil.
How are you using your iPad on a daily basis?
Again, I'm using the iOS counterparts on this device as well as some device-specific apps. I'm using this iPad to write this using this keyboard with it as well as an Apple Smart Cover for when I'm consuming media and browsing the web. I also have the 1st gen Apple Pencil. My iPad setup is a mix of work and media consumption. When we take day trips out of town, or even vacation, I bring this set up with me and I can do all the things that I need/want to do.
What apps do you use the most, and why?
---
Which Watch do you have, and how do you use it on a daily basis?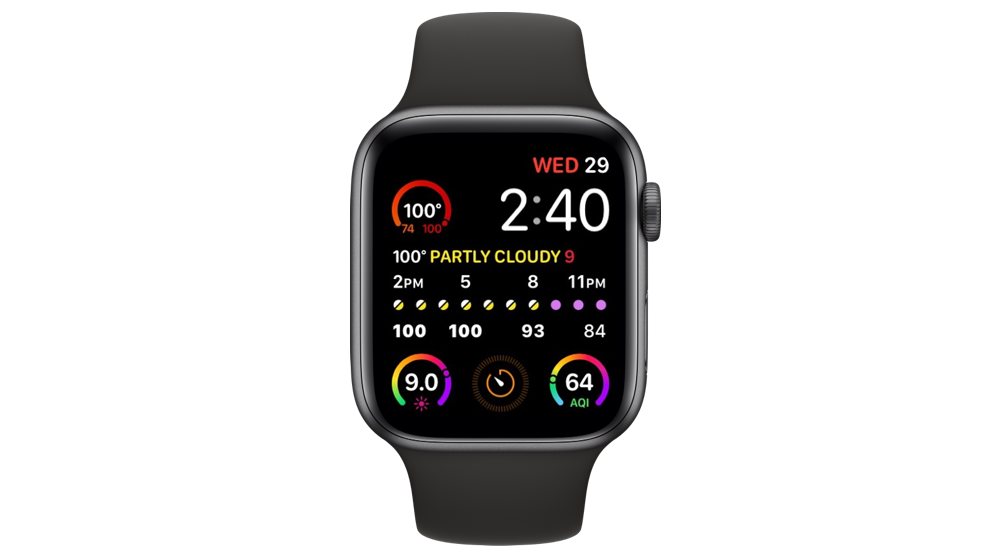 Finally, I have a 44mm Series 4 Apple Watch in space gray with LTE. I have something of a love/hate relationship with Apple's most intimate device. I started with a Series 1 and at that time it wasn't anything too special for me. I stopped wearing it after about a year, and then traded it in for a Series 3 with LTE. While WatchOS had improved and having cellular connection was great, I found myself longing for a "real" watch, something mechanical. I dipped my toes into that world and thanks to a Garmin Forerunner that was given to me at Christmas, my interest was reignited for a smart watch. I ended up with the Series 4 and it's finally the device it should have always been. For the summer I've been using the Infograph Modular face with a focus on weather conditions. I like CARROT Weather for this. I also keep track of the up index as well as air quality, and a timer to help me keep track of how long the kids and I have been out in the sun. I'm in North Carolina and it has been well over 100 degrees over the past few days.
I use the watch for keeping track of workouts and runs/walks. I'm relatively happy with the stock Workout app, but I use Strava for running. It also nudges me to stay on task. I only push notifications to the watch that are essential, like GoodTask, Calendars, texts, and phone calls. I use Apple Pay on it and it's saved me so many times.
---
There are more Sweet Setup interviews right here.
Want to share your setup? We'd love to hear from you. Just fill out this form with some basic information and we'll be in touch.
---
Wait. There's a Bonus…
Curated List of Must-Have Apps
We spend an inordinate amount of time sorting through hundreds of apps to find the very best. And based on our own usage, plus the feedback of our readers, we have put together a short list of our must-have, most-used apps in 2022.
You will get…
The current list of The Sweet Setup's top 8, must-have apps.
A special, pro tip for each app to help you save time and become more of a power user.
A hidden feature of each app that you may not have known about.
These apps work on iPad, iPhone, and Mac. And they range across several different categories but are mostly focused on productivity. We hope this will help you get the most out of your devices and your day.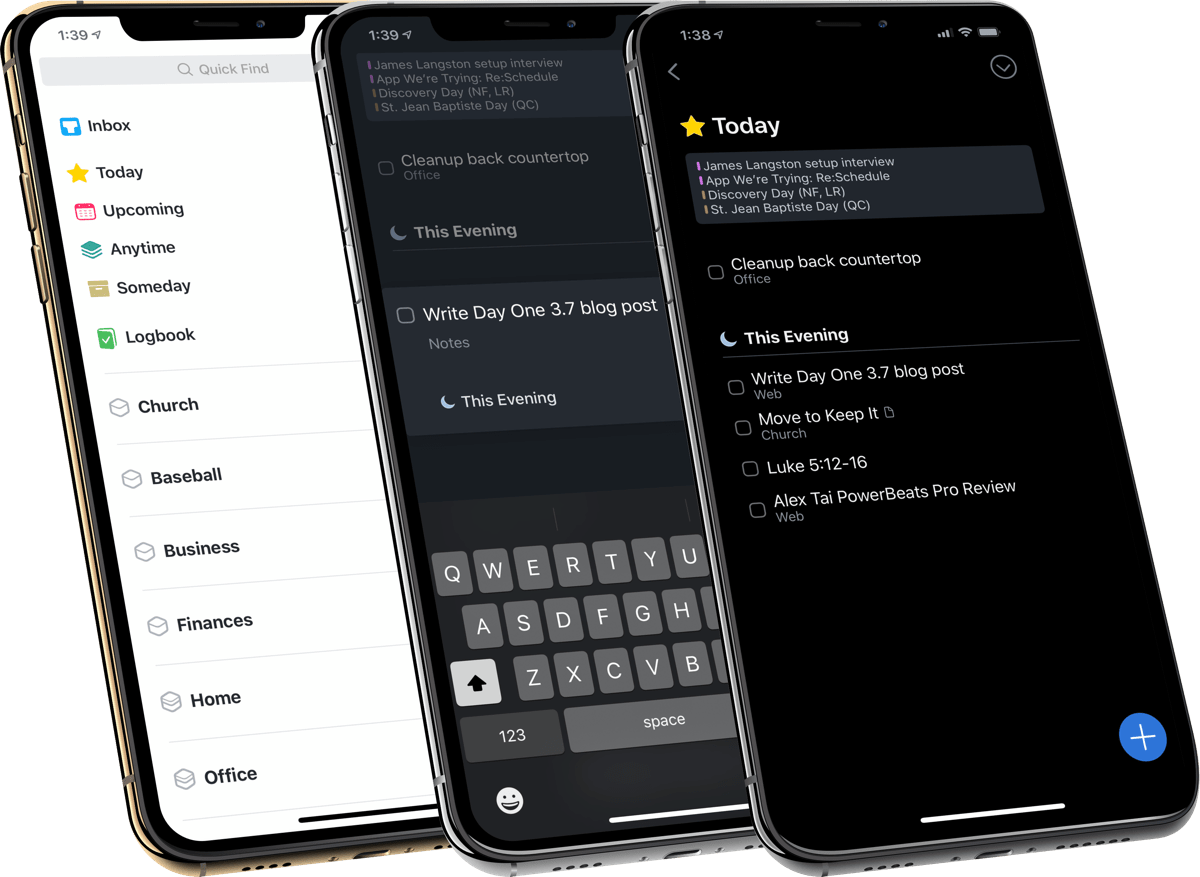 This guide is available for FREE to our email subscriber community. And you can get it right now. By joining the Sweet Setup community you'll also get access to our other guides, early previews to big new reviews and workflow articles we are working on, weekly roundups of our best content, and more.