Jago Silver's sweet setup
June 30, 2014
Every week we try to post a new interview with someone about what software they use on their Mac, iPhone, or iPad. We do these interviews because not only are they fun, but a glimpse into what tools someone uses and how they use those tools can spark our imagination and give us an idea or insight into how we can do things better.
New setup interviews are posted every Monday; follow us on RSS or Twitter to stay up to date.
---
Who are you and what do you do?
I'm Jago and I have been illustrating children's books for the last 11 years (basically I get paid to draw pictures…yep). I live in Cornwall, the little bit of the UK that sticks out into the Atlantic. I have produced illustrations for over 40 children's books and a few magazines, as well as some logos and album covers. Recently I have also participated in a couple of exhibitions and signed prints of my work are now available in galleries in the UK (as well as on my shop).
Most of my recent work however has been for publishers in the US as my agent (Ronnie Herman) is based in New York. I'm probably best known for my work with New York Times Bestselling author Sally Lloyd-Jones. Our books have sold more than 1.3 million copies and won a tidy stack of awards.
I've just completed a logo for a permaculture farm in Oregon and I'm currently putting the finishing touches on a book about the collective nouns for different animals. It's called An Ambush of Tigers and is being published by Millbrook Press in the US.
What is your current setup?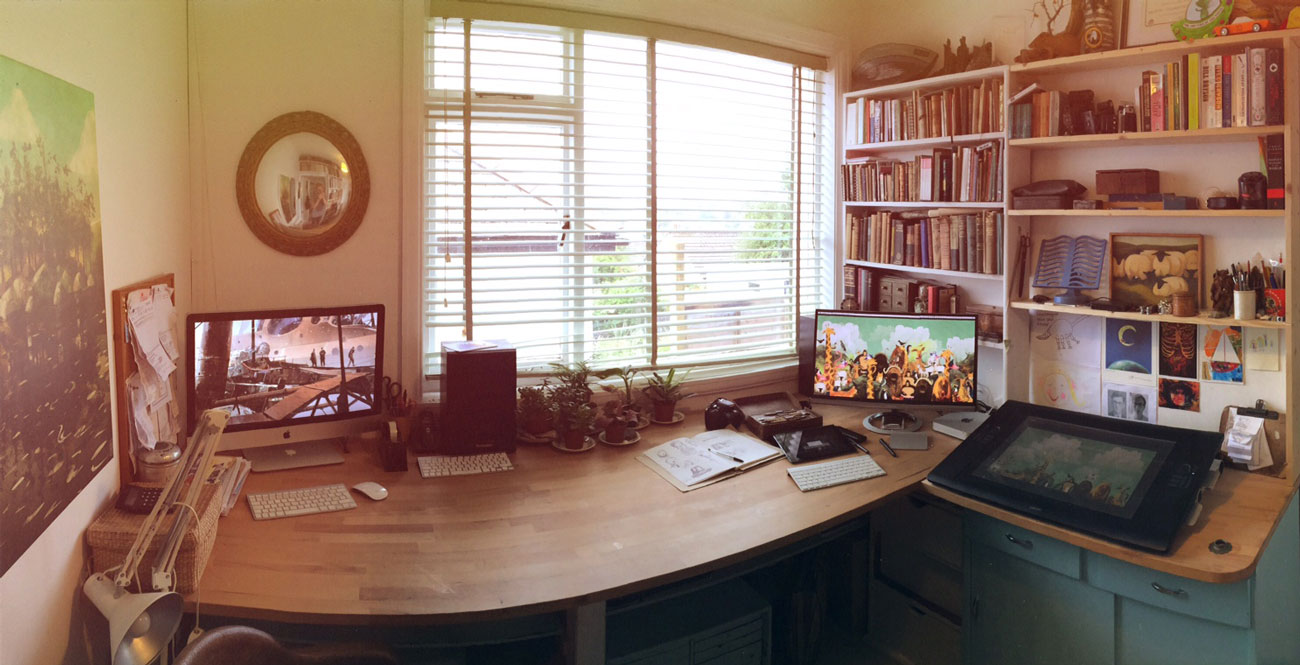 I currently use two Macs and an iPad. The main workhorse is a late 2012 Mac Mini, 2.6Ghz i7, 16GB RAM and a 1Tb Fusion Drive running OS X Mavericks, which is connected to a Wacom Cintiq 24HD (an articulated 24" monitor and graphics tablet combined – it's like a digital drawing board and is the best thing I've ever bought) and a 27" Asus monitor. I also use an Apple Wireless Keyboard and Magic Trackpad (I'm a heavy user of Spaces/virtual desktops and the three finger swipe is hard-wired into my right hand).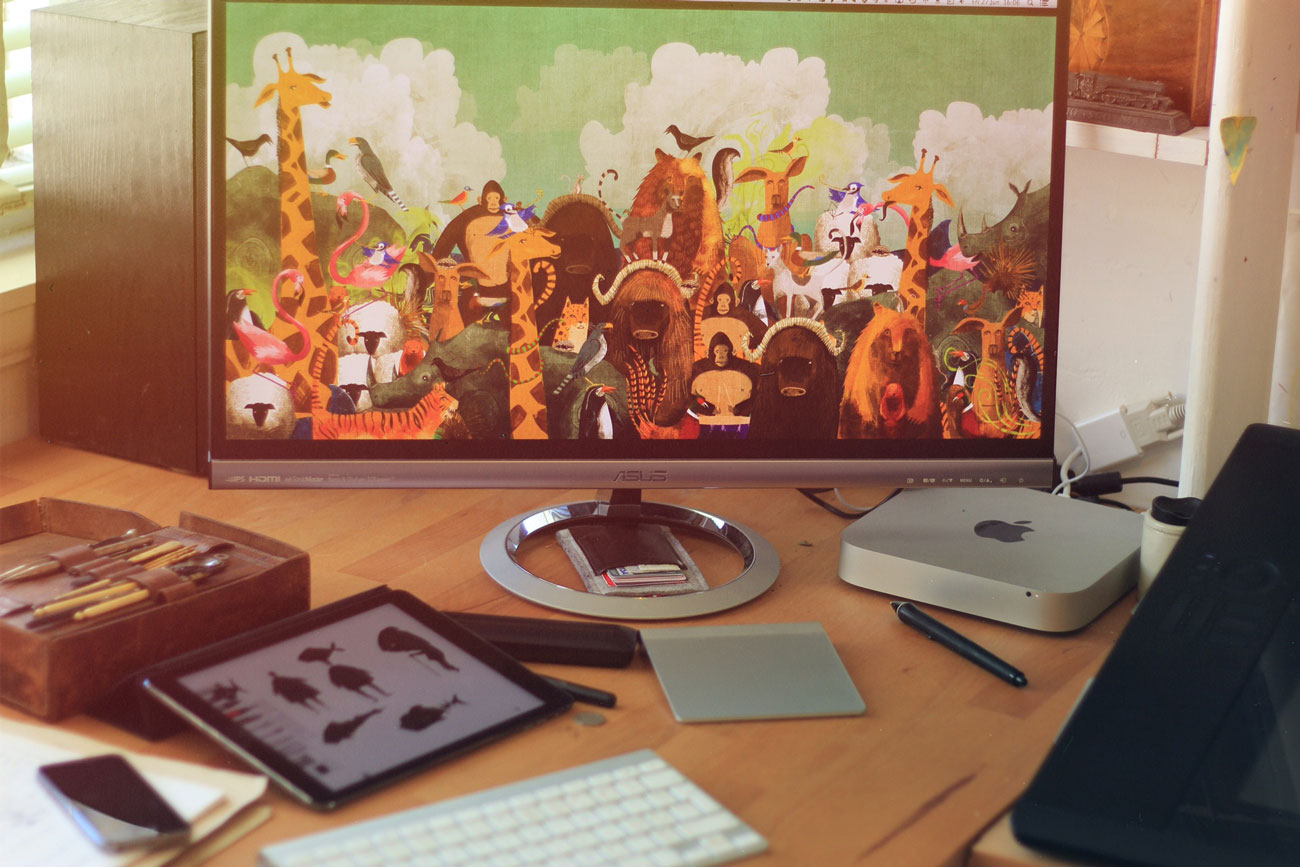 My other Mac is a mid-2010 27" iMac, 2.93 Ghz i7 with 16GB RAM also running Mavericks. This is the backup hub and stores my iTunes library, about 200,000 photos and an archive of all my work.
Because all my illustrations are digital and often gigabytes in size, I take back ups very seriously, so this machine has 10 Tb of storage across various external drives.
I also have a 128GB iPad Air that I use for all sorts of things, including rough sketches. For this I am currently using Wacom's Creative Stylus, but I'm eagerly awaiting a shipment with Adobe's Ink & Slide stylus/ruler combo. I've had each iPad since the original one (except for the 4th Gen which doesn't really count) and it's by far my favourite computer ever. I have an old cast iron recipe book stand that I keep the iPad on that has the extra side effect of sticking magnetically to the smart cover, so it's super-secure.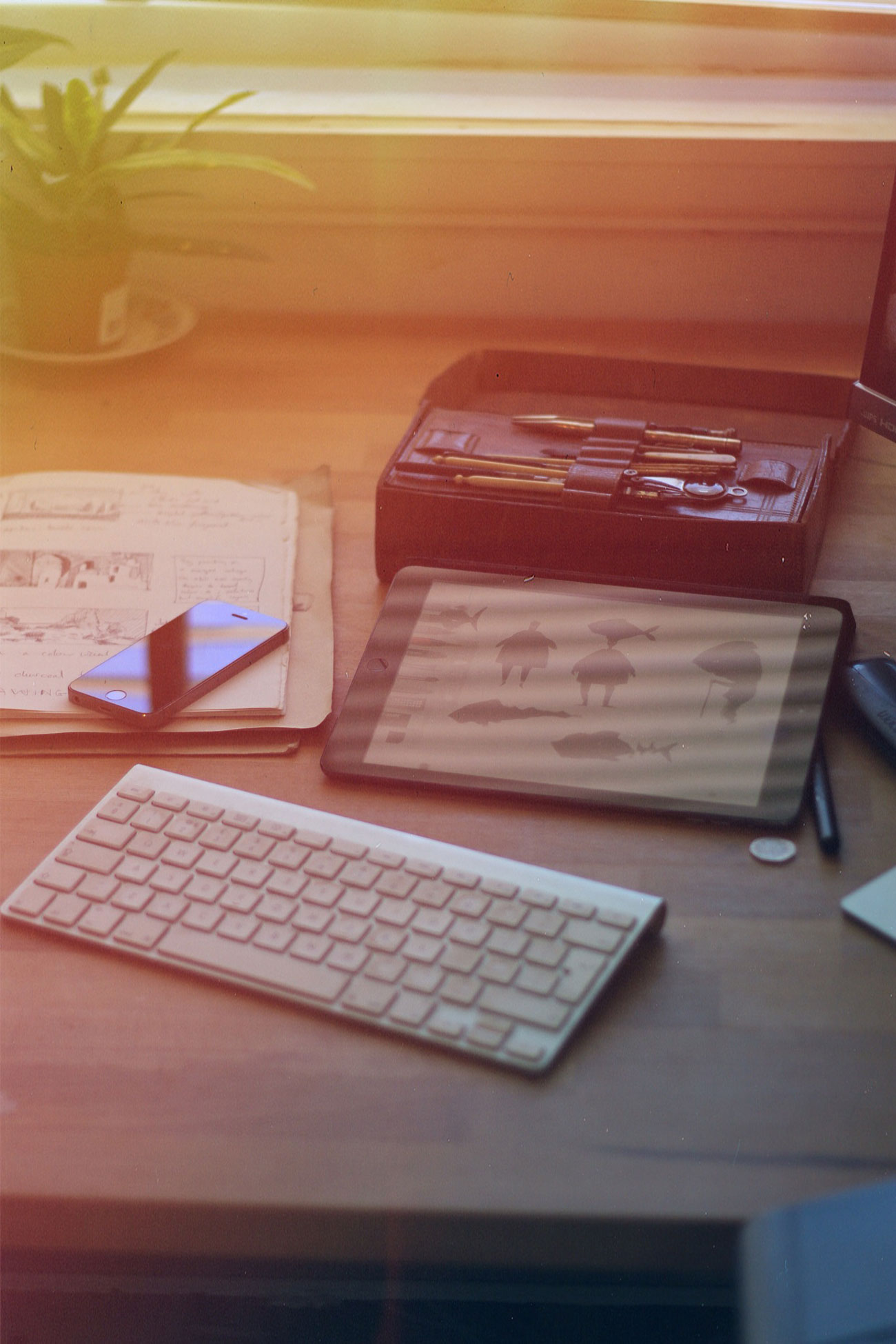 I currently use a 32GB iPhone 5S, which until recently was my main camera, but now I also have a Canon 650D with a 50mm 1.8 lens (and I barely use my phone as a camera anymore).
I use an old Doxie scanner to try and eliminate as much paper as possible.
I do actually draw on paper too, but I'm really not fussy about what sort. I'm currently using a homemade sketchbook and a Bic Biro. I also have a fairly ridiculous amount of books, which kind of goes with the job, I guess.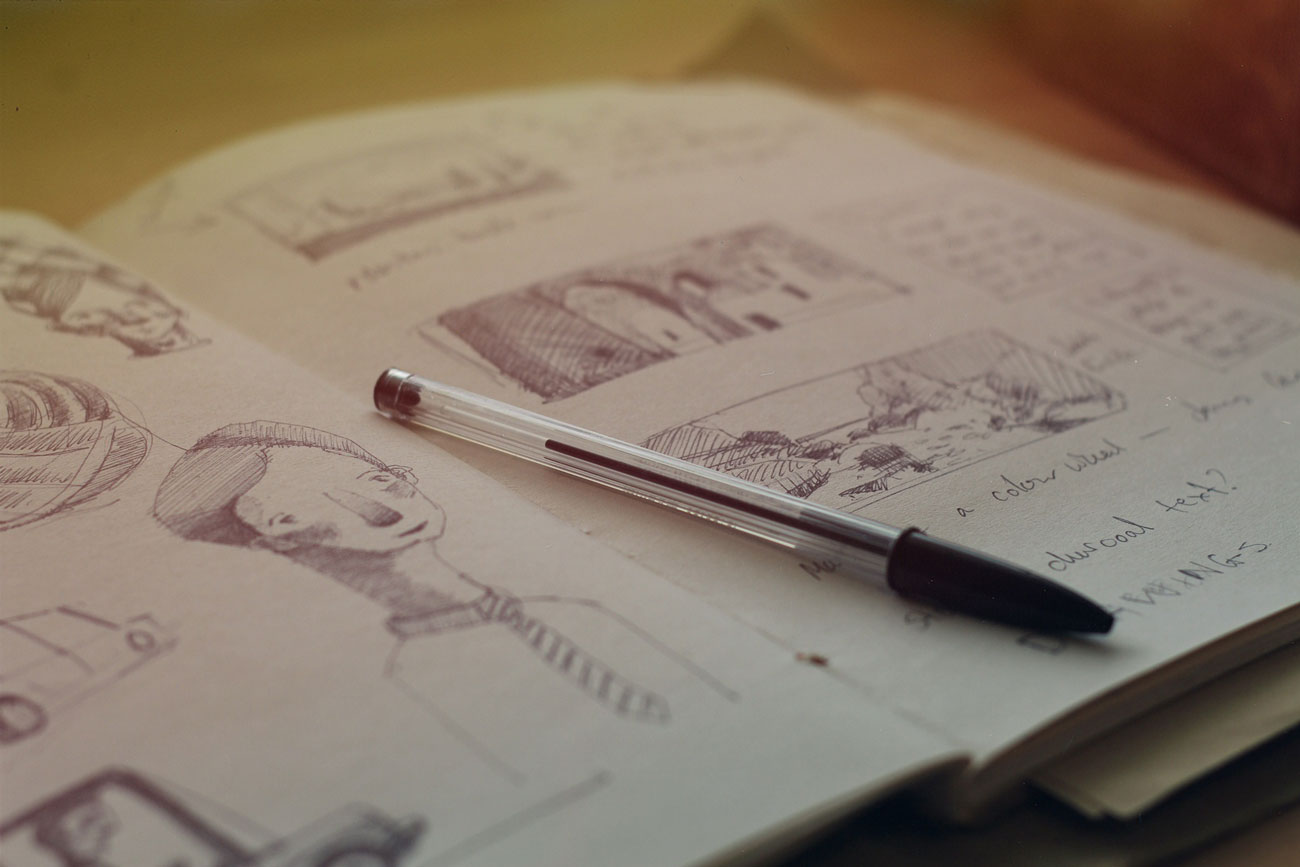 What software do you use and for what do you use it?
As a digital illustrator, I pretty much live inside Photoshop — all my illustrations are digital from sketch to finish. I create my work using layers of digital paint and photographic textures. I'm using the Creative Cloud version and despite a few worries about signing up for an ongoing subscription, I really like the way it works and how frequently it's updated. At times I've wished for a more Mac-like competitor to Photoshop as it's become a bit of a beast, but as I've used more and more of its features I'm starting to think it would be hard to ever find anything as powerful.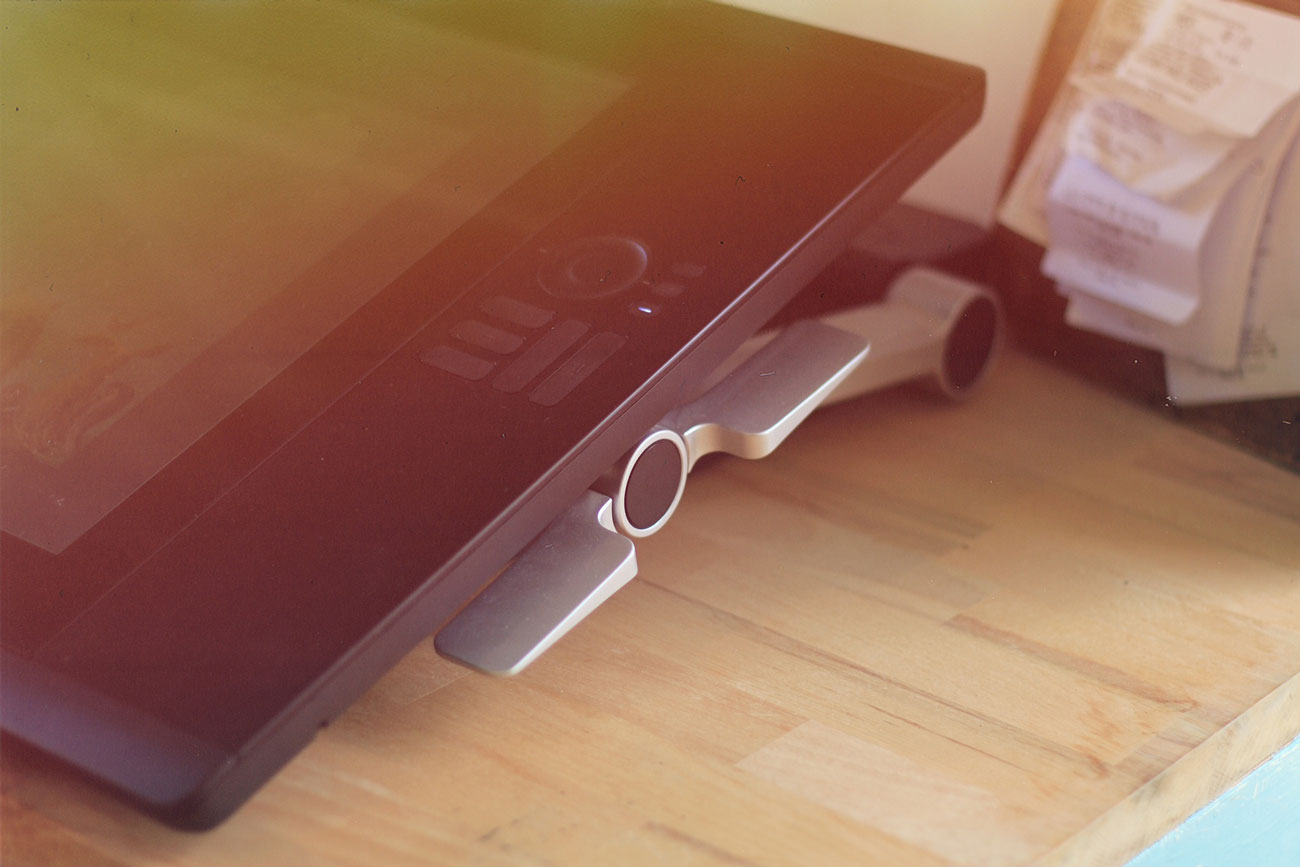 I couldn't do without Dropbox. Through a combination of cunning and trickery, I currently have a 463GB account, and I make good use of it. I keep all current projects inside it as this not only provides me with online access to my work but also creates an instant backup on my other Mac. I also use it as a file system on my iPad (although this may change with iOS 8).
I use Evernote extensively to organise all my paperwork (via my Doxie) as well as to collect, reference, and organise project files. I keep all my accounting paperwork and receipts in it (the UK's equivalent of the IRS accepts digital copies now!), as well as copies of royalty statements and contracts. I have various IFTTT recipes set up to add content to Evernote automagically and now have about 8,000 notes all able to be called up with a few keyboard strokes. I honestly cannot imagine how I would cope without it.
OmniFocus is amazing. I genuinely feel more organised and productive since I've started using it, and unlike other GTD software I've tried, I actually spend more time working and less time organising my To Do lists.
I'm a big fan of Day One (in fact I was trying to use it as a To Do list manager until I jumped to Omnifocus). I don't use it as an actual journal that much, but I do use it for any writing I have to do (including this). Being quite a visual person, I'm really drawn to using good looking software, and Day One looks SO good it makes me want to write something in it.
I take a lot of photos and was apparently in the top 1% of Everpix's users, so I was pretty gutted when they closed. I'm now using a complicated system of my own. I import all photos from my DSLR to my iPad where I edit them with Afterlight. This then means they get added to my Photostream. On my iMac I have a Hazel rule set up to watch for photos on my Photostream and copy them to a series of folders based on date taken (2014 -> 06 June etc.) on an external drive that gets mirrored every night using SuperDuper. A further rule then makes another copy of them inside my Dropbox folder. This means I have almost instant access to any recent photos from anywhere (via either Photostream or Dropbox) on any device. I only keep the last month's photos on Dropbox. I'm now also using Google Drive's 1Tb of storage to automatically upload my entire 200,000 photo collection as they're currently the cheapest deal for that kind of storage. I'm looking forward to simplifying this a lot with iOS 8 and OS X Yosemite.
On iOS I use Reeder for keeping up with RSS feeds as well as the iOS versions of Evernote, Day One and Dropbox (where's OmniFocus gone?!). I've been posting a lot of my work to a Facebook Page recently and I use the iPad app for most of this. For sketching I use Paper by Studio 53, Procreate, Sketches and Adobe Sketch, the breadth and quality of drawing apps on iOS is staggering. As I mentioned before, I use Afterlight for any photo editing.
How would your ideal setup look and function?
In a lot of ways I'm fairly close. The Wacom Cintiq 24HD is pretty much the ultimate in digital drawing (although I really wouldn't say no to a 32" version). A Mac Pro would be nice, but to be honest I'd probably get better value out of two or three Mac Minis for the same price. Top of my wish list would be an iPad Pro, a 12"-13" device the same thickness as the Air but with true Wacom quality pressure sensitivity built in and a suite of Adobe Pro apps specifically designed to take advantage of it. It would be the ultimate digital sketchbook — sadly, it seems unlikely Apple would ever make such a device. Microsoft's Surface 3 comes close, but I'm put off by Windows 8. I'm sure plenty of artists and designers aren't, though, and I can see Apple losing a lot of creative professionals to Surface-type devices in the future.
The other thing I'd love is a bigger screen. It seems bizarre that you can buy 100"+ TV's, but monitors top out at 27" if you want decent resolution. As an artist, I'd love the opportunity to work on larger scale pieces but currently I'm stuck looking at them through the relatively small screens we have today.
---
There are more Sweet Setup interviews right here.