Jacob Terry's Mac, iOS, and Watch setup
June 5, 2017
Every week we post a new interview with someone about what software they use on their Mac, iPhone, or iPad. We do these interviews because not only are they fun, but a glimpse into what tools someone uses and how they use those tools can spark our imagination and give us an idea or insight into how we can do things better.
New setup interviews are posted every Monday; follow us on RSS or Twitter to stay up to date.
---
Who are you and what do you do?
My name is Jacob Terry, and I am a graduate student studying for my master's degree in civil engineering at the University of Waterloo. I work in the transport economics research group, with my studies examining the funding mechanisms for transportation infrastructure in Canadian cities.
Outside of school, I play video games and balance staying healthy with my intense love of food.
What is your current setup?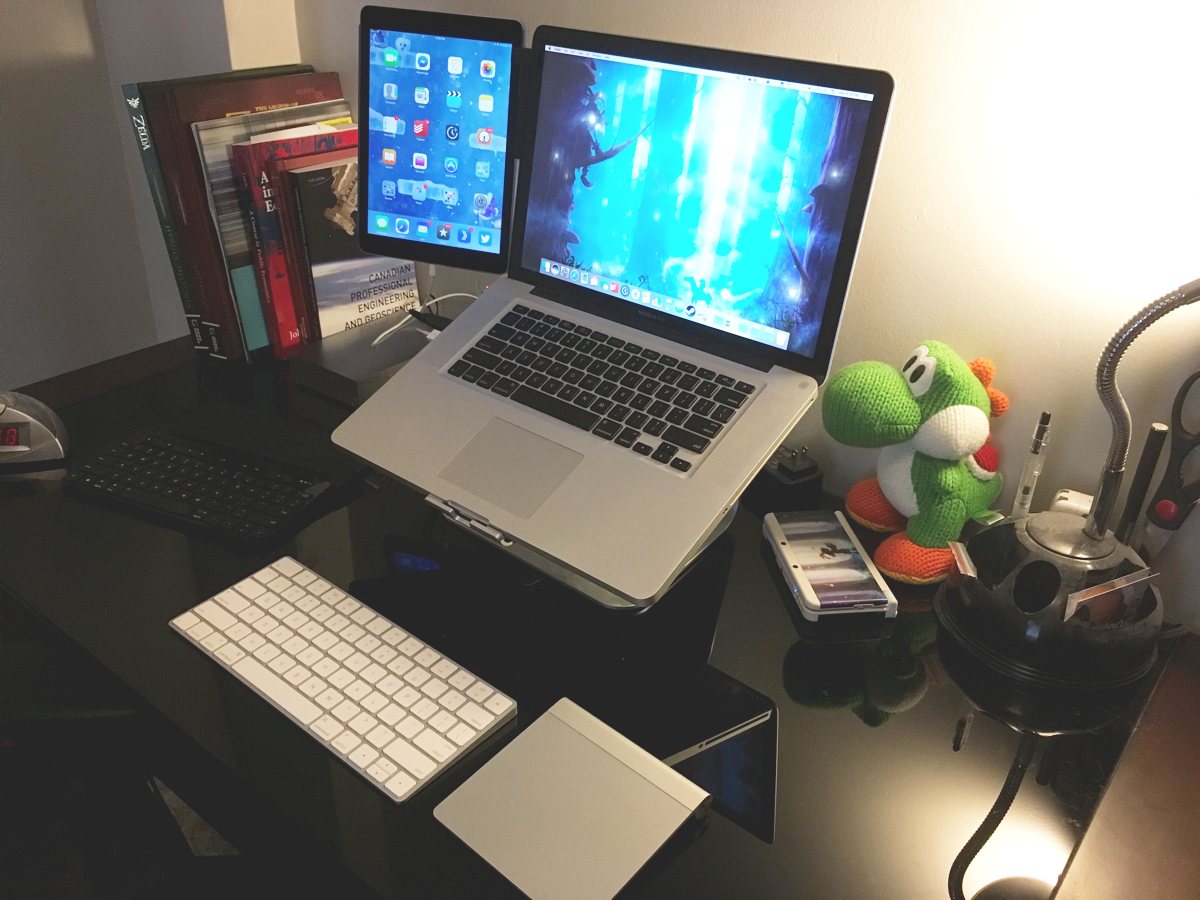 I have two effective workspaces. One is my desk at home, which is pictured here, and the other is my office on campus. I use a Mid-2010 15″ MacBook Pro, which has served me well with a few physical and digital bumps for 7 years since I left high school. It has a 2.66 GHz Core i7 with 8 GB of RAM and a 500 GB Samsung 850 EVO SSD. I'm not sure when I'll replace it (with an iMac or a MacBook), but it still works incredibly well. I back up to a 2 TB Seagate Backup Plus for Mac using Time Machine when I remember. At home, I use a Magic Keyboard and a Magic Trackpad. The Magic Trackpad 2 is much better than the one I'm using (because it can only be used on flat surfaces), but I've read that the new one doesn't play as nicely with older laptops.
I like to keep the number of physical objects I need to keep track of pretty low, so I use my iPad Air 2 as a second monitor instead of a proper display, which is connected to my MacBook Pro display using a Mountie, an excellent little clip from Ten One Designs.
My office desk isn't pictured because it's pretty boring; all that sits on it is my desk phone and my MacBook Pro sitting on a ParcSlope, which is the best laptop stand I've ever used. I also have a HoverBar for my iPad, also from Twelve South, which was recently discontinued. It served a good purpose, but I found it got in the way when I needed to share more of my desk during office hours with students, and the HoverBar clips were a little flimsy and fragile. Now, I use the Mountie instead to attach my iPad.
Where can we find your macOS wallpaper?
All of my wallpapers come from Orioto, who paints scenes from games and movies. This one is "Masked Thief".
What software do you use and for what do you use it?
Most of my software is chosen so that I can use it from any of my devices, so I'll focus on the ones I use more frequently on my Mac vs. my other devices, but they do tend to cross over a lot.
Of Apple's apps, I use Safari, Mail, Calendar and Messages quite frequently. I also use Pages, Numbers, and Keynote when I need to work on documents and spreadsheets for my degree, and to prepare presentations for tutorials and conferences. The major exception to this is when I'm writing manuscripts, where I use Word for convenience and compatibility with journals.
Todoist: This great little task manager took me a while to try. I used to use more complex GTD-style apps like OmniFocus or Things, but this one integrates with my time tracker, is extremely elegant, and has a good rescheduling and karma system to motivate the completionist in me.
Timely: Timely works like my brain, and I'm so happy I found it. It's a great time tracker that lets you plan out time you're going to spend working and attach working time to real-world hours. It has noticeably helped make my time management much better.
Atom: I got Atom on recommendation from a software engineer I know, and I use it for all my Python coding, and most other cases where I write code.
Papers: I was advised by one of my professors to pick a reference manager early in my grad studies and to stick with it, so I chose Papers. It works on macOS and iOS, and works great. On my Mac, I usually use it to add new citations or to organize them.
Duet: I use this in conjunction with the iOS version so that I can use my iPad as a second display when I need the screen real estate.
How would your ideal setup look and function?
My current setup is pretty good considering my budget, but my ideal setup would include an iPad Pro when I'm away from my desk and an iMac with a desktop class graphics card so I can play through some more recent games.
---
What iPhone do you have?
I have a 64GB Space Gray iPhone SE, in a Spigen case I got on Amazon. I like cases that take up minimal space and blend well with the phone. My phones prior to this one were the iPhone 4 and the iPhone 6, and I did not enjoy going to the larger phone size, so the SE has been a very happy purchase for me.
Where can we find your wallpaper online?
This is Orioto's "Dawn of Adventure: Playing with the Moon".
What apps do you use the most, and why?
Overcast: It oddly syncs with my other devices much better than the built-in Podcasts app. I'm disappointed there's no Mac app, though. It's also an excellent app.
Transit: The most important thing for me is the ability to see when the next buses are coming near me, and Transit is able to do this extremely simply with real-time data.
Snapchat: For communicating with my friends.
Messages & Facebook Messenger: iMessage for people with Apple devices, which is an amazing messaging service, and Facebook Messenger for everyone else.
Lifesum: I use this to track my food intake, pretty regularly, in conjunction with the rest of the health suite of applications I use on my phone (Withings Health Mate for my scale, Activity for Apple Watch integration, Health to bring everything together).
Wallet: Because paying for things with your phone is still so amazing to me.
Which app could you not live without?
Other than Messages, it would be Transit. I rely on transit almost daily and it works better and faster than Google or Apple's offerings 99% of the time.
---
Which iPad do you have?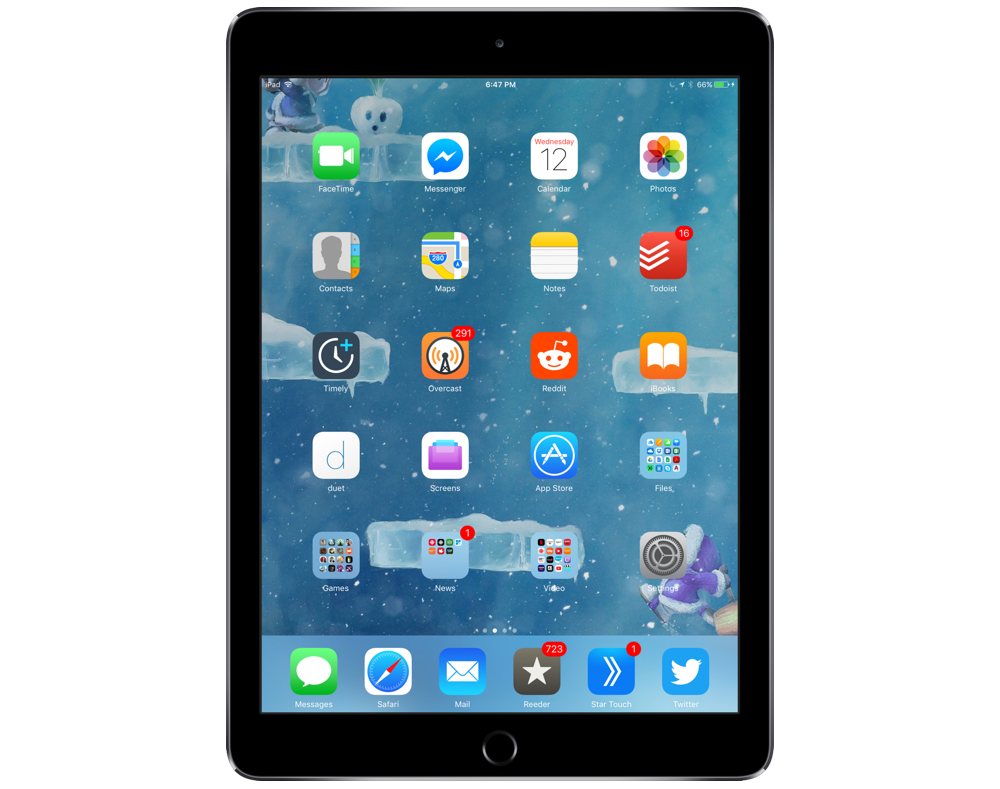 I have a 64 GB Space Gray iPad Air 2 with a blue Smart Cover.
Where can we find your wallpaper online?
This is Orioto's Ice Climber.
How are you using your iPad on a daily basis?
I love how much lighter it is than my Mac, so I've tried using it to replace my Mac where I can. With this in mind, I mainly use it as a couch/bed browsing and watching device, a second screen for my computer, and a more portable computer that I can take to meetings and on short term travels where I don't need my Mac.
What apps do you use the most, and why?
I use some of the ones that I use on my Mac and iPhone, but the apps more unique to my iPad are:
If I could give a "most improved" award, Pages/Numbers/Keynote have noticeably become much better on iPad with each update, to the point where I'm using them more frequently than I used to on this device. I also use Papers here when I need to view documents, because it's easier to quickly rotate on my display when articles or documents are laid out in multiple orientations.
Which app could you not live without?
Likely Overcast and Netflix. The part I most love my iPad for is its consumption abilities, and it does well in that area.
---
Which Apple Watch do you have?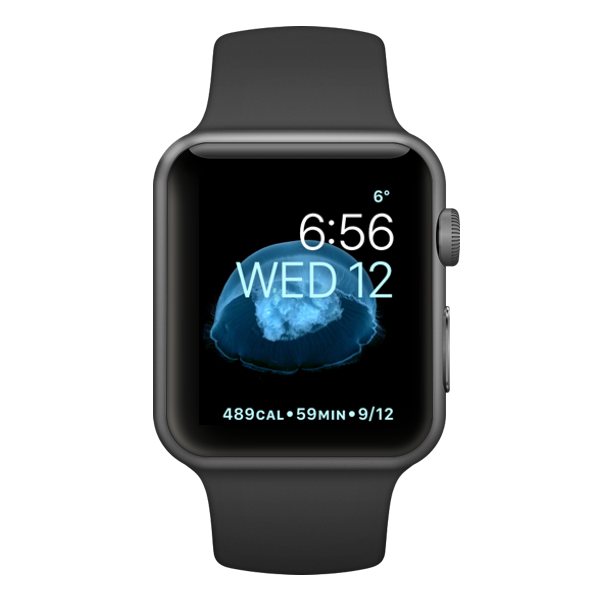 I have an original 42 mm Space Gray Apple Watch Sport, with the standard black Sport Band.
What face and complications do you use?
I use the Motion watch face with the jellyfish. I put on the temperature and activity complications so I can quickly check how well I'm doing at clearing those rings, and whether I need to put on a jacket before I leave the house.
How are you using your Apple Watch on a daily basis?
I use it mainly as a notification and fitness device. I like having it because I don't have to constantly check my phone when I feel a vibration. It's also helped me greatly to keep active. I always feel really guilty if I don't meet my fitness goals.
What apps do you use the most, and why?
I use Activity and Fitness the most. I find some of the other applications are still too slow, to the point where it's quicker for me to usually just grab my phone and do the same task. This might be because I have the first-generation Apple Watch, though. I also find I don't use the dock as often as I should, probably because I'm still used to the dock button being the friends button, which I didn't use that frequently. I do actually use the Scribble feature in Messages pretty often if I only need to type out a short little message. It's able to process multiple letters at a time, and it works incredibly fast.
---
There are more Sweet Setup interviews right here.
Want to share your setup? We'd love to hear from you. Just fill out this form with some basic information and we'll be in touch.
---
Wait. There's a Bonus….
Custom Productivity Templates
We have a set of custom productivity templates that work well with the iPad app, GoodNotes. And if you want to try them out, we've put together a free guide that can help you.
We'll show you…
How to create and save custom page templates in GoodNotes.
How to use those page templates to transform GoodNotes into your own productivity notebook (or any other type of notebook replacement).
Plus, we also have included a couple of our custom productivity templates for you to get started with. These templates are right out of our popular productivity course.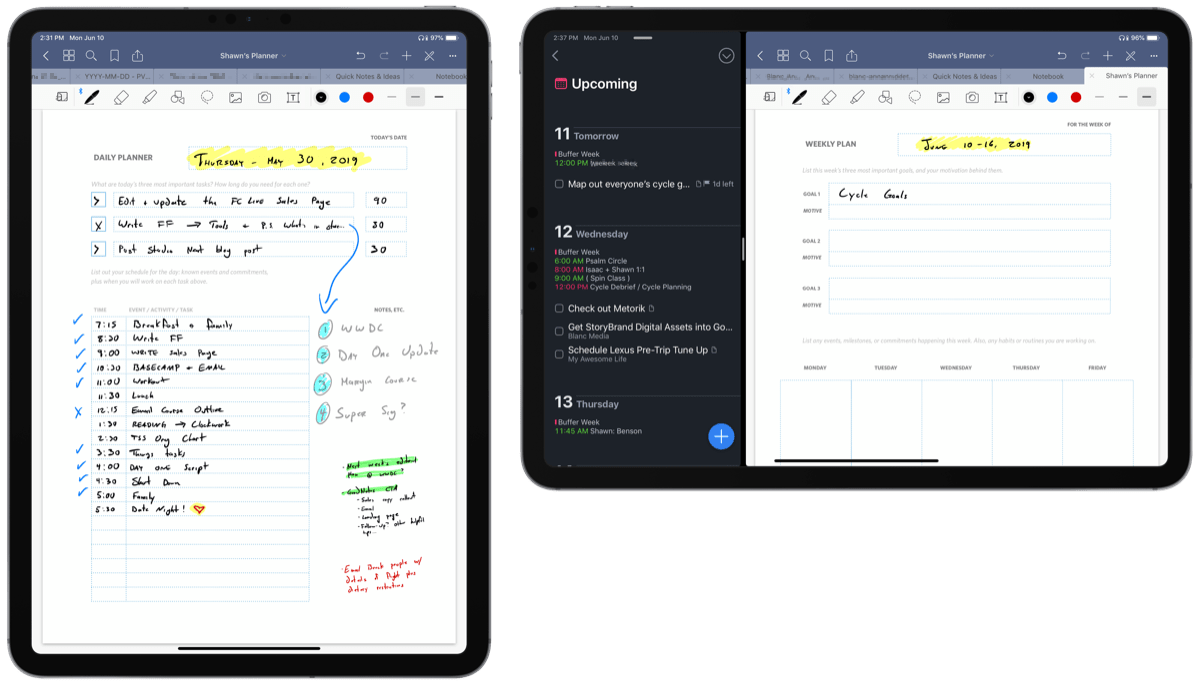 The custom templates and the guide are available for FREE to our email subscriber community. And you can get it right now. By joining the Sweet Setup community you'll also get access to our other guides, early previews to big new reviews and workflow articles we are working on, weekly roundups of our best content, and more.