Jackson Hayes' Mac and iPhone Setup
October 15, 2018
Every week, we post a new interview with someone about what software they use on their Mac, iPhone, or iPad. We do these interviews because not only are they fun, but a glimpse into what tools someone uses and how they use those tools can spark our imagination and give us an idea or insight into how we can do things better.
New setup interviews are posted every Monday; follow us on RSS or Twitter to stay up to date.
---
Who are you and what do you do?
My name is Jackson Hayes and I'm a 17-year-old cinematographer, photographer, and sometimes front-end web developer (yes, in that order; yes, it's a weird combo). Over on YouTube, I make videos about technology. Recently, after my switch into the Apple ecosystem, more and more of my videos have focused on Apple technology. That said, I do sometimes miss the freedom and flexibility that Android can offer. I owned a Pixel 2 XL before my iPhone X. The Pixel crapped out on me, hence the switch. And no, I'm not the least bit tempted by the XS or XR.
Recently, I started making videos for Android Police, and I picked up the Essential Phone, which I love. However, my daily driver is still the iPhone X.
As an occasional freelance web developer, I've done work for clients all over the world, from companies in Australia to businesses here in the United States. Some notable clients that some readers may know (although they are a tad better known over in Android-land): XDA Developers, Digital Ashes (Action Launcher), and Teslacoil Apps.
What is your current setup?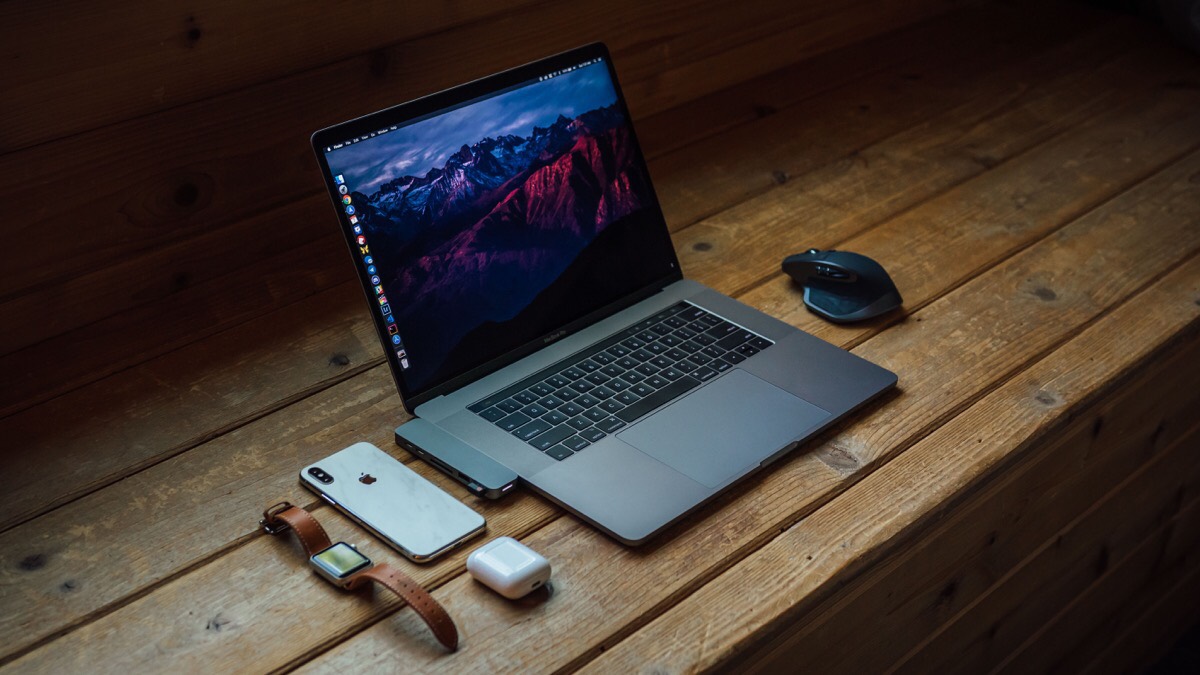 Right now, I'm rocking the 15″ 2018 MacBook Pro, and it's been fantastic so far. It's the 2.2Ghz 6-core i7, 16GB RAM, 512GB SSD, Radeon 555X configuration in Space Gray.
Crazy story though: about a month ago, I purchased a 2016 MacBook Pro, almost fully spec-ed out. I purchased it mainly because it was so much cheaper than an equivalent 2017 model, and the performance increases weren't too amazing. The fact that the keyboard was covered under the repair program made me feel like I'd be fine.
Of course, two days later after it arrived at my doorstep, Apple just HAD to announce the 2018 revision. Since the performance increases were substantial, and there was a chance that the keyboard was "fixed," I decided to upgrade. I initiated the return process with B&H, and shipped the laptop back on the 1st of August. Days went by. Then weeks. During this entire time, I had no computer. Finally, on the 23rd, I was refunded. Since I already had the 2018 MacBook Pro configuration in my cart on Apple.com, I went ahead and ordered it.
A week later it arrived… with a broken screen. This was a brand-new, direct from Apple, MacBook Pro. I contacted Apple, and after a bit of hassle, I was able to return the defective unit, and a few days later, on the 10th of September, I received a working 2018 MacBook Pro.
I also grabbed the HyperDrive, as uh… #donglelyfe? Haha. The Logitech MX Master 2S has been an awesome addition to this setup as well. It's seriously the best mouse I've ever used.
Fun fact: the angled flat-lay photo with all my gear in it, was technically shot while I had the 2016 MacBook Pro for a short period of time. But since a) the 2018 model is virtually identical and b) I just like the photo, I used it anyway for this post.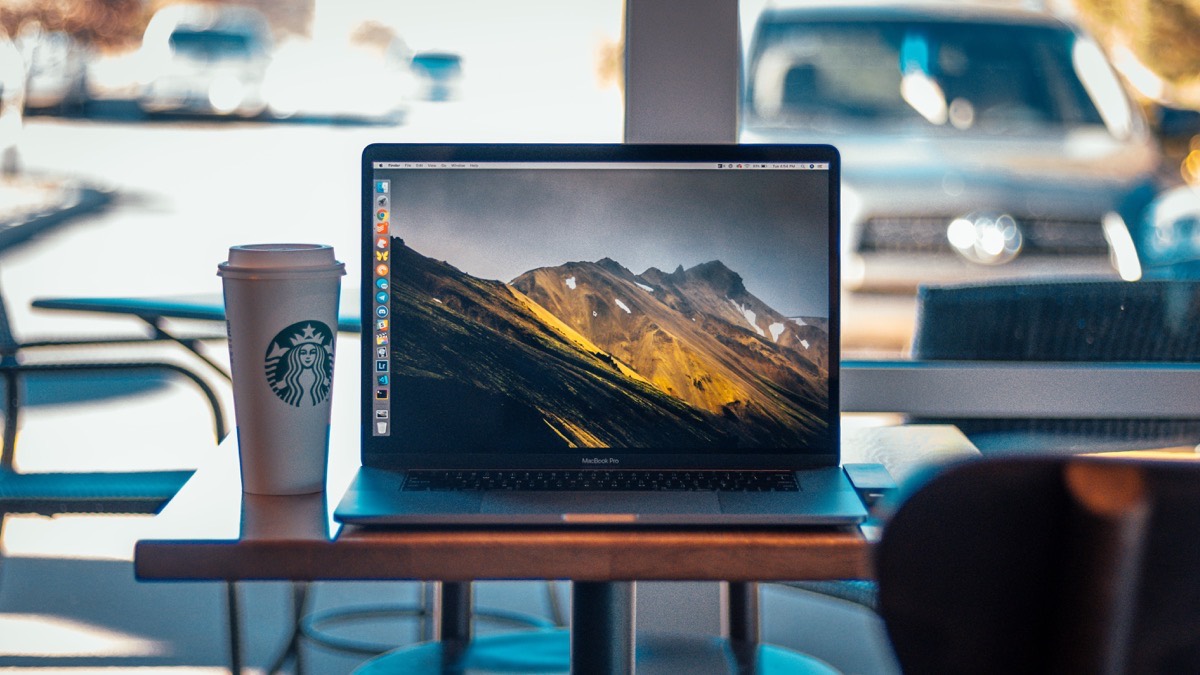 Where can we find your macOS wallpaper?
I got it from Unsplash (a fantastic resource for wallpapers), and you can find it here. The other wallpaper was also from Unsplash, but unfortunately, I couldn't find a link.
What software do you use and for what do you use it?
How would your ideal setup look and function?
Right now, I think I've got a pretty sweet setup, to be totally honest. I'd love to get a nice USB-C Monitor, but those can cost upwards of $800, so I'm going to hold off on that right now. Not trying to brag, but with an iPhone X, MacBook Pro, Apple Watch (Series 1, so not amazing, but whatever), and AirPods, I've kinda got the setup.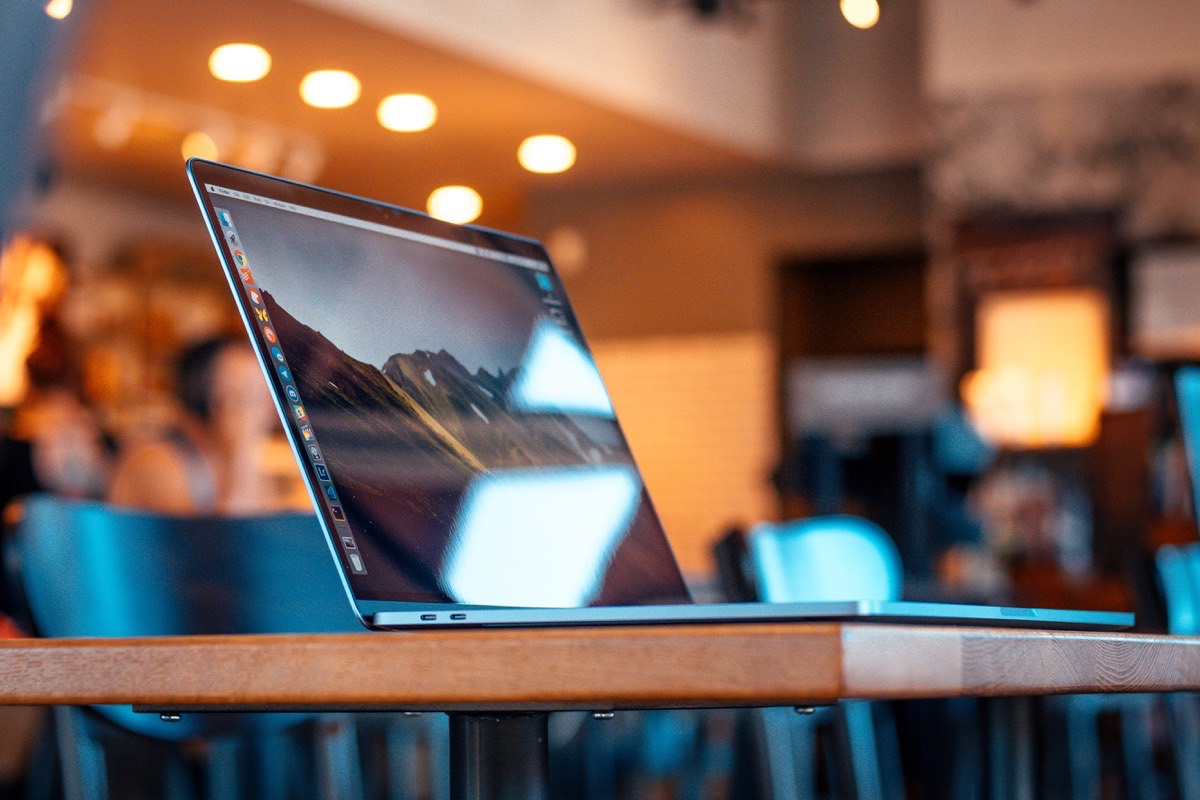 Of course, we'll have to see about this MacBook Pro keyboard. I am a tad nervous that it will decide to give me a hard time someday despite the membrane under the keys, but we'll see. Hopefully it doesn't, but you never know.
---
What iPhone do you have?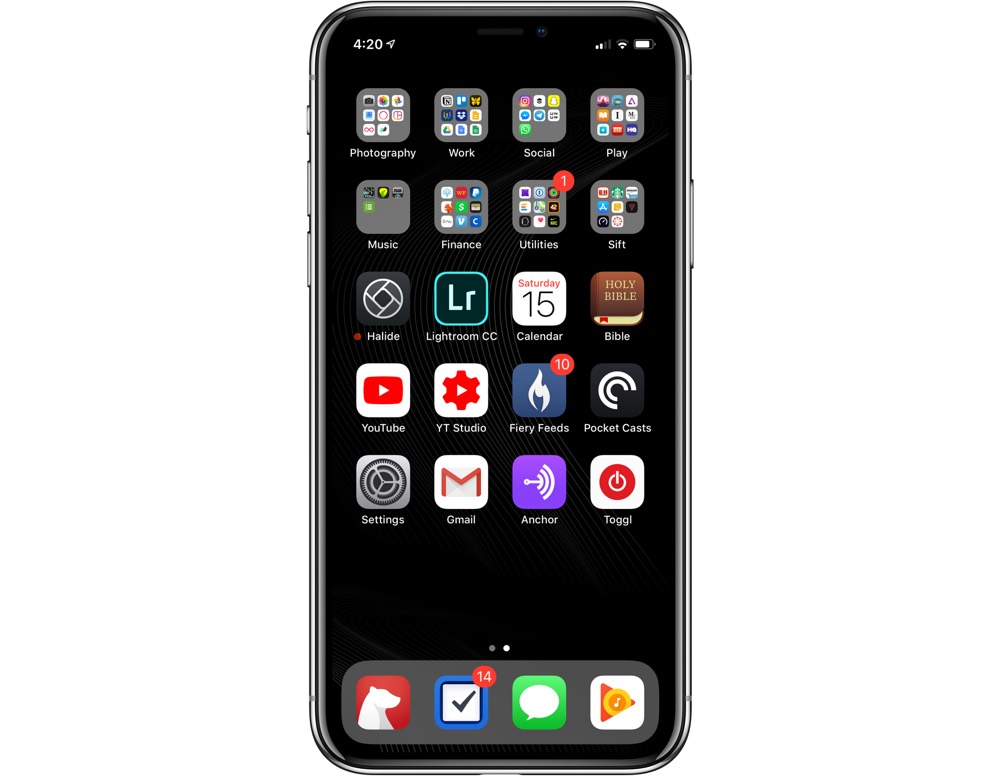 I have the 64GB iPhone X in Silver, and I'm perfectly happy with it.
Where can we find your wallpaper online?
My wallpaper was created by a designer working at Doist by the name of Alex Muench. Doist is the company behind Todoist and Twist. Thanks to the fact that the iPhone X boasts a gorgeous OLED display, this dark wallpaper looks absolutely stunning. You can download it here.
What apps do you use the most, and why?
Halide is an incredible manual camera app that really redefines mobile photography software, in my opinion. It's thoughtfully designed and has this tactile feel to it that makes it operate like a DSLR. I like to think that if a DSLR was turned into an app, Halide would be the result.
Pocket Casts is the best podcast app, hands down. It's got cloud sync, sexy design, stats, and other great features.
Ulysses, Bear, and Things are all quite frequently used for all the reasons I mentioned in the Mac apps section.
A lot of this might sound like a repeat of the apps I covered with regards to those I covered for macOS, but that's because the desktop apps work really well with their mobile counterparts.
I've actually made a couple YouTube videos covering my favorite apps on iOS, but that's the gist of it.
One thing that I'm quite liking on my iPhone X is my home screen organization. I was watching a video by Thomas Frank of College Info Geek, and his setup really appealed to me. I adapted it a bit, as you can see here. You may notice that I only have one page. I recently decided to consolidate everything down to a solitary page, with folders at the top and my frequent apps in a 4×3 grid. In my dock are my most-used apps, except for Messages. I may phase that one out of the dock, but there's a weird psychological bias I have toward keeping the Messages app in my dock. It's weird.
At the top are two rows of folders representing general categories. Ideally, I'd have only one row, but I haven't been able to figure that out quite yet.
I like this home screen setup as it takes a bit of a minimalist approach to the mess of icons that is the average iPhone home screen. On Android, it's easy to hide the apps that you have installed but don't frequently use, but on iOS, every single app must live somewhere on the home screen. Working with that limitation can sometimes be a bit annoying, but it requires careful thought, and I found organizing my icons quite enjoyable.
Which app could you not live without?
My to-do list app, Things, is absolutely vital to my workflow. Not only is Thing's design language absolutely stunning, but the app helps me get the things I need to get done, done. All of my YouTube videos, web development projects, and personal tasks are plotted out in this app, and it's saved my bacon many times, helping me remember things that I would have otherwise completely forgotten. It's awesome and totally worth the price (including the Mac app)!
---
There are more Sweet Setup interviews right here.
Want to share your setup? We'd love to hear from you. Just fill out this form with some basic information and we'll be in touch.
---
Wait. There's a Bonus….
Custom Productivity Templates
We have a set of custom productivity templates that work well with the iPad app, GoodNotes. And if you want to try them out, we've put together a free guide that can help you.
We'll show you…
How to create and save custom page templates in GoodNotes.
How to use those page templates to transform GoodNotes into your own productivity notebook (or any other type of notebook replacement).
Plus, we also have included a couple of our custom productivity templates for you to get started with. These templates are right out of our popular productivity course.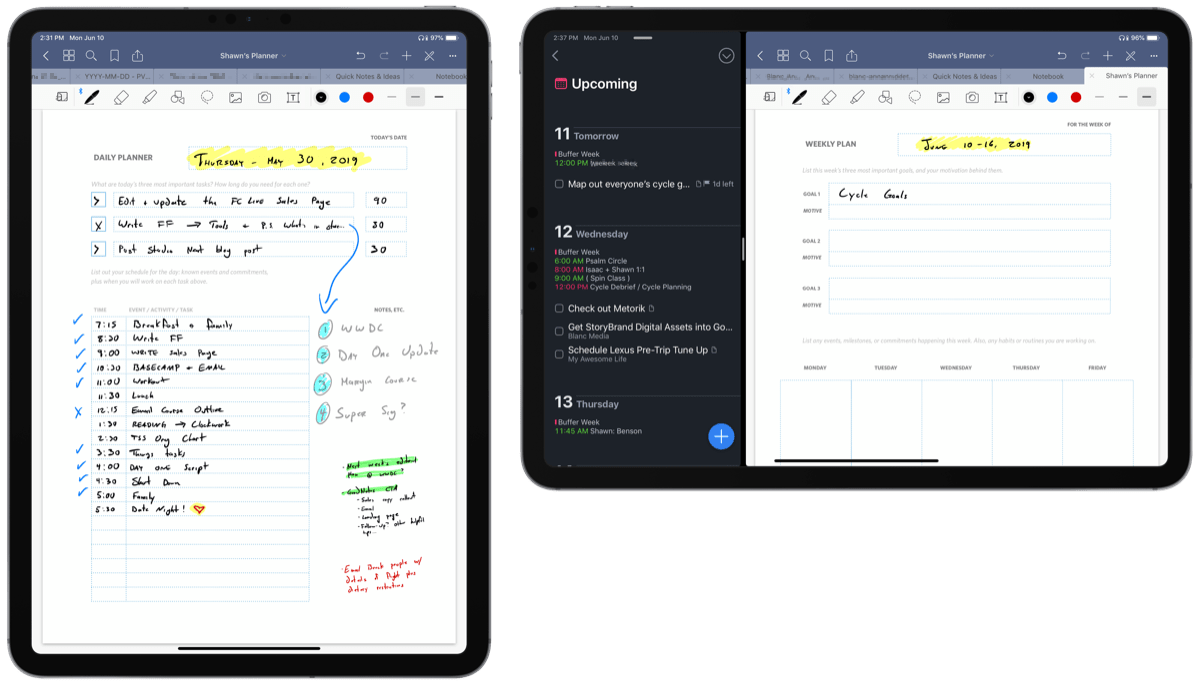 The custom templates and the guide are available for FREE to our email subscriber community. And you can get it right now. By joining the Sweet Setup community you'll also get access to our other guides, early previews to big new reviews and workflow articles we are working on, weekly roundups of our best content, and more.