Introducing Do Not Disturb 🌙
July 13, 2023
Did you miss the big announcement yesterday?
Starting NOW, you can officially enroll in our upcoming LIVE Focus Booster — Do Not Disturb!
Do Not Disturb is a 3-part live online workshop that gives you a system for unlocking creative momentum and shutting out the distractions that derail your most important work.
You know that button on your phone that silences all the annoying dings, alerts, and notifications?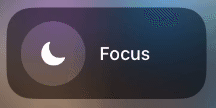 The Do Not Disturb Focus Booster is like installing that button across your whole life — so you can tap into peak productivity at a moment's notice (and actually sustain it).
Just like all the other Focus Boosters we've done this year, Do Not Disturb is 100% free for our Focus Accelerator members (who also have access to our complete library of courses, live coaching calls, our Digital Planner, a private Slack community, and much more).
Not a member yet? Click here to hop in so you can join us for Do Not Disturb!
"Sounds cool, Shawn! But remind me…what's a Focus Booster again?" 🤔
Focus Boosters are themed challenges for our growing community of 350 Focus Accelerator members. Each Booster is designed to help you level up in a specific area of task, time, and idea management.
Our Do Not Disturb Focus Booster is our fourth of 2023, and it's built for anyone who wants to develop the kind of deep work discipline needed to squeeze the most out of your available hours every day.
The first live coaching call will be on Tuesday, July 18. Join the Focus Accelerator Membership today and we'll save you a spot!
Over the course of three weeks, you'll refresh your system for managing distractions and maintaining flow:
Week #1: The Distraction Detox → Discover how to manage the daily onslaught of notifications, overflowing inboxes, and false urgency that drain your focus.
Week #2: Find Your Flow → Develop a process for quickly getting "in the zone" so you can go from random acts of busywork to consistent daily progress.
Week #3: Dive into Deep Work → Level up your focus skills so you can be as productive as possible during the time you have available.
If distractions and competing priorities are constantly sidetracking you from meaningful work, it's time to change things up.
Click here to join our Focus Accelerator Membership and get access to join us for the Do Not Disturb Focus Booster.
Once you're inside Focus Accelerator, you'll be able to:
Join us live for the Do Not Disturb coaching calls.
Access the replays if you're not able to make them live.
Share your progress, ideas, and questions inside the private Slack community.
See you on the inside!
— Shawn
P.S. In addition to free access to this month's Do Not Disturb Focus Booster, your Focus Accelerator Membership also gets you a TON of extra perks.
You'll immediately have access to everything in our library of courses, tools, and resources, including:
The Focus Course
The Margin Course
Calm Inbox
Simple Habits
Learn Ulysses
All The Things
Learn GoodNotes
Mastering Mind Maps
To Obsidian and Beyond
The Creative Focus Summit
The Personal Retreat Workshop
Time Management Masterclass
The 8-Week Work Cycles (NEW workshop)
Plan Your Year Workbook + Workshop
Time-Blocking and Time Tracking Course
Sensemaking & PKM with Nick Milo
The Do Half workshop with Sarah Peck
How to Say No workshop with Sarah Peck
Notion for Goal Setting with Marie Poulin
Startup and Shutdown Routines with David Sparks
You'll also get instant access to all the productivity templates, workbooks, and tools included inside each course!
The membership comes with both online and in-person coaching and community. You'll also get:
A free ticket to our annual, in-person conference in Kansas City.
2x monthly Coaching Calls: You'll have a direct line to me and my Focus Team so we can dive deep into any challenge or obstacle you're facing.
Private Slack community: A place to get feedback, support, and tips from the entire community of Accelerator members to get world-class feedback and insights on task, time, and idea management.
So if you want to participate in our Do Not Disturb Focus Booster, join today!