Ian Patrick Hines' sweet Mac setup
March 10, 2014
Every week we post a new interview with someone about what software they use on their Mac, iPhone, or iPad. We do these interviews because not only are they fun, but a glimpse into what tools someone uses and how they use those tools can spark our imagination and give us an idea or insight into how we can do things better.
New setup interviews are posted every Monday; follow us on RSS or Twitter to stay up to date, or subscribe to our weekly email newsletter.
---
Who are you and what do you do?
My name is Ian Patrick Hines. I'm a Certified NationBuilder Expert & Architect. That means that I am a front-end developer that makes exceptional NationBuilder websites.
I also host a podcast — With Families — where I talk about time, attention, and family. I'm a stay-at-home dad, with three small children — two boys and one girl — all under the age of five.
What is your current setup?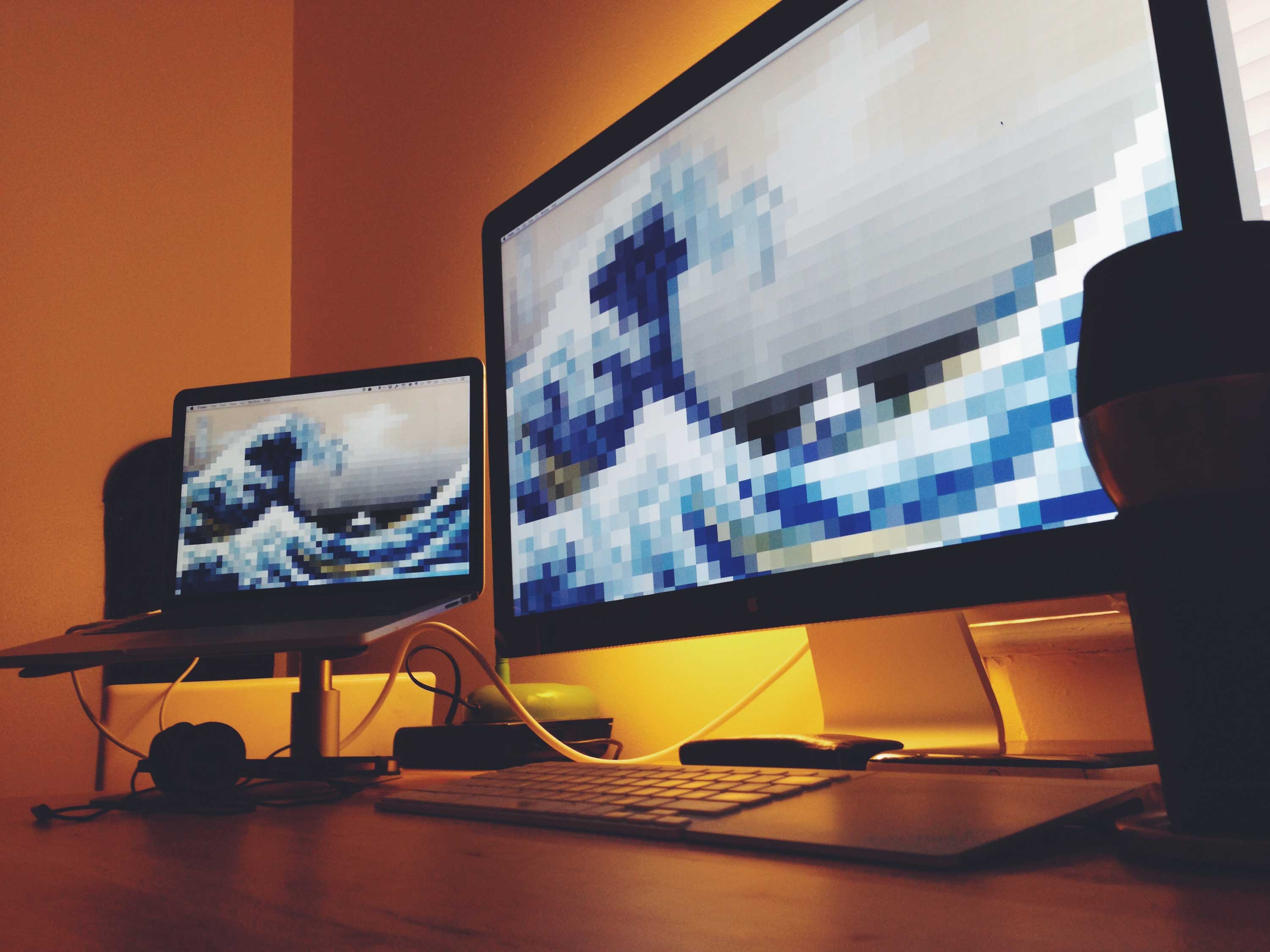 Editor's note: You can find Ian's wallpaper here.
I should also say that I was previously interviewed for Shawn Blanc's Sweet Setup series back in 2009. Essentially nothing about my setup — or my professional life — is the same as it was back then. In a way, these interviews serve as a sort of metaphorical time capsule.
In 2009, I was a political appointee of the Mayor of Baltimore and my "setup" was primarily for personal recreational use. Now, I work at home in a bedroom-turned-office on our second floor, with my children playing downstairs. Outside of my family, my setup is the alpha and the omega. It is one of the first and last things I interact with each day. (I often work long hours.)
The most important part of my setup is the door: without being able to close the door, I'd do little of consequence. It is my first line of defense in a home full of happy distractions and — having worked without one for years — I am grateful for it.
With the door closed, I sit on an inflatable exercise ball from Target. Perhaps I'll get a fancy desk chair one day, but for now the ball is more than adequate. My desk is — in fact — a kitchen table from Ikea. I love the texture of it, and it's just the right size to hold all of my gear while still keeping some negative space. I also can't help but think that it looks reminiscent of the tables you see in Apple stores, which I love. I suspect that is why I chose it.
Tech-wise, I work on a 13" retina MacBook Pro that I bought last November. To be quite honest, I couldn't have told you its hardware stats off the top of my head. It wasn't the base model, but it wasn't the most expensive, either. It was what I could afford, and it was quite the upgrade from my early 2009 13" MacBook. I love using it every day.
(If you must know, I checked the stats. It's got a 2.5 GHz Intel Core i5 processor, 8 GB of 1600 MHz DDR3 RAM, and a 256 GB SSD.)
The MacBook sits on a HiRise stand by TwelveSouth and next to a 27" Apple Thunderbolt Display. Let me be clear: the Thunderbolt Display is an expensive indulgence, but one I recommend if you can afford it. It is the best display I have ever used or seen, bar none. Behind the display is a window; it is behind the display so that it doesn't cause a glare.
I also use an Apple Wireless Keyboard and a Magic Trackpad. I make no apologies for using either of these devices. They are well crafted, reliable, and perfect for my needs.
I adore my Sennheiser PX 200-II i headphones, which I bought on the recommendation of Marco Arment. They have served me well for at least two years, and I recommend them, as well.
Last — but not least — is my cup of hot, black tea. I always have a cup of hot, black tea.
What software do you use and for what do you use it?
Without a doubt, the most important piece of software in my stack is NationBuilder. Since I make my living as a NationBuilder developer and consultant, I've chosen to dogfood it in every way possible. It powers my website, serves as my CRM, and handles my client invoicing. It is my cornerstone.
I use Google Chrome for my browser because it has proven to be the most reliable and useful in web development. As someone who designs and develops in the browser, this is essential for me.
I develop in Sublime Text 2, which I love for its simplicity. I write my code by hand, and Sublime Text is good for that. If you're a Sublime Text user yourself, you might be curious which theme I use. It's called Flatland Alt, and it is beautiful.
For task and project management, I use Asana. I have used several task management systems over the past few years, and Asana is my favorite. It allows me to track everything that I need to do, as well as collaborate with clients and friends on a project-by-project basis. They also have a stellar team, frequent feature releases, and an inspiring corporate mission. Let's just say that I'm a pretty big fan.
It seems tedious to itemize every piece of software that I use, and I won't bore you with the minutia of each. Here is a short list of other apps that I use on a daily basis:
How would your ideal setup look and function?
My setup is almost perfect exactly as it is.
If I could do anything, I suppose that I would buy a proper desk chair, and perhaps add a loveseat so that I don't always have to work at the desk. It would be nice to be able to lean back while I work.
I'm also looking forward to getting some artwork up on the walls. I'm particularly looking forward to this Tangram States Poster by Ryan Arruda, which is just stunning. But I'm trying to be intentional about my choices with artwork, so that will proceed slowly.
I suspect that my podcast listeners would appreciate improved sound quality, so I'm planning to buy a Yeti. The microphone, of course — not an actual yeti.
But these are all little things: details. If nothing were to change with my setup at all, I would continue to be a happy and blessed man.
---
There are more Sweet Setup interviews right here.