How to Use Apple Notes to Save Highlights
October 12, 2023
If you don't believe personal knowledge management (PKM) isn't in a hayday right now, go check out ToolFinder.co. You're going to find the very best apps for note-taking, emailing, calendaring, to-doing, and producivitying across the wide internet. The list is long and the pocketbook requirements deep — you can spend a ton of money and a ton of time building out a system that works for you.
Of course, once you have a system built out, you'll want to burn it all to the ground and start something new.
Such is the life of a PKMer.
Now I've largely given up on the in-depth PKM workflows for my own usage — I simply can't find the time in the day to be detailed enough. However, I know Future Josh will want me to have saved at least something from the reading I'm doing today.
So I've resorted to saving all my highlights in Apple Notes. These could be highlights from a read-later app like Matter or Readwise Reader. These could be screenshots or highlights from a website. These could be highlights in PDFs.
Everything right now is in Apple Notes, and I suspect it'll stay that way — at least until I find the time in the day to be more detailed.
Why Apple Notes? Two main reasons:
I know Apple Notes will be around for the next 10 or 20 years in some shape or form. Perhaps it evolves into something entirely fresh, but there's about a 1% chance Apple completely shelves the app and doesn't support it in the long-term.
Apple Notes has a bunch of first-party features no other note-taking app has and has the best cross-platform support between Mac, iPad, and iPhone. No matter where I'm reading, taking notes, or typing, Apple Notes is a very quick gesture or keyboard shortcut away.
Today's closer look focuses on how I save highlights from Matter into Apple Notes.
How to Save Matter Highlights in Apple Notes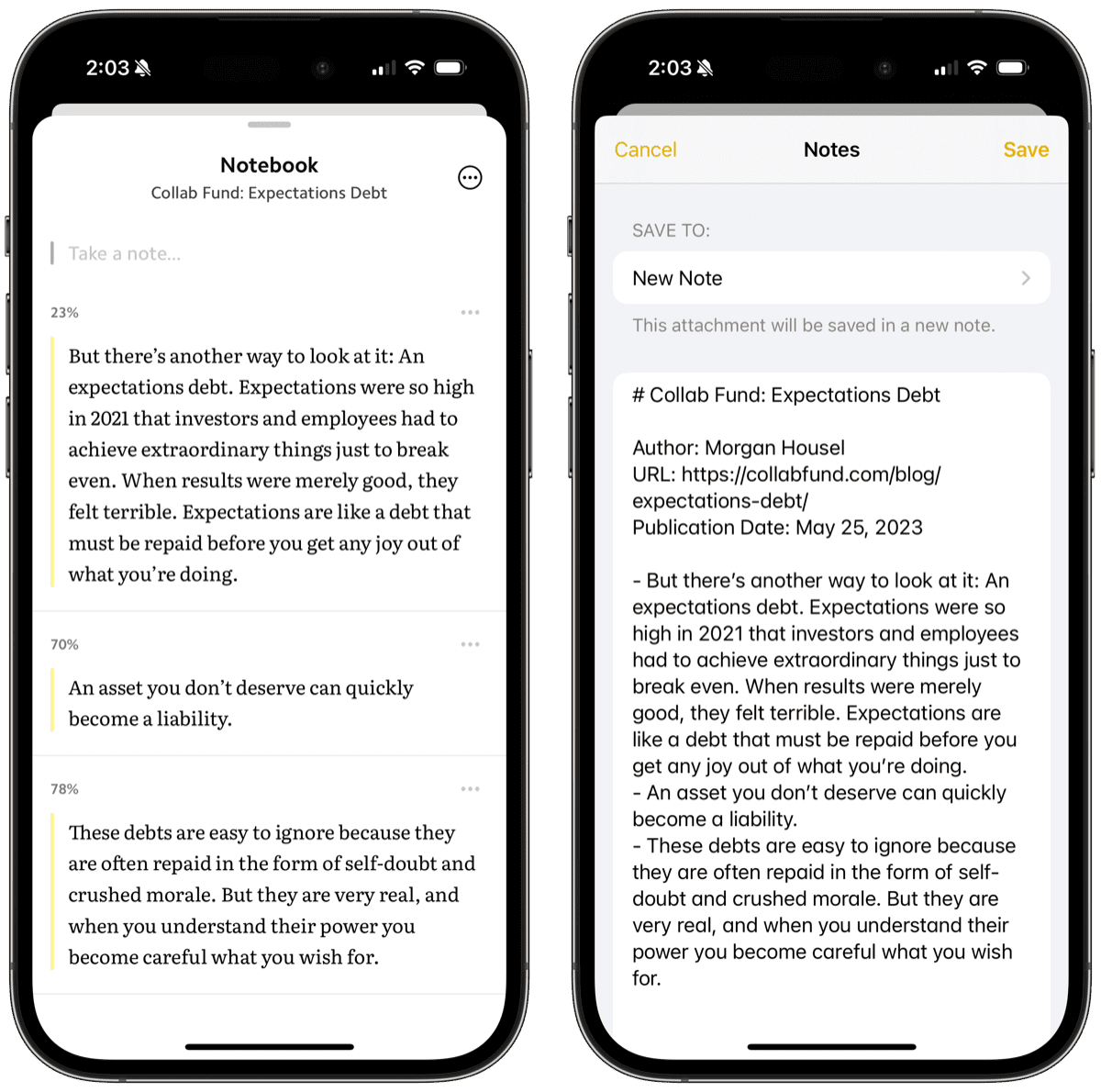 This is a relatively quick workflow that takes two or three taps at the end of an article. Also, this generally works best on an iPad, as Matter is one of the best read-later apps thanks to its awesome Apple Pencil support.
Highlight parts of an article you'd like to save.
Once done, in the top right corner, tap the Notebook icon.
Tap the … button.
Tap Export All.
Select Notes from your share sheet menu and add the exported highlights to a new note.
If you're a tagger or organizer inside Apple Notes, exported highlights from Matter come in with some general Markdown formatting, but nothing more. I've set up a quick and easy Smart Folder inside Apple Notes to quickly filter down to notes that have no tags. It's easy to jump into this Smart Folder, hone in on all the highlights you've made (most will start with a # and have the word "author" in the first few previewed lines), and bulk-add tags to these notes. I've also set up a \#highlights tag in Apple Notes for keeping track of all my article highlights.
Finally, thanks to new Notes features in iOS/iPadOS 17 and macOS Sonoma, you can also backlink notes inside Apple Notes, much like you can in apps like Roam Research, Notion, Obsidian, and more. Backlinking is just dipping the toe into an ultra-connected PKM system, but it's great to know these highlights can be linked to other notes I've started at some point in the future.
Saving Quick Web "Highlights" to Apple Notes with Quick Notes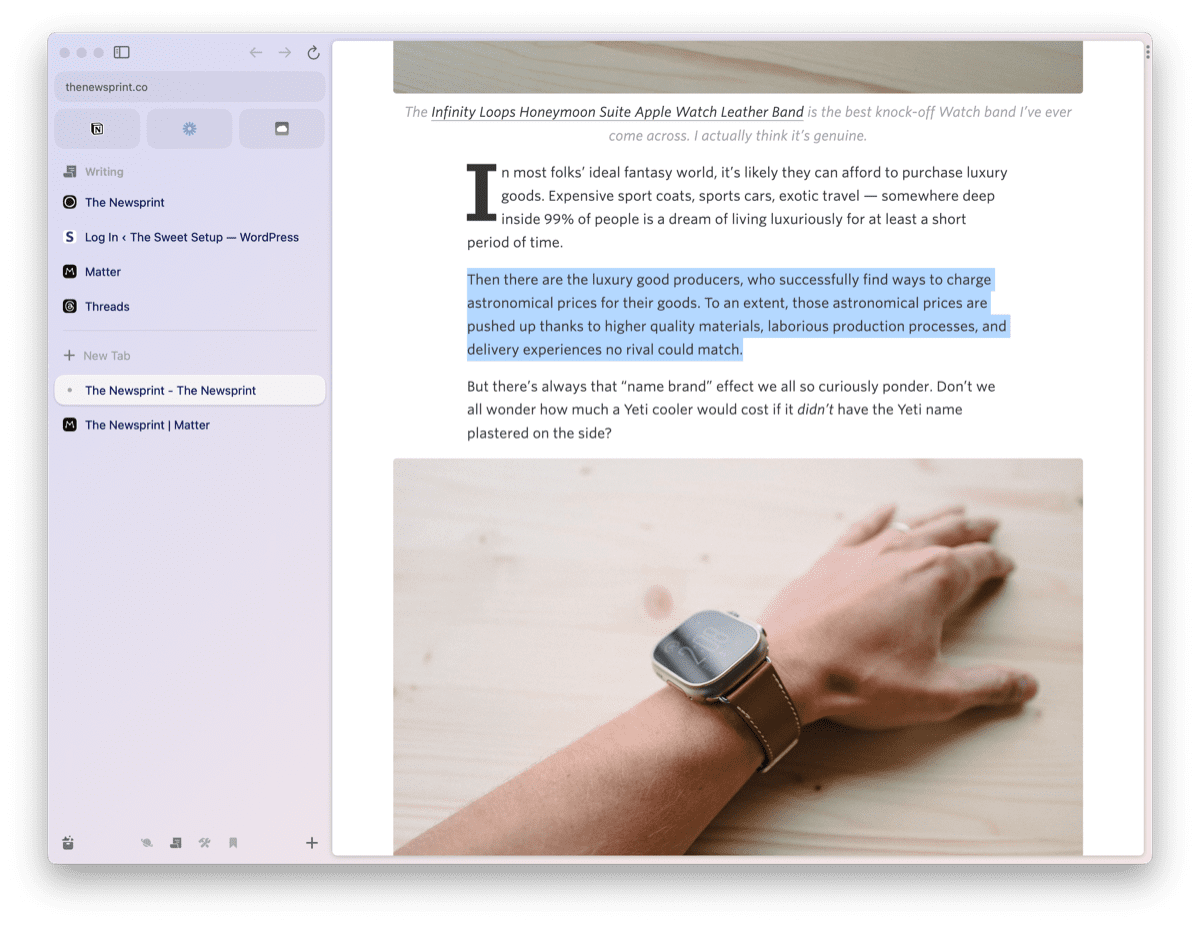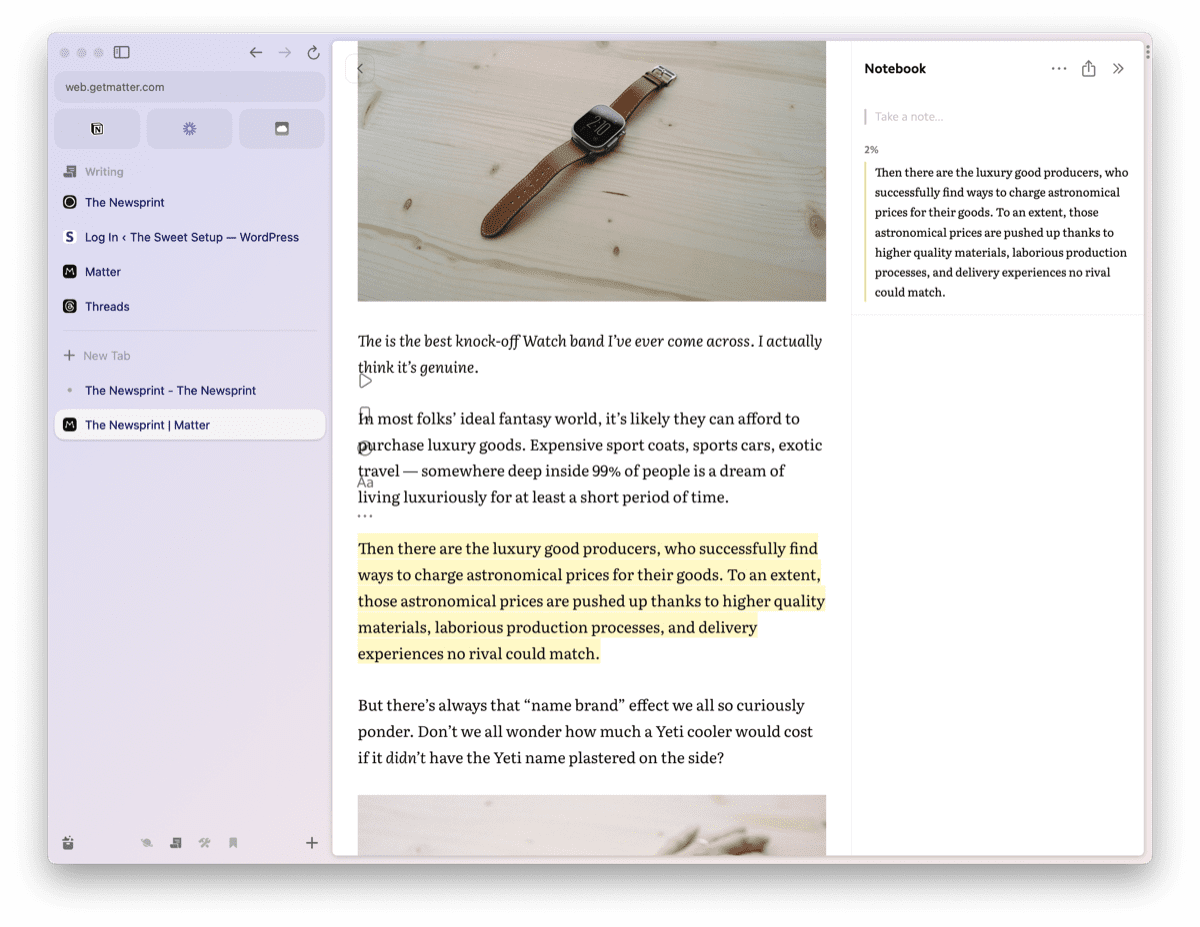 Apps like Readwise Reader and Matter provide you the ability to highlight text in a browser. Highlight text you want to save, right-click on the text, and choose Matter's Highlight extension (assuming you have it installed). From there, the highlight will be sent to Matter and you can export it to Apple Notes just like other highlights.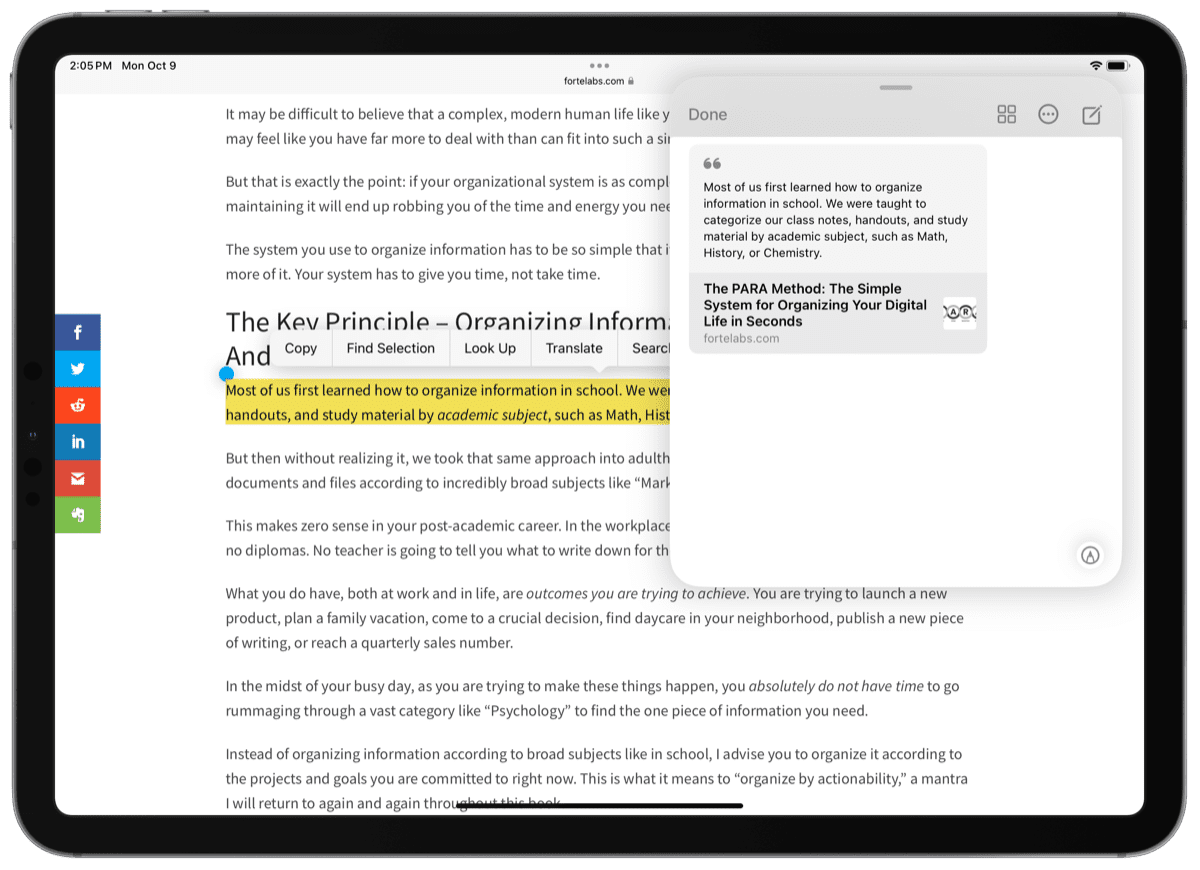 Apple Notes also has the ability to save highlighted text to a Quick Note. Highlight text you want to save in Safari, right-click and select Add to Quick Note. Notes will save the highlighted text as a link to the URL, enabling you to click the link in Notes and send you directly to the saved spot in Safari. Safari will even highlight the text yellow to show you where you saved the highlight.
Unfortunately, I haven't been able to get this to work inside an app like Arc Browser. So far, this seems like a Safari-specific feature.
Saving Highlights to Bear or Obsidian
Bear 2.0 debuted in the last few months after years of development, and the result is impressive. The app is beautiful, works flawlessly, and has some of the best Markdown support available for a note-taking app today.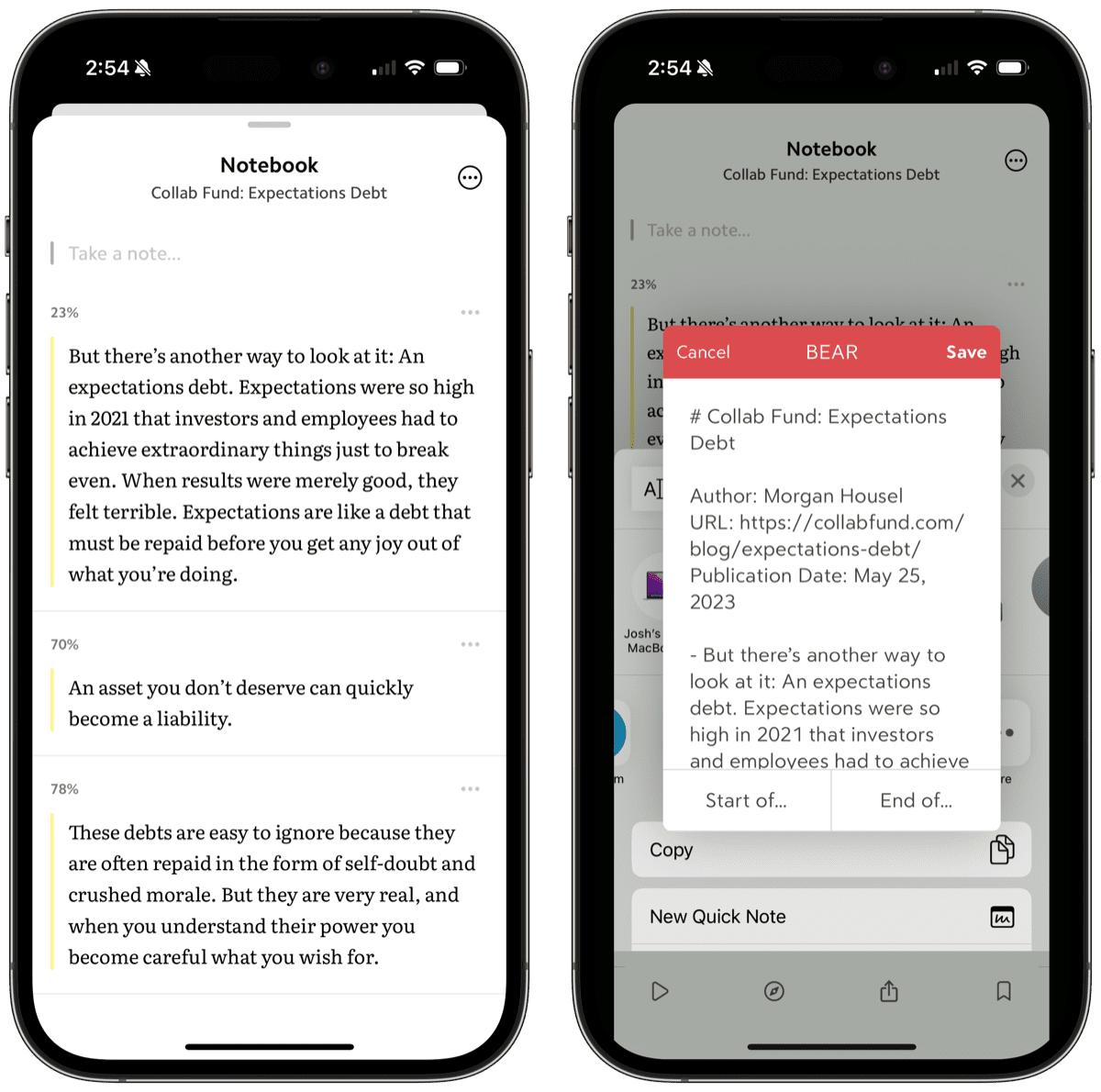 By and large, the same kind of workflow for saving highlights above works for saving highlights to Bear. It's as simple as tapping the Notebook icon in the top right corner of a highlighted/noted article and exporting the highlights to Bear through the share sheet. Bear's share sheet is smaller in nature but more efficient than Apple Notes. By default, Bear saves highlights to a new note. In Apple Notes, if you've saved a highlight within the last few minutes, Apple Notes will default to your most recently created note to append the exported highlights.
Obsidian skips this entire workflow and integrates directly with Matter. Every hour, your most recent highlights auto-sync over to Obsidian, creating a new note for each set of highlights you make in an article in Matter. Once created, Obsidian's back-linking prowess can take over, making short work of finding unlinked mentions to authors to better link all your highlights for a specific thinker or writer. Best of all, Obsidian saves everything as local files, ensuring you can transition to a different app in the future if Obsidian ceases to exist.
Wrap Up
Indeed, there are faster, more automated ways to save all your highlights. You can integrate Matter with Readwise, Notion, Obsidian, Roam Research, and more, all of which make very short work of saving highlights. But you'll quickly note that only Notion and Obsidian are free options in the list above. And though I'm always an advocate of paying for good software, sometimes free works just fine.
For me though, the fact that Apple is all but ensured to keep Apple Notes around and the ever-evolving functionality of the app has me wanting to store my notes and highlights in it for years to come. I'm simply too big a Quick Notes fan to justify using a third-party note-taking app on any of my Apple devices. Again, at least for now — perhaps Future Josh will giggle at those words.
I really like the way Matter reads — great fonts, a simple reading experience, and fast highlights. I really like the way Apple Notes functions — all sorts of media, handwritings, clippings, and screenshots. I really like Apple Notes' endless support. As a result, I think these two apps are almost a match made in heaven.
Design Your Ideal Weekly Schedule
Free → Video Workshop + Productivity Templates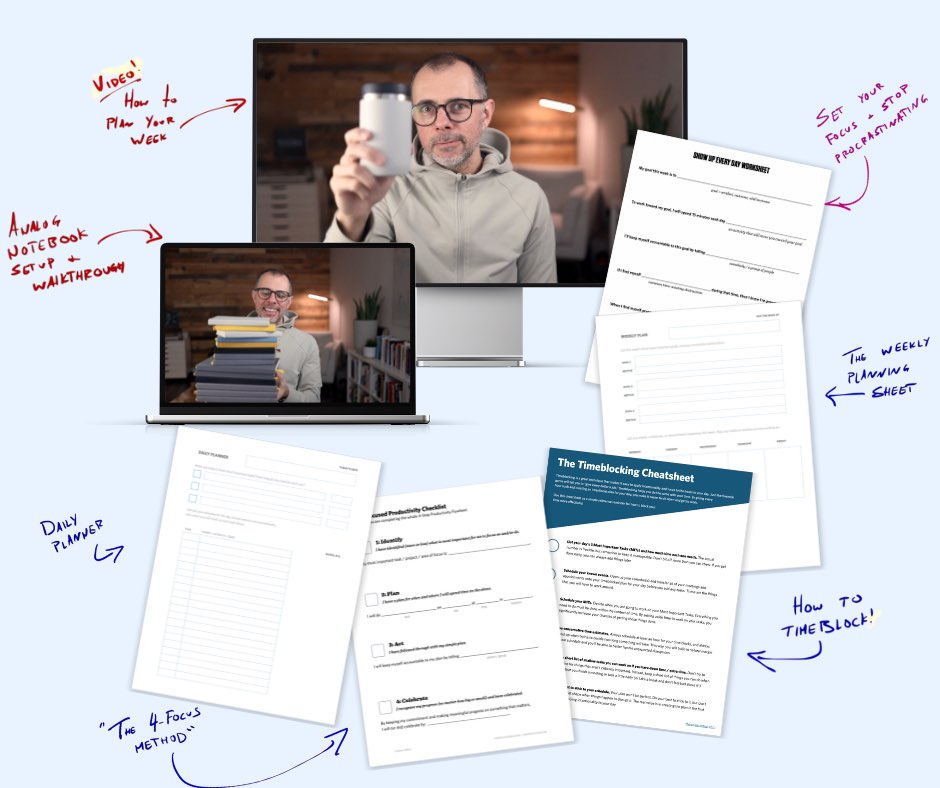 GET THE WORKSHOP + TEMPLATES
If you want to reduce the busywork and distractions, then sign up here for instant access to a brief video workshop on How to Plan Your Week.
♥️ Quick Note: You'll get access to the workshop, plus a few additional bonuses to help you overcome procrastination and deal with distractions so you can spend more time on the important work that matters.