How to Take Great Holiday Photos
December 20, 2019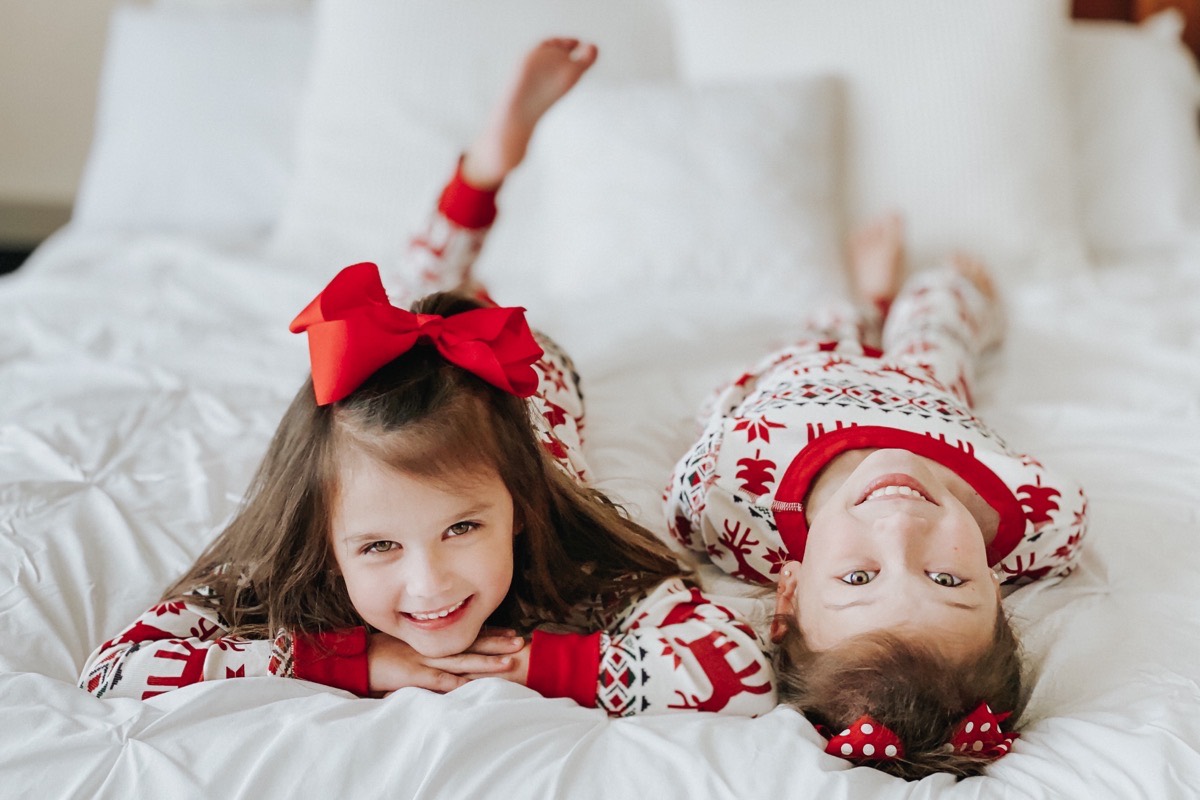 Shot on iPhone 11 Pro
Holiday photos are all about mood. It's a warm and bright season with so many fun get-togethers, events, colors, and lights. In many places around the world, it's also colder and darker, which means shooting lots of photos indoors. Here are my tips to capturing beautiful memories that reflect this cozy and festive time of year.
Tip 1: Turn off Overhead Lights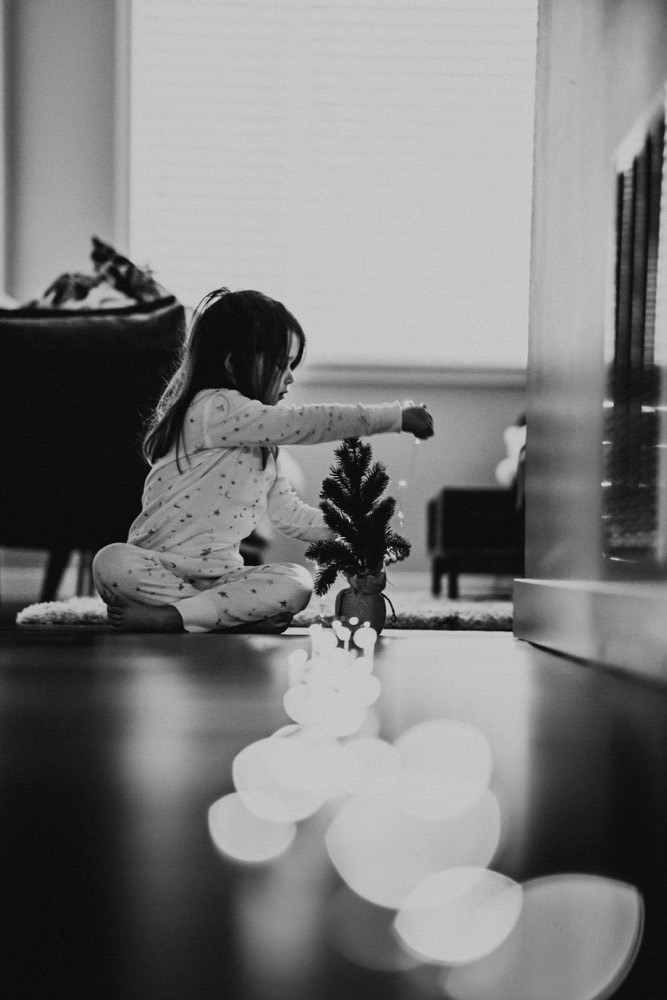 Shot with Fujifilm XT-1
When shooting around competing indoor lights, whether they're artificial overhead, from a fire, or strings of lights, due to varying light temperatures and directions, it can be difficult to get a shot that isn't too cool or warm in color temperature. I turn off overhead lights almost all of the time when I shoot indoors, whether it's night or day, and no matter which camera I use.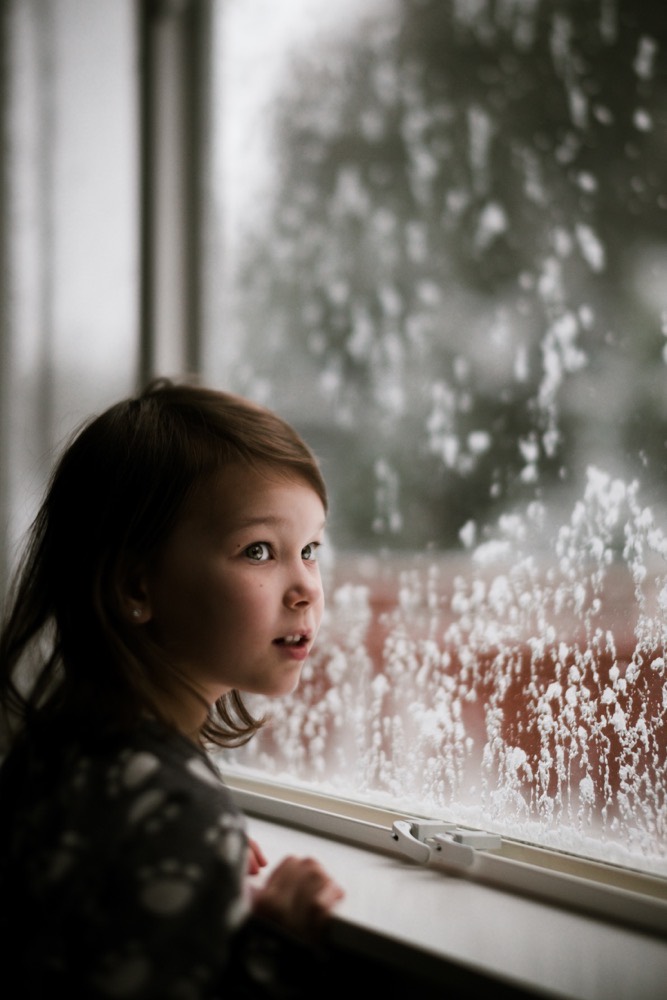 Shot with Fujifilm XT-1, freelensed
Aside from temperature troubles, direct overhead light can also create shadows on faces that aren't flattering. (An off-camera flash can fill shadows and fix this, if you have one.) If it's daytime indoors, turn your subject so that their face is toward a window and let the natural light fall on it, expose for their face and the light will be beautiful, natural, and flattering. If it's dark, turn your subject toward a light source, like a lit-up tree as in the photo below, and again expose for their face.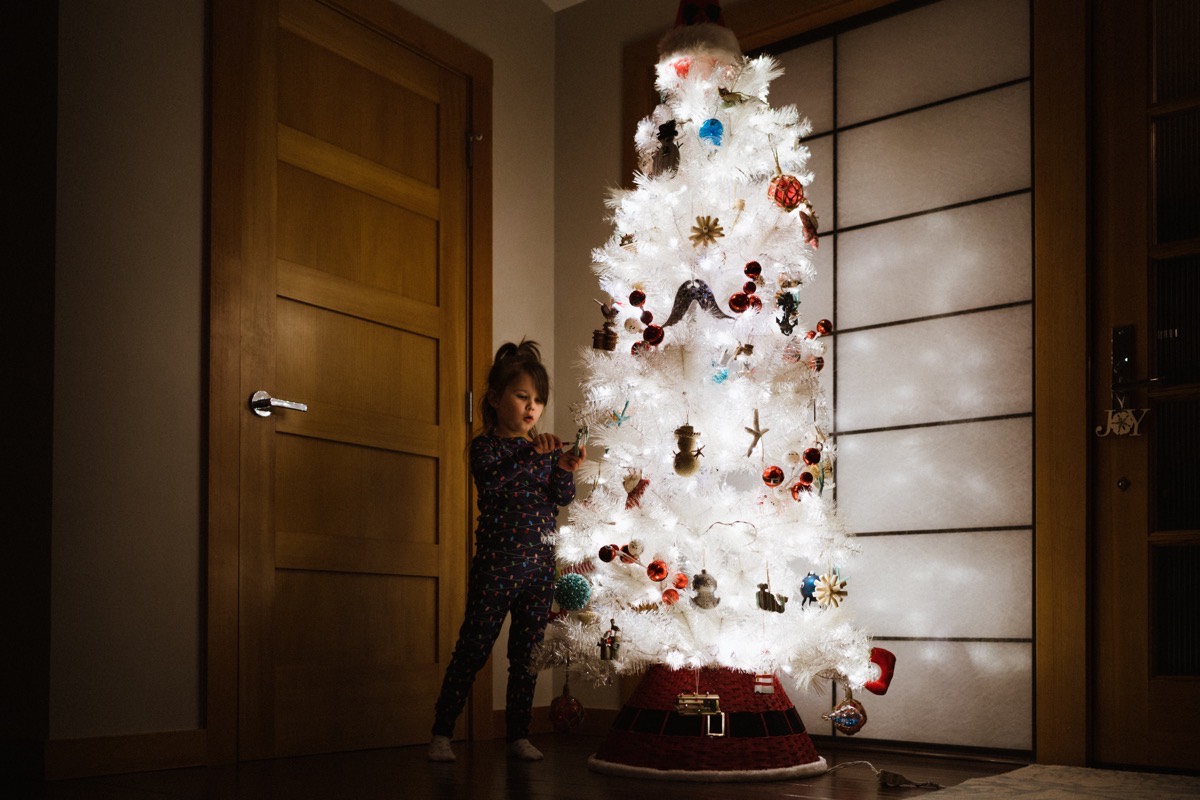 Shot with Sony a7R III
Even when you do these things, your shot may end up a bit blue in overall color. This is easy to fix: simply adjust the white balance when you edit. Slide until anything blue that should be white in the photo looks white (or even a bit creamy if you want a warmer feel to your image). Be careful not to go too warm, and always make sure that the skin tone looks natural as you adjust!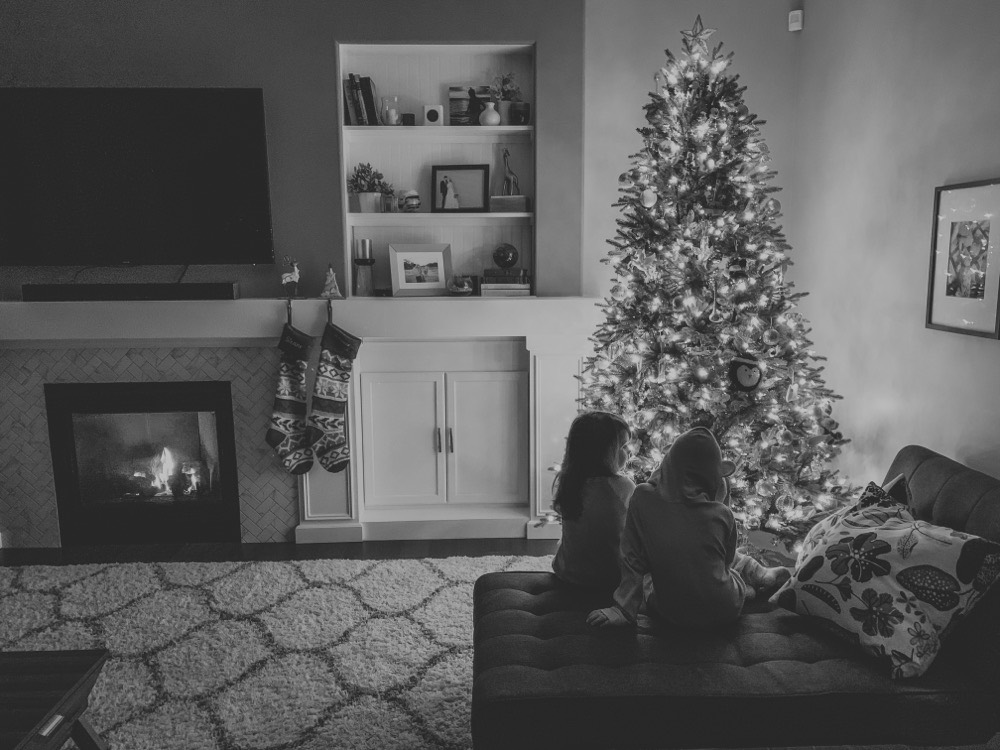 Shot on iPhone XS
If the lighting in your shot is tough (for example, if you have both warm and white lights competing), a black and white conversion will remove that editing struggle and, as an added bonus, add a timeless feel.
Get Our Best Photography Tips & Workflows
Transform your photos and edits from average to awesome with our in-depth, mobile photography course. It's jam-packed with training, ideas, and lessons that can literally transform your photography overnight.
Tip 2: Use the Drama of the Darkness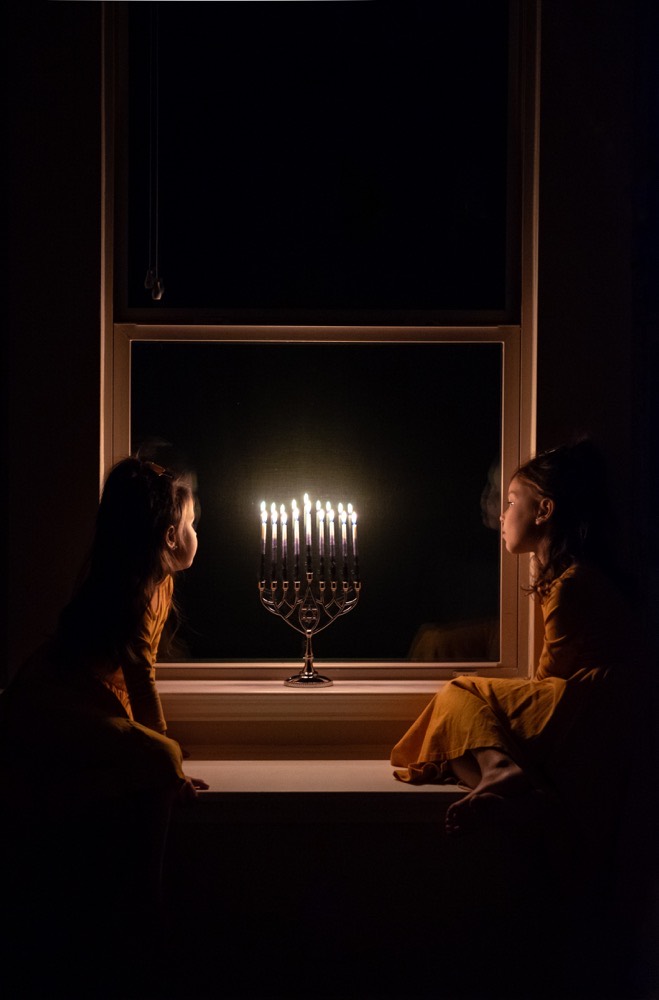 Shot with Fujifilm XT-1
If it's dark, there are so many interesting things you can do with light, and lack thereof. The first thing to do is expose for the light source you do have, so that the light itself isn't blown out (lacking detail in the bright spots). When you expose for light in a dark setting, you instantly create a dramatic mood. Pay attention to angle as well — if you move lower or higher, can you get more light by way of a reflection on the floor, table, picture frame, etc? Unexpected light is always visually interesting.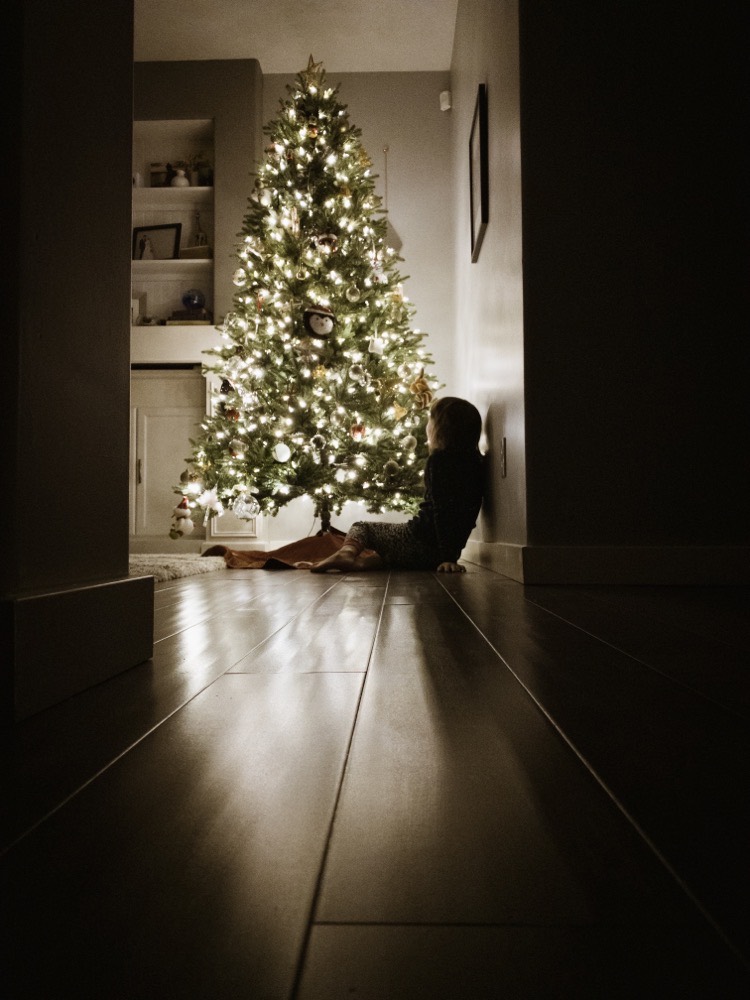 Shot on iPhone XS, Used Halide to Shoot RAW
I always shoot RAW with my Fujifilm XT-1, but I usually don't with my iPhone because I almost always use the native camera app. However, when it's very dark, as in the iPhone image above, I use Halide to shoot a RAW image and retain more data (details) in the photo. Shooting RAW makes editing easier because it allows you to recover details a JPEG doesn't record. It gives you smoother tone transitions, higher dynamic range, and an overall higher-quality image. Yes, RAW will make the image flatter (less contrast) and less sharp, but those are things you can fix easily when you edit. Because details are already more difficult to capture in the dark, shoot RAW and you'll have much more control over the edit of your image.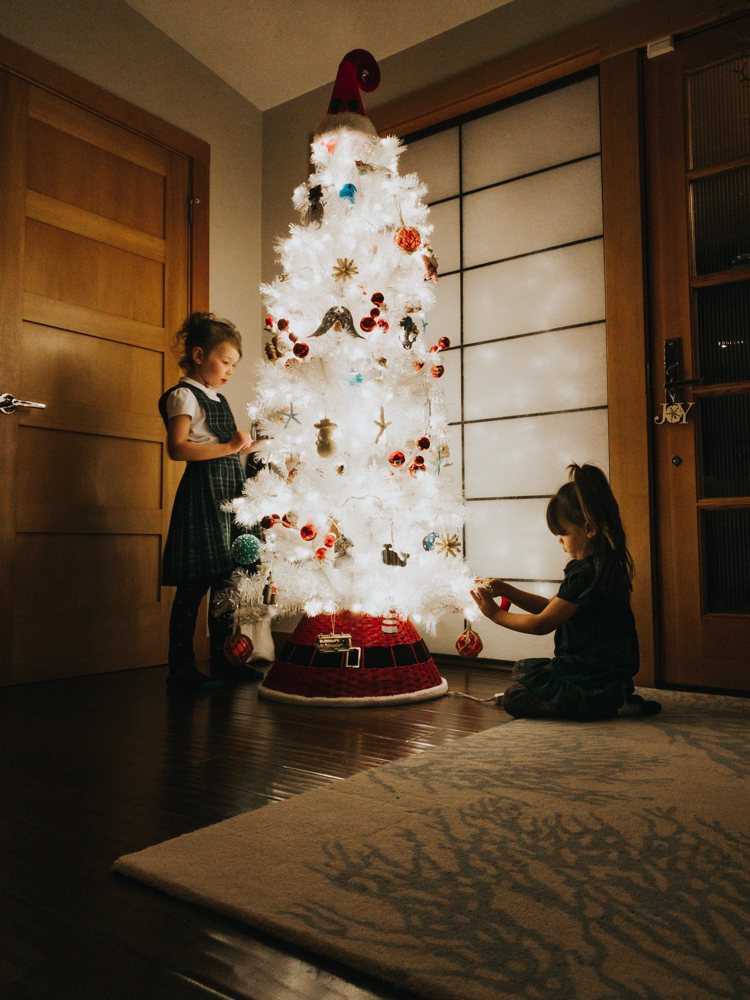 Shot on iPhone XS, Used Halide to Shoot RAW
Now that the iPhone 11 Pro has Night Mode, I find myself needing to shoot RAW even less. I shot this image below with Night Mode in the complete dark except for the lit candles. It was so bright and detailed that I darkened it significantly in my edit (by -2.05 exposure).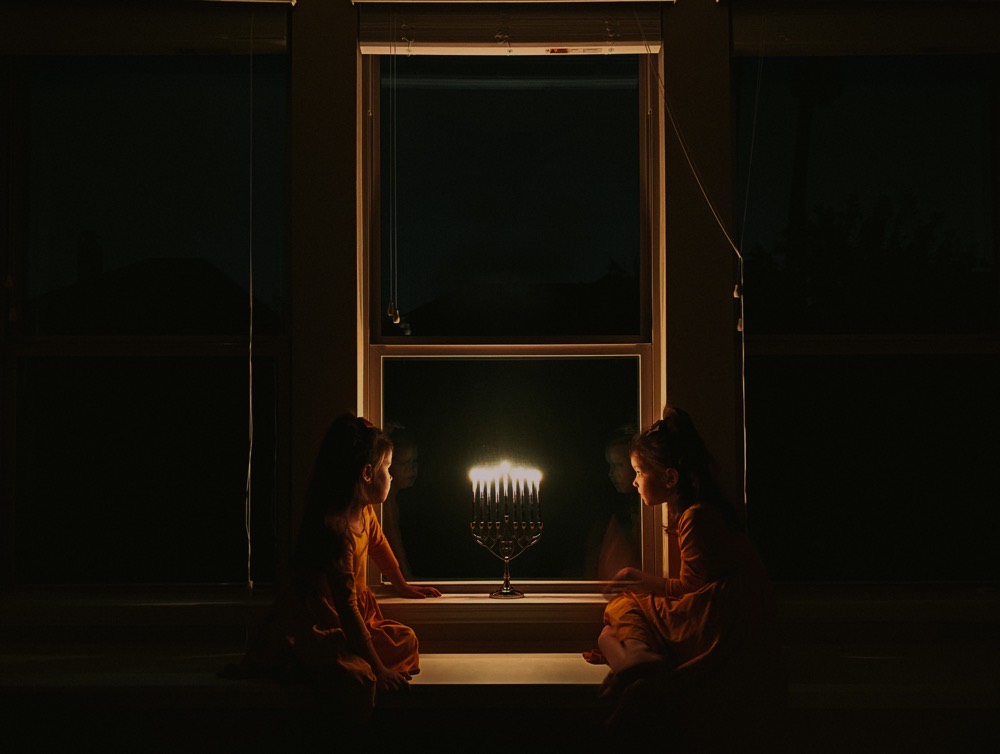 Shot on iPhone 11 Pro, with Night Mode
Keep in mind that photos taken in the dark will have grain, sometimes a lot, and that's OK. Grain gives a photo more feeling because it feels like film, and it adds texture and life. If you don't like how much grain is in a shot, try converting it to black and white — grain looks different and very natural in black and white.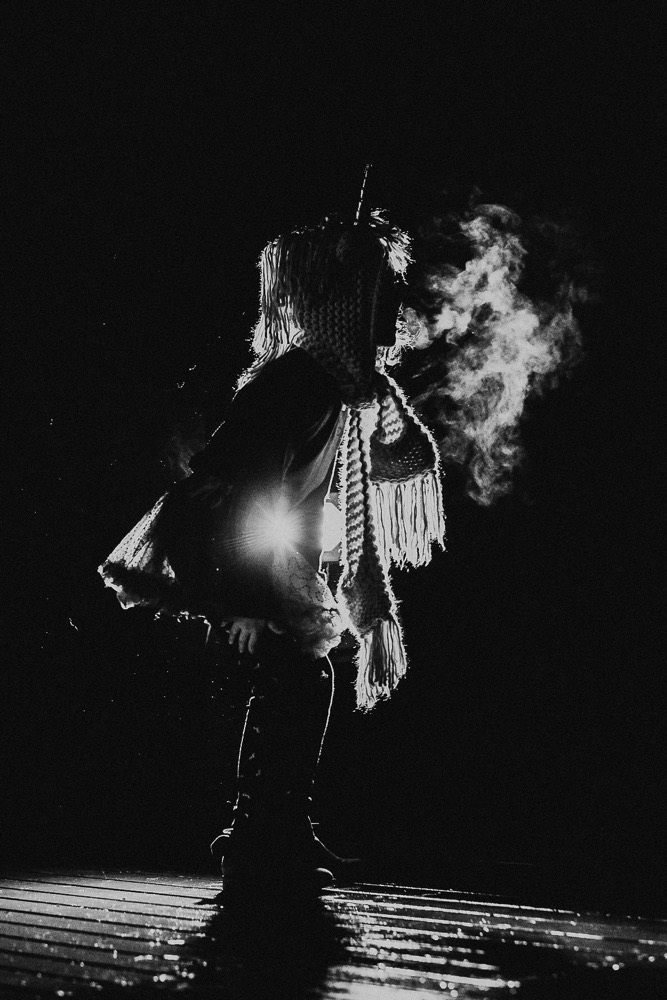 Shot with Fujifilm XT-1
If there isn't already some nice dark drama to work with, you can always create it! If it's snowing at night, take some photos under a street light, or turn your headlights on to backlight your subject and shoot through the snow. You can also use a flashlight or shop light to back light, as I did in the photo above.
Tip 3: Framing The Shot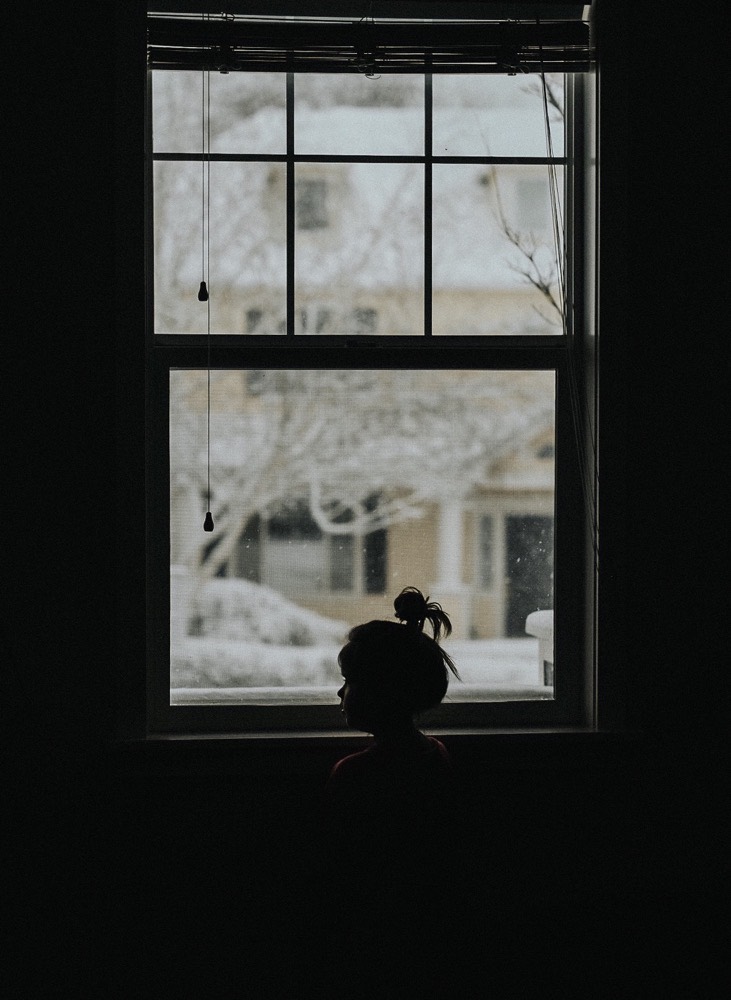 Shot with Fujifilm XT-1
Shooting inside comes with all kinds of things to think about when framing a shot. Always consider what you want to be part of your story in your frame and try to shoot thinking that you won't crop later. There are also lines everywhere from walls, beams, Christmas trees, candles, wood flooring, picture frames, windows, etc. Be sure to watch your angle as you set up to capture your shot that those kinds of lines aren't crooked. This is so important in low-light situations where the image quality may already be compromised. You don't want to shoot without thinking about this and possibly lose some of your image in straightening and cropping when you edit.
It's fun to literally frame your shot, as in create a frame around your subject (like in the photo above) where the window makes a snowy frame around the silhouette, or in the photo below where her face is framed in a circle of Christmas lights.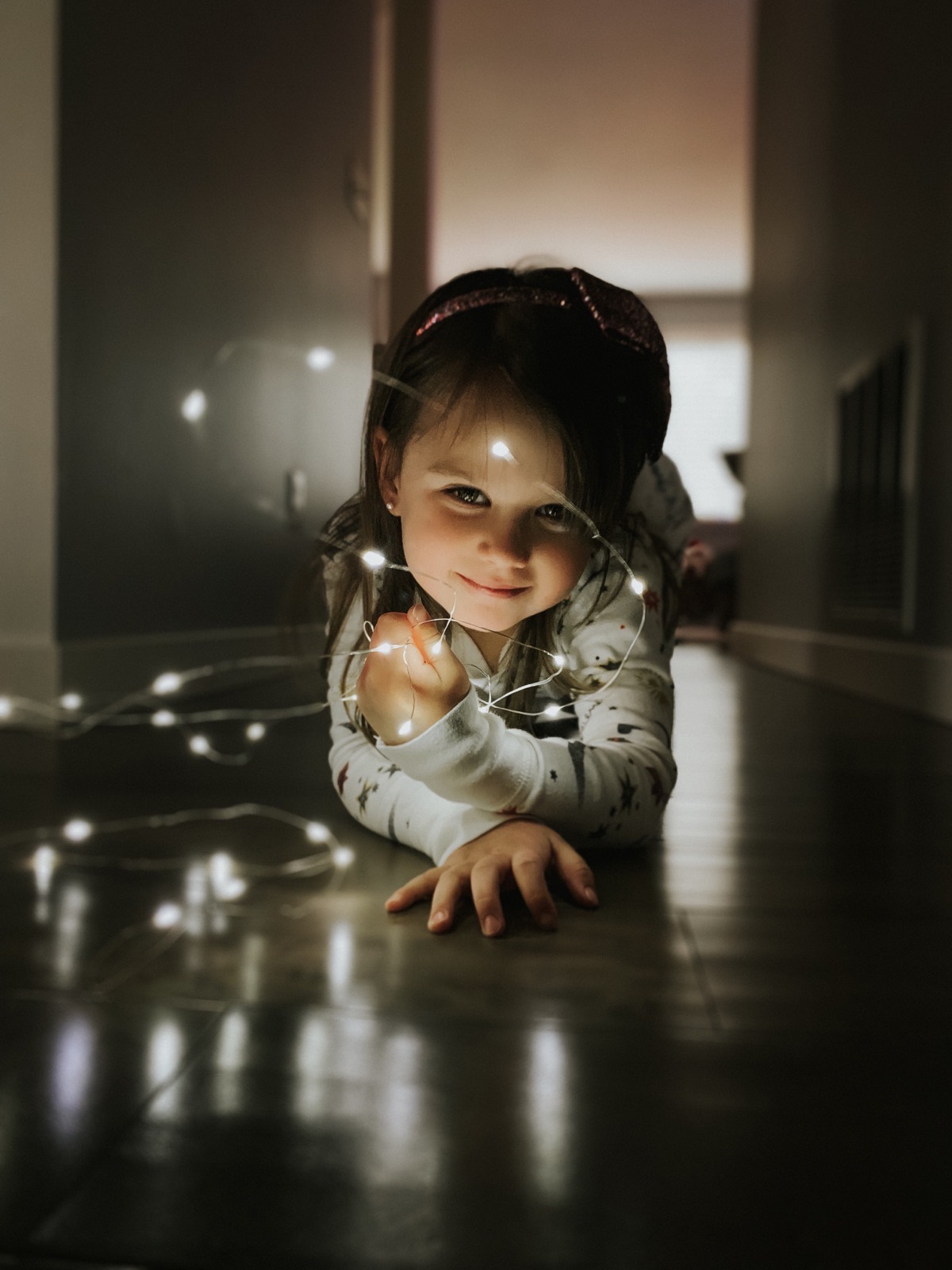 Shot on iPhone XR
You can even go outside and shoot through a window to the inside! You can create frames with almost anything: lights, branches, people's arms — you can even hold a paper towel roll up to your lens and shoot through it! The possibilities for creativity, to narrow down the focus to your subject with a frame, are endless.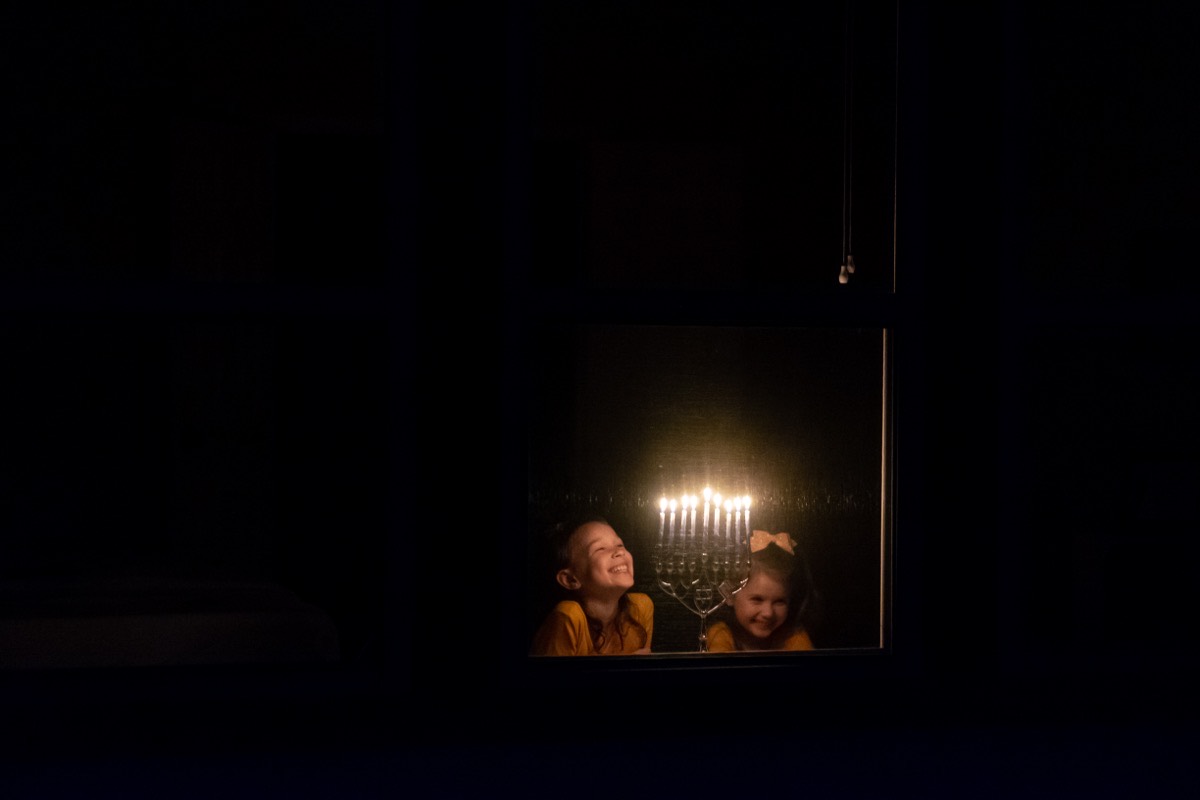 Shot with Fujifilm XT-1, from outside
Tip 4: Be Creative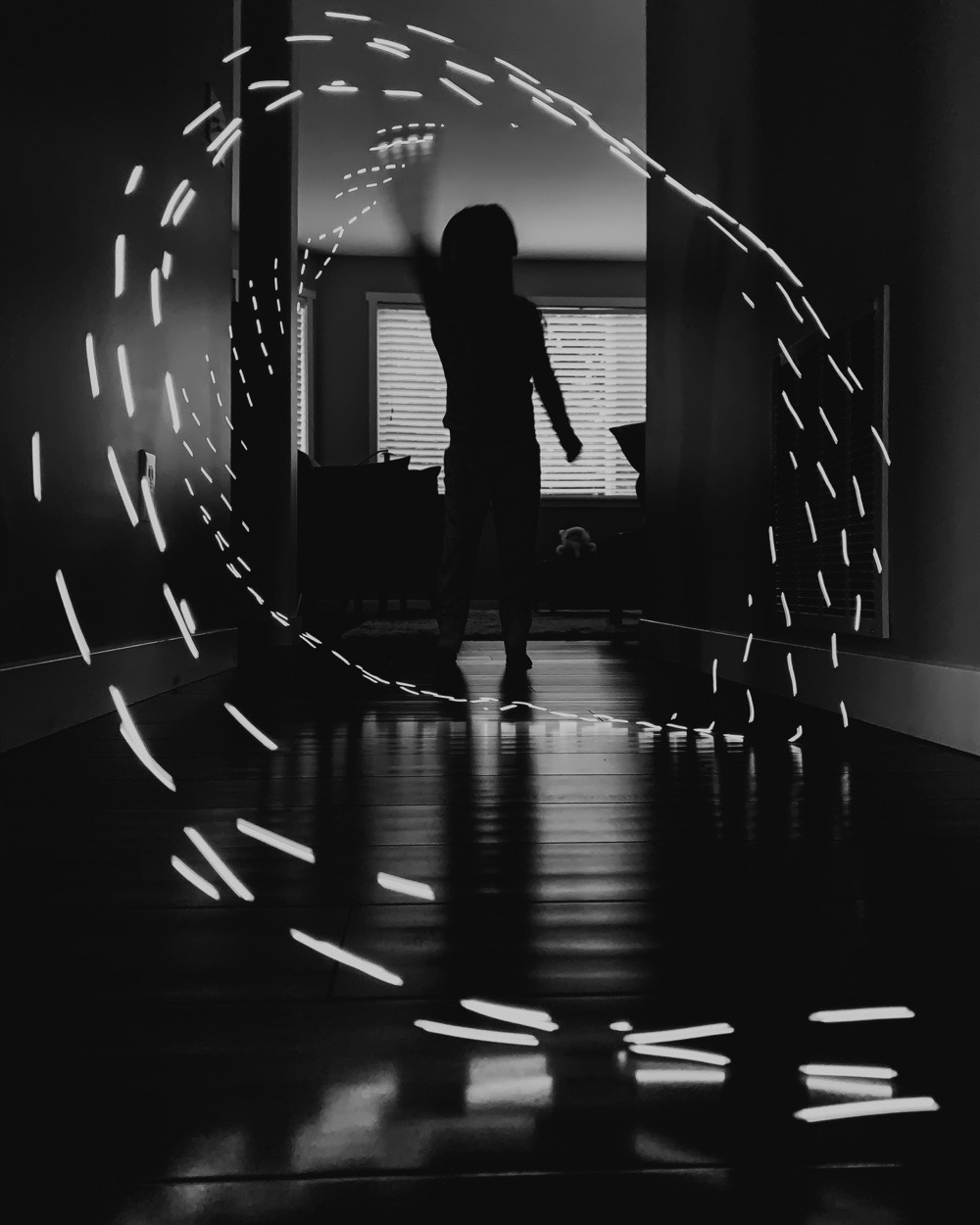 Shot on iPhone XR
Along the lines of playing with your light source and learning to use it in interesting ways, taking photos in the dark allows you to play with slower shutters. Try light painting: have your subject hold any (safe) light source, such as a flashlight, a string of lights, or even a sparkler if they can do so safely and outside, and quickly move it as you take the photo. The magic in this is you won't know exactly what you will get until you've shot it! Little ones seem to be especially willing participants in these fun shots.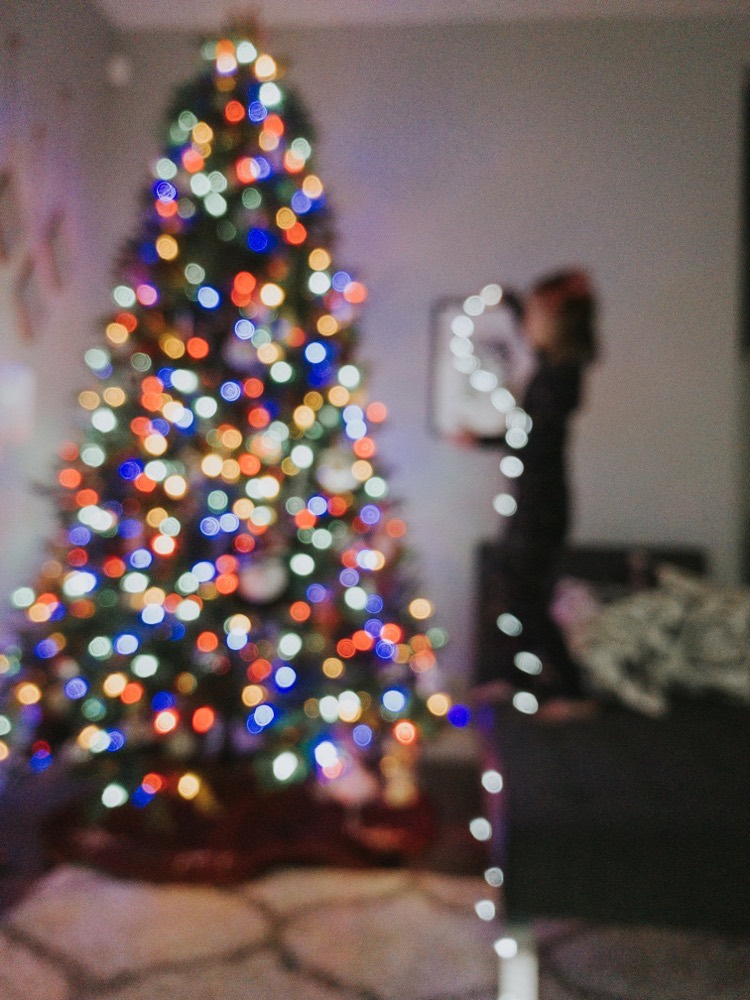 Shot on iPhone XR
Another creative trick is shooting purposefully out-of-focus. This is easy with a DSLR — just shoot in manual and out-of-focus. With iPhone, it's trickier because of the autofocus feature, but you can do it using any app that allows you to manually focus with iPhone. For the above iPhone image, I used an app called Manual.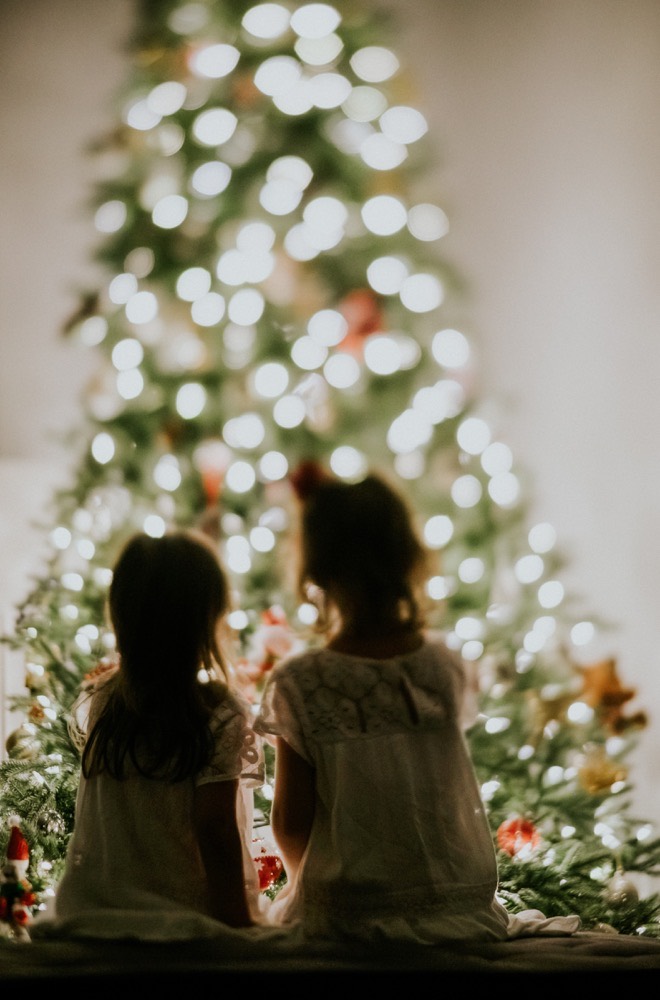 Shot with Fujifilm XT-1, Freelensed
Speaking of purposeful blur, something I do for about half of my holiday images is freelensing. An intentionally out-of-focus image isn't everyone's cup of tea, but I love it. To freelens, use your camera in manual mode, set your focus to infinity, and keep your aperture fairly wide (lower numbers). Sometimes I freelens at f1.2 for super-bokeh blur, but often I'll shoot at closer to f2.8-4 so that I have a slightly wider line of focus. Then, remove your lens from your camera, but hold it so that it's basically still on the camera, and ever-so-slightly, tilt it. (Warning: doing this can damage your sensor and should be done at your own risk.) You'll see exaggerated blur with just a tiny line of focus, and the way you tilt, up, down, or side-to-side will change where that line falls. How much you tilt your lens will change how much blur you achieve. A tiny adjustment goes a long way with freelensing, and it's a bit of a learning curve, but the dreamy feel it creates can be magical.
Tip 5: Shoot Outside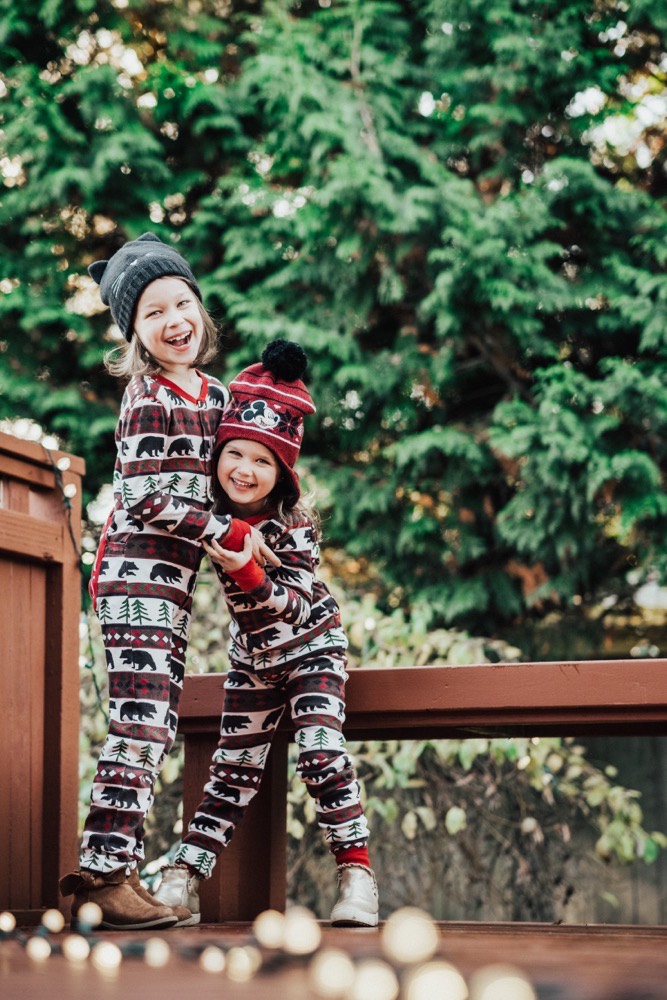 Shot with Fujifilm XT-1
Of course, light is always best outside during the daytime. Take some holiday photos outside if you can, but just be creative to make sure your outside shots look festive. Shoot by a door with a wreath on it, next to your house lit up with lights, or next to a window with a menorah or Christmas tree lit up inside. You can even add lights to an outdoor tree, have your subject hold fairy lights, or (if you're lucky) use existing snow for an extra festive look!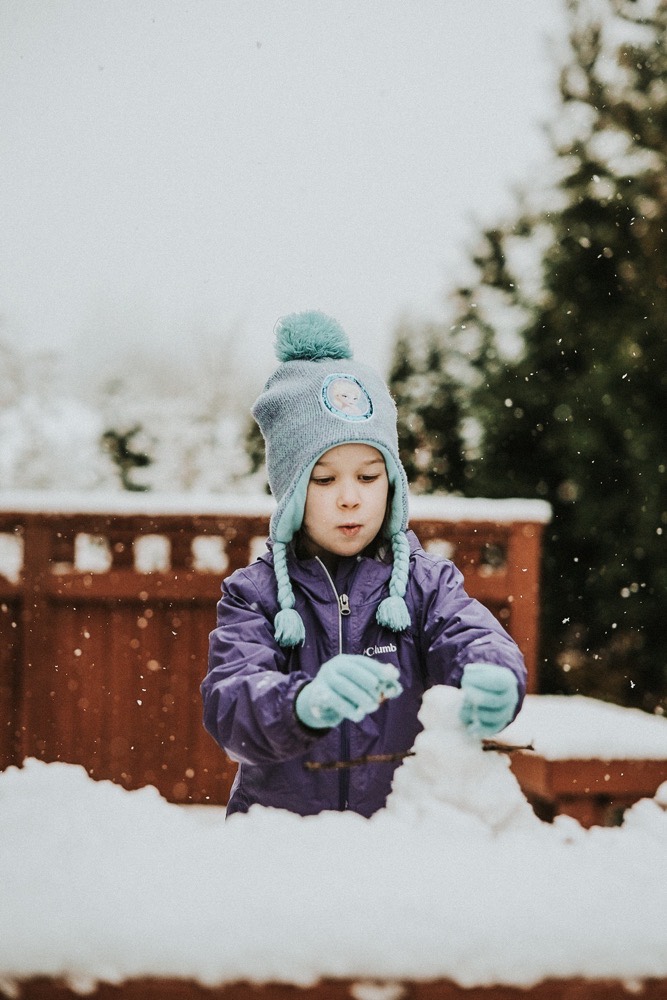 Shot with Fujifilm XT-1
In shooting snow, you'll get amazing bokeh if you can shoot while the snow is falling. The wider open you can shoot, the better the snowflake bokeh. Be sure to underexpose a touch to avoid blowing out details in the bright white snow.
Tip 6: Capture Emotion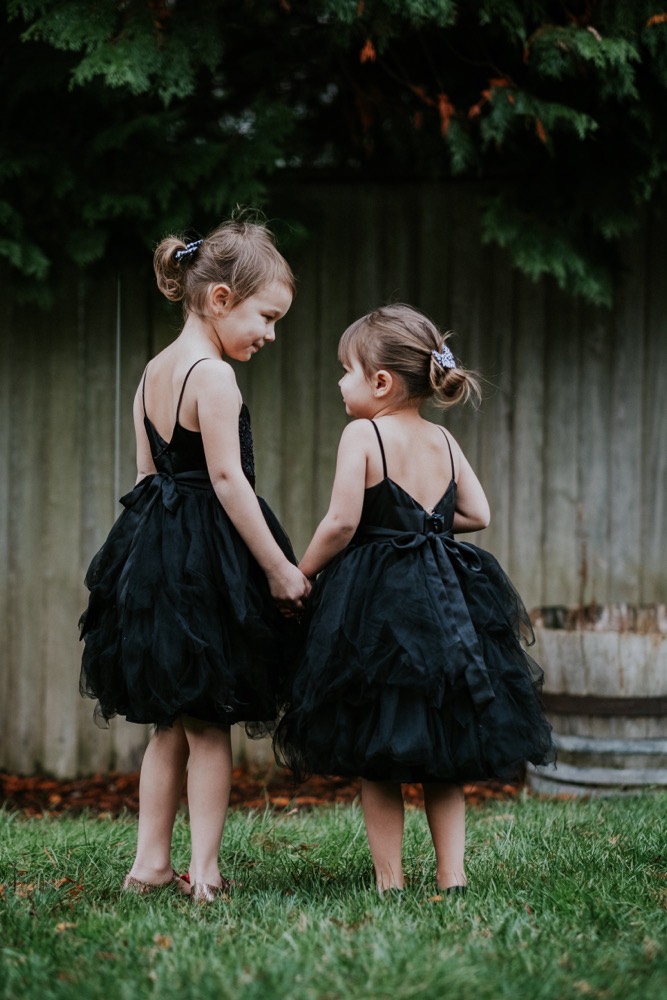 Shot with Fujifilm XT-1
At its heart, each holiday celebrated during this time of year comes down to love and togetherness. Holiday photos are about these feelings, capturing them, and the cozy mood they evoke.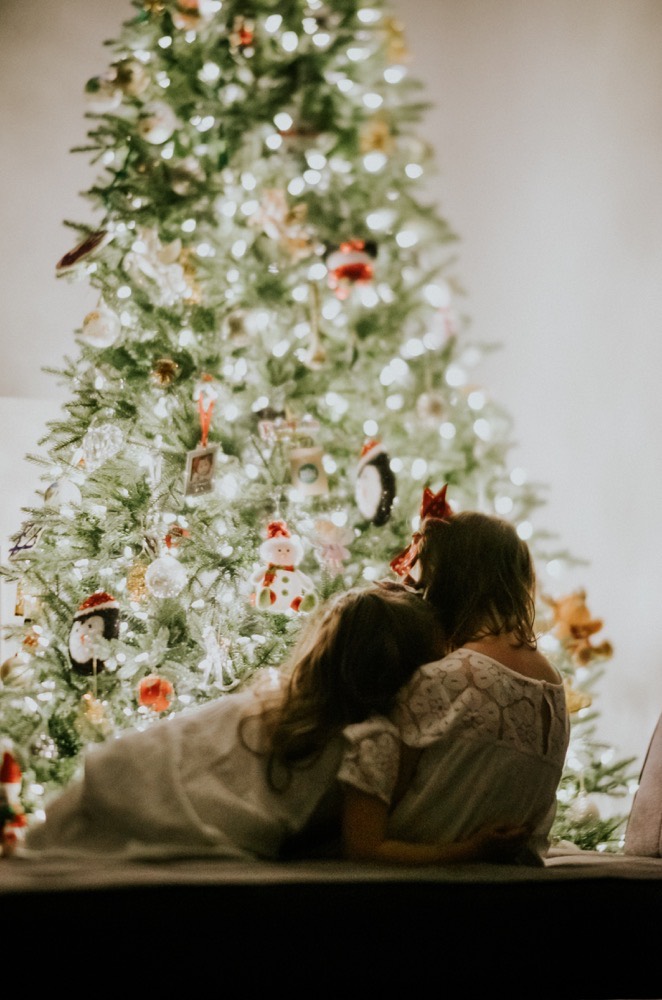 Shot with Fujifilm XT-1, freelensed
In addition to using your dramatic light to visually express that mood, snuggles, hot cocoa, fires in fireplaces, holiday PJs, and anything that feels just a touch saccharine is completely what this time of year is about. Embrace it!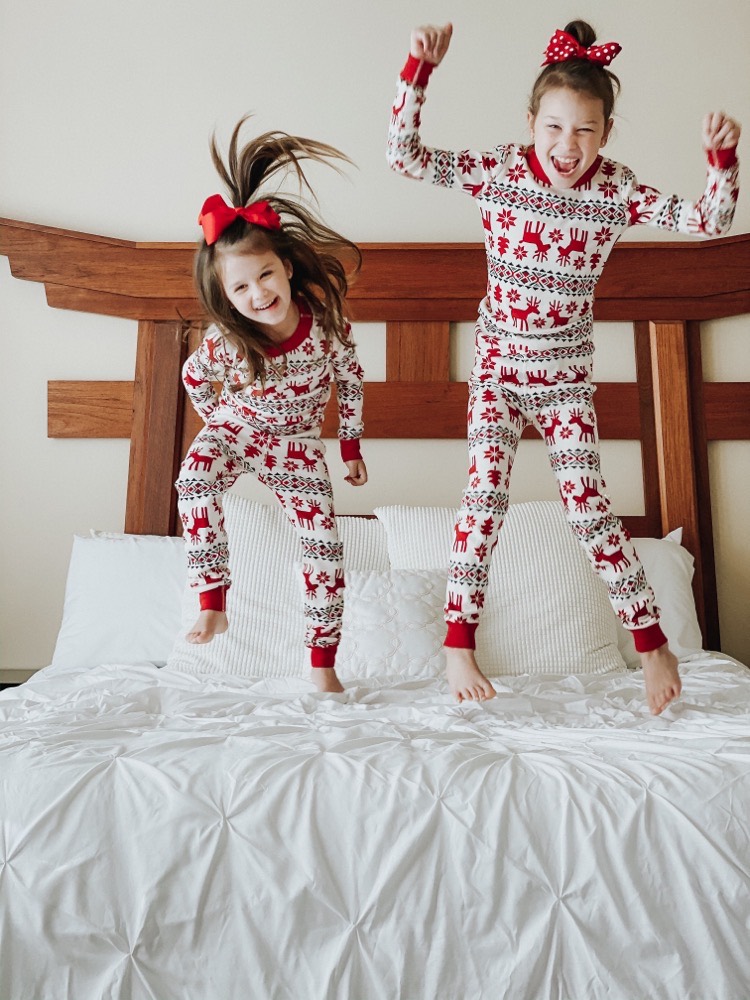 Shot on iPhone 11 Pro
To get kids to cooperate, I have a few tricks up my sleeve. I often tell my girls a joke, or have them whisper a joke to each other, hug, touch their noses together. Sometimes I'll let them jump on the bed, untangle lights, hang an ornament, or (of course) open presents, and then I just sit back and capture what naturally unfolds.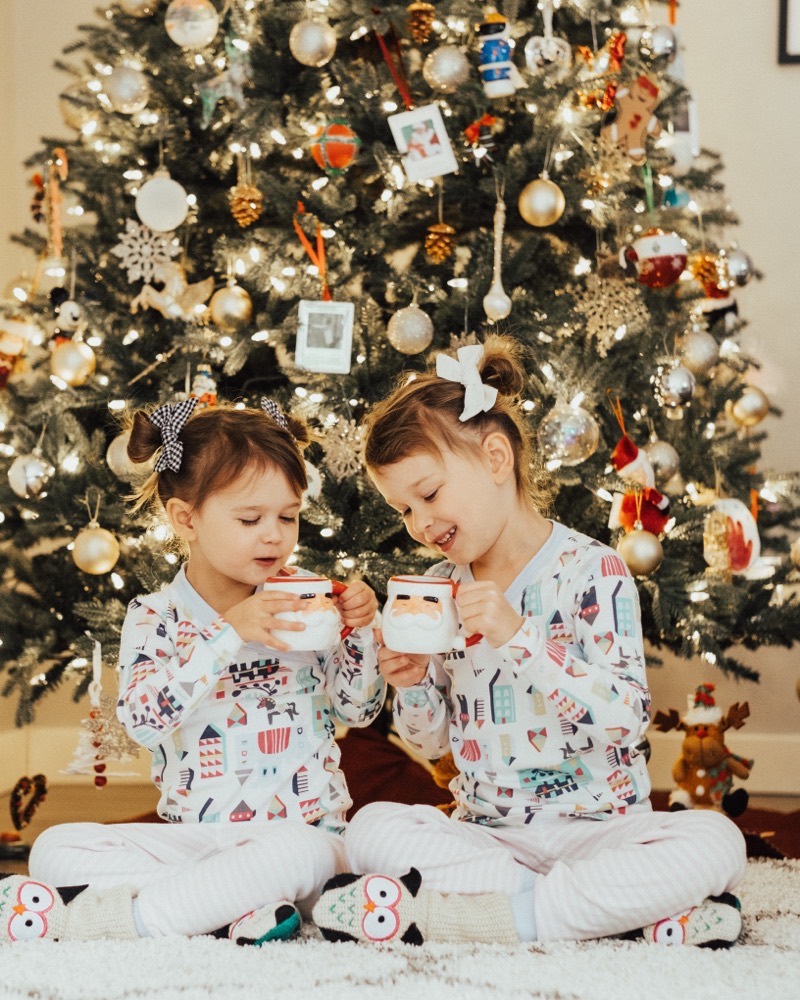 Shot with Fujifilm XT-1
The photos I end up loving the most are those where my subjects aren't looking at me and smiling, but instead are interacting or reacting as I capture a genuine emotion. A lot of times these shots aren't technically perfect, but they're full of emotion and perfect to me. In the end, that's what counts.
Tip 7: Get in the Frame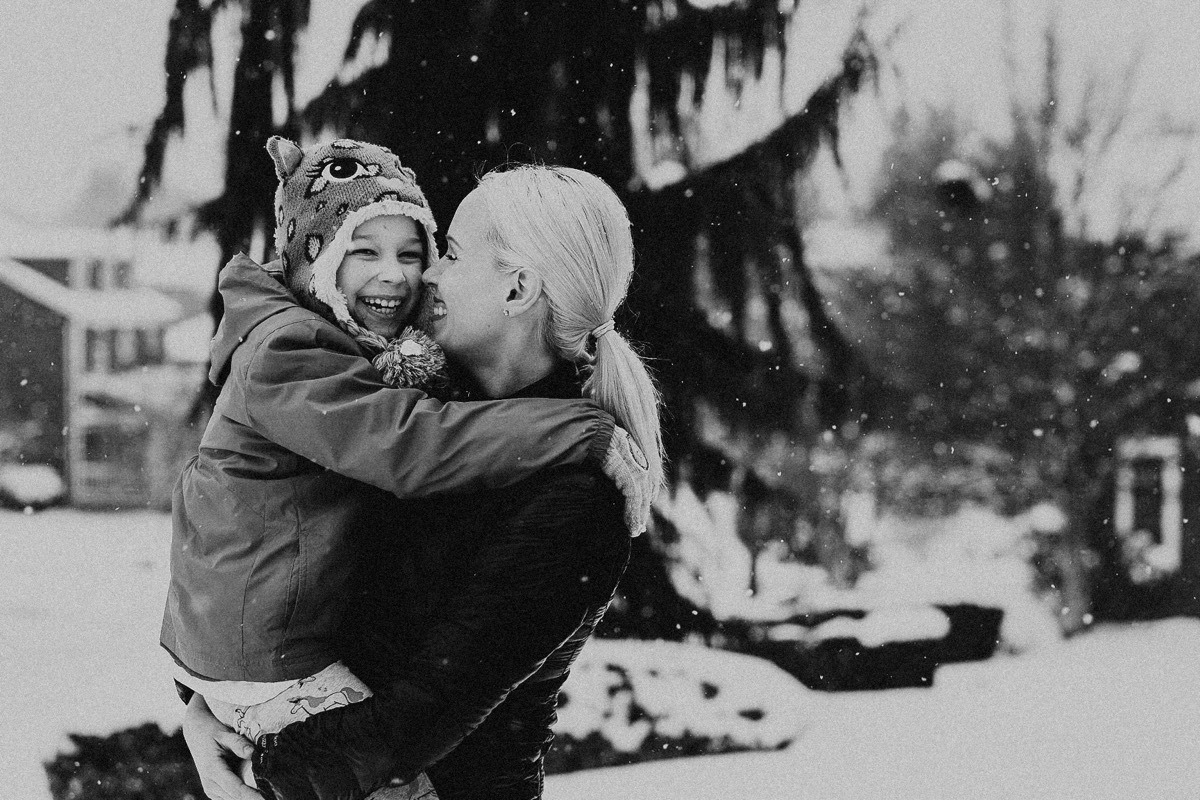 Shot on Fujiflim XT-1, Self-Portriat with Handheld Remote
 
My last tip is this: if you're the designated family photographer, make sure to get yourself in the frame! Your family wants to see you there as they look back at these memories in the years to come. So, use the tripod and remote, or use a timer on your iPhone and just make it a point to at least get in some of the photos with your family. You were there too.
Use the drama and emotion, see the light as a tool, capture with your heart, get in there, and enjoy this holiday season as you create memories to keep forever.
Get Our Best Photography Tips & Workflows
Transform your photos and edits from average to awesome with our in-depth, mobile photography course. It's jam-packed with training, ideas, and lessons that can literally transform your photography overnight.