How to enable Overcloak for extra security with Cloak for Mac
February 18, 2016
Cloak, the best VPN service for the Mac and iOS, continues to be one of my most used purchases. Public Wi-Fi is becoming more and more prevalent, and I'm becoming more and more terrified of using it. Cloak has a feature built in called Overcloak that you definitely want to make sure is enabled.
Overcloak is an extra layer of protection on Cloak for Mac. There is normally a few seconds of data transfer from the time you connect to a Wi-Fi network and when your VPN can connect. With Overcloak, Cloak blocks all traffic from non-whitelisted networks until Cloak can connect.
To access the settings, click the Cloak menu bar icon, and click Preferences in the settings gear. Under Networks, you'll see a listing of your white-listed networks. At the bottom of the screen, you'll see Activate Overcloak on untrusted networks. Just enable that option, and you're all set.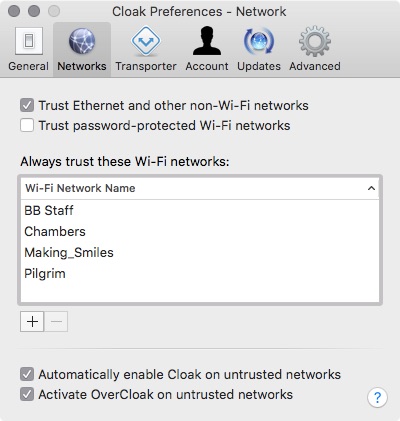 ---
We have more helpful tips right here.