How to control what apps have access to your data on OS X
May 5, 2016
Security and privacy are probably top of mind for most Mac users, and (thankfully) Apple has built in a handy privacy section directly into El Capitan. To find this information, click  → System Preferences → Security & Privacy. In the section on the left, you'll see several categories. Let's dig into each of those individually.
Location Services are apps that have requested access to your location. There is also an indicator next to apps that have requested it in the last 24 hours. You can uncheck any apps that you no longer want to have access to your location data.
Contacts, Calendars, and Reminders are pretty self explanatory. Inside these sections, you'll see apps that have requested access to the data inside of these apps.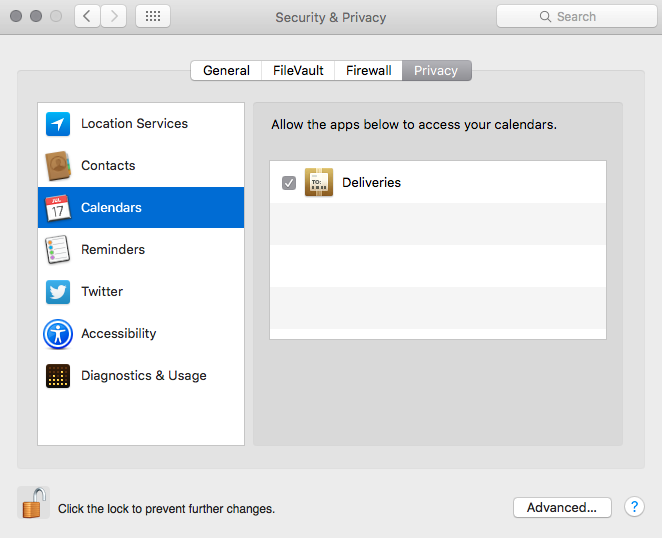 In the Twitter section, you'll find apps that have requested system level access to Twitter accounts you are signed into at the OS level. If you aren't logged into a Twitter account, this section won't be displayed.
The Accessibility section is for apps that have requested access to features normally used for accessibility. You'll definitely want to review this list since apps in this list have more access to your Mac than normal. In my list, I see Dropbox, TextExpander, and Skype. If you see an app you don't recognize, you can uncheck it to deny access.
The Diagnostics & Usage section is where you can approve the sending of usage data to Apple and crash data with developers.
If you're a fan of TextExpander, LaunchBar, Fantastical, and other awesome apps, you're probably already familiar with these settings. But, it's worth reviewing all of these sections periodically to make sure you are comfortable with the apps that have access to your data.
---
We have more helpful tips right here.