How to back up your Day One 2.0 data to another location
February 5, 2016
With Day One 2.0 making a debut this week, a change to syncing options was also unveiled. Where Day One originally supported Dropbox and iCloud sync, later versions of the 1.x app added a Day One Sync option. With version 2.0, Day One Sync is the only sync option available. Some people disagreed with the decision, and Day One offers this reason for the change:
A requirement for 2.0's new features was that we create our own syncing service—Day One Sync. Encryption and other features are dependent upon Day One's server infrastructure.

Beyond providing these benefits, Dropbox and iCloud were never 100% successful for all of our users. We had numerous cases of data loss and duplication. This was not acceptable to us, so we've built Day One Sync from the ground up to be tailored to Day One journal data.

It's taken considerable effort and investment, but we believe creating Day One Sync is the right thing to do for the stability and growth of the Day One platform.
I've been using Day One Sync since it originally came out, and I am a big fan of it. If you are curious about the security policy, they explain it in their FAQ. One thing that people generally like about Dropbox is that you can see a file syncing. When you save an entry, you see it uploading. With Day One Sync, especially for iOS-only users, you don't see it syncing — it just happens.
All that to say, it's wise to back up your journal data from Day One if you are concerned about the syncing process. The backup process on iOS is simple, but we highly recommend you keep the Day One 1.x app on your iOS devices after you migrate your data to Day One 2.0 until you are 100% sure that everything transferred completely. After that, you can take an extra step to back up your journal to another location outside of Day One Sync.
In Day One 2.0, go to Settings → Backup and Restore.
Tap a recent backup, and tap Send Backup.
This might take a few minutes depending on your database size, but a share sheet will pop up that allows you to share to a number of apps, such as Dropbox.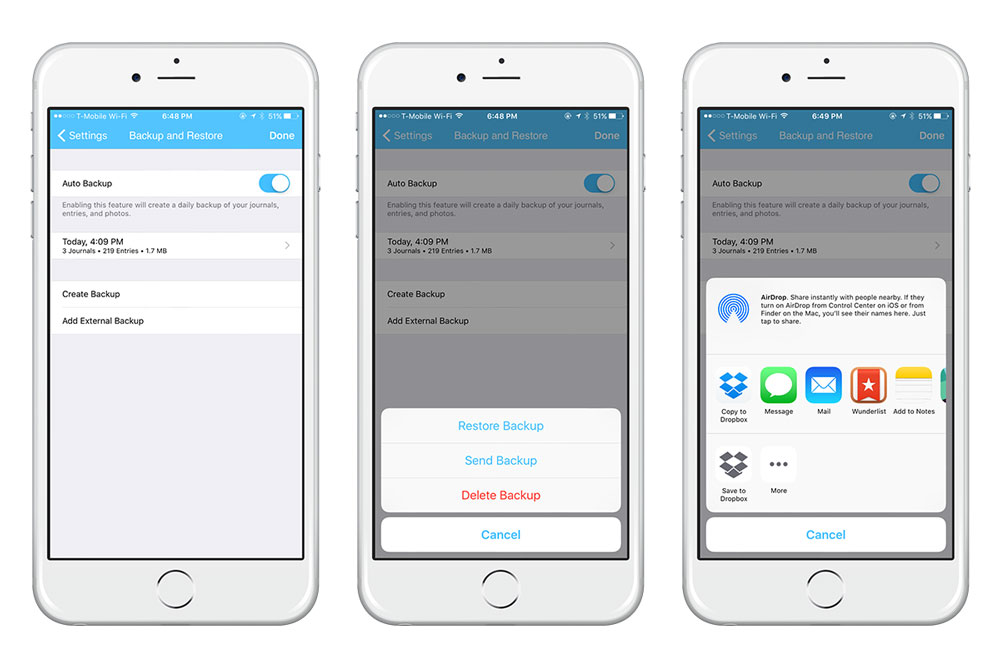 You can purchase the brand new version of Day One for Mac or iOS.
---
We have more helpful tips right here.