Great Lock Screen Widgets for the iPhone 14 Pro and Pro Max
May 23, 2023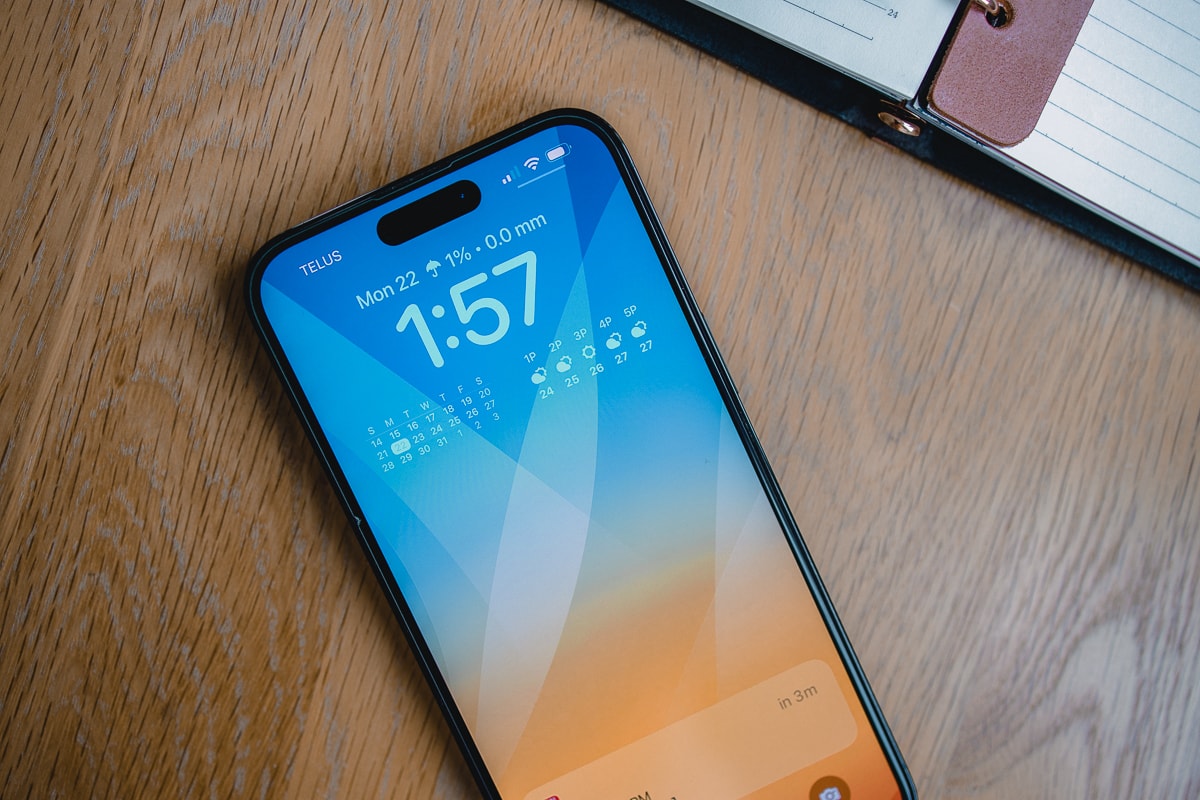 Apple has all sorts of widgets for the iPhone. They each seem to have evolved on top of one another, making them difficult to keep track of.
Today View widgets are accessed by swiping to the right on an unlocked Lock Screen or the Home Screen, providing some quicker access to your favorite widgets. Today View widgets range in size from small to large, with there even being a special extra-large Apple News widget only available in the Today View.
Home Screen widgets live alongside your installed apps. They update occasionally with live information. They can launch directly into a specific view in the app, or they can trigger shortcuts that string together apps right across iOS. Ranging in size from small to large, Home Screen widgets really bring out the best elements of customization on iOS.
Dynamic Island houses widgets in a sense as well. On iPhone 14 Pro and 14 Pro Max, the camera housing morphs into an interactive pop-up window, enabling you to control apps right from the pop-up, launch into the app from the pop-up, and keep an eye on your Live Activities.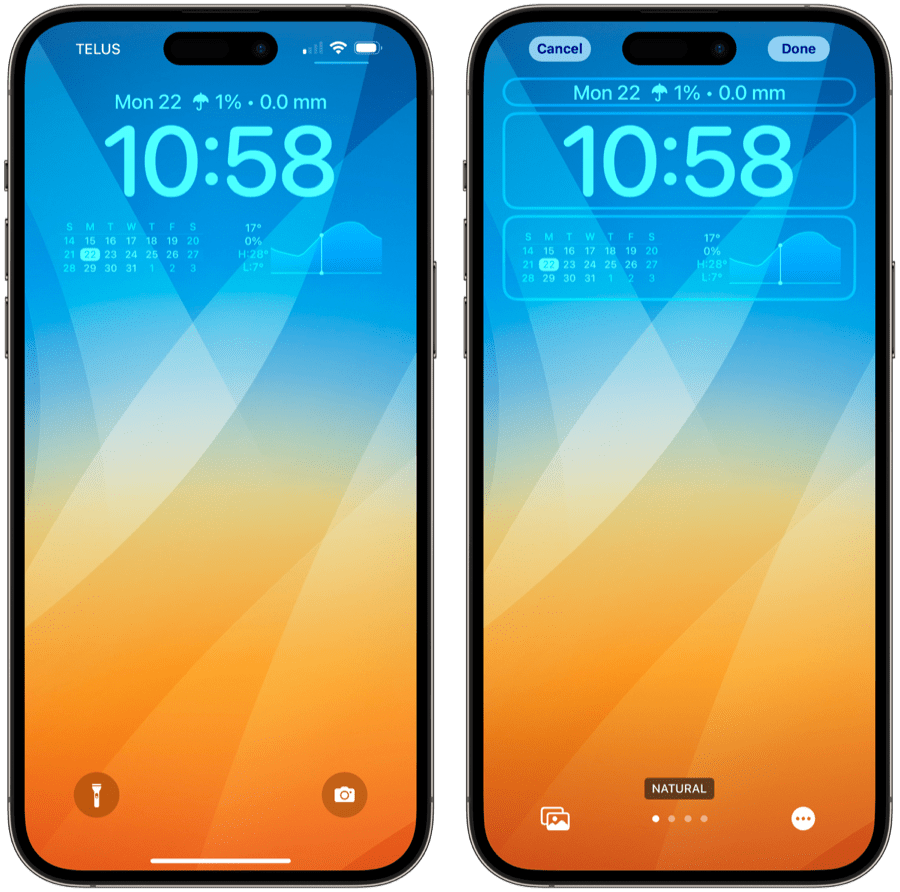 And finally, in iOS 16, Apple debuted Lock Screen widgets — simple bits of oft-updated information nestled below the Lock Screen's clock and beside the Lock Screen's calendar date. Tapping these widgets launches right into the app.
Some developers have focused on making these widgets extra helpful or extra whimsical. Where before you only had customization available on the Home Screen, Lock Screen widgets provide customization opportunities right on the always-on Lock Screen.
Here are some of our favorite Lock Screen widgets thus far.
Fantastical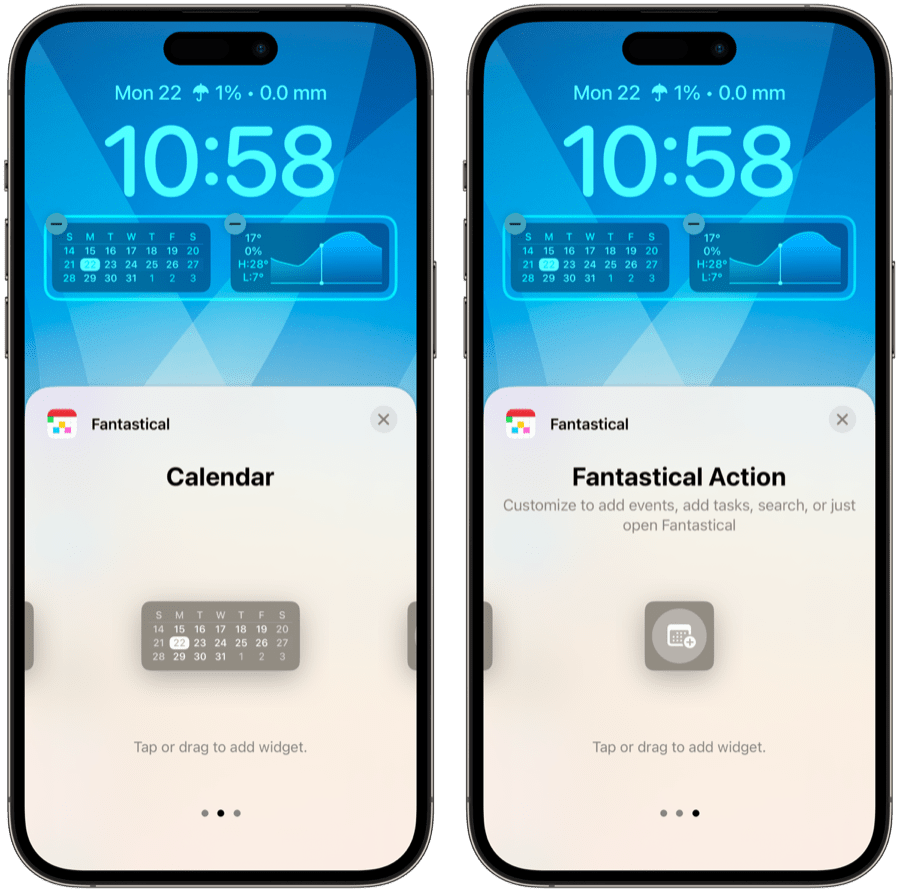 Fantastical has a variety of Lock Screen widgets, but my favorite is the simple three-week calendar view. Obviously, this doubles up all the information shown in the header line above the Lock Screen clock, but it doubles that information in such a classy and beautiful way. Four weeks would be too dense; two weeks would be too sparse. Three weeks of date information is just right and adds a dash of beauty to the always-on Lock Screen.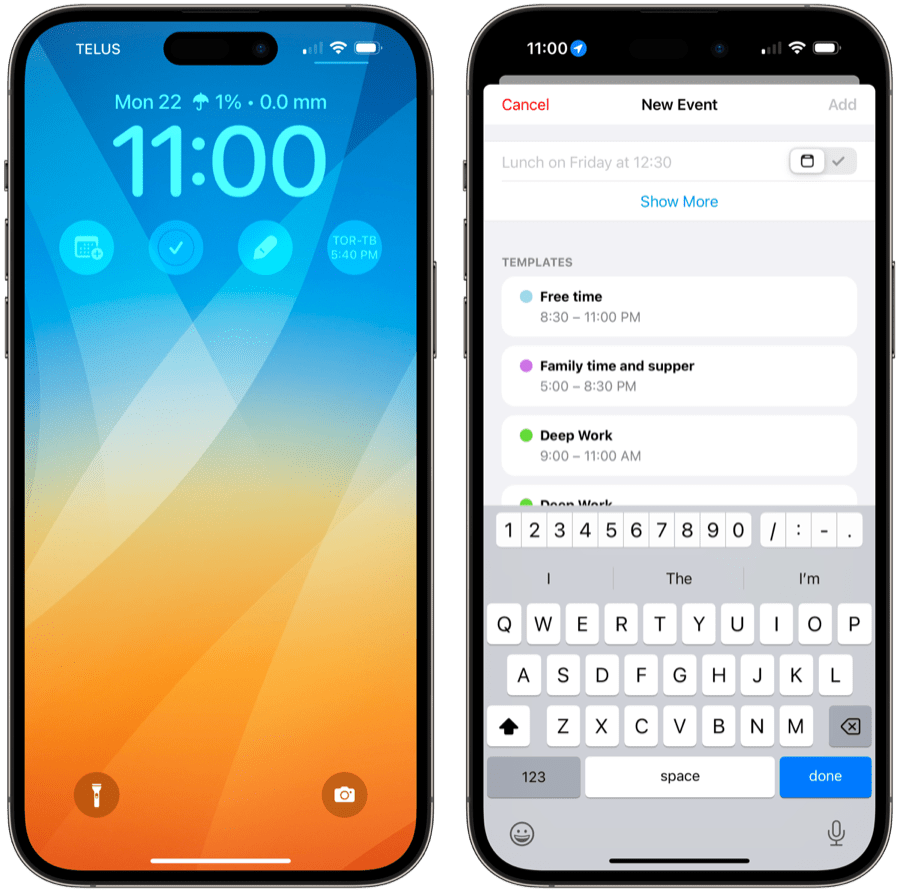 Fantastical also has a single-slot Lock Screen widget to jump straight to the natural language parsing event creator. If you use Fantastical heavily for time-blocking and task management, this little widget eliminates a bunch of swiping and tapping to get inside Fantastical to create a new event or task.
Spark
Spark took a little detour over the last year with some major app changes, but has since revised and returned to the best email app we all know and love. Spark's Lock Screen widgets on iPhone are no slouch, either. There are three particular widgets worth looking at: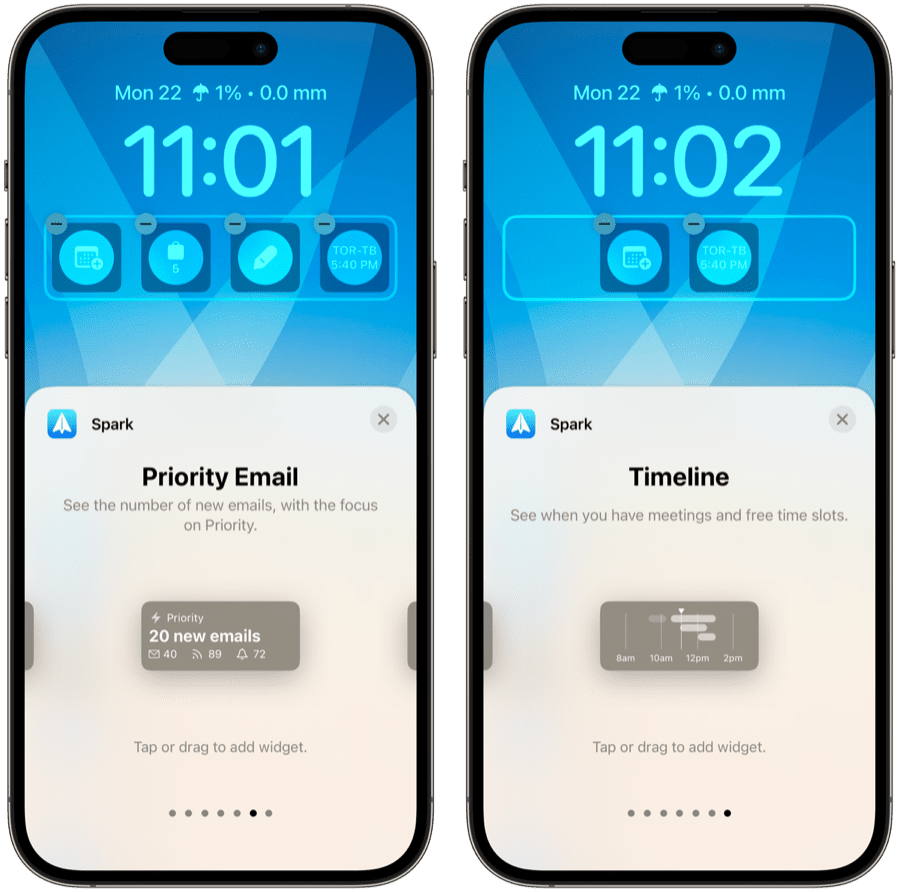 If you're looking for some extra beauty for your Lock Screen, look at Spark's Timeline widget. This simple timeline of your upcoming calendar is stunning.
If you're looking for quick email creation, use Spark's Actions and Folders widget. This launches directly into the new email composer.
If you're looking to quickly parse your email inbox, use Spark's Priority Email widget. In a quick glance, you can see how many notification, newsletter, and priority emails are sitting in your inbox.
No matter your priority here, Spark has a great widget to get straight into the app from the Lock Screen.
Overlook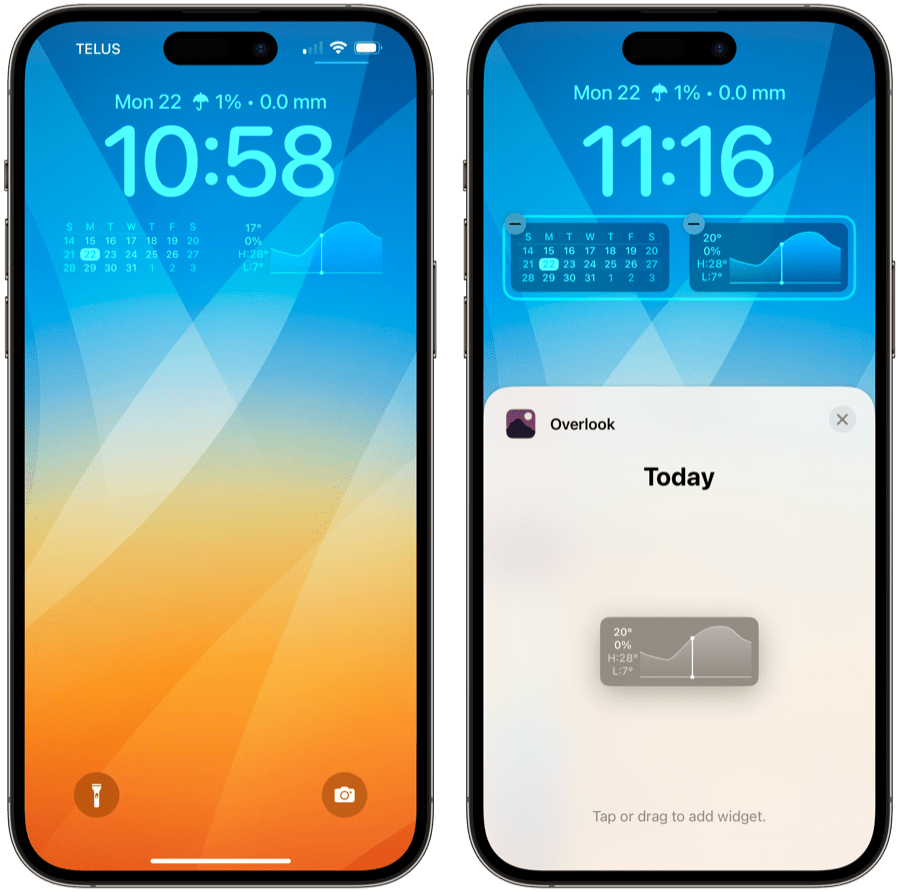 Overlook's Lock Screen widget is the only widget on this list included purely for looks. This double-slot widget is the single, most beautiful Lock Screen widget on the App Store. In a small space, Overlook displays the current temperature, the day's high temperature, the day's low temperature, and the chance of precipitation. Beside this data is a gorgeous line graph depicting where you are in the day and where the temperatures are slated to go moving forward.
I don't find the weather information inside Overlook to be as helpful as CARROT Weather or Hello Weather, but this Lock Screen widget is worth it all on its own.
Mela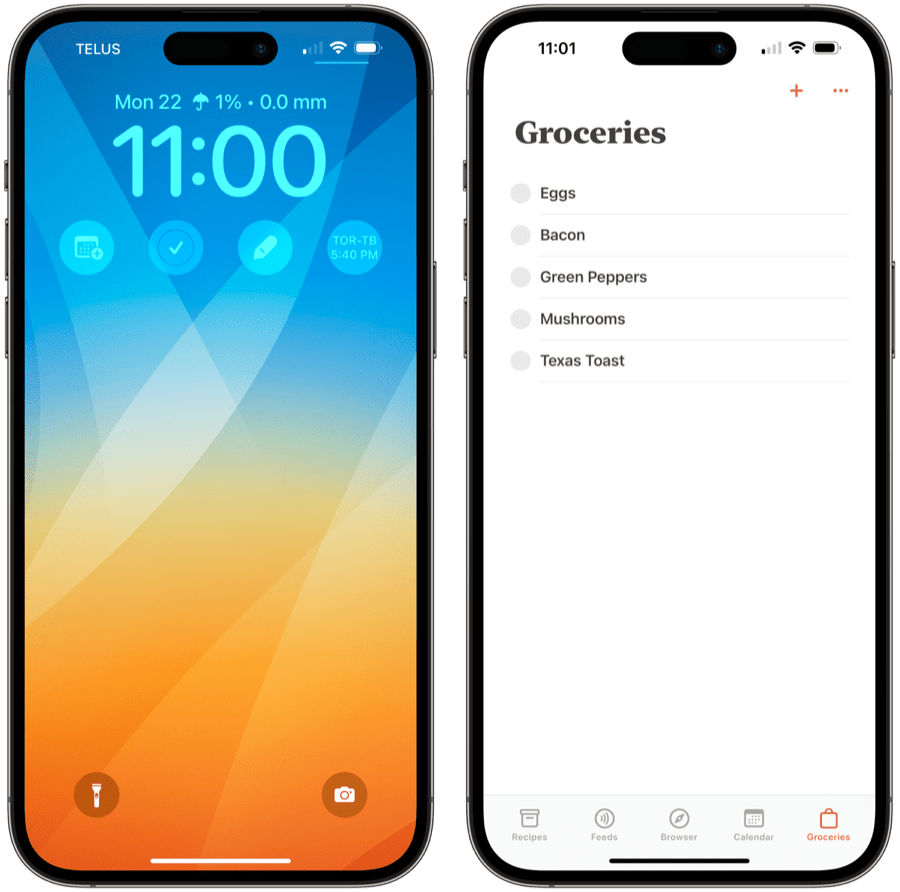 Mela is one of my favorite apps for keeping track of my favorite recipes. If you are into meal-planning, Mela also has some calendar features to map out your meals for the upcoming week. And finally, there is a handy grocery list inside Mela, which integrates nicely with the Reminders app to ensure you can share your grocery list with another person.
The Mela Lock Screen widget can jump straight to that shared grocery list, ensuring you can rip through the grocery store without extra taps and swipes.
Sports Alerts
If you're a sports nut, Sports Alerts is the most underrated sports app on the entire App Store. For free, Sports Alerts provides up-to-date scores for a vast wealth of sports leagues and has great Today View, Home Screen, and Lock Screen widgets for catching your favorite team's scores at a glance.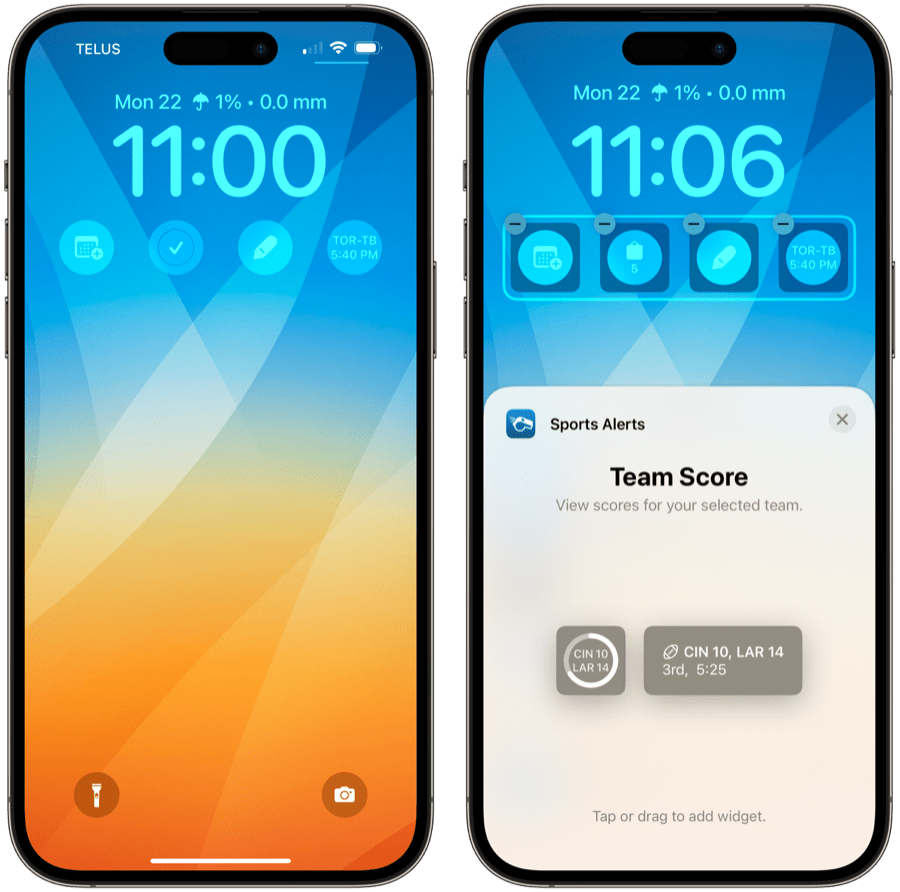 On the Lock Screen, you can choose either a single or double-slot widget to stay on top of your selected team's scores at all times. This is the most useful for baseball teams, in my humble opinion — baseball teams play almost every night of the week, ensuring this Lock Screen widget is always filled with handy information.
Also take a look at Sports Alerts's Dynamic Island Live Activities feature — this is perhaps the best use of Live Activities available right now.
CARROT Weather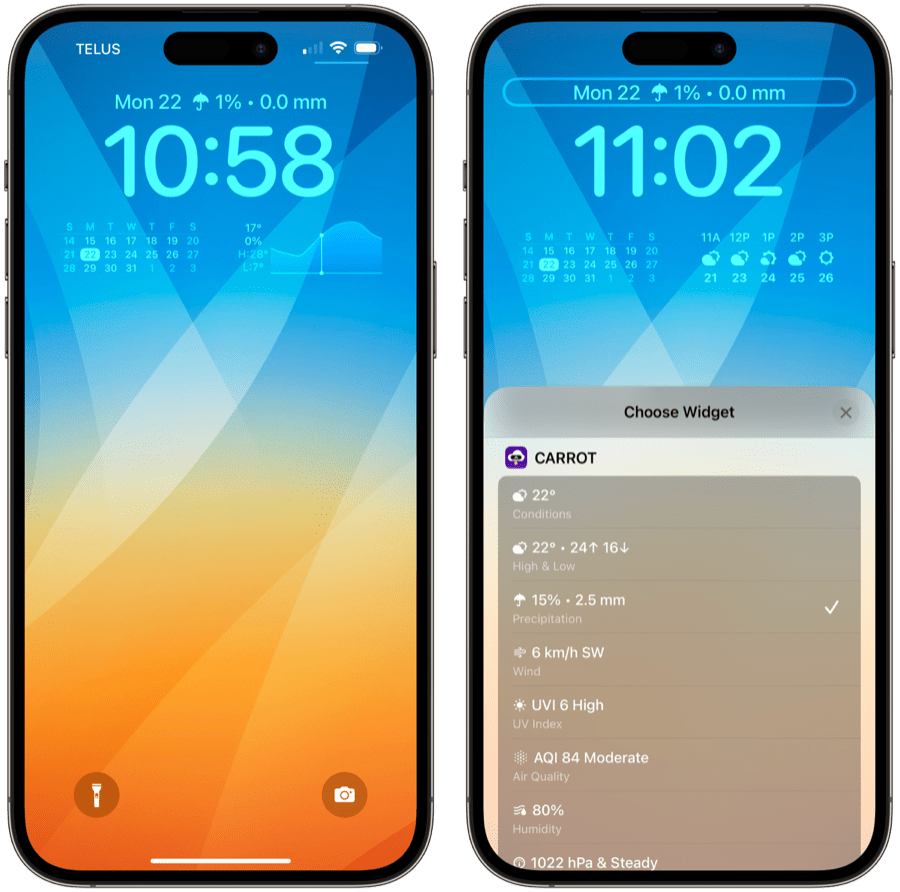 I spoke about the Overlook Lock Screen widget above, which I think might be the most beautiful double-slot widget for the iPhone. However, CARROT Weather probably has the best selections for the semi-hidden Lock Screen widget above the Lock Screen clock. If you tap on that single line above the clock, you can add an additional text-based widget for even more on-demand information. CARROT's selection list outnumbers every other app on my iPhone.
I use this particular widget for tracking precipitation throughout the day. CARROT's precipitation widget provides a simple percent chance and amount of rain in the upcoming daily forecast. It's simple and easy to read and ensures I don't double up on other weather information which may be showcased in the Overlook, Hello Weather, or CARROT Weather Lock Screen widgets I tend to use.
Wrap Up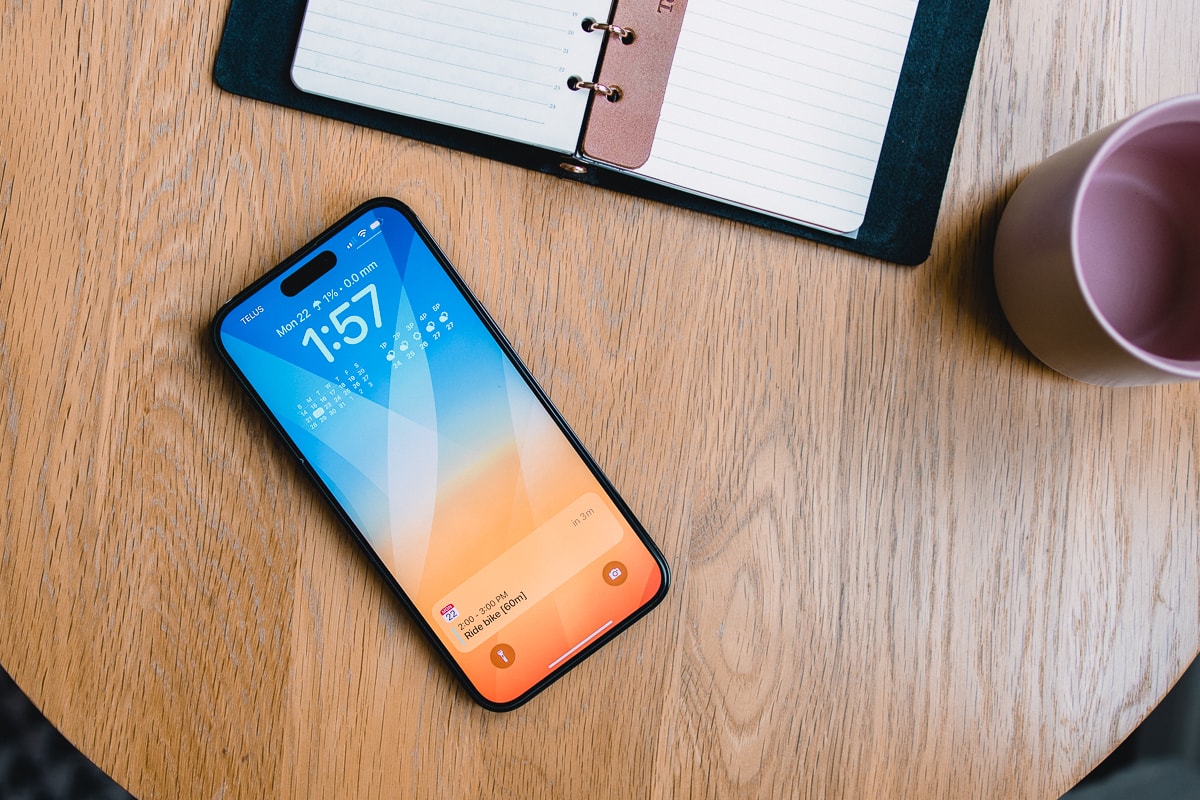 Lock Screen widgets can pull double-duty: beauty and utility. On the beauty front, Lock Screen widgets add a dash of customization to your Lock Screen without looking bearish or outlandish — Apple has ensured these Lock Screen widgets are kept simple and within a beautiful bound.
From a utility perspective, these Lock Screen widgets provide a quick place to immediately jump into an app anywhere in iOS and provide relatively up-to-date information for glancing. I can't count the number of iPhone unlocks, taps, and swipes Lock Screen widgets have eliminated for me.
No matter your priorities, there should be some Lock Screen widgets to shorten your trips around iOS or to provide a simple dash of beauty to the historically-generic iOS Lock Screen.
Productivity Focus Booster 🚀 Simplify and update your task management
If your to-do list overfloweth and you have multiple areas of life to manage, it's time to get a system that actually works.
Get complete access to all the frameworks, training, coaching, and tools you need to organize your daily tasks, overcome distractions, and stay focused on the things that count (starting today).
Step 1: Refresh → Audit and streamline your current tools and systems and get clear on what's working for and against you.
Step 2: Upgrade → Build a productivity system that plays to your strengths (even if you find "systems" annoying).
Step 3: Nurture → Make your system stick. Create a flywheel that keeps you focused on what matters most day after day.
Get all this, and more, inside the Focus Accelerator membership.
Join 300 focused members who have access to $5,000 worth of our best courses and masterclasses, the Digital Planner, a Private Community Slack, 2x Monthly Coaching Calls, and much, much more…