Gerry Hayes' Mac and iPad Pro setup
August 22, 2016
Every week we post a new interview with someone about what software they use on their Mac, iPhone, or iPad. We do these interviews because not only are they fun, but a glimpse into what tools someone uses and how they use those tools can spark our imagination and give us an idea or insight into how we can do things better.
New setup interviews are posted every Monday; follow us on RSS or Twitter to stay up to date.
---
Who are you and what do you do?
My name is Gerry Hayes and I run Haze Guitars in Dublin, Ireland.
I repair and build guitars. I also write about guitars. I've released a number of free eBooks and have just launched a series of guitar and bass setup guides called Sketchy Setups which are all hand-drawn before being digitised and coloured.
I also write a newsletter and blog about guitar repair and maintenance. I'm currently working on a new book on guitar and bass wiring that will be released soon (I hope — turns out it's a lot of work).
What is your current setup?
I have two iMacs. One lives in my workshop and one in my office.
Workshop Mac Setup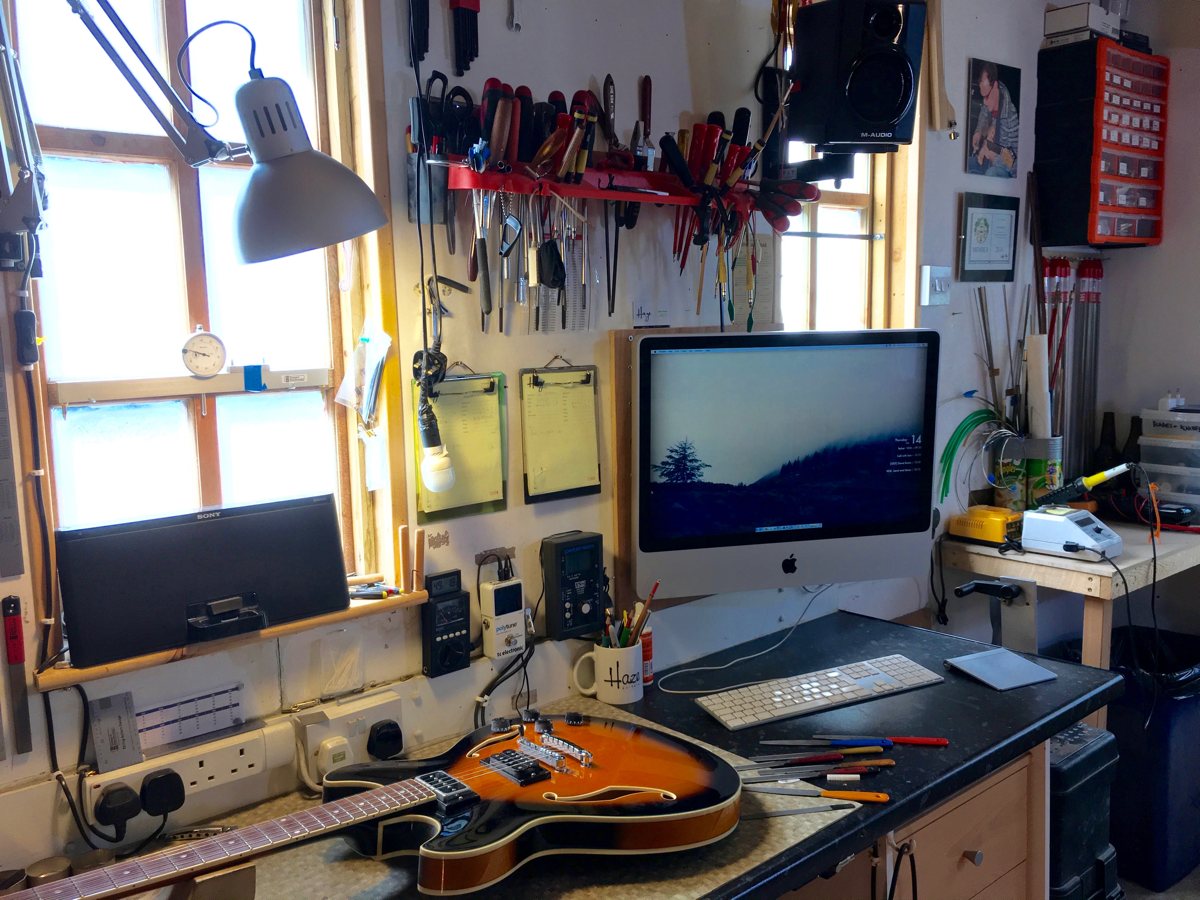 The workshop Mac is quite old, but it's a tenacious beast. It's a 2007 iMac with 5GB of RAM (2GB more than officially supported). It was beginning to creak and groan a little until I popped in an SSD a year or two back. Now it's more than serviceable as a workshop machine and is coping just fine with El Capitan. Not too bad for a system that will be ten on its next birthday.
It's hanging off the wall with a VESA mount. It's got a wired keyboard that I really should find a cover for — workshop fingers can get dirty — and a Magic Trackpad.
Where can we find your OS X wallpaper?
This one's my own photo. It's from a very foggy hike in the mountains a couple of years ago. We camped just below the cloud line. It was a good time, despite not seeing the sun for two days (Irish people can go months without seeing sun).
What software do you use and for what do you use it?
How would your ideal setup look and function?
Just like it is currently, except with an Overcast web client that had a few more features. Or a native OS X app. Whichever Marco prefers.
---
Office Mac Setup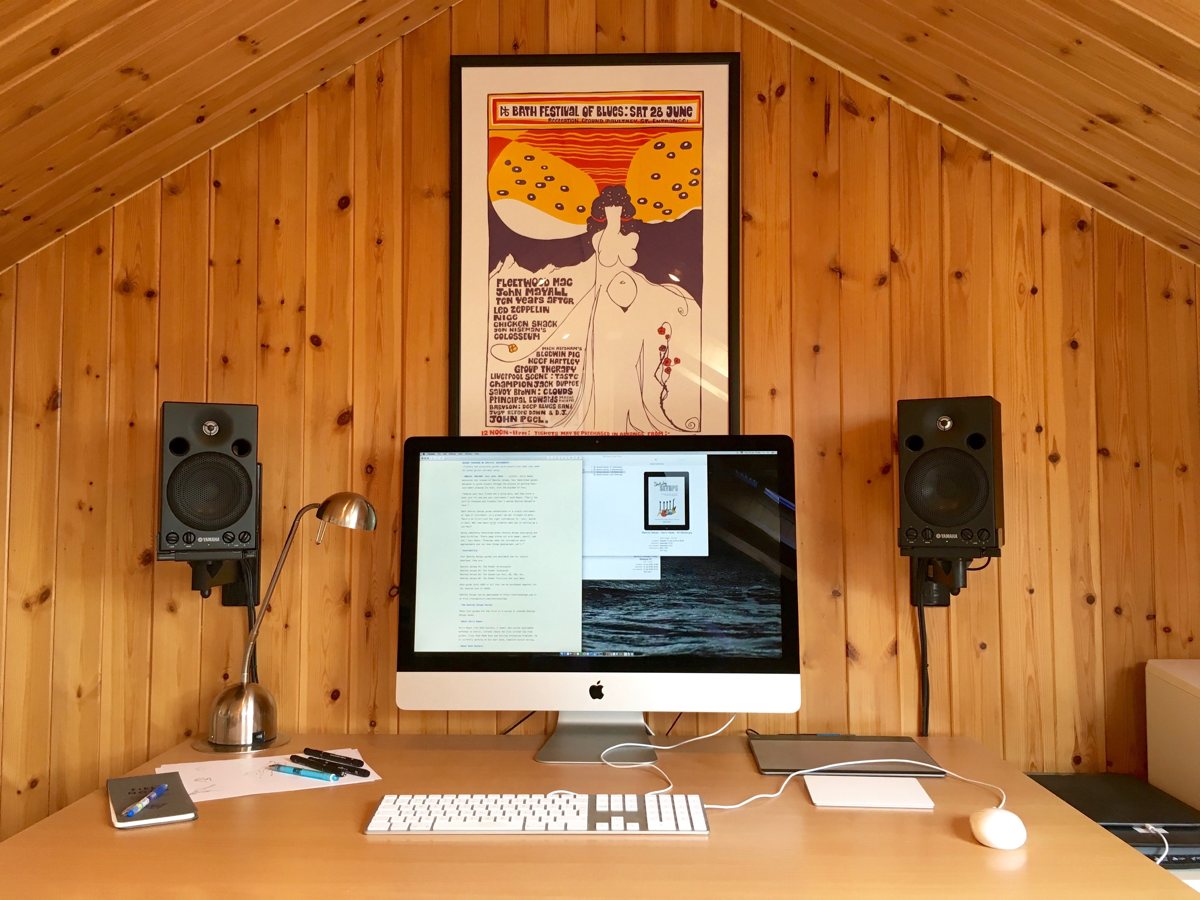 What is your current setup?
The Office machine is a 27" 5K Retina iMac and is a thing of absolute beauty. That big retina screen is fantastic.
I added some 3rd-Party RAM after purchase (because I'm tight-fisted) and bumped it up to 24GB. It's only got a 256GB SSD, but I've got a heap of external disks hanging off it and most of my stuff lives there.
I use the wired numeric keyboard because it's easier for entering figures, and I still like the older Apple Wired Mouse for most stuff. I do have a Magic Trackpad 2 that I use for browsing the internet, photos, or whatever — anything where I can swipe back and forth. I've never gotten comfortable with gestures on a Magic Mouse though. Old dog.
There's also a Wacom Intuos graphics tablet that I use for various graphics jobs, illustrations and diagrams, and for colouring my Sketchy Setups guides.
I use a Canon LiDE 120 for scanning my drawings, and the two active Yamaha monitors are hangovers from when I used to play about with recording music. They're pretty good for some occasional rock and roll.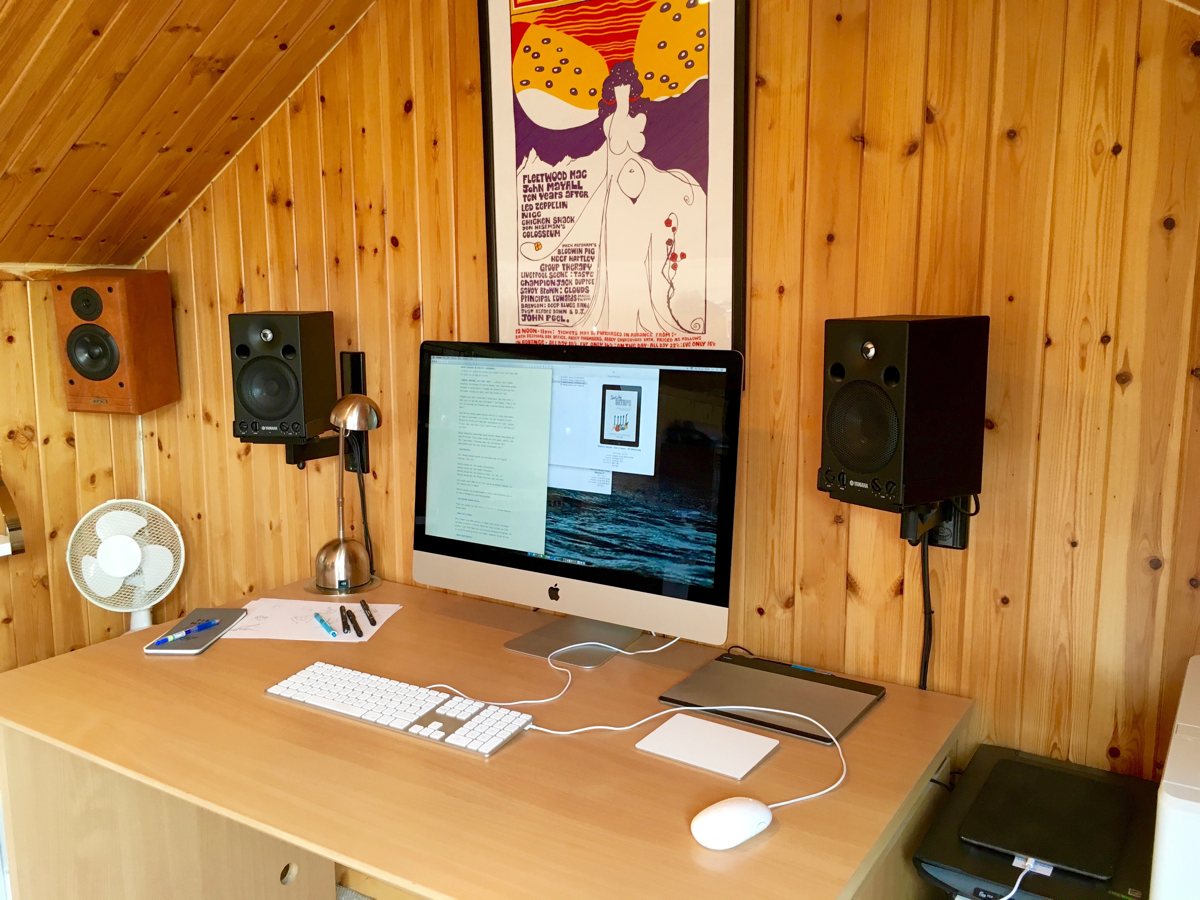 Where can we find your OS X wallpaper?
The image is from Unsplash. You can find it here. I don't like busy wallpapers, and I reckon I'll stick with this one for a while.
What software do you use and for what do you use it?
How would your ideal setup look and function?
I'd have a reliable email client. Essentially, I'd like Sparrow 2016, but I'd settle for one that worked properly.
Otherwise, I'm pretty happy.
---
Which iPad do you have?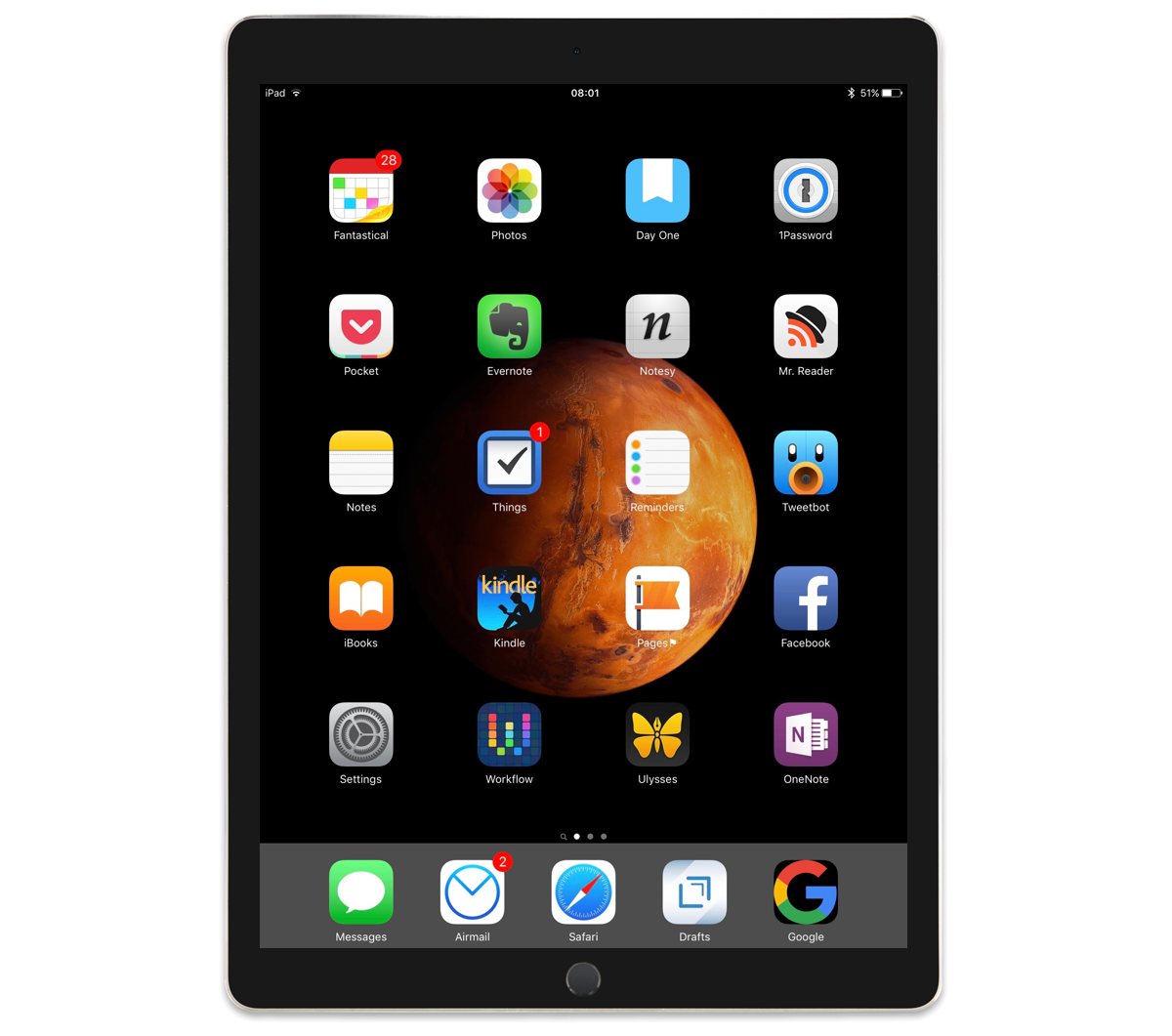 I've recently upgraded to a 9.7″ iPad Pro. I really wanted to try the Pencil. I do a lot of illustrations for the stuff I write and was hoping the Pro and Pencil combo would let me streamline some of this.
Short answer is that it does. Longer answer is that I need more practice and app experimentation to find something what's right for me.
Where can we find your wallpaper online?
It's just the (rather splendid) image of Mars that ships with iOS.
How are you using your iPad on a daily basis?
For the longest time, I've been mainly consuming from the iPad. The friction I felt doing anything serious had prevented me using it for 'real' work.
I'm finding this to be less and less the case. There are still some tasks that I much prefer on a Mac. TextExpander is one reason for this — I rely on a lot of snippets, and TextExpander's iOS keyboard is still a bit janky. However, I find myself doing more work on the iPad since I got the Pro.
What apps do you use the most, and why?
Which app could you not live without?
Mr. Reader. I love sitting with a pot of tea and catching up on the world over breakfast.
---
There are more Sweet Setup interviews right here.
Want to share your setup? We'd love to hear from you. Just fill out this form with some basic information and we'll be in touch.
---
Free Productivity Guide: Download our simple guide to productivity to help you improve your workflows and be more focused with your time and attention. Get it here.