Georgie Giallousis' iPhone setup
February 8, 2016
Every week we post a new interview with someone about what software they use on their Mac, iPhone, or iPad. We do these interviews because not only are they fun, but a glimpse into what tools someone uses and how they use those tools can spark our imagination and give us an idea or insight into how we can do things better.
New setup interviews are posted every Monday; follow us on RSS or Twitter to stay up to date.
---
Who are you and what do you do?
My name is Georgie Giallousis. Currently, I live in Greece working as a pharmacist. I am also the owner of Full Court Press, a basketball-related Tumblr blog. I really like reading the news, and in my free time I play basketball in amateur leagues.
What iPhone do you have?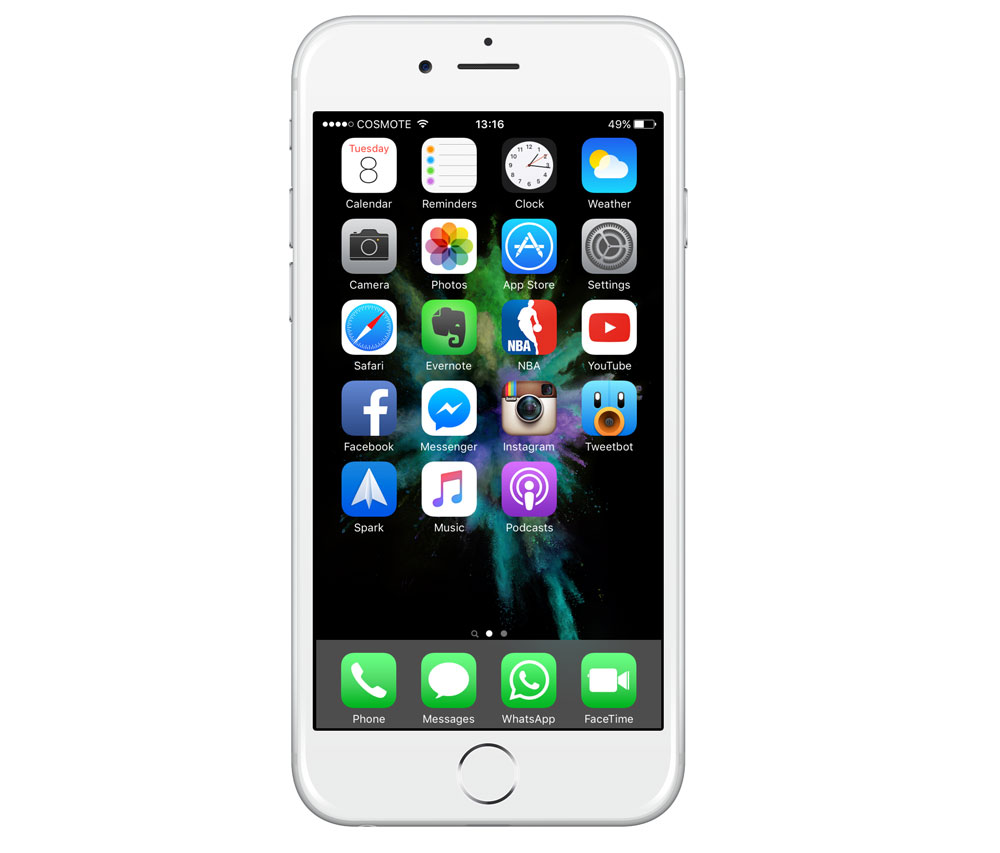 I have silver iPhone 6 64 GB. I am currently using Apple's White silicon case, which is really good. It doesn't get dirty, but sometimes it can feel oily. Nothing can be compared to the feeling of a "naked" iPhone.
What apps do you use the most, and why?
I use a lot of messaging apps like iMessages, FaceTime, and WhatsApp to communicate with all my friends across the world. I prefer Apple's ecosystem, but unfortunately not all people choose iOS.
Then there is Tweetbot, where I catch up with all the news. I'm relying heavily on Twitter for news consumption, especially since I decided to make it my new RSS. I find the feature-rich tweets extremely pleasant to follow, and Tweetbot gives you the flexibility to customize it the way you want. Last but not least, when you open links, you can have the great Safari experience without even leaving the app!
Safari is my browser and read-later app of choice. With all the new features on iOS 9, (dark mode and fonts mostly), I had no reason to stay with Pocket. Furthermore, when there is an article that I really care about, I am sending it to Evernote, which is my go-to app for keeping everything.
Evernote is where I store my notes and shared projects or notebooks, my receipts, important emails, PDF documents, articles, and more. I decided to use Evernote instead of Dropbox for every file, and nearly a year after, my life is much easier — especially when I realized that I didn't need to have a system to find something. I just need to search.
My favorite email app would be Spark by Readdle. I appreciate the smart inbox, the smart notifications, and all the integrations this app has. The clutter-free experience and the reader mode make this email client feel like a well-designed Apple product, even thought it's made by Readdle.
I use the Photos app a lot, but I store my whole library on Google Photos. Don't get me wrong, iCloud Photo Library is great, but I don't need all my library to be with me all the time. Editing pictures can be tricky. Sometimes Google Photos definitely has better "Auto mode" and better filters, but for better customisation I prefer the default Photos app.
I listen to podcasts on Apple's native Podcasts app. I tried Overcast in the past, which is great too, but I've found that I prefer the Podcasts app from Apple. If it is a nice looking app, it works for me!
For handling documents, Pages, Numbers, and Keynote work perfectly for me along with iCloud Drive.
Storing passwords was never easy, but 1Password makes it look that way, and I really appreciate it. Thank you.
Which app could you not live without?
It's really difficult to choose, but I would go with Safari. It handles a lot of incoming information every day, and also features a great user experience (especially after ad-blockers came in), and it is also ntegrated with everything and syncs perfectly through iOS.
---
There are more Sweet Setup interviews right here.